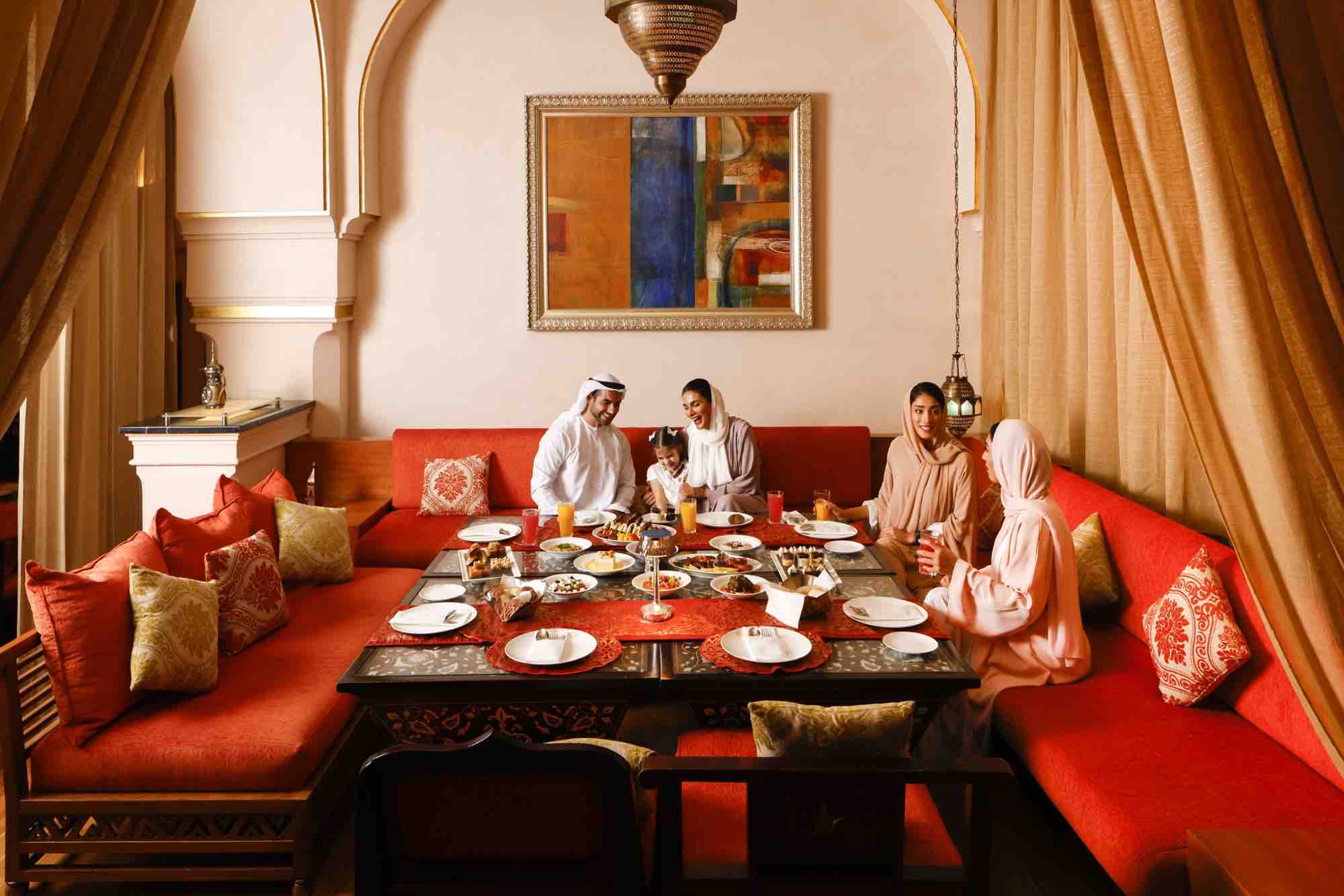 Hidden amongst the labyrinthine old-world charm of Palace Downtown, Ewaan boasts traditional Arabic fare with dashings of regional luxury and splendour.
If you're in the mood for a truly palatial and palatable culinary treat, we highly recommend the luxurious and one-of-a-kind Ewaan restaurant at Palace Downtown Dubai. With glorious hotel views over the Burj Khalifa and nearby waterways, in such proximity you can enjoy them from every angle, the superior Arabic-Asian fusion menu is an added bonus to the plushest location and brings you a special night dedicated to regional cuisine.
Before you even enter Ewaan you know you're in one of the city's top spots, as your drive will take you through an opulent palace – the grand fountain drive – which is an iconic viewpoint and an Instagrammers favourite picture perfect place. You can also access it via the quaint and charming Souk Al Bahar and come over the bridge from Dubai Mall after a day's shopping. There are perhaps other more widely-known restaurants at the hotel, but the largest and most decadent space was reserved for their Arabic-Asian Fusion brand, notorious for its buffets and poolside dining.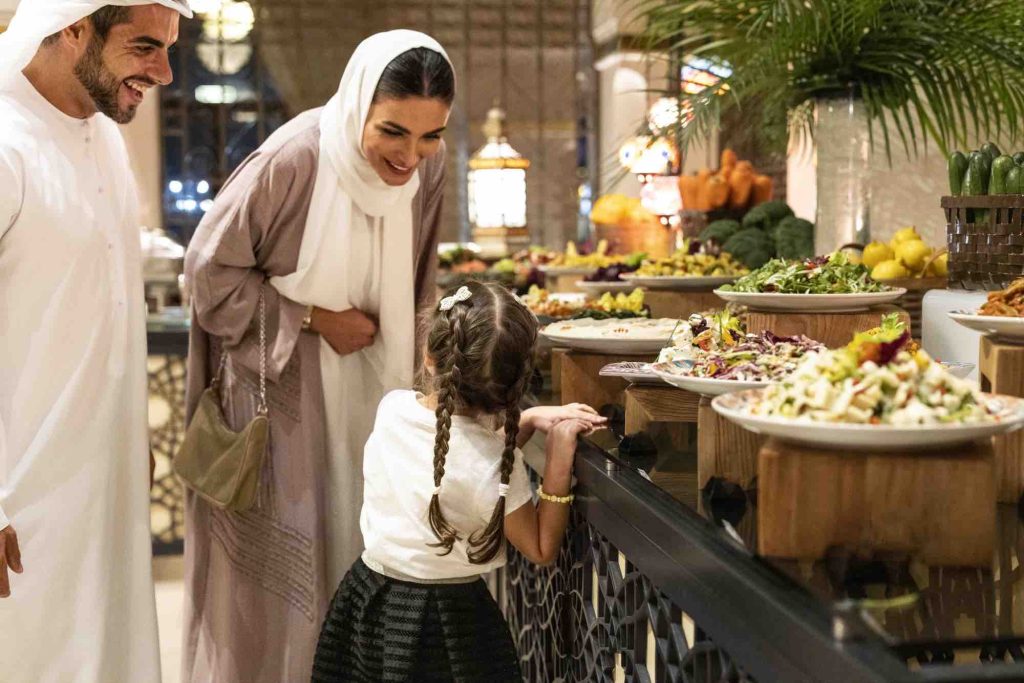 Ewaan is renowned in Dubai for its authenticity, both with regards to Middle Eastern hospitality, taste, and visual effect. Illustrious arches populated with wooden trellises, a waterfall of traditional drapery and unique props and artefacts populate the main restaurant area, while you can also book a private dining alcove for more intimate dinners or check out the sprawling al fresco dining area with its glittering views – particularly beautiful at nighttime. There's often Arabic musicians and themed entertainment acts, the perfect backdrop to you evening or lunchtime meal or caffeine-inspired visit.
The dishes themselves are where this venue truly shines; their Arabian Nights hosts some unique dishes such as Lamb Ouzi, famous in this region, or Muhammara, and finally Umm Ali for the sweet tooths. There are a multitude of live cooking stations dotted around, so you can wander and wonder while you graze and gaze. There are other menu options including lobster, seafood, and an array of other desserts. Famous for their breads, there's an impressive salad area and space purely devoted to all the Arabic appetizers we know and love. Hummus, Tabbouleh, and even a freshly cooked Shish Tawook are high on our recommendation list, but there's other meats and hot specialty dishes available. If you're not going for a big meal, you can also pop in for traditional Arabic coffee and tea during the day, or an early evening shisha, as the venue is open from dawn till dusk in true Arabic fashion.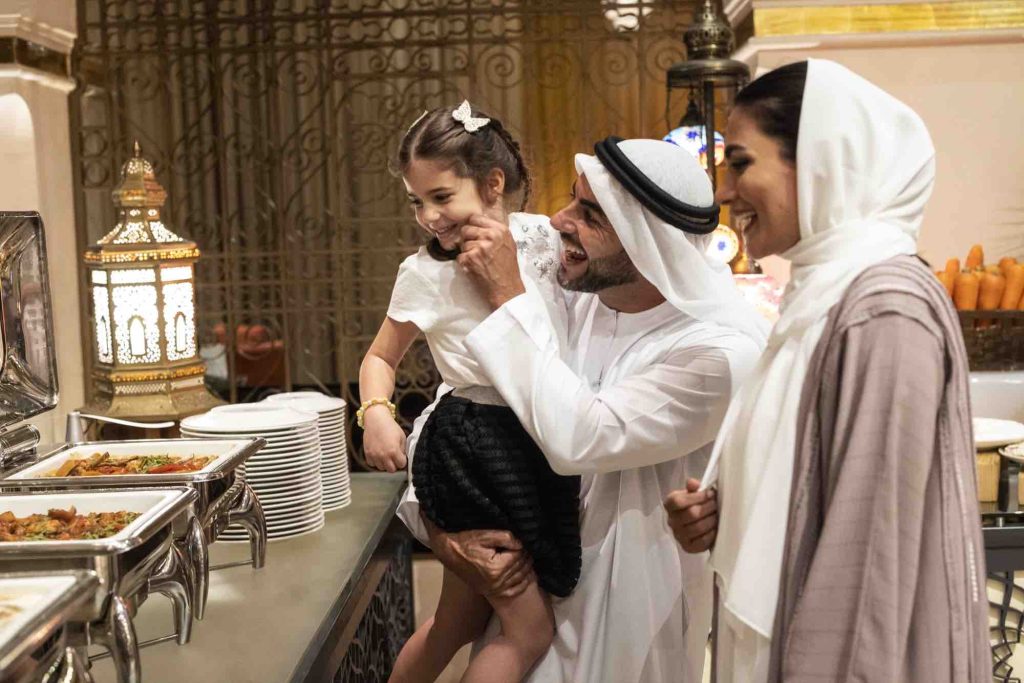 Ewaan is the perfect spot to treat your Arabic food loving friends, plan a booze-free romantic evening, or bring your relatives visiting the UAE who want to experience true Arabic culture and dining. It promises and adventure through food, sights and hospitality that is rare to find in its rich cultural feel and wonderful presentation. Being the size it is, Ewaan doesn't feel particularly full even when it's busy, which The Insider actually fully endorses, as we never like to queue at a buffet.
Visit Ewaan for their Arabian Nights every Thursday from 6:30-10:30pm at Palace Downtown Dubai. Packages from AED 325per person with soft beverages. Complimentary dining for children under 5 years and 50% off dining for children between 6-11 years. For bookings and more information
please call: +971 4428 7961 or email dineatpalacedowntown@palacehotels.com