Uncategorized
Forget the office, it's The Insider's guide to the best hotels to hot-desk from…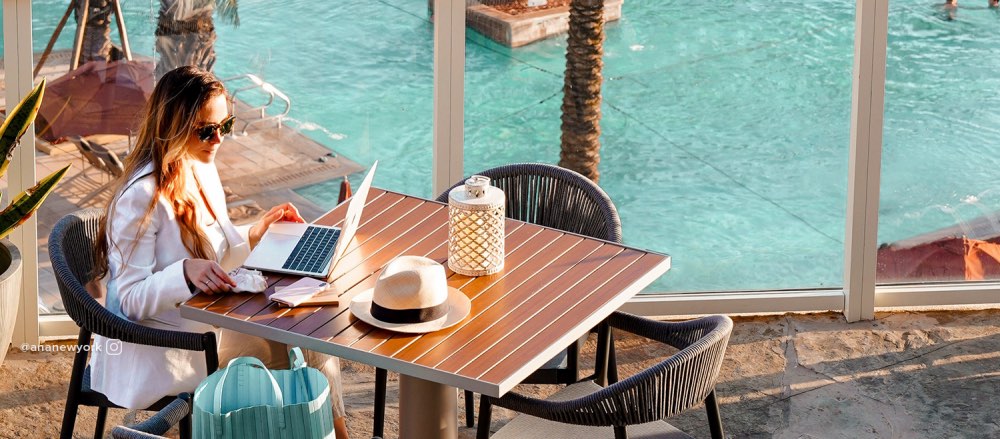 Busy days full of meetings? You need to be super-efficient with your time; going back to the office in between is just a complete waste of it. In our ultimate guide we list some of our tried and tested places to combine lunch or afternoon tea with a few hours to work so you can arrive home knowing full well you maximised every minute of your day …read on…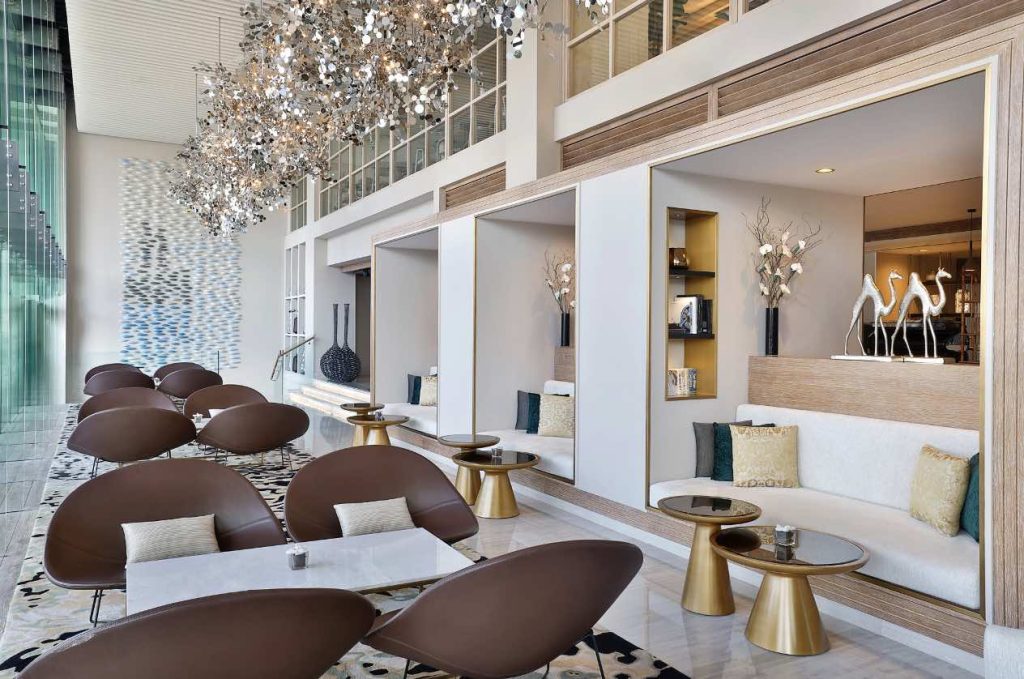 St Regis Downtown Dubai – The Library
Best for: Stylish with huge amounts of natural light to work under
Located at the start of the Business Bay and within easy access of Al Khail Road and SZR is the excellent 'The Library' by The St Regis Downtown Dubai. It's modern, chic and has the all-important great seats. Listed as 'a chilled out cafe, friendly and lively ' we 100% agree. Make sure you check out the terrace for canal waterside working and the excellent coffee. If you have hit your max caffeine intake early in the day you can mix it up with the Afternoon Tea instead, with an array with fluffy scones and traditional sandwiches, every day from 2pm to 6pm.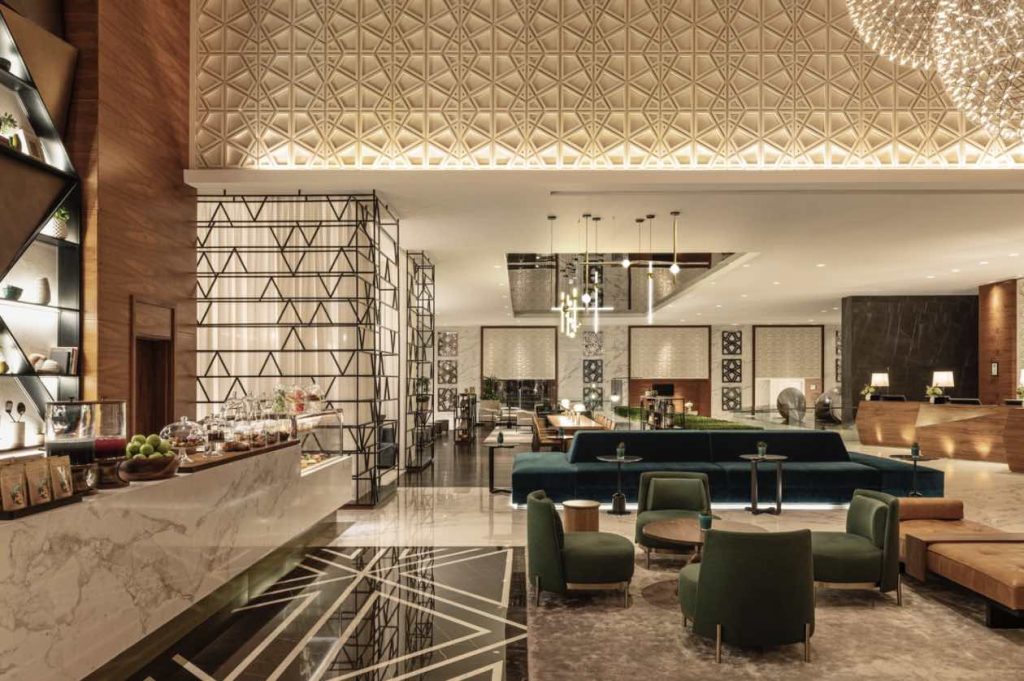 The Sheraton Grand, Dubai
Best for: Executives, casual vibes and its central location
Based right in the heart of the action near the World Trade Centre, The Sheraton Grand Dubai has a long lobby with low slung table lamps that enhances a sense of privacy, perfectly balanced with the hive of guests coming and going. Plenty of seating for 2, 3, 4 and even 6 people who can all simply schedule meetings in relative privacy. All are serviced by the brilliant &More Cafe serving freshly brewed coffee from 6am to 11pm daily. Top tip to your immediate left when you walk in is a cave-esque room with unique glass wall overlooking the street; it feels like your own office to while away the creative hours. They are also part of the ubiquitous 'Let's Work' group, so a coffee on the house and 20% off anything at the &More Cafe awaits you.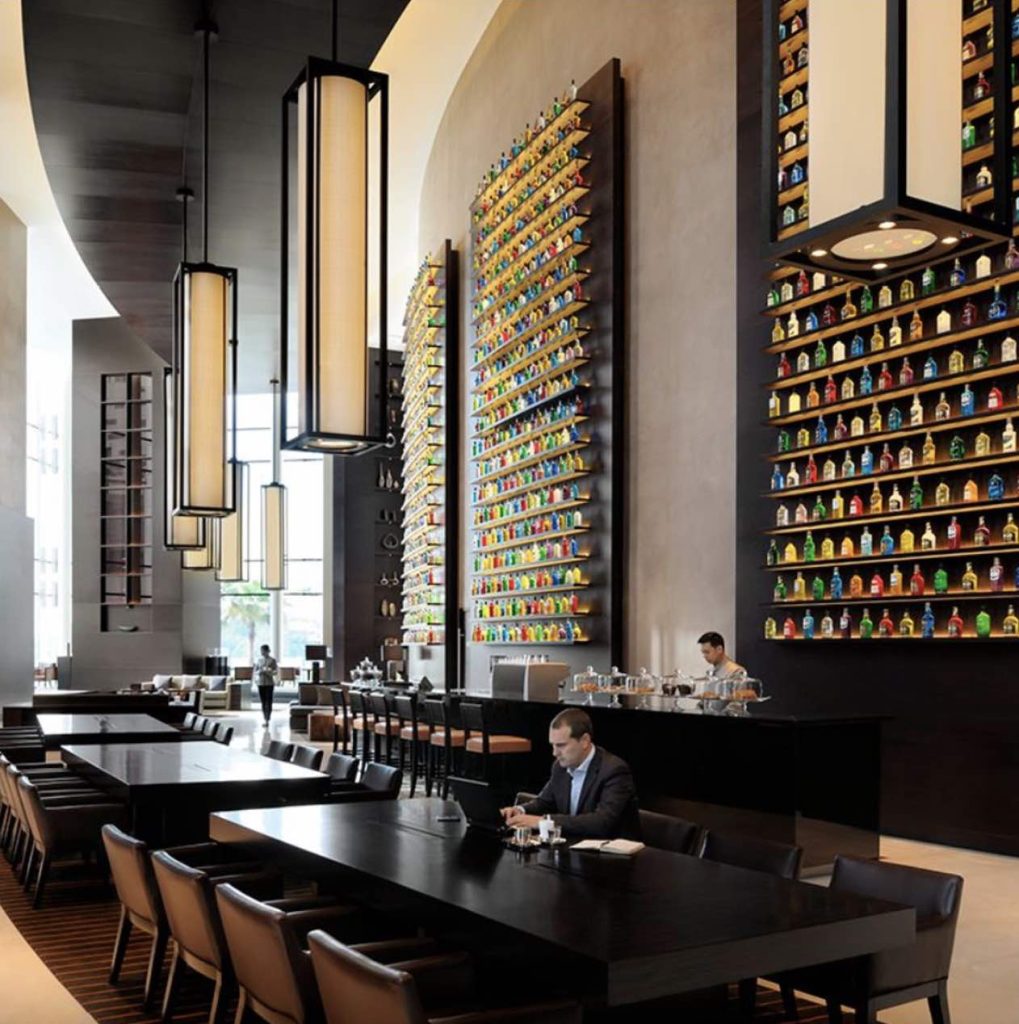 JW Marriott Marquis – The Lounge
Best for: Formal meetings and working in near silence and serenity
Most famous for being a consistent beacon for high-end service and smart restaurants, the JWMM might not be on your radar for camping out the whole day and working but let us tell you – delights await. Simply turn left when you enter the reception area, and you will be greeted with vaulted high ceilings and Harry Potter style potion bottles covering the walls, with a seemingly never-ending path that leads round to Bridgewater Tavern which we also listed as 'Best Downtown pet friendly venue' The Lounge is one of the best places to work from. As for lunch La Farine is wonderful, and also a good place to set up camp for a while. Freshly baked bread, crafted barista coffee, and a selection of authentic European cuisine what more can you ask for?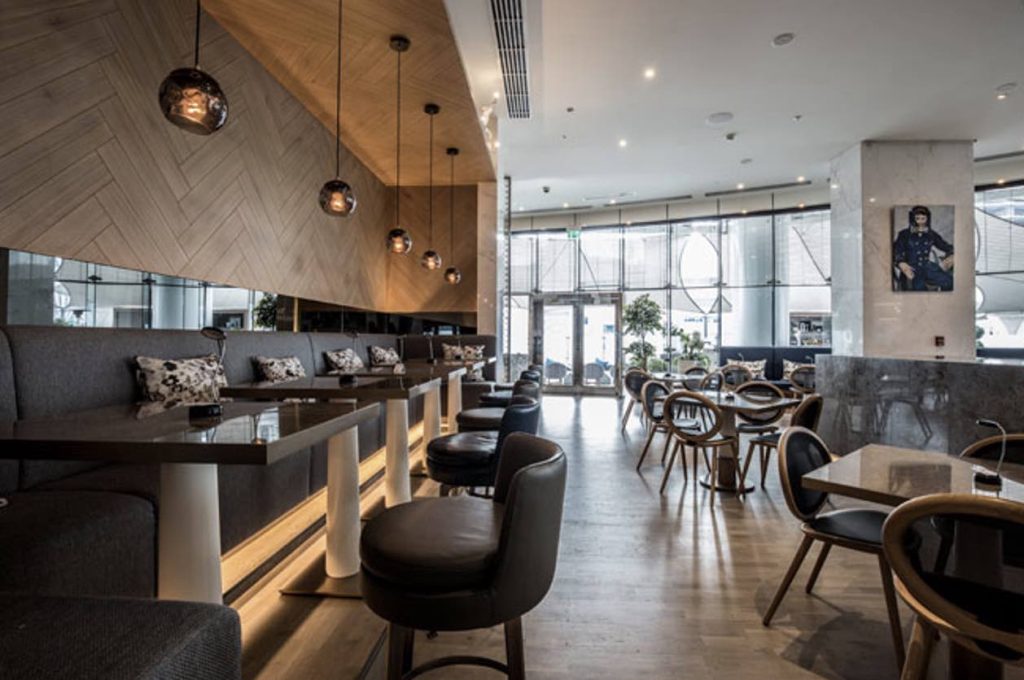 Media One
Best for: Media town folk
Quite possibly the original template for funky fun hotels and was so for a long time before others saw the light. Media One has a working buzz about it on any given day. Find startups, influencers, and the movers and shakers of the media world sipping lattes and closing deals over a few cold ones at all hours. The main lobby has an area free to use with plenty of sockets to keep you working (brownie points for the solo desks with space and sockets by the way). Better yet take advantage of the QWERTY lunch menu or a taste of Italian in Ciao Bella. Both have great tasting lunches and coffees, just make sure if you intend to leave after hours you do, as there is plenty of party fun going on with Coco Lounge and other in-hotel venues and outlets to keep you there till the early hours.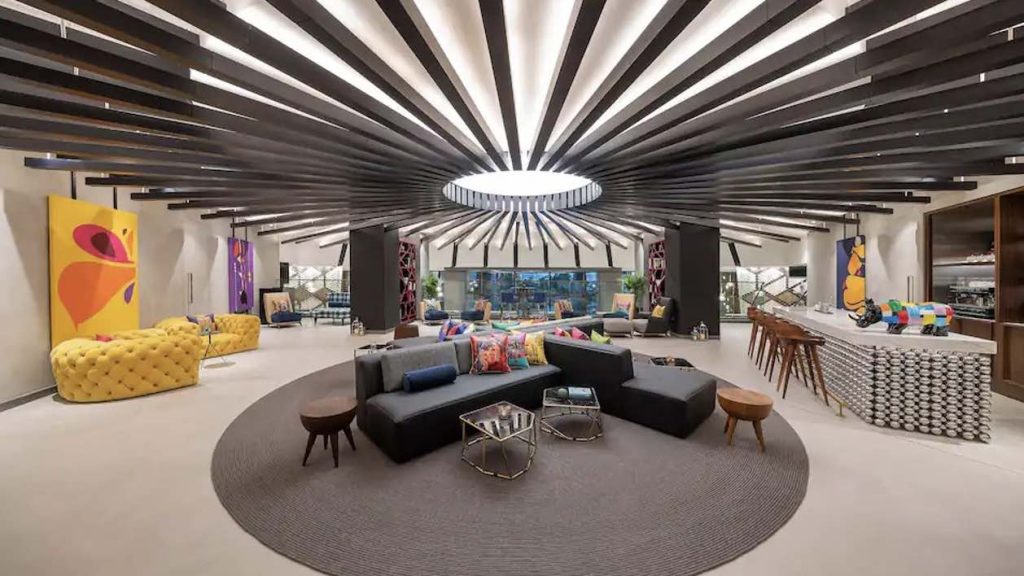 Andaz Dubai The Palm
Best for: Working between meetings on the Palm
Still new to many, the Andaz is a sustainability focused boutique resort property with a great restaurant that fills the entire first floor called 'The Locale'. Head towards the beach to meet the funky Latin/American restaurant La Coco. Sit in the lounge to get some work done whilst overlooking the gorgeous beach scenery with views of the downtown Burj Khalifa. If that's a bit distracting for you check out the mezzanine level, of which the Andaz Lounge is very funky and offers communal seating and additionally something a bit more private. Coffee and cocktails are also on offer for those post work chats and catch ups.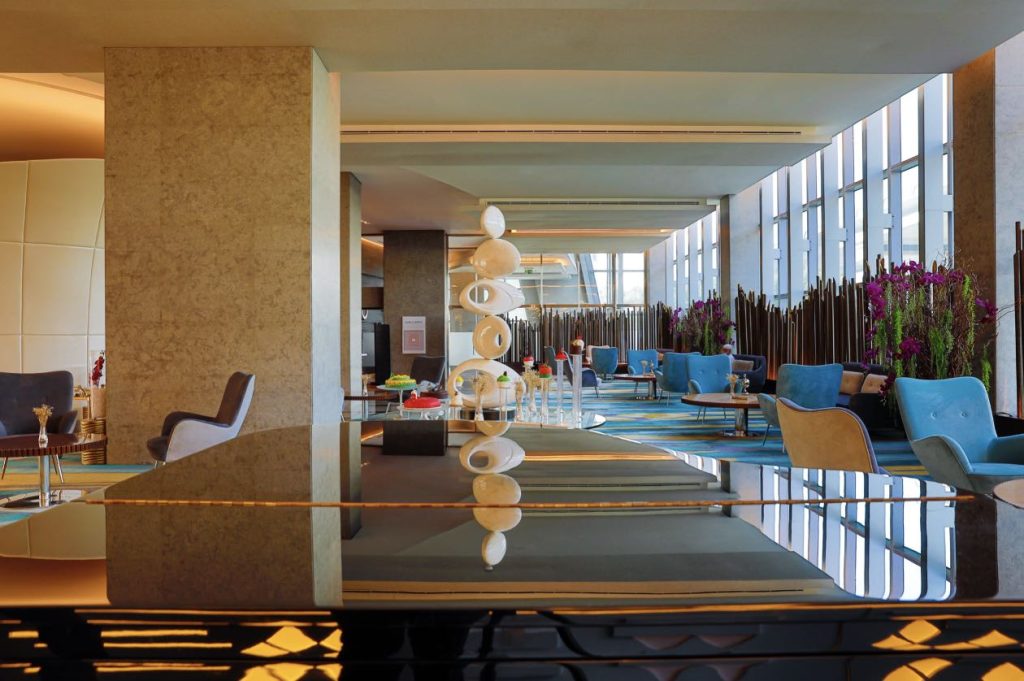 Sofitel Downtown – La Patisserie
Best for: Peace and quiet with chic French vibes
Hidden gem is an understatement: Sofitel Dubai Downtown is neatly tucked away between SZR and Dubai Mall. La Patisserie is spacious, light, and you can easily spend a few undisturbed hours between meetings working away in true French style. Talking of French style, La Patisserie has a selection of refined sandwiches and sweets, including foie gras, smoked duck, smoked salmon, and even green tea macarons. The best part? Sofitel Downtown is connected to Dubai Mall by an air-conditioned sky walk. Finish off the day here and indulge in some after work retail therapy.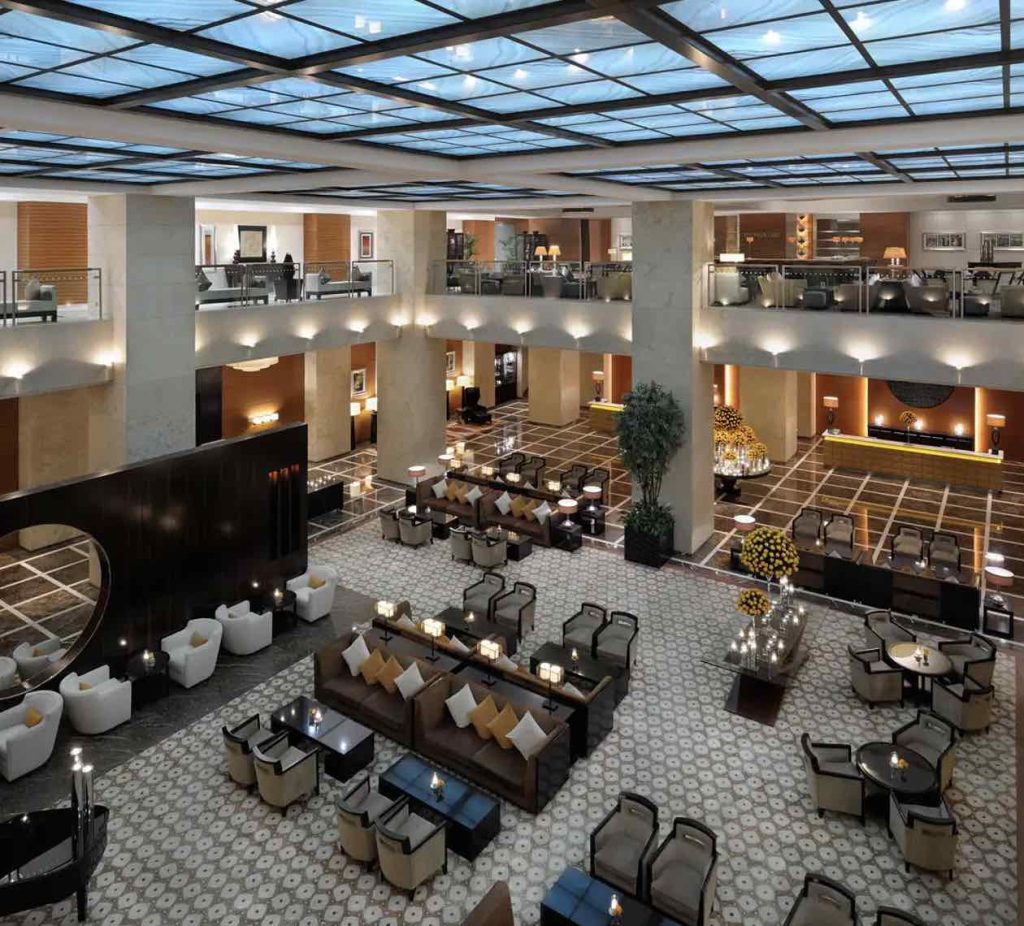 Grosvenor House Dubai Marina – Lobby Lounge
Best for: Getting off the grid and Bushra by Buddha Bar
The Lobby Lounge is the largest on the list and covers two floors, well the upper floors are home to Leaves and The Gallery where you will find a few people working away. The best thing is due to its size it's never busy enough to get distracting or feel crowded like some neighbouring hangouts can be. Get comfortable and work away the next hours until your next meeting. Rhodes W1 is also in the building should you need lunch – need we say more?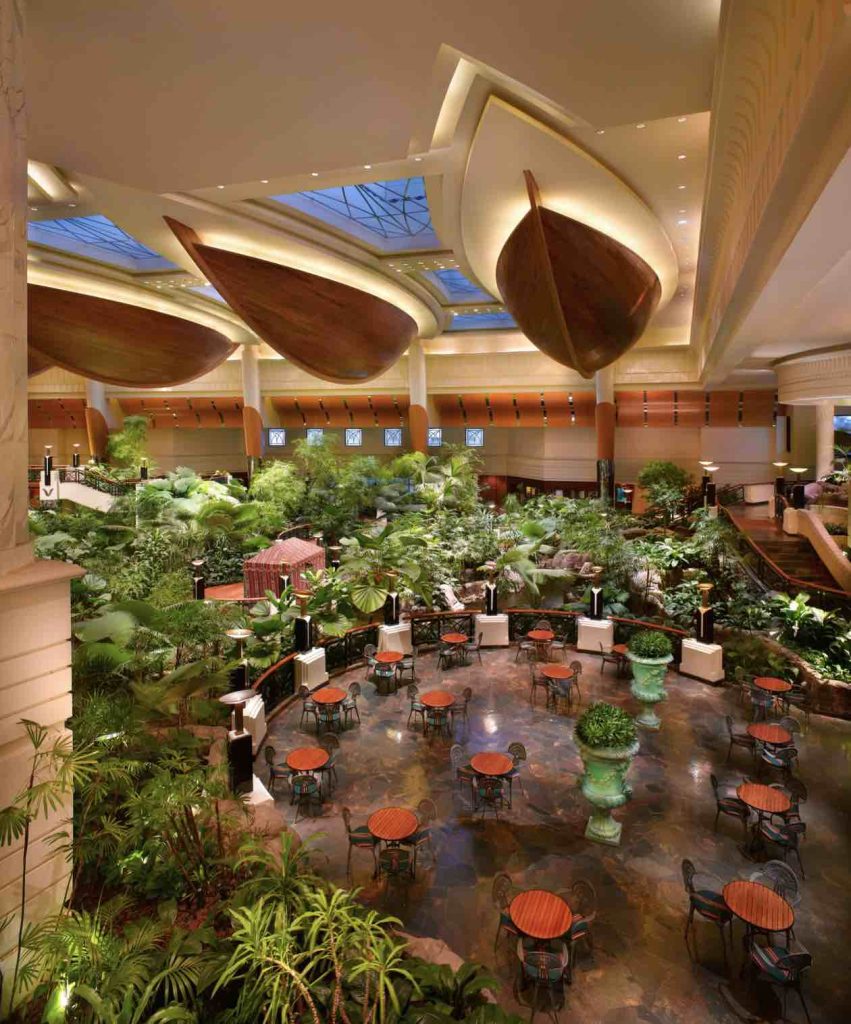 Grand Hyatt – Panini
Best for: Beating the heat
If your business day takes you to the Creek, Wafi, or nearby surroundings then it's tempting to stop into a coffee shop and work away before you hit the road. Go to the Grand Hyatt Dubai instead and take a refreshing few hours at Panini and work in a sub-tropical rainforest style lush environment. Factor in a few extra minutes to stand around and take in the WOW factor no other hotel coffee shop comes closer to being in the Amazon rainforest. An abundance of green foliage and soaring views ensure this location is guaranteed to be better than Starbucks.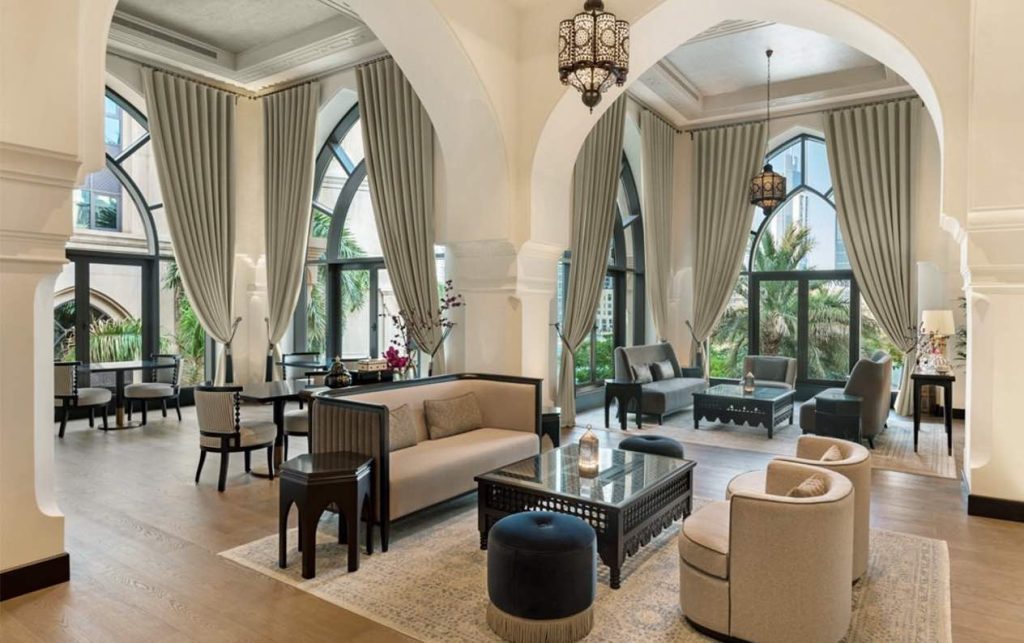 Palace downtown – Al Bayt
Best for: Meetings around the boulevard in 5-star Arabic style
The Palace Downtown sits on the boulevard meaning you can easily miss the entrance – which is odd considering the vast size. Well-deserved of its name, it's a great thing to tell your colleagues you will be working "at The Palace Downtown" for the next few hours. Al Bayt is just a pleasant place to sit and take in the scenery, never mind anything else. They also offer Afternoon Tea from 2-6pm, so find a corner and loose a couple of hours deep in thought and luxury while contemplating your next pitch.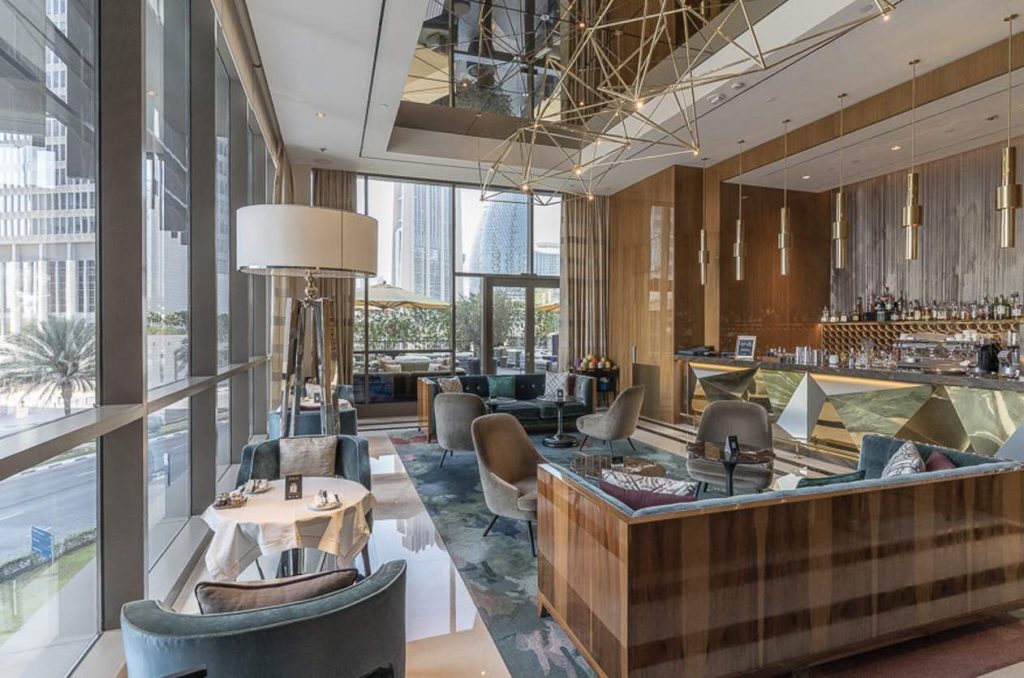 Four Seasons – The Penrose Lounge
Best for: A reserved atmosphere
If you have never been to a private members lounge, then The Penrose is the closest you'll come to experiencing one. The finest luxury furnishings host a reserved and elite clientele, with the hushed ambiance of discreet patrons and reverence. Simply order tea or coffee from the extravagant selection on offer, open your laptop and let the hours pass by. Breakfast is served 7-11am daily and afternoon tea from 2-7pm. In the evening why not treat yourself to a cocktail and round off your productivity as day turns to night.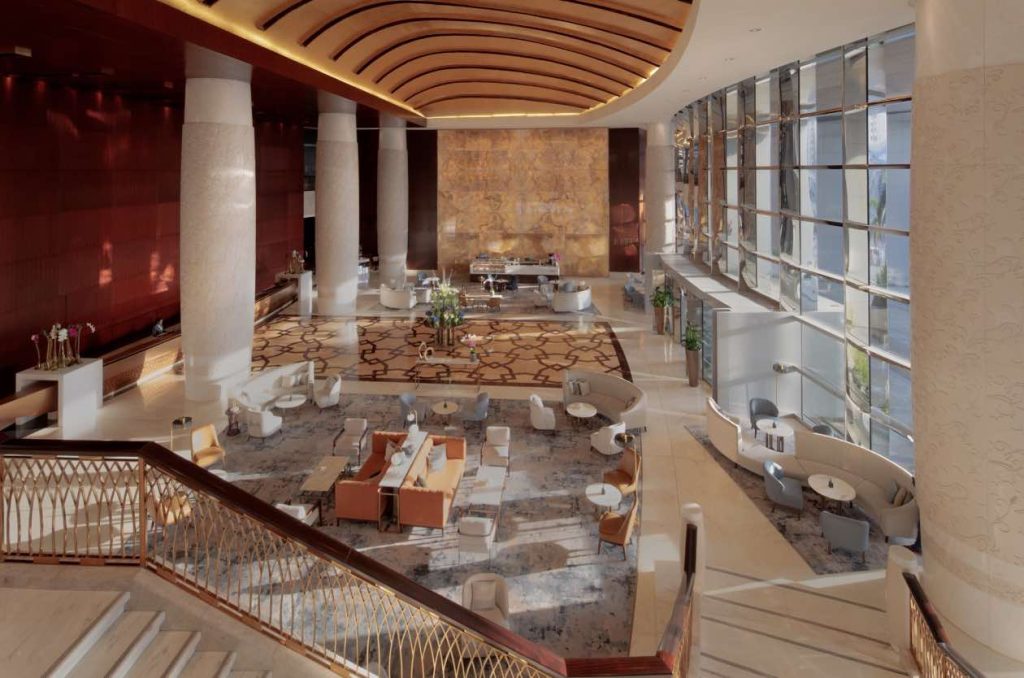 Conrad Dubai – Lobby
Best for: Modern and Classic Arabic style in one
Some small countries don't have an airport as spacious as The Conrad's Lobby. Classic styling meets Arabic Heritage, alongside a ceiling that replicates a traditional Abra in real gold foiling. Pay attention to the staircase, as seats on the top and hidden underneath are a private and brilliant place to deal with a few emails before your next meeting. ISLA serves baked pastries, beautifully crafted salads and gourmet sandwiches alongside the usual coffees and teas.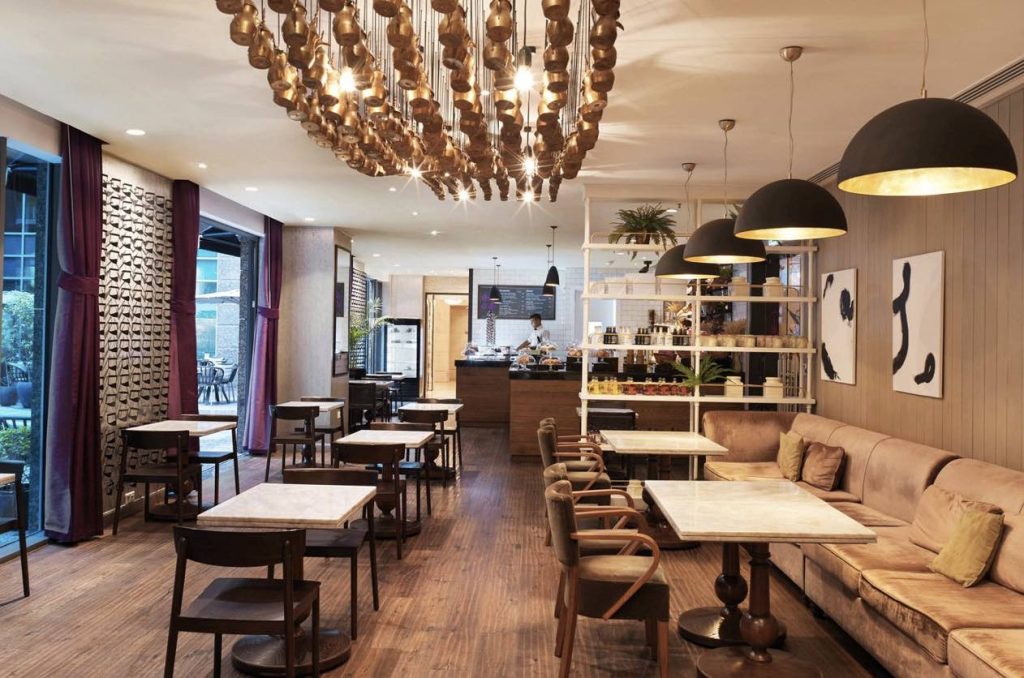 Ritz Carlton DIFC – Cake
Best for: World-class cake and coffee
Cake is an excellent place to hang around and work a few hours away before heading to your next meeting. An elegant menu of cakes, pastries and cookies are handmade by the pastry team each day, using only the freshest, highest quality seasonal ingredients. Teas, coffees, juices, milkshakes, smoothies and a range of fresh sandwiches and salads are also available, with Cake serving breakfast, lunch and of course cakes, around the clock to eat in or takeaway. Or take a business lunch in Cafe Belge next door if you're in the vibe for something more lively with a tipple or two.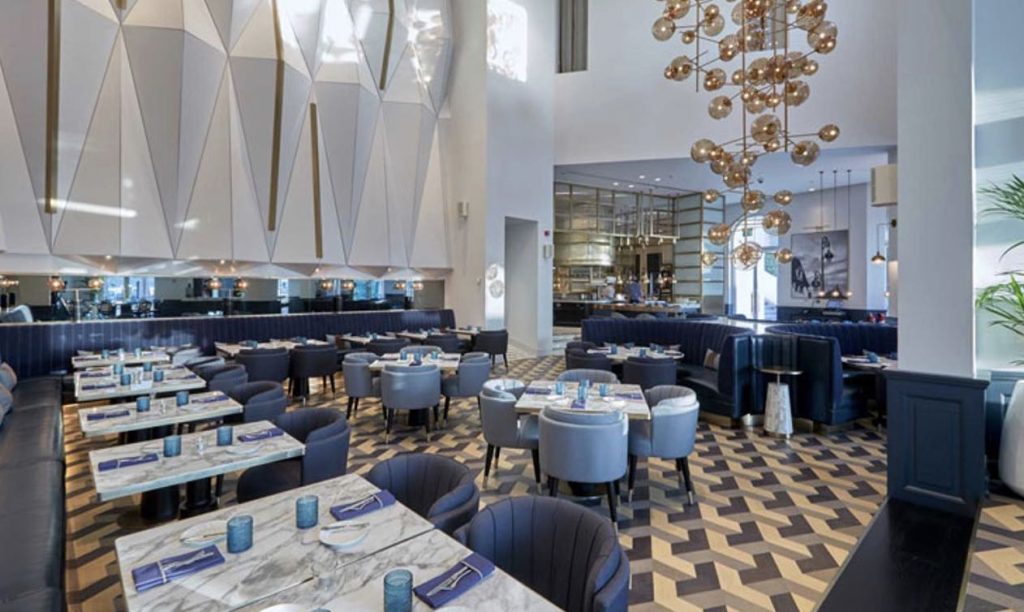 Special Mention
Park Hyatt – Brasserie Du Park
This Insider would intentionally book meetings in Sharjah or Ajman early in the morning so I could drive past the Brasserie Du Park and stop in for lunch and a few hours of work on the way back. With a simply first-class fine dining service, excellent business lunch menu and the best smoked tomato and onion soup found this side of Europe, this is one of much-loved spots in the city – we might see you there!