Drink & Dine
Reviews
The Insider Reviews: A Wild Brunch Affair – Into the Jungle at Palazzo Versace
A family favourite amongst the kids and the grown ups.
If you ask your fellow mum and dad friends for a family friendly brunch recommendation, Into the Jungle at the Palazzo Versace is sure to be mentioned. Launched in 2020 it's a firm favourite amongst the adults and kids and last weekend we went along (with baby in tow) to find out what all the fuss is about. As soon as the doors to the lobby open, guests step into a world of pure luxury and style. The hotel's glamorous interiors, reminiscent of high-end fashion runways, set the stage for a brunch experience like no other.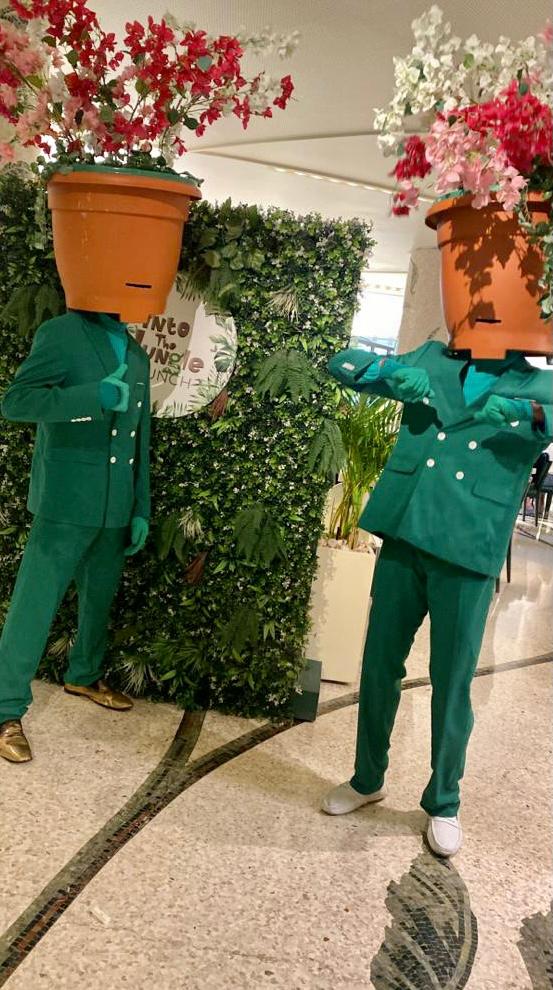 This brunch is more than a mere dining experience; it's a family affair, meticulously designed to cater to both adults and kids. There's a dizzying array of activities, some available throughout, others timed to ensure non-stop entertainment. The young ones are in for a treat. Imagine animal impersonators, Magic Phil (Dubai's resident magician extraordinaire), Moana Disney Princess (who seems to attract pint-sized Moana fans in matching costumes), face painting, mini chef experiences, balloon artists, jungle-themed crafts, and even a planting station. It's a child's paradise.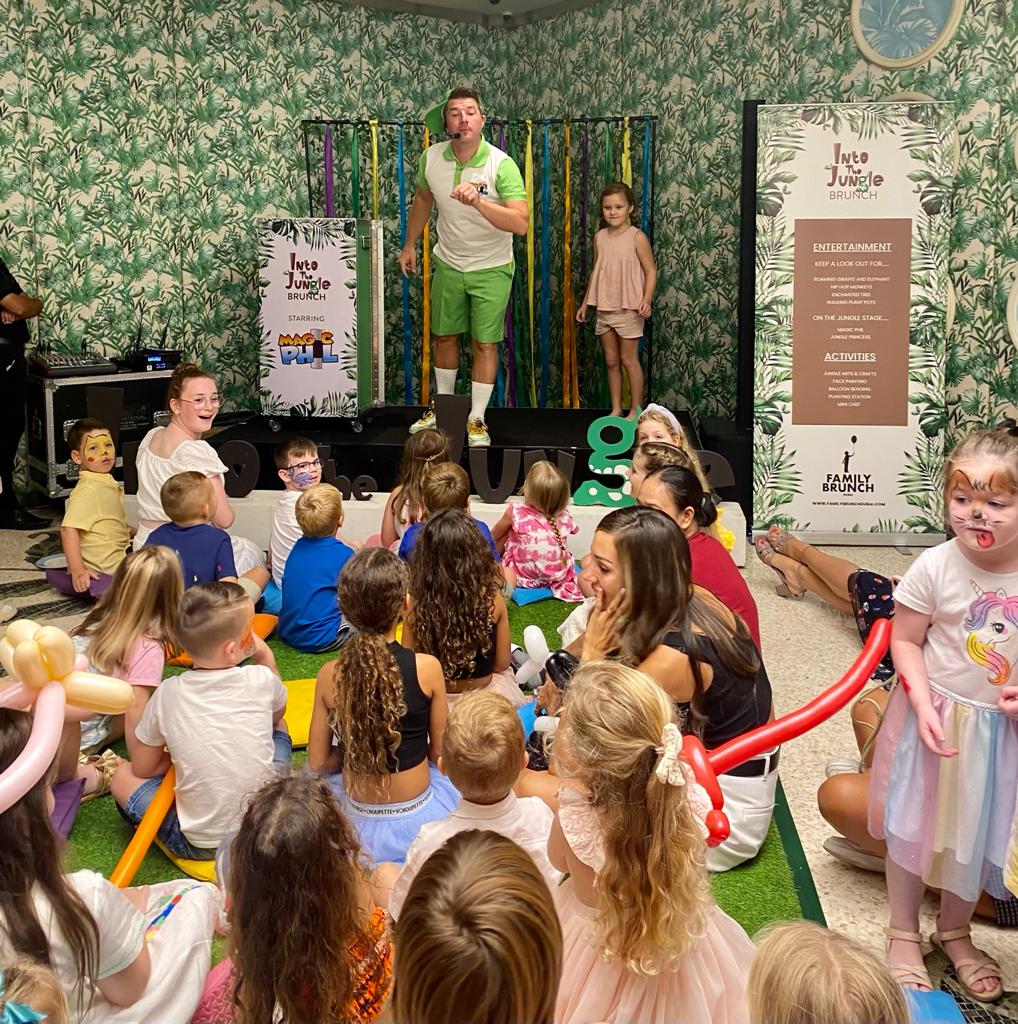 During our visit, we were treated to gangster gorillas, dancing giraffes, and even dancing flower pots came to life. The kids' eyes sparkled with wonder, and honestly, so did ours. Moana took centre stage and stole hearts and her performance had children and adults alike enchanted. Magic Phil, somewhat of a Dubai celebrity, had kids flocking to him, eager to participate and maybe snag a spot on stage. Little did we know, Magic Phil had a clever trick up his sleeve – subtle adult humour that kept parents entertained too.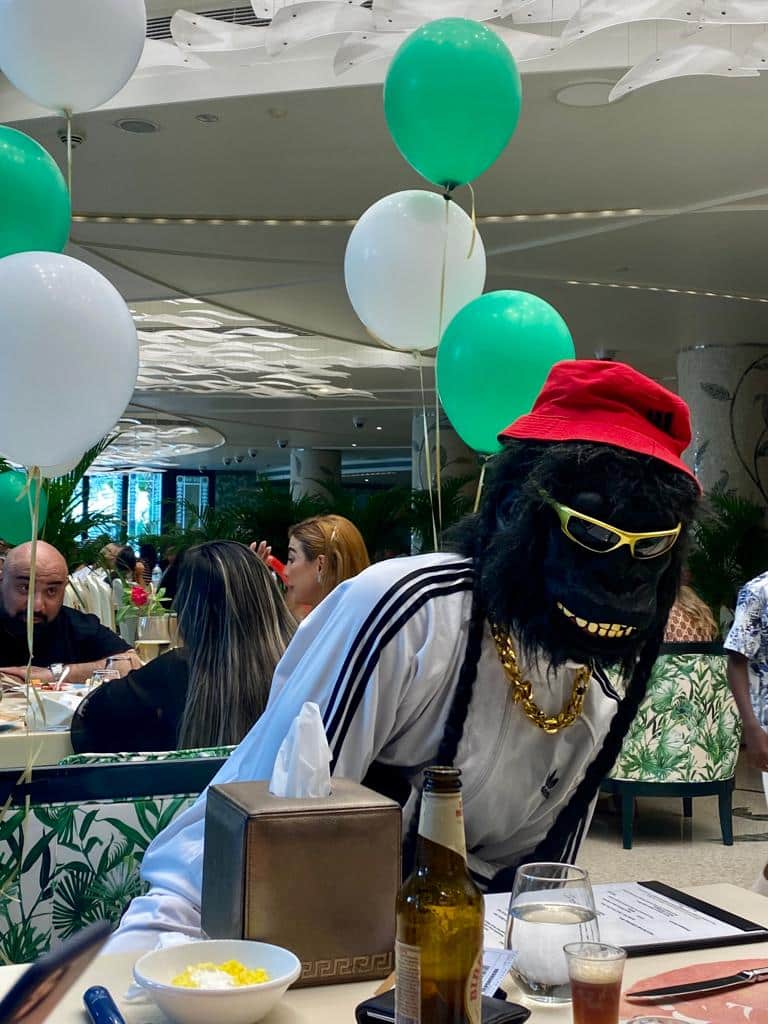 Now, let's talk about the star of the show – the buffet. This isn't your average brunch; it's a feast fit for royalty. Seafood lovers will be in heaven with an extensive selection, including oysters, sushi, sashimi, Asian delights, and Indian curries that transport you straight to the subcontinent. And the pièce de résistance? An epic roast dinner that'll leave you craving seconds. But wait, there's more – an array of about 40 meticulously presented cakes and sweet treats that'll make you feel like a kid in a candy store.
And don't think the little ones are left out. The 'Kid's Corner' caters to their palates with sliders, pasta, and a delectable array of sweet treats. Oh, and those donuts and cake pops? They're not just for the kids; go ahead and treat your inner child. But it's not just the buffet; the chefs themselves make an appearance at your table with some special dishes. It's a thoughtful touch, especially when laziness kicks in after a few plates, and you'd rather not make the trek to the buffet.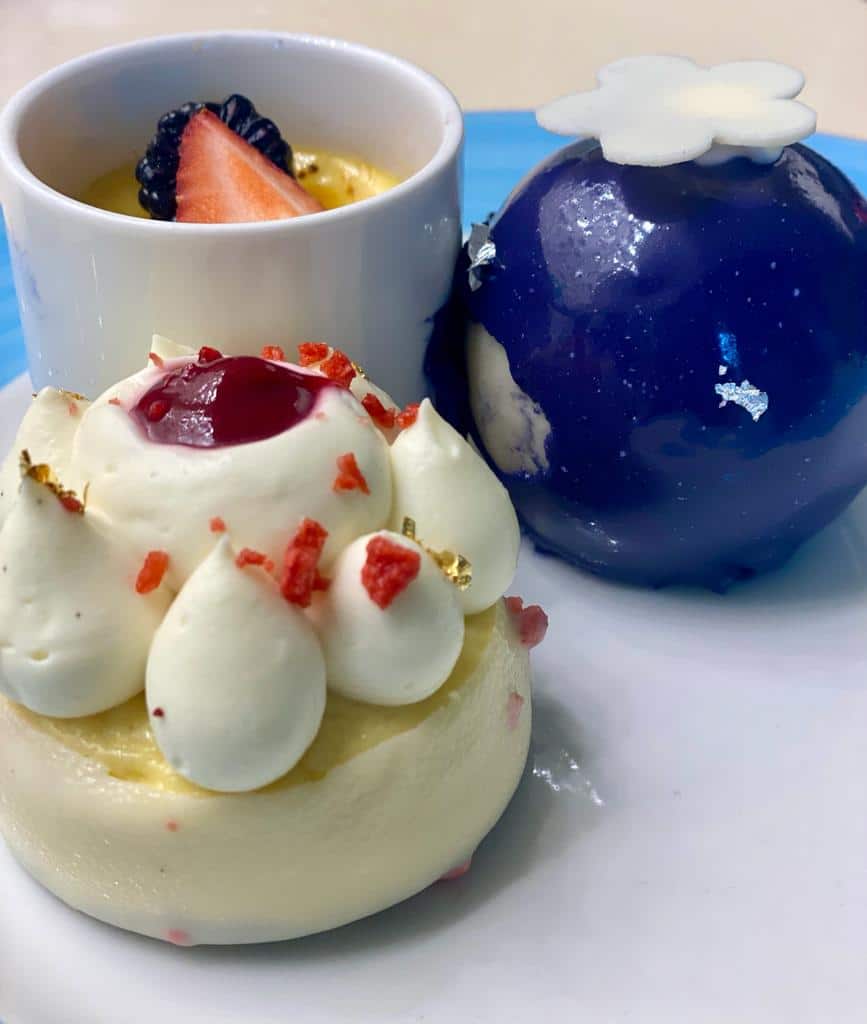 Now, let's talk about service. It's top-notch – your glass will never be empty. The drinks selection is impressive, with delightful cocktails and espresso martini shots that are a godsend for sleep-deprived parents. The fun doesn't stop after brunch. You can take a dip in the Central and West pools at Palazzo Versace, while the kids can head to the Kids Club for more adventures. Whether you're lounging by the pool or joining in on more family fun, the adventure continues.
In conclusion, the "Into the Jungle" Family Brunch at Palazzo Versace is a wild and fabulous culinary escapade with a lot of fun in the mix for young and old. As the weather cools down and tables open up on the expansive terrace, it's only going to get even better.
Join the brunch every Saturday from 1-5pm from AED 350 for soft beverages, AED 450 for house and wine, or AED 570 for sparkling, and AED 810 for champagne. Kids eat for AED 165 between 4-11 years and under that age eat totally free. For more information visit their website.