Brunch
Drink & Dine
A fix of 90s Hits and themed extras with great food for a fun informal evening brunch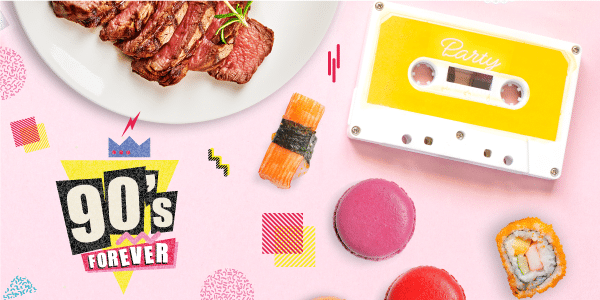 Kick off the weekend every Thur with nostalgic 90s Hits & Evening Brunch at the Meydan Hotel. It's a fun and informal affair from Sep 3. Includes a soundtrack of 90s hits, photographer & photo booth, cut-outs. Fish & chips, Pie & Mash too!
Set yourself up for the weekend every Thursday evening at the Meydan's 90s Nostalgia extravaganza evening brunch.
Fish and chips, Chicken & Mushroom Pie with gravy, Bangers & Mash with jus (or maybe it's liquor for East Enders!).
Elegant comfort food too with hot/cold starters like Pear & Waldorf salad or Leek & Bacon quiche.
Or how about Slow Cooked Barbecue Brisket Texas Style Sandwich for your mains with French Baked Lemon Pie to finish. Good range of menu choices.
Get together with friends or family – it's just a 15-minute drive or taxi ride from central Dubai to the Meydan hotel at the racecourse.
Eat inside or choose al fresco on the terrace with racecourse views.
Drinks afterwards are 50% off on selected beverages until midnight in the hotel's Millennium Lounge & Terrace.
It's reassuringly safe too
If you haven't been to the lovely Meydan recently, the hotel has reopened following an intensive sanitisation. Staff have been specially trained to hospital level in the correct procedures and hygiene for your assured safety. You are in good hands.
What's special: 90s hits played live, themed props & cardboard cut outs, photographer & photo booth to capture memories
When: 7 PM – 10 PM Thursdays starting Sep 3
Where: Farriers Restaurant, The Meydan Hotel foyer level
Prices: Soft Package AED 149 : Alcohol Package AED 249
Afters: Drinks afterwards 50% off selected beverages until midnight
Children: Kids under 5 eat for free and 6 to 12 years olds get 50% off
Find out more on the website: https://themeydanhotel.com/90sbrunch
Make a reservation today
Whats App: +971565254040
Phone: +97143813111