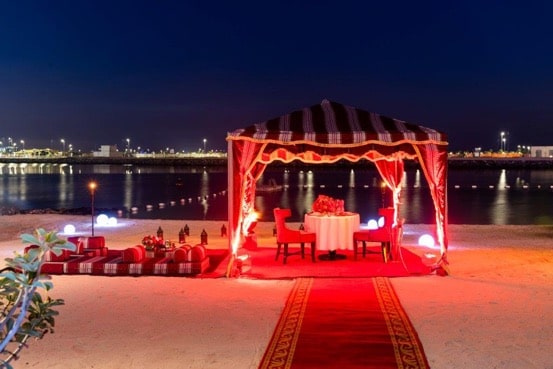 Jumeirah at Etihad Towers brings you a full-blown romantic line-up for Valentine's Day to make your day a special one that will forever be remembered. The Towers are playing host to a variety of culinary spreads for all tastes and preferences not to be missed!
The couple-themed spreads that await you at Jumeirah at Etihad Towers are bound to take your taste buds on a wild adventure in the company of your special someone. Surely, nothing spells romance more than that. In addition, every lady in attendance will receive a surprise gift at all venues. Let's just quickly browse through the romantic line-up and what each one has to offer.
You, Me and the Glittering City | Ray's Grill
14 February, 19:00 to 23:00
First on the list is the aptly named 'You, Me and the Glittering City' dinner at Ray's Grill. The setting is perched up above the city heights with breathtaking city sights while you enjoy the special grills skillfully prepared and attractively served in a cozy environment. The award-winning steakhouse is high up on the 63rd level away from the bustling city melee to offer the utmost privacy.
You also get the option to enhance your privacy for the inner setting from the comfort of a private dining room fitted with glass exterior walls with just as much enchanting sights and specially decorated interiors featuring a wide array of flowers and the classical red rose arrangements that will leave your date speechless!
The three-course sharing set menu comes at a modest AED 890 per couple.
You, Me and the Italian Way | BiCE
14 February, 19:00 to 23:00
Next up is our Italian wonder at BiCE. This couple-themed dinner offers a full three course meal to gouge yourself with exotic delights from Italy with your loved one in a perfectly laid out setting meant to offer the utmost privacy and spark that classic romantic sensation. BiCE is bound to give all lovebirds the full Italian experience famed for its underlying charm and elegant disposition. If you're planning to get on your knees and propose then this might just be the perfect opportunity!
Expect to spend only AED 290 per person for the exquisite three-course set menu with an À la carte menu readily available.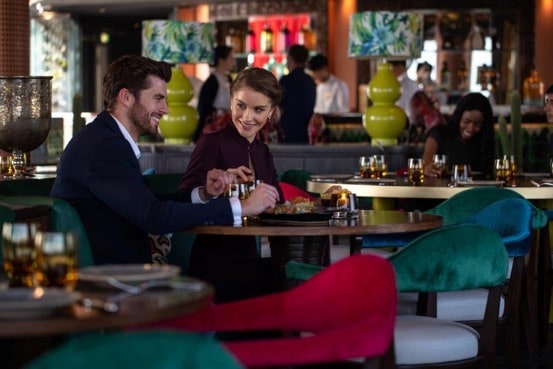 You, Me and the World's Cuisine | Rosewater
14 February, 19:00 to 23:00
Fancy a variety of cuisines from across the globe? What better way to enjoy it than through a romantic shared experience at Rosewater. Celebrate the holiday of love on the starlit terrace with a matching and impressively stunning setting ideal for any couple seeking for a perfect date destination.
Enjoy the world-class dinner buffet starting from AED 260 only
You, Me and the Top of the World | Ray's Bar and Observation Deck at 300
14 February 2020
The most memorable moments are always the ones shared with our loved ones. Ray's Bar and Observation Deck at 300 offers couples the chance to relax and enjoy the spectacular scenes from a lofty height with delicious platters and sparkling smooth wines to complement the romantic mood. The experience should set you back only AED 150 per person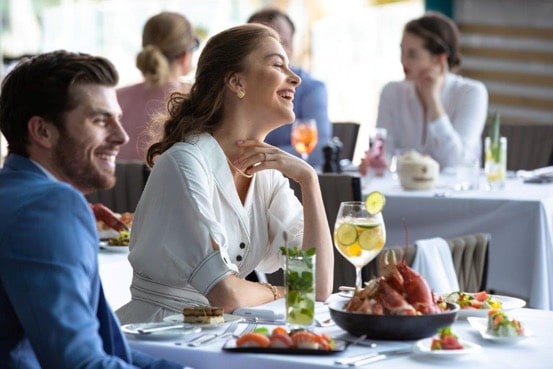 You, Me and a Starry Night | Nahaam
14 February 2020
Enjoy the re-creation of the classic romantic star-lit scene with Nahaam's valentine's brunch starting from AED 390 and top it off with a professionally prepared BBQ dinner for only AED 225 which comes with a glass of sparkling wine to take the edge off.
To kick up the privacy aspect of the experience a notch, Nahaam offers lovebirds a starlit dinner within a private tent at the beach. Enjoy a savory 4-course meal in this divine setting with just the perfect beverages for only AED 2,990 per couple. You can also embark on a romantic voyage on the day aboard a private boat with supper provisions for a modest AED 3,500.
Dia Dos Namorados | VaKaVa Restaurant
14 February, 19:00 to 23:00
VaKaVa Restaurant also offers the ideal date setting for couples with a delicious four-course sharing set menu meant for two. This comes with a welcome drink to kick off the night of romance and wow your date as you celebrate this international day of love.
Expect to spend up to AED 695 per couple.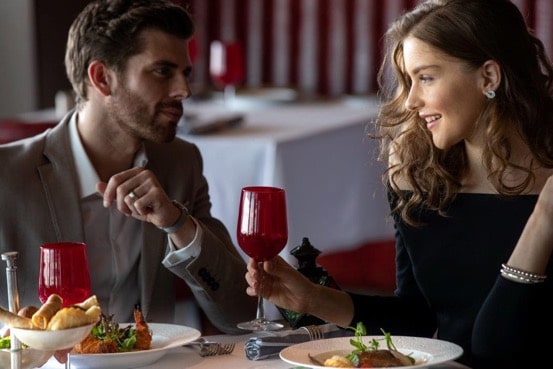 Fiesta de Solteros | VaKaVa Lounge
14 February, 18:00 to 21:00
Last but not least, VaKaVa Lounge offers singles the perfect opportunity to let loose and dance the night away to the tune of a live 'Cuban Summer' band and expert saxophonist with an energetic and dedicated DJ at the helm. You also get to enjoy unlimited house beverages while you mingle with others and perhaps even make special memories at this perfect Valentine getaway where the possibilities are limitless!
Enjoy this raging party at only AED 225 per person.
FOR RESERVATIONS
T: +97128115666