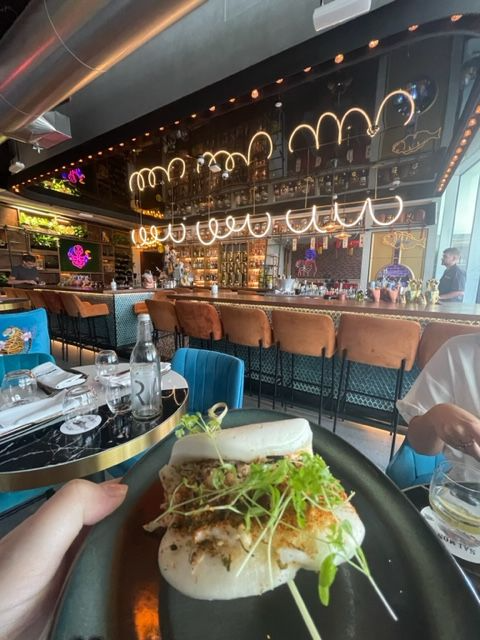 Slightly away from the business epicentre of DIFC, Salmon Guru at the Omniyat by Opus Hotel proved to be a delightful surprise with excellent bang for your buck.
Salmon Guru is a recent addition to the city's bustling bar and cocktail scene, but it has already won numerous awards and stands out from the crowd with its incredible beverage menu – often served in giant smoking dragons and other kitsch themed containers. The interior design of the venue is just as zany, with 3D fish painted on the slatted metal in the outdoor area, neon signs, pot plants, and impressive hanging decor adding to the overall wild and untamed aesthetic. It's a fun and quirky place – but not to be overlooked for its food menu, which as we found out was also quite excellent. This is also the sister venue to the original award-winning Salmon Guru in Madrid, which was named among the World's 50 Best Bars, and has chosen Dubai to be the home of its second location.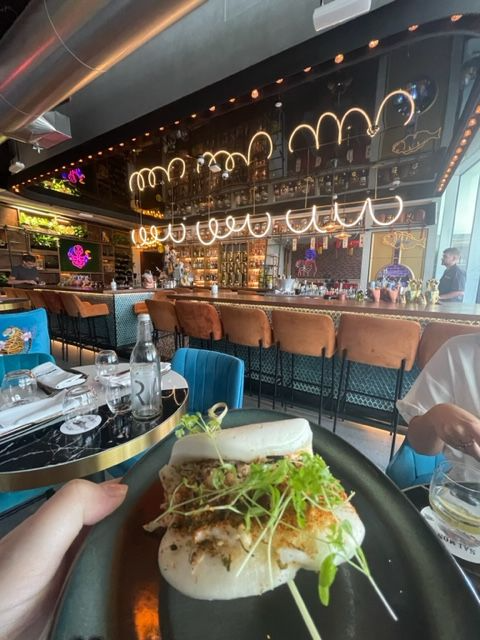 We sampled a business lunch on a Wednesday afternoon (and were the first guests to arrive at the venue) so we were warmly welcomed by staff and seated on one of their high banquettes and super plush high stools with velvet cushions. First off, we have to mention how incredibly purse-friendly this business lunch is! For only AED 100 we were offered a choice of two starters each, a main, a dessert, and a glass of house wine. For starters we choose the Charred Broccoli which was fresh and crispy, and came with a creamy dressing, plus the Grab a Crab, which was poached king crab served sriracha mayo emulsion in a steamed bao bun (these were yummy), and the Beef Short Ribs and Hens Croquettes with tempered chicken, chipotle and bechamel sauce. We also tried raw sea bass sashimi served with leche de tigre which is one of their specialties and absolutely not to be missed.
The food was exquisitely served with attention to detail in terms of both little sauce and garnishes, and also the dishes and crockery. For mains we tried the Woodfire Lamb Cutlets which were garnished with delicate herbs, smokey salsa brava, and served with fried truffled layered potatoes, and also the corn fed Chicken Brochette which featured a chicken that had been marinated for 24-hours and was served with glazed parsnip and kalamata olive emulsion. The food was tasty, fresh, but not too heavy – which is the perfect combination for a business lunch. The portions definitely felt generous, especially for the price, and were perfectly washed down with a glass of house rosé.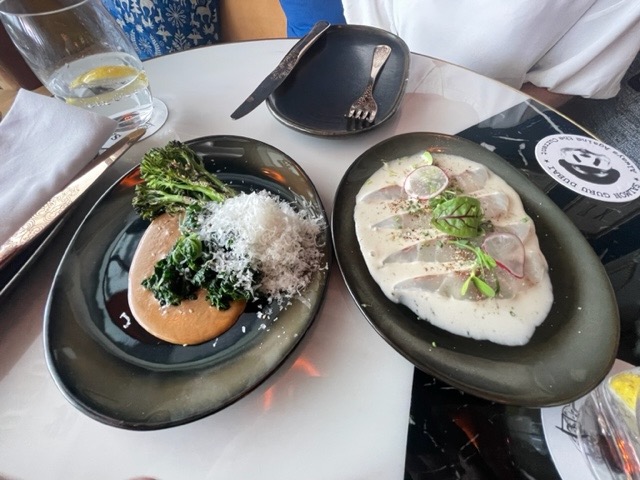 The dessert was also impressive, and where some venues can scrimp on this and serve up a plain scoop of ice cream, Salmon Guru was consistent with the same quality as the previous courses. I choose a chocolate pudding with crumbled biscuit, scoops of rich dark chocolate ice cream, a homemade chocolate bar, mousse, and a crumbly topping – totally OTT and death by chocolate! My guest was a little more conservative and ordered a passionfruit mousse sprinkled with sliced almonds, which was tart and sweet at the same time.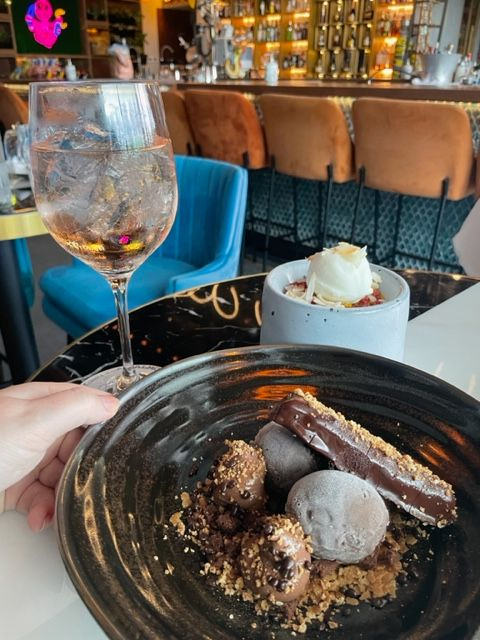 Surprisingly the venue wasn't busy at all for their business lunch (they're better known for their evening glamour and cocktail fever) and possibly lose out to venues closer to the financial district, but we would highly recommend Salmon Guru for a girly lunch during the daytime, or a formal lunch with work colleagues. It ticks all the boxes for food, drinks, and service, as well as being excellent value.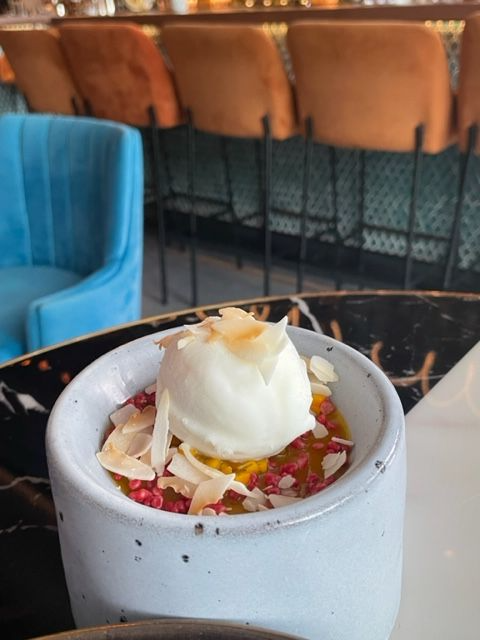 For more information or reservations visit here or their Instagram @salmongurudubai