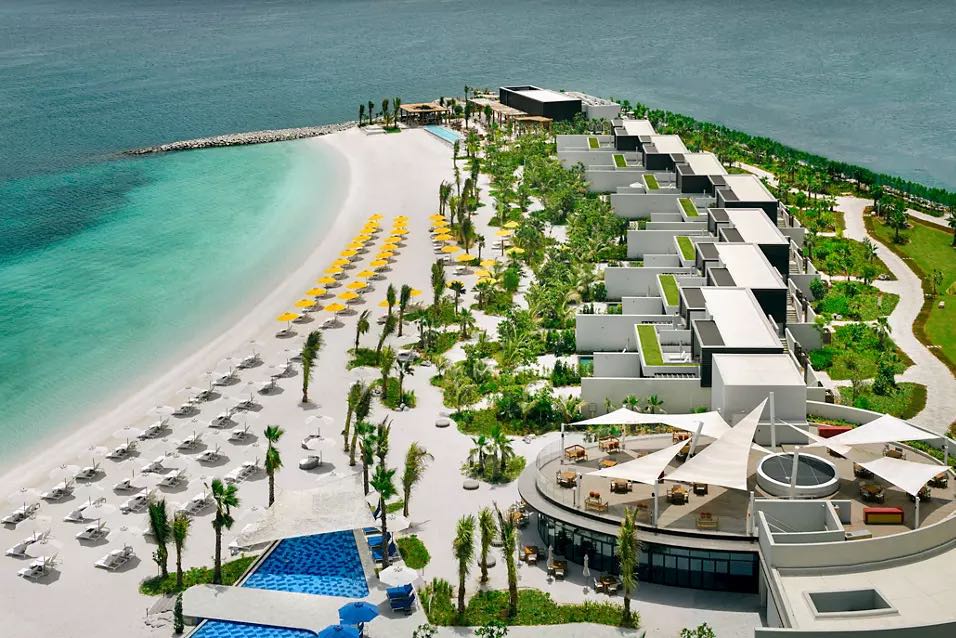 Contemporary design meets regional splendour, this resort includes activities, infinity pools, restaurants and more, ensuring you'll never want to leave.
The Movenpick Resort, a relatively new addition to the luxury hotel scene on Al Marjan Island, stands as a testament to contemporary-modern design. From the moment you approach the resort's entrance, you're greeted with grandeur in the form of captivating artwork and an architectural centrepiece table. This initial impression sets the tone for what awaits inside.
Upon crossing the threshold, the grand entrance hallway gracefully curves into the lobby area, where the hotel's commitment to modern minimalism is immediately evident. The aesthetic is handsomely executed, with clean lines and a sense of understated elegance that pervades every corner of the property. However, what truly distinguishes this resort is its clever use of architecture and design.
Throughout the communal areas, any space that allows for the replacement of walls with panoramic glass windows has undergone this transformation. The result is a profusion of warm, natural light that bathes these spaces, creating an inviting and comfortable atmosphere. The architectural details incorporate geometric trickery that becomes fully appreciable only from specific angles. Moreover, the top floor's sky bridge-style layout lends the building a unique and charismatic character.
Beyond the aesthetics, the Movenpick Resort boasts a plethora of amenities that befit its class. A sprawling, well-equipped modern gym, available 24/7, offers a range of cardio equipment, free weights, yoga balls, and dedicated stretching areas. Two alluring infinity pools beckon guests to take a refreshing plunge, while a 300-metre-long private beach, featuring fine white sand, provides the perfect backdrop for relaxation. For those seeking rejuvenation, a serene spa awaits, complemented by a diverse collection of watersports and a floating water park to cater to both adults and children.
Speaking of family-friendly facilities, the resort goes above and beyond. Families with children will find everything they need, from a dedicated children's pool to an outdoor play zone and the Starfish Adventure kid's club. Excitingly, the resort introduced an extension, Xscape, to their existing kid's programs that is tailored to teens from 12-19 of age. Xscape has appealingly blended funky modern and nostalgic aesthetics in its contemporary teen-cave, creating a captivating space tailored to the preferences of young guests. It ensures a secure and enjoyable environment for teenagers to socialise, relax, and create lasting memories with their friends. Xscape boasts an array of thrilling features designed to keep teens thoroughly engaged. Acknowledging the popularity of gaming among this demographic, Xscape proudly introduces six cutting-edge gaming stations, offering an immersive outlet for their love of virtual adventures. Whether embarking on exhilarating quests or engaging in epic battles, this gaming paradise promises an endless world of excitement for teenagers of all ages.
For a truly relaxing experience, I highly recommend indulging in a massage at the Citrine spa, where a range of treatments, from massages to facials, awaits. My 90-minute massage proved to be divine, expertly easing away all my muscle aches.
During my stay, I had the privilege of residing in one of the Movenpick Resort's beachfront Chalet suites, which offered a private pool. These accommodations are situated a bit of a distance from the reception area, but fret not, as the resort provides convenient buggy transportation for those who prefer not to walk. These suites are cocooned in privacy and grant direct access to the beach. Moreover, junior suites located above offer spacious terraces with panoramic views of the beach.
As I entered my villa, I was immediately captivated by the spacious living and dining area that opens onto a private pool and terrace. The room exudes a luxurious, modern, and stylish ambiance while generously accommodating guests. Yet, the pièce de résistance was undoubtedly the private pool, providing the ideal spot for a refreshing dip, whether it be in the early morning or late at night. The pool seamlessly transitions into lush plantings that transport you to a tropical paradise and onto the pristine white sand beach. Wandering onto the deserted beach for an early morning stroll was a cherished experience and upon returning, a meticulous attention to detail awaited in the form of a foot fountain, ready to wash away the fine sand.
Inside the suite, there was a guest bathroom and a generously proportioned dressing area complete with a dressing table, adding to the convenience. Naturally, a Nespresso machine and kettle were provided, along with an ample supply of bottled water. The Chalet suite itself was expansive and tastefully adorned in calming neutral and blue hues, paying homage to the sea and sand just outside. The main bathroom was another highlight, featuring a spacious soaking tub, a large walk-in shower, and a well-appointed vanity. For those fortunate enough to stay in the beachfront suites, indulging in the Floating breakfast is a must. This extravagant and intimate dining experience elevates your morning meal to a new level of luxury.
The resort offers a variety of dining options, eliminating the need to venture beyond its borders. The Beach House, a poolside restaurant, boasts a unique setting where you can dine with the sand beneath your toes, making it perfect for families as you savour both the cuisine and the ambiance. An upstairs terrace offers additional seating and delightful views. The menu here is international with a California-inspired flair, featuring everything from pizza to Tex Mex.
Boon's Brasserie & Bar, on the other hand, exudes a French bistro-style charm, offering a traditional French menu along with grill items. The extensive menu beckons you to return for another visit, with overly generous portion sizes to appease your appetite. If you enjoy a lively atmosphere, you'll find live music on most nights, but for those seeking a more tranquil experience, the terrace provides an opportunity to bask in the balmy night air.
The Market – all day dining is the place to be for breakfast, offering an extensive spread with an abundance of choices, ranging from Indian and Arabic dishes to a classic full English breakfast. Whether you opt to sit indoors or on the terrace, you'll appreciate the tasteful ambiance. Noteworthy offerings include a real honeycomb and a wide selection of juices, including the delightful watermelon juice.
Ula, undoubtedly a highlight, exudes a Mediterranean charm reminiscent of Santorini. Its "swings, wood, and macrame" finishes set the stage for a bohemian-inspired oasis. The food here is nothing short of amazing, and you could easily find yourself dining here exclusively. The restaurant can get quite busy with locals, so reserving an outside table is advisable, as they tend to fill up quickly. The menu heavily leans toward Greek influences, with standouts like tzatziki and freshly baked bread that is both creamy and light, lightly dusted with oregano and slightly charred. The succulent lamb kebabs are another crowd-pleaser. Ula also offers their delightful Boho Brunch showcasing their signature dishes that are truly a treat to savour.
Ula's adult-only pool complements the overall atmosphere with a vibrant energy. Guests can enjoy the same delectable food as the restaurant while lounging poolside. Dips like taramasalata, tapenade, and tzatziki paired with freshly baked bread make for delightful nibbles. Meanwhile MöCa, the Lobby Cafe, serves freshly-baked pastries, croissants, crêpes, waffles, and a variety of lounge food, all accompanied by an array of coffee and beverage options. The café also proudly serves Mövenpick brand ice cream and hosts Mövenpick's signature Chocolate Hour, offering guests a taste of various chocolate treats, including a chocolate fountain.
Lastly, don't miss out on Neo Sky bar, set to open in September. This rooftop lounge promises 360-degree views, making it an ideal spot to witness breathtaking sunsets and take in stunning vistas of the resort and Marjan Island.
In conclusion, the Movenpick Resort offers a harmonious blend of contemporary design, luxurious amenities, and a diverse array of dining experiences with exceptional service, all set against the backdrop of a stunning beachfront location. Whether you seek relaxation, adventure, or culinary delights, this resort has something to cater to every traveller's desire.
For more information or reservations please visit their website or follow their Instagram.