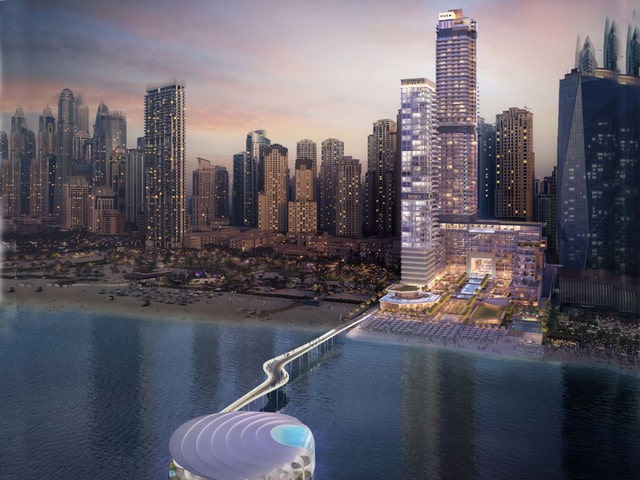 The newest property in their portfolio is due to open by the end of 2023, so we're bringing you the insider scoop…
What is the FIVE LUXE JBR?
Every Dubai resident knows about the infamous Ladies' Day pool parties at FIVE Palm Jumeirah which was the first established party hotel. Swiftly followed by FIVE Jumeirah Village, which featured a plethora of rooms with private pools, bringing the intimacy of house parties in a hotel setting. FIVE JVC also has the accolade of being the most-reviewed hotel on booking.com, as well as recently celebrating its fourth birthday.
If those two epic venues weren't enough, the hospitality group is building a brand new venue in JBR where the Corinthia Meydan used to be, and if you pass by the site you can see construction going up seemingly 24-hours a day.
When is the hotel opening?
While the official opening date hasn't been announced, we have been promised it will be in Q4, so October, November or December this year, so you might be able to plan your NYE celebrations under the spectacular JBR fireworks from this new hotspot.
What makes the FIVE LUXE JBR super cool?
Well we've heard that this incredible hotel has built a nightclub that sweeps out to sea, which sounds like it will be another impressive party venue. As well as a beachfront location with 14,000 sq feet of sand, there will be 222 rooms and suites, plus apartments, and enough restaurants to ensure you're spoilt for choice. There will also be a Beach Club and Social Pool, which will host the same wild parties we are used to from the FIVE group.
There's also the same brand of award-winning spa called ReFIVE, plus indoor and outdoor pools, an outdoor gym, Padel tennis, plus a kids' club. The hotel boasts the same "experiential luxury" that the other hotels are known for.
What else is happening at the FIVE LUXE JBR?
They will also be offering 231 residential suites plus 100 serviced apartments with anywhere between one and four bedrooms. Some of these are within the hotel itself while others are located next door at SENSORIA which is part of the FIVE LUXE community. Residents can expect windows that open overlooking the sea, outdoor entertainment spaces and soaring high ceilings of up to 3.5-metres.
Is Lío Ibiza really going to be there?
Owned and created by Pacha, this Ibiza-born venue is known for its incredible performances and contemporary cabaret shows. Since its successful inception on the White Isle, it has opened venues in London, Las Vegas and Mykonos – and now it's coming to the UAE.
Expect internationally renowned dancers, singers, and other acts, and as the venue turns into a nightclub later in the evening, world-class DJs take to the stage. The Dubai version will be built slightly offshore on a specially built dome known as the 'Pearl of Dubai', and it will cover a whopping 35,000 sq ft. The design is meant to emulate a shell emerging from the sea, and is expected to be another exciting addition to JBR's already glittering skyline.
That's all we know for now, but stay up to date on theinsiderme.com for more information and our review when it's finally open.