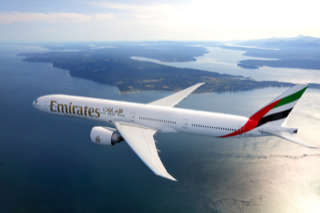 Brokered at ATM (Arabian Travel Market) the two airlines have signed a landmark deal allowing travellers more time to explore the country.
Travellers can now add more stops within the UAE to their existing itineraries, as per a new deal brokered between airline supremes Etihad and Emirates.
An Emirates spokesperson said: "The MoU signed at ATM (Arabian Travel Market) allows Emirates and Etihad to build on an existing interline agreement to create new itineraries that will benefit inbound UAE traffic, tourism and economics."
Etihad has described the agreement as "two airlines, one ticket (and an) endless adventure" in a Twitter post. "Fly into Abu Dhabi or Dubai with a seamless return from the other airport with a single ticket."
Emirates tweeted that the agreement enables visitors to "experience more than one UAE destination in a single itinerary".
So what does this mean? Essentially, customers for either airline, having purchased a ticket, can now fly into either Dubai or Abu Dhabi but fly out of another. This means a better chance for exploring the UAE due to a variety of fly options. It also saves time for those traveLling around the UAE.
The Emirates spokesperson also said: "Travellers will be able to book an itinerary where they fly into Abu Dhabi on Etihad from East Asia, enjoy their time in the UAE, and then return home via Dubai flying on Emirates."
This also applies to tourists with multi-city flights on either carrier's networks as they can travel to one and return via another point served by Eithad or Emirates. The initiative is due to start this summer although no date has been fixed as yet, so existing bookings are still subject to the same terms and conditions.
"With the MoU in place, both airlines will be working over the coming months to enable customers to book their itineraries to explore the UAE via both airline's websites and travel agents," the Emirates spokesperson explained.
So, tell your family and friends to get their suitcases packed and take an extended trip via some of the UAE's coolest cities.