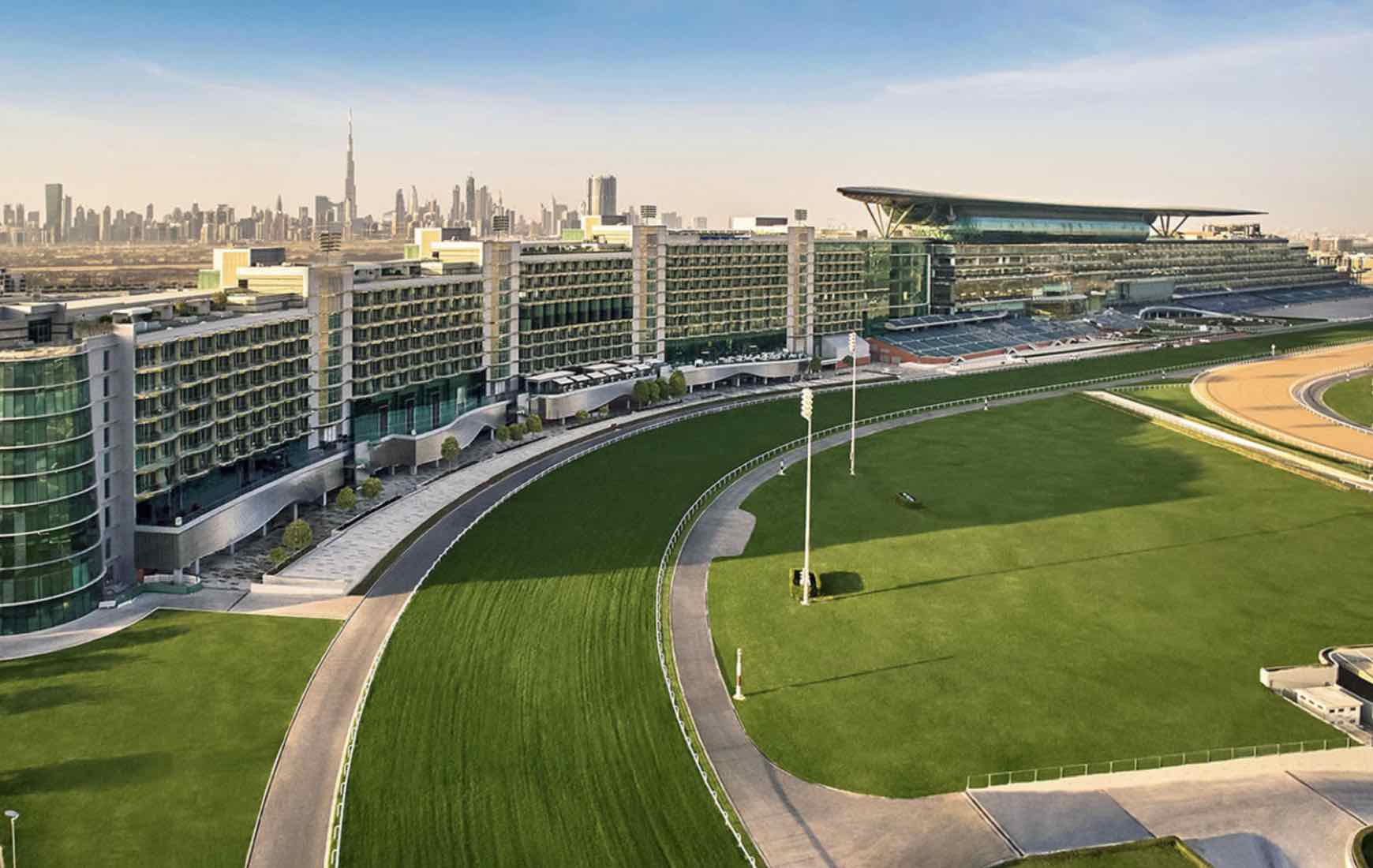 The Meydan Hotel has reopened with very high standards of sanitation and hygiene in place. This superb 5-Star hotel overlooks the racecourse and has a golf course too. The rooftop infinity and kiddy pools are just some of the attractions.
Guests who adore the 5-Star Meydan are delighted to hear that it's open again after a 4-month layoff and deep sanitisation. To celebrate, the hotel has put together mouth-watering packages to welcome us all back.
Rooftop infinity pool overlooking the racecourse
It's a different experience gazing down on the racecourse from the glorious temperature-controlled rooftop infinity pool. Relaxation starts there, and continues dawn to dusk. It's where you settle in and look out to the horizon, with attentive service making all the difference.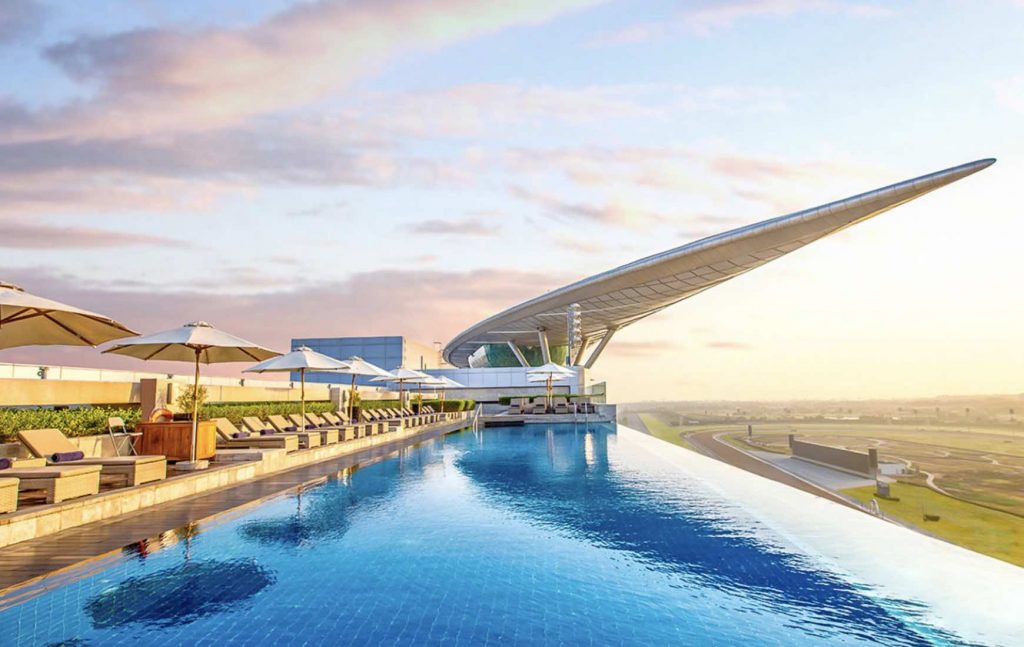 Very spacious rooms too
Rooms and suites are large, airy and comfy. Most of them have wonderful views overlooking the Meydan Racecourse where you can see the horses in training during the race season. It's a great hotel for families and the special packages allow children to stay for free.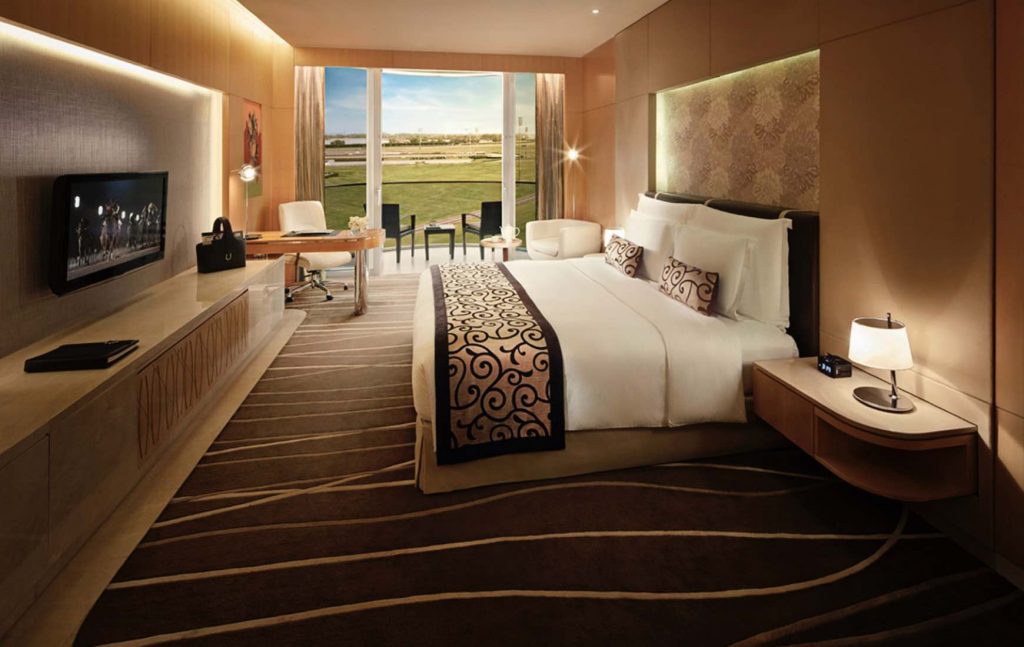 Catch the big games in the Qube sports bar
With 16 large LCD screens and big projector screens on cubes, you get to see all the major sports events like Premier League and Champions League football. It's a great big comfortable bar with excellent bar food, beers, wine and beverages. Enjoy the atmosphere of sports nights and the daily promos.
Golf and horse racing
The fully floodlit championship course is a joy to play your complimentary daily 9 holes when you book a Stay & Play package. Stable Tours start with a 5-star breakfast in-room or at Farriers restaurant. Take a guided tour of the stables where horses are groomed and conditioned, and go behind the scenes under the grandstand too.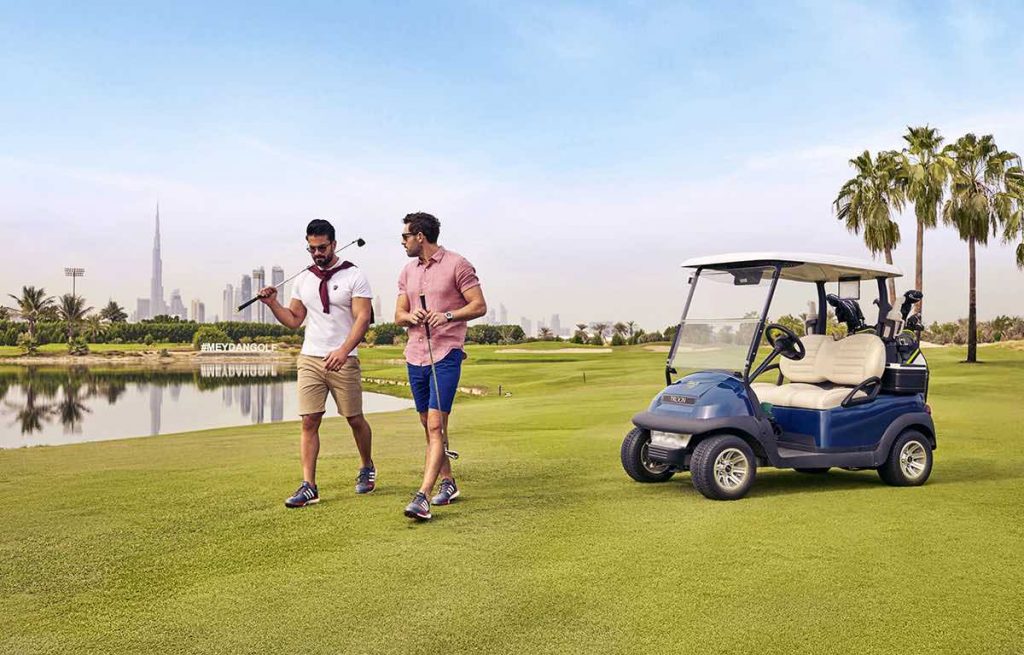 Exceptional hygiene and sanitation
The Meydan has gone to great lengths to ensure guest safety, to the extent of being awarded the highly regarded Bureau Veritas' Safeguard label. Staff have been trained to the equivalent to a hospital grade process of cleanliness and hygiene standards.
Guests report that the hotel feels very safe and hygienic and that all precautionary measures had been taken.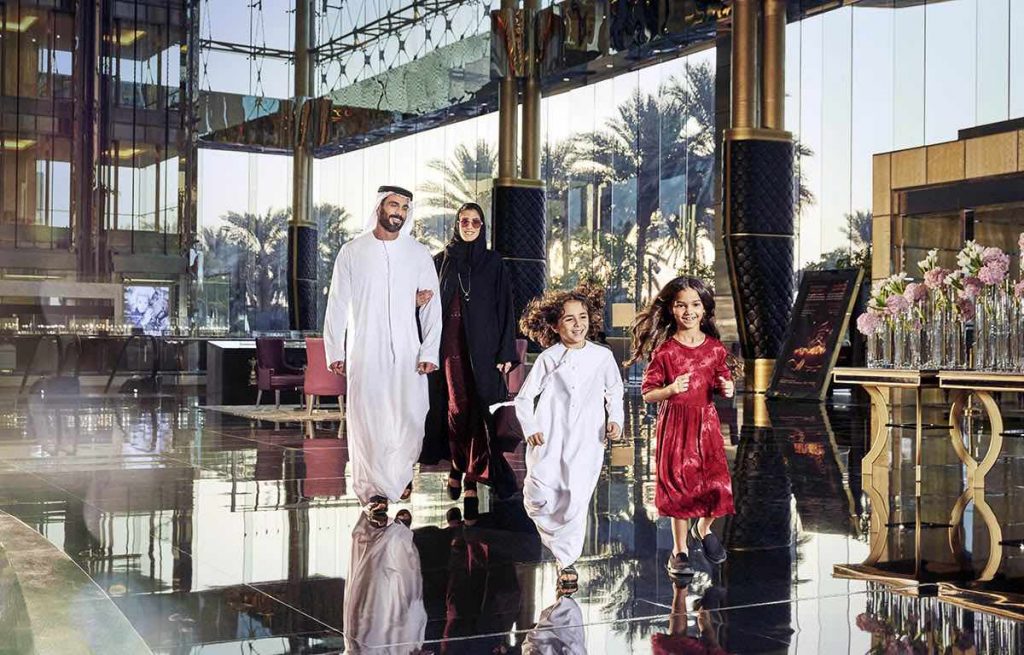 Unbeatable package deals offer you superb value
Daycation – Get a room for 2 adults + 2 under 12s from 9 a.m. to 6 p.m. with all-day access to the Gym and Infinity Pool plus 25% off all food and beverages. From AED 249.
All stay-over packages offer:
Complimentary breakfast in-room or at Farriers Restaurant
Free accommodation and breakfast for 2 under 12s
An extra bed per room is available on request
25% off food and beverages
Access to fully-equipped Gym and Infinity Pool overlooking the racecourse
Cancel up to 6 p.m. the day before
Staycation – From AED 399 per night. Save 15% and book 3 nights from AED 359 per night. Save 15% on 339 nights or more from AED 299 per night.
Stay and Dine – From AED 499 per night with AED 200 credit against meals.
Stay and Play (Golf) – In the tranquillity of The Meydan Hotel Golf Course. Free 9 holes each day from AED 524 per night.
Long Stay – Choice of rooms or suites for min. 7 nights from AED 1,949 (that's a 30% discount) with even greater savings for a 14 night stay. Complimentary upgrade to Grand Deluxe Room if you book Grand Superior Room 5 days in advance. That's a great deal!
Find out more
Address: Al Meydan Road, Nad Al Sheba, P.O. Box 9305 Dubai, UAE
Website Link: https://themeydanhotel.com  
Room Reservations: +97143813231