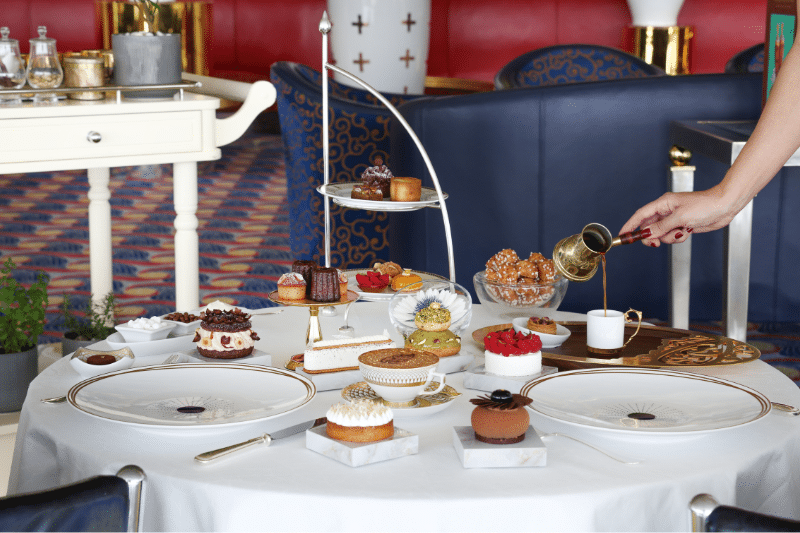 Afternoon tea is associated with quintessential British-ness, but these venues have curated menus with their own personal culinary stamp from different regions and cultures.
Whether you're celebrating a baby shower, girlie birthday, or have the family in town, there are a lot of great reasons to indulge in one of Dubai's finest secrets – their afternoon tea. From a splurge with decadent desserts, to a multitude of teas with skyscraper views, there's something for every tea-lover to enjoy. Read on for the full list…
Sahn Eddar, Burj Al Arab
Your day can't get much more boujee than with a trip to Dubai's iconic Burj Al Arab, and their sleek venue Sahn Eddar hosts an afternoon tea with lashings of elegance and style. With stunning traditional Arabic style decor including marble and intricate mosaics, you can also expect traditional Arabian hospitality. As for the food, there's fresh and delicate sandwiches, pastries and cakes, though everything has an Arabian twist and is less typically British than some other offerings. The afternoon tea is available daily from 1pm-6pm and is priced at AED 590 per person, though this also includes champagne, and you won't find better views with your afternoon treat.
At.mosphere, Burj Khalifa
Taking afternoon tea to new heights, At.mosphere is on the 122nd floor of the Burj Khalifa, meaning your view will be truly spectacular. With modern French style cuisine, their afternoon tea is ultra luxurious and comes with cakes, mini sandwiches, and crumbly scones with clotted cream and jam, as well as a selection of teas. From 12:30pm-4:30pm it's AED 599 per person and this includes your sparkling beverages, although make sure to reserve early as the prime spots by the windows tend to get booked out quickly during high season.
The Farm Restaurant, Al Barari
A beautiful and secluded hidden oasis away from the hustle and bustle of Dubai, The Farm at Al Barari is a lush and green spot to take the kids or the girls for an afternoon tea. With a rustic and earthy vibe, the emphasis is on sustainable and organic ingredients, and it's served in their 'water garden' – which we think you'll fall in love with. Their menu includes pastries, sandwiches and teas, served on cake stands and white china in the beautiful tranquil setting. The price is AED 280 for two people and advance booking is required.
The Royal Tea Room, Atlantis the Royal
A dining round up wouldn't be complete without mentioning the new Atlantis the Royal hotel and their two offers, the first of which is the Signature Afternoon Tea, which comes with a classic selection of savouries, pastries, and tea, for AED 560. Alternatively you can enjoy the Emirato variety which focuses on homemade Arabic delicacies and sweets, perfect for you and your plus one. Prices start at AED 190 and it's served daily from 2-5pm.
Peacock Alley, Palm Jumeirah
The name comes from the description of the colonnade between The Waldorf and The Astoria hotels in New York, which was known for their high society clientele. The heritage from the name certainly inspires the venue in Dubai, as you and your guests recline in sumptuous style overlooking the Palm Jumeirah and the lush gardens of the hotel. The menu includes classics such as the Egg and Cress sandwich or Smoked Salmon in Charcoal Bun, plus sweets such as Eclairs, Lemon Curd, and Scones with cream and jam. Get all this for only AED 175 per person, or add a glass of bubbles for an additional AED 195.
Raffles Salon, Raffles Hotel, Wafi
We love the afternoon tea at Raffles because of the incredible cakes inspired by women and beauty. Combining high fashion with food, the award-winning Floral Afternoon Tea delivers cakes in intricate shapes such as heeled shoes, and their whole menu comes with a floral twist, from the Rose Petal Scones, Rosewater-infused Strawberry Jam, Hibiscus-cured Salmon, and Jasmine-flavoured Chocolate Ganache. This is definitely an indulgent spread for foodies, served in a world-class venue with impeccable service. Enjoy this afternoon tea from 2-7pm for AED 175 per person with free-flowing tea, or upgrade to AED 225 to include a glass of bubbles.

Four Seasons, Jumeirah Beach
Served in the glorious Shai Salon, this ultra classy afternoon tea is curated by Chef Nicolas Lambert. Expect dainty sandwiches, delicious scones, and homemade pastries that are light and crumbly. Expect this venue to serve you tea with suggestions from their pairing menu (they are the experts after all). You can enjoy their spread for AED 240 per person, or AED 420 for two. Served daily from 2-8pm.
Tania's Teahouse
Tania's Teahouse is a cute and quirky spot and is one of the city's first Instagrammable spots, and it's a pretty pink sight, we can assure you. Their bottomless high teas are served on their signatured tiered platters, and feature a mix of sandwiches, desserts and cakes, as well as unlimited tea and coffee. The cakes match the interiors with pastel pinks and ultra cute decoration, and while their flagship location is closed at the moment, they'll be reopening in Dubai Hills very soon, or you can pop to their Sereni-tea location inside Keyani Wellness Centre.
Tandoor Tina, 25Hours Hotel
This venue brings an afternoon tea with a spicy touch (if you hadn't guessed by the name) and is served in the super quaint courtyard at the 25Hours Hotel. Chef Trish Hinault has created the menu with a North Indian influence, featuring Coronation Chicken Tarts, Pine Nut Potato Samosas, and Confit Duck Croissants. Expect imaginative desserts from Rose-raspberry choux to Truffle Parmesan Macaron, and feast on this unique menu which is served from Wednesday to Friday from 4-7pm for AED 150 per person or AED 250 per person with alcohol.
Eunoia by Carine, Hyatt Centric Hotel
Award-winning chef Izu Ani, known for venues such as Gaia, has turned his focus to an afternoon tea at Carine with stunning results. Turning a traditional afternoon tea into an offering with a simple French twist, you can enjoy a choice of teas or coffee, plus pastries, cakes and desserts, such as the Hazelnut Flan and Lemon Meringue Eclair. Sandwiches are a bit special also, with Truffle Egg Mayonnaise, or Roasted Chicken Curry with Apricot glaze – a nod perhaps to the UK's Coronation Chicken. Their tea is priced at a reasonable AED 155 per person and doesn't include alcohol.
Address Beach Resort, JBR
The Address hotels are known for their elegance and opulence, and the Address Beach Resort is no different. Offering a stunning afternoon tea with sweet and savoury bites with a Middle Eastern flavour, such as the Spiced Smoked Salmon, Shredded Chicken Wrap, Black Angus roast beef, Arabic coffee Tiramisu and Saffron Tree Milk Cake, there's dishes here that are tasty and unique. Served with the usual selection of teas and coffees daily between 3-8pm for AED 318 per set.
Dukes, The Palm Jumeirah
This is a classic British venue serving up all the looks, feels and flavours that you'd expect back home, and their afternoon tea lives up to the hype. Served in their sophisticated and schmoozy Champagne and Tea Lounge, you can indulge in Smoked Salmon or Lemon Butter sandwiches, plus handmade pastries, scones and clotted cream. Enjoy a simple option for AED 135 per person or upgrade to bubbly grape for AED 185, served daily from 1-5pm.