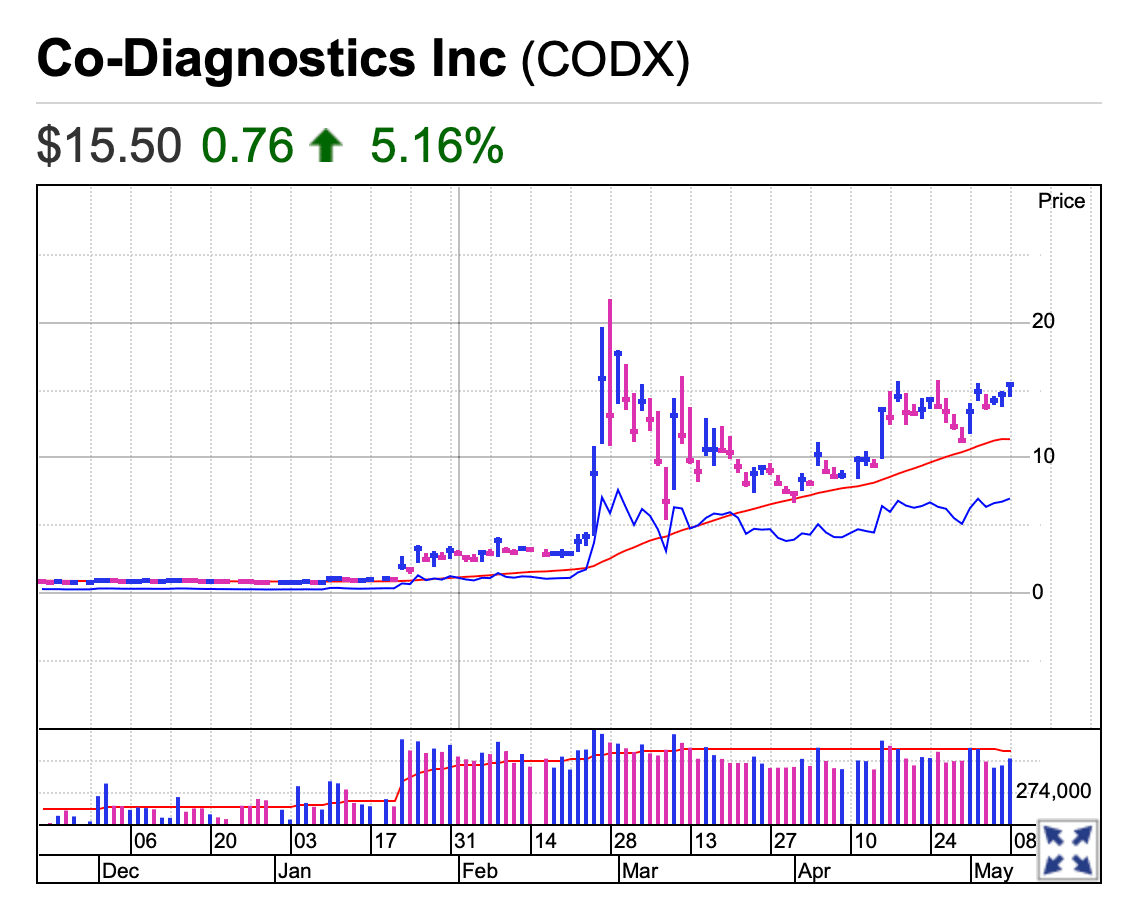 Co-Diagnostics (CODX) said Friday its coronavirus test has proven 100% accurate in field testing — leading CODX stock to rocket.
Evaluations from officials in India, Mexico, the U.S. and elsewhere show Co-Diagnostics tests for Covid-19 have performed with 100% specificity and 100% sensitivity. In statistics, these two measures are key for determining accuracy.
"In countries where we have been evaluated against other tests, we have consistently and repeatedly achieved 100% clinical sensitivity and specificity," Co-Diagnostics Chief Scientific Officer Brent Satterfield said in a written statement. "You can't do better than that."
Shares of CODX stock popped 18.8% to close at 13.47
CODX Stock Rises On Coronavirus Test Data
Co-Diagnostics was among the first medical technology companies to release a coronavirus test earlier this year. It's now one of early four dozen companies to receive Food and Drug Administration emergency use authorization, or EUA, for a molecular coronavirus test.
An EUA allows a company to launch a product with the FDA's blessing before receiving an official approval in times of emergency. The type of coronavirus test Co-Diagnostics makes can detect an active infection from SARS-CoV-2, the virus that causes Covid-19.
In addition, the FDA has issued EUAs for serology tests from a handful of providers, including big names like Abbott Laboratories (ABT) and Bio-Rad Laboratories (BIO). Serology tests look for antibodies to determine if someone was previously infected with the new form of coronavirus.
An analyst recently estimated upward of 70 companies are working on serology tests. Both forms of coronavirus tests will be key to tracking the viral spread and, eventually, helping get people back to work, experts say.
Highly Rated Medical Stock
Shares of CODX stock have outperformed in 2020. Before launching its coronavirus test, Co-Diagnostics stock traded below 1. This year, shares have enjoyed a quadruple-digit gain.
As a result, CODX stock has a best-possible Relative Strength Rating of 99. The RS Rating is a 1-99 measure of a stock's 12-month performance. So, CODX stock ranks in the top 1% of all stocks in terms of its yearlong running performance.
Representatives of Co-Diagnostics didn't immediately return a request for comment.