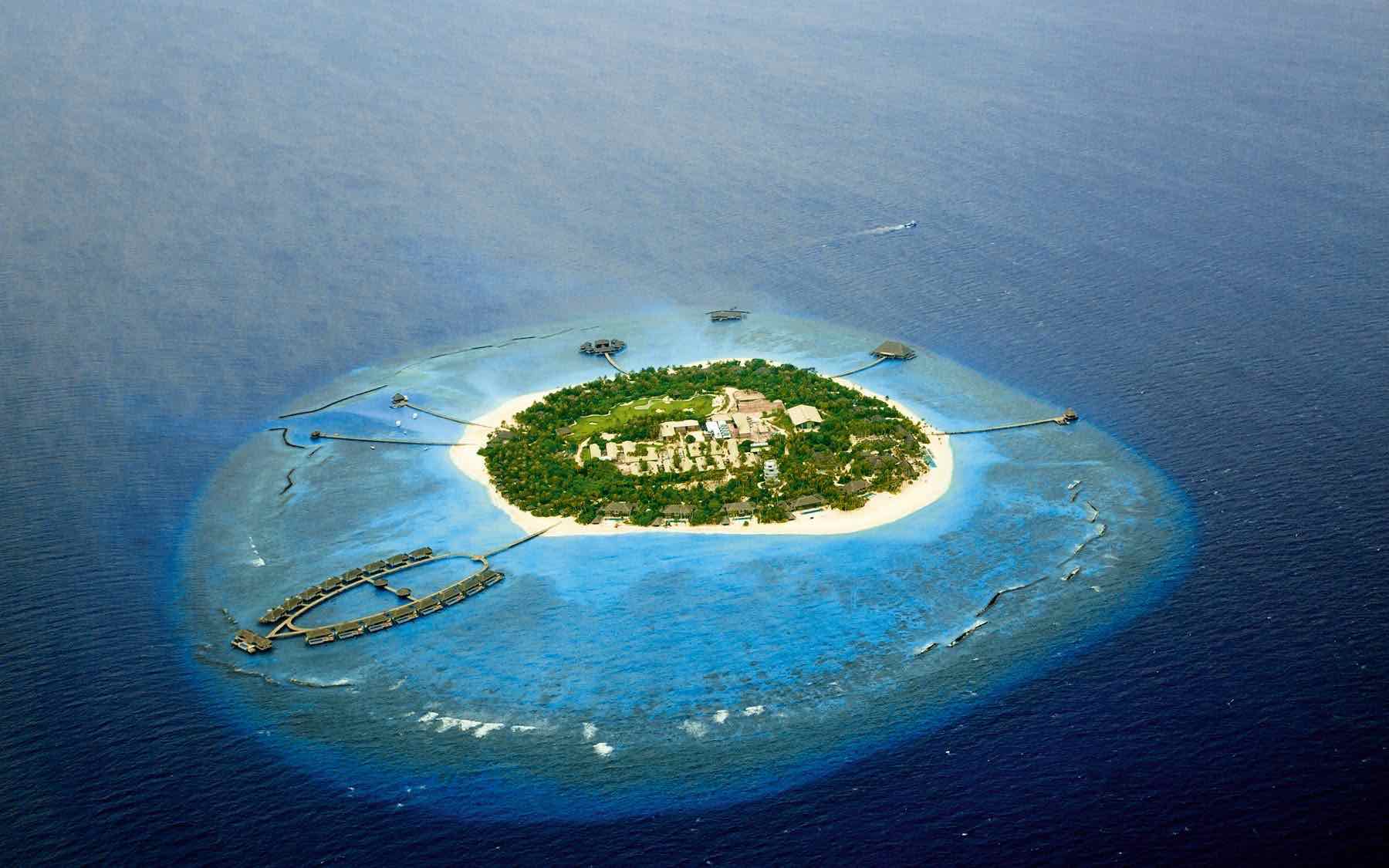 Velaa means Turtle and it's such a gorgeous secluded and remote place. Private jets can easily land at Maafaru airport, 7 minutes seaplane ride away. Or commercial flights and a connection from Malé airport. An unforgettable slice of paradise.
Velaa means Turtle. It's such a gorgeous place and the water villas together are shaped like a turtle's head extended from its body (the island). An imaginative touch on one of the most ultra-luxurious remote islands in the world It doesn't get much better or more unforgettable than this private island in the constellation of islands making up Noonu Atoll in Northern Maldives. Your pleasure and enjoyment is all they care about and they are lavish in their discreet attention with total care uppermost.
A home from home for large families
The 4-bedroom Velaa Private Residences are perfect for large families seeking privacy and comfort. They come with two terraces, large pool, private beach, outdoor lounge and cinema, private spa and plenty of space for each member of the family to relax – all on a secluded on a pristine private beach.
Romantic retreat
Of the resort's 47 private villas, houses and larger residences, 18 are built over water with a glass peephole in the floor. Choose a sunrise-facing or sunset-facing water villa.
The Romantic Pool Residence can only be reached by boat for additional privacy and exclusivity. This one-bedroom villa is suspended above the lagoon with surrounding views of the ocean.
The villa opens onto terraces with a Jacuzzi, pool, sundeck and a sunken bath. Enjoy first-class dining by your personal chef inside the villa or over the water in a private dining gazebo. The Romantic Pool Residence also comes with its own personal gym and spa treatment rooms.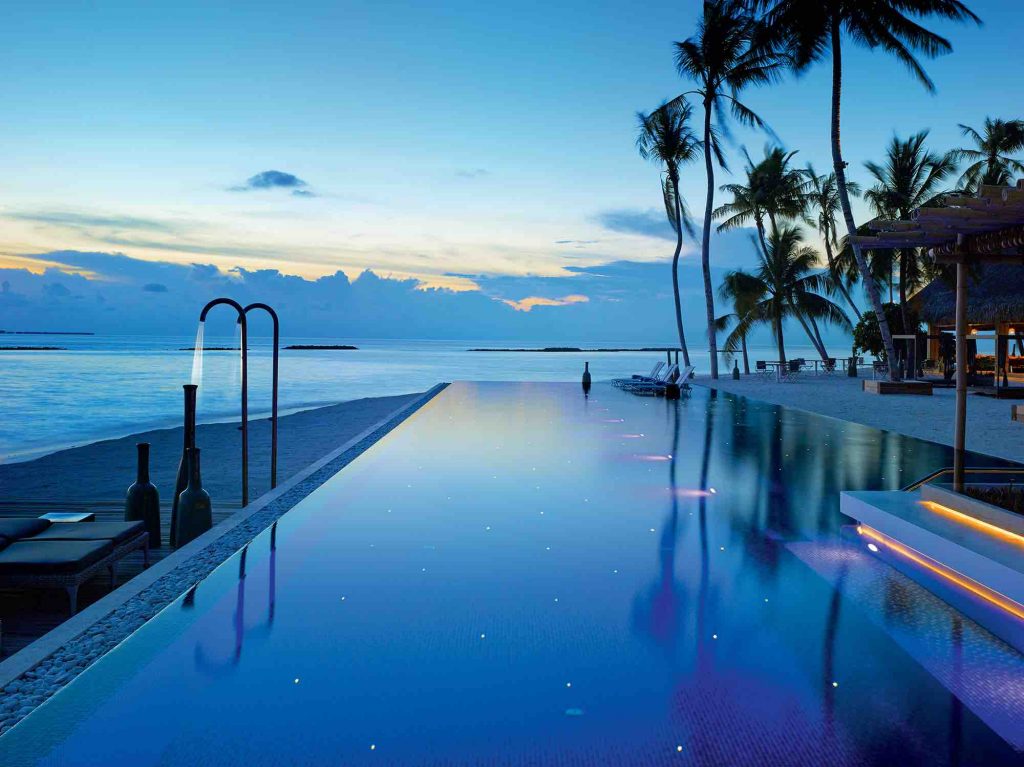 Social distancing is easy
The remote and private nature of Velaa Private Island, and limited number of guests, make social distancing easy. Hygiene is as close to perfection as you could wish.
Kids Club – created by kids, for kids
Designed around pure enjoyment for children 4-12, the Velaa Kids Club has a wonderful kids' water park probably the best in the Maldives. It was designed and based on the inspiration of the owner's daughter.
So much to do
You expect superb scuba diving and snorkelling in the Maldives, and lots of water sports such as water skiing and kite surfing, along with seabob, hoverboard and jet pack rides.
Land-based sports feature too – tennis, basketball, a climbing wall, squash court, volleyball, badminton, table tennis. Not forgetting rainy days with a big lounge area with pool tables and table football.
The real difference
Over 60% of staff have been there since the start because they love it. The owner runs it like a family business. He built it out of love, the realisation of a dream to create a 'beyond luxury' exclusive boutique hideaway in the Maldives, and now wants to share it with everyone.
At Velaa, profits are reinvested in maintaining and upgrading the facilities, and in staff welfare. It's a simple policy designed to entice guests to return – and it works. Everything looks fresh.
You may not immediately notice the many subtleties: wood panelling from Borneo, villa interiors developed by European master craftsmen, flagstones from Jordan that don't absorb heat. A multitude of little details make Velaa ultra-special.
Dining: Athiri is great for simple, barefoot dining and serves unpretentious European and seafood dishes. Try traditional Maldivian specialties, such as mashuni tuna and kopee leaves salad.
Overwater restaurant Aragu is dazzling with an impressive wine cellar and a matching cuisine up there with the best, under a Michelin grade chef.
Ocean Pool House – Terrace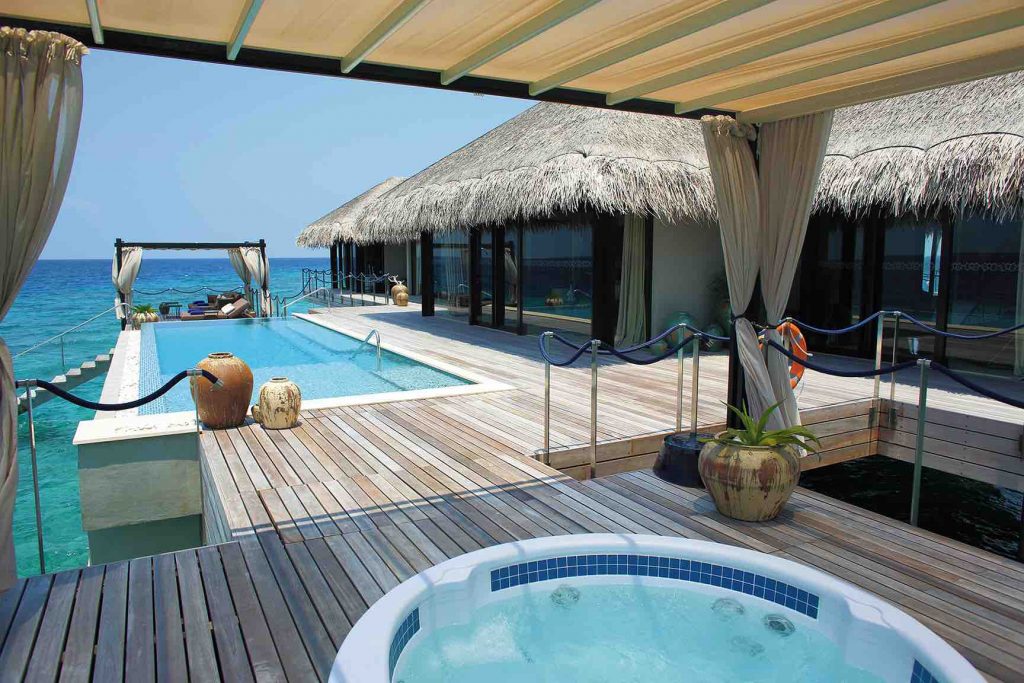 At the very tip of the island, in an exclusive private domain, this two-bedroom two-bathroom overwater residence is fringed with traditional thatch. Louvred shutters let the breeze flow through. The dining area provides a central space and two gazebos – one with a sunken hot tub and the other with daybeds – make lounging about a must-do. Swim in your own pool and relax on the sun deck, or step directly into the lagoon.
Velaa Spa – Jacuzzi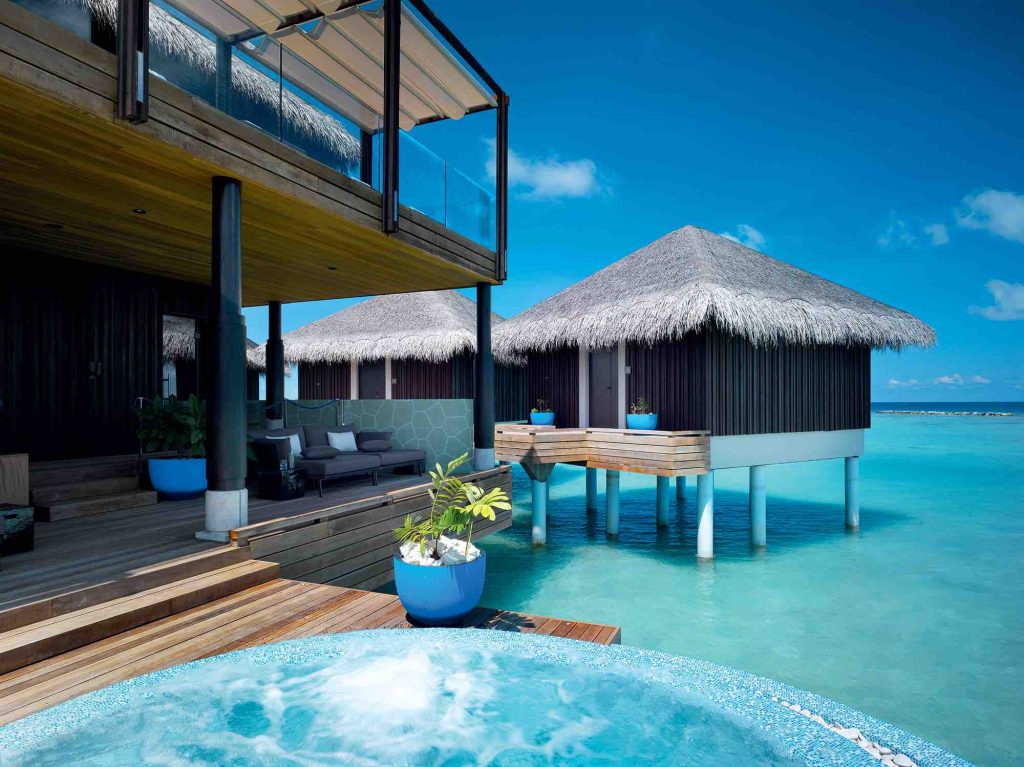 Amenities such as the sauna, steam room, outdoor Jacuzzi, and even snow room are complimentary even without booking a treatment. Two cloud-shaped reclining treatment pods by Klafs and Sha feature in the spa.
Velaa Spa – Treatment Room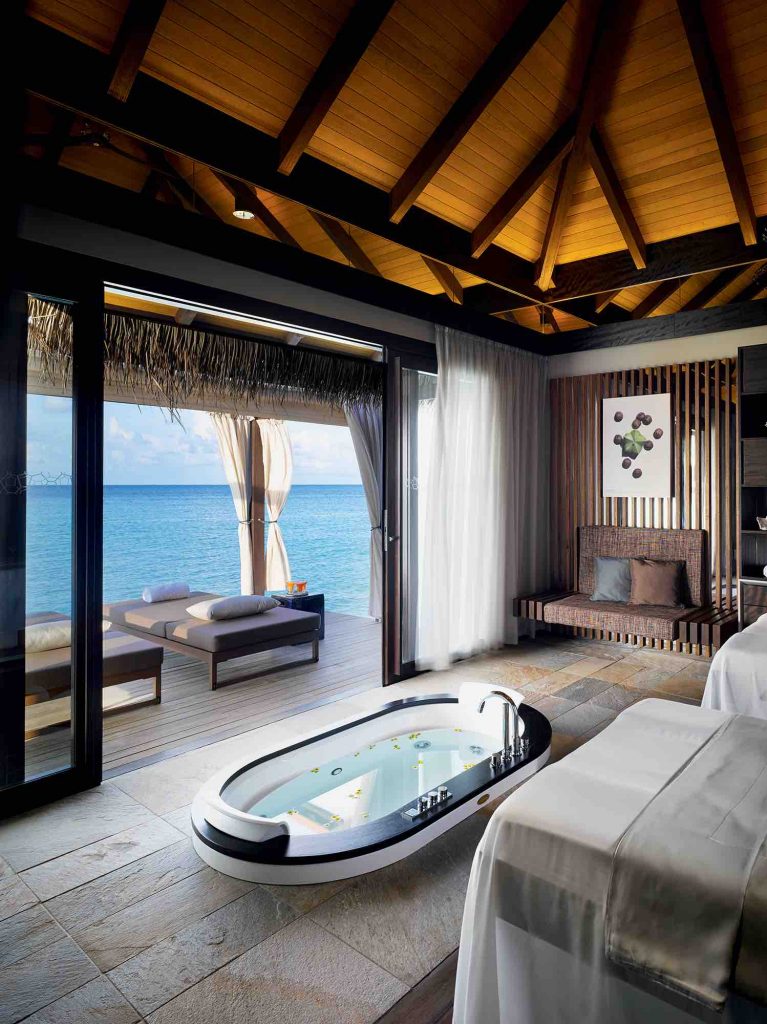 One of six secluded treatment rooms soothingly nestled over the island's turquoise lagoon. Velaa Spa is a wellness sanctuary specialising in new and innovative personalised beauty and wellness experiences.
It also has the first 'snow room' in the Maldives as well as a sauna and steam room. Try the Cloud 9 relaxation facility. Treatments and products feature exclusive My Blend by Clarins.
Velaa Golf Academy by Olazabal – Swing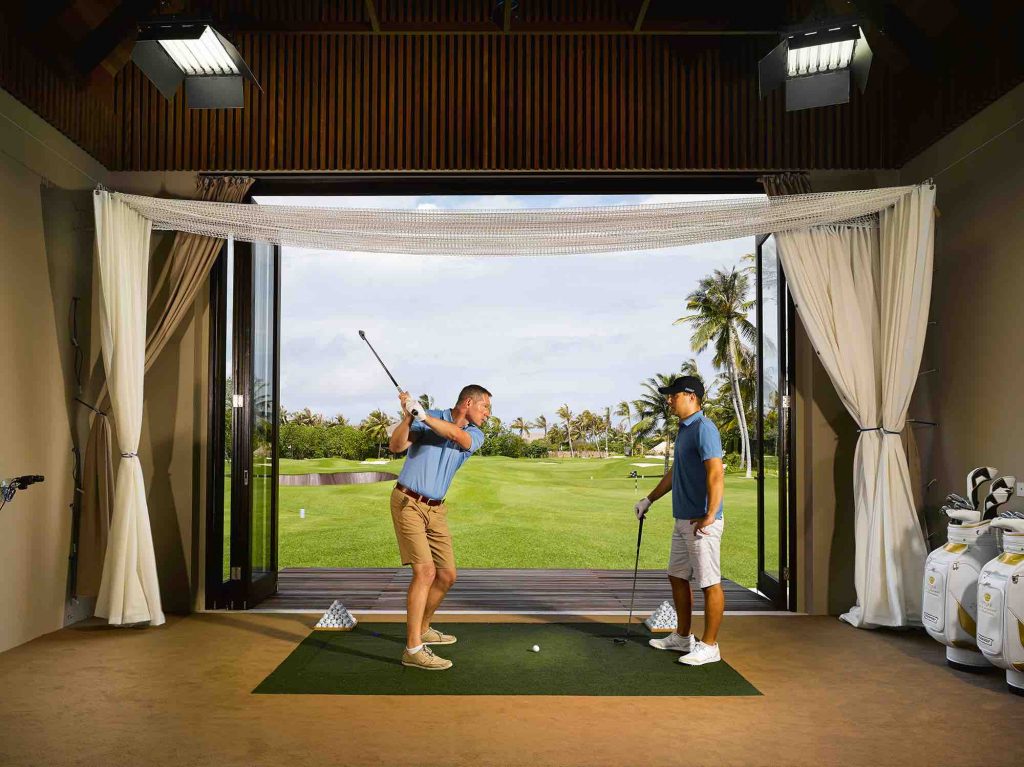 Designed by one of the great exponents of the short game, José María Olazábal, Velaa Golf Academy by Olazábal offers 170 metres of lush greens and 1:1 tuition with PGA professionals. It's the only golf facility in the Maldives and offers the latest swing analysis technology as well as a Trackman simulator.
Covered Tennis Court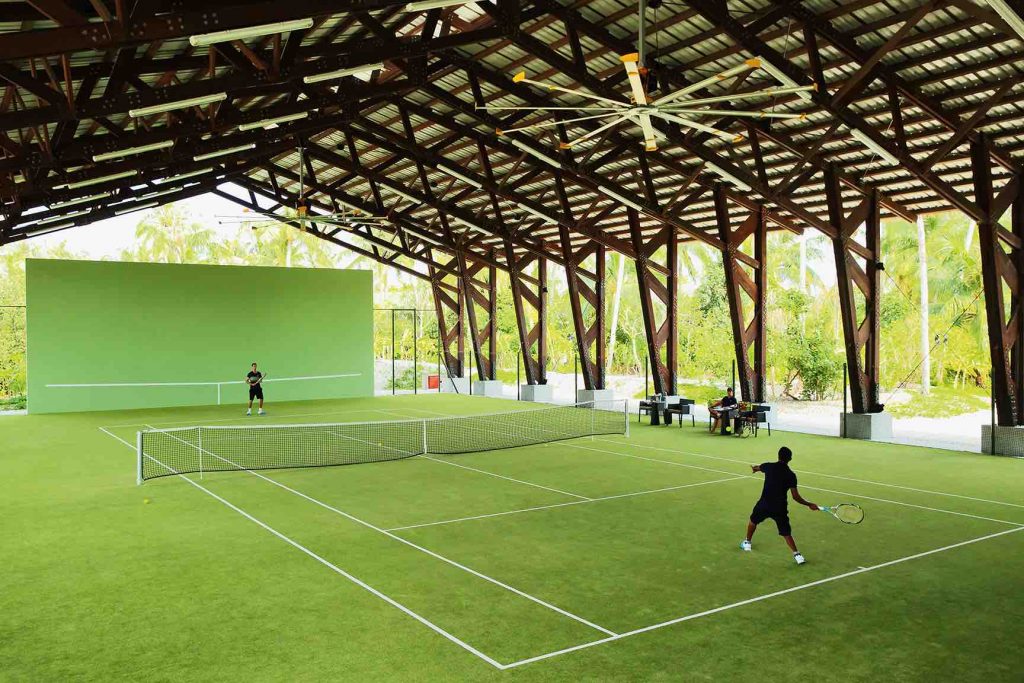 You don't need indoor courts in the Maldives, but here is the only covered one in this island nation. The roof on this full-sized court shields the sun and the occasional rain, while the open sides maintain an outside feel. Gigantic ceiling fans gently move the air around to help keep it fresh. There's also a training wall when you just want to hit balls.
Getting there
Private jets can comfortably land at Maafaru International Airport only 7 minutes seaplane ride to Velaa island by Velaa's own customized plane (or by private 9 seater charter or commercial 15 seater seaplane) or a relaxed 35 minutes on the resort's exclusive yacht.
Maafaru International Airport in Northern Maldives was recently built to service the islands of Noonu Atoll. Its 2200 meter runway caters for private jets and the Airbus A320-200 equally well. Or take a commercial flight to Malé airport and a short internal flight for the 112 miles (181 km) hop due north to Maafaru.
From there, the island of Velaa is a scenic 45 mins seaplane ride by Velaa's own customized plane, or by private charter (9 seater) or commercial seaplane (15 seater).
Find out more
Website: https://www.velaaprivateisland.com/
Email:  info@velaaprivateisland.com
Phone: +9606565000
Address: Noonu Atoll, Republic of Maldives