Health & Beauty
Spa
We drop in at the Saray Spa at JW Marriott Marquis to boost our mental health …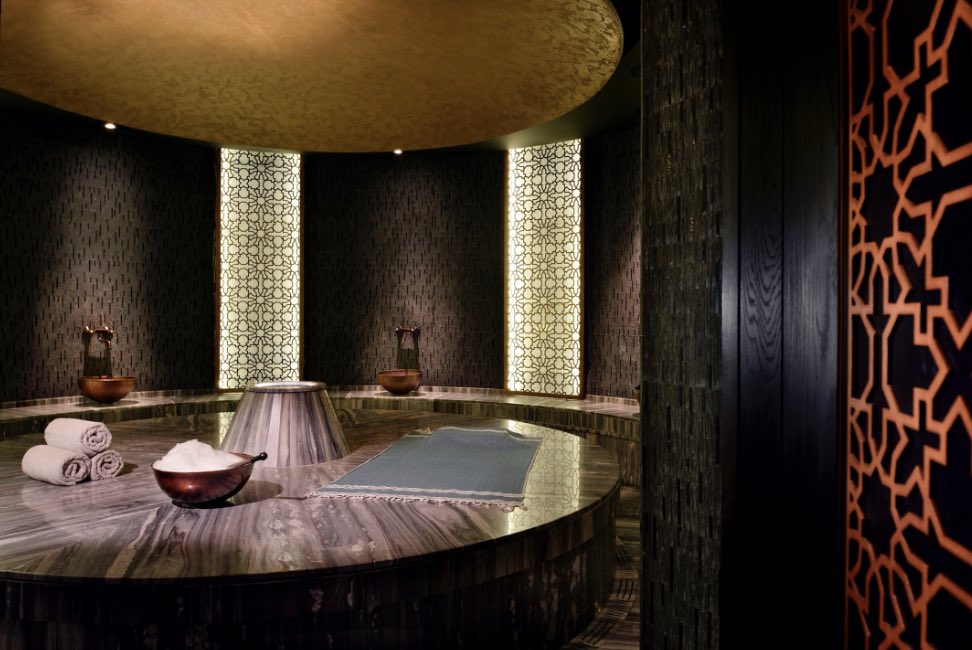 Mental health and well-being is just as important to your sanity as a healthy diet and physical exercise. What is it with the smell of lemon grass essential oils that is synonymous with being in the spa?

Walking into The Saray Spa in the JW Marriot Marquis instanteously washes you over with tranquility, peace and all the stress that you hold in your mind and body just floats away.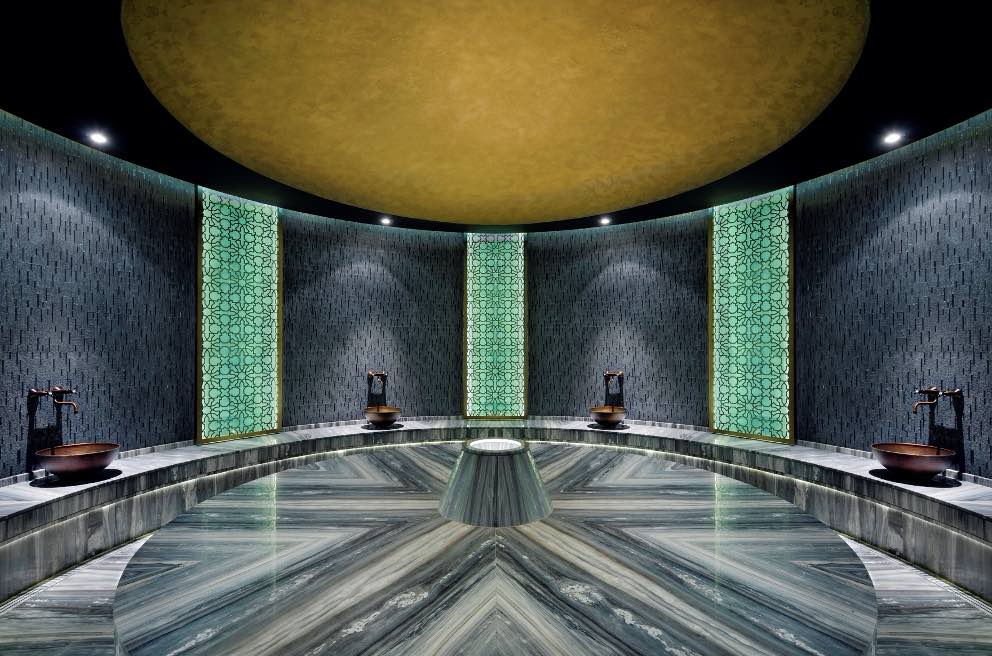 I was enveloped with calmness as soon as I arrived in this perfectly dimmed and spatial spa then escorted to the shower changing room. Once draped into my fluffy robe and slippers, my escort was patiently waiting for me and guided me to the waiting area. The heated tiled bench in the waiting area (fantastic idea) can be on the upper side of hot so do take care

Whilst waiting for my massuese to fetch me, I did a little exploration in the waiting area. It hosts a jaccuzie, good sized steam room and sauna. To my delight I also saw a Plunge Shower which is a big bucket of water and you pull a rope to feel like your under a lovely waterfall. Another room had a ice bucket that is recommended for after the use of the sauna and or steam room. It makes wonderful sense as it helps you cool down and tightens the pores.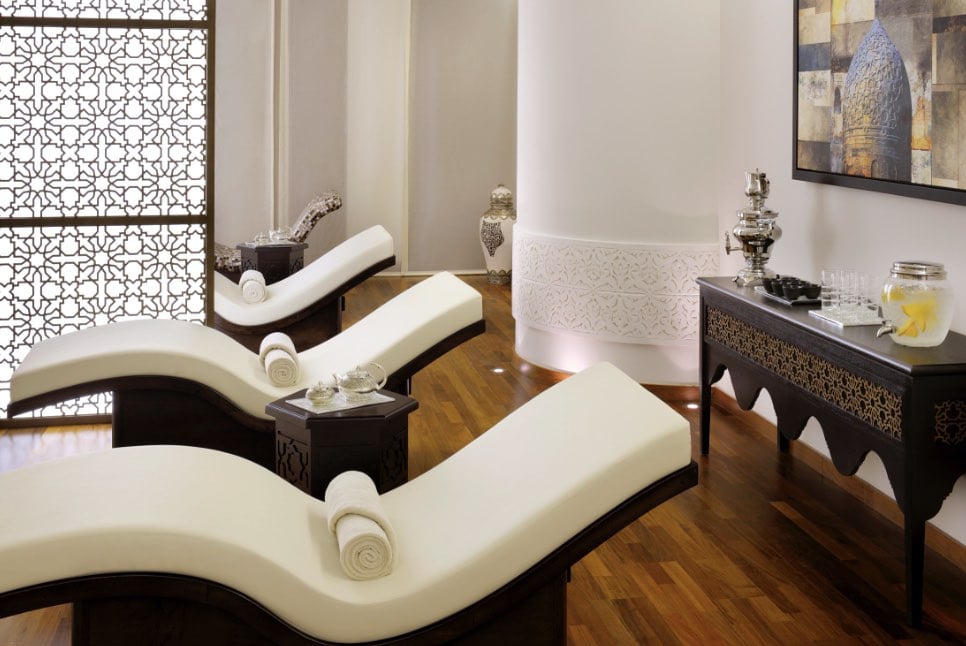 My massuese came and I was taken to a private room for my relaxation treatment. I chose out of the three body oils the Lavender oil. The Massuese's expert hands targeted all the knots I knew I had (some I didn't) and I felt like I was in heaven. After 60 minutes of treatment, it just flew by

I was asked if I would like to relax in the Women's Lounge area for tea after my massage in which certainly I did.  Presented with a pot of lovely green tea, dates and raw mixed nuts it was a fitting end. At this moment of calmness I am most certain, the thought that would go through every one's mind  is, 'now how can I get this everyday?'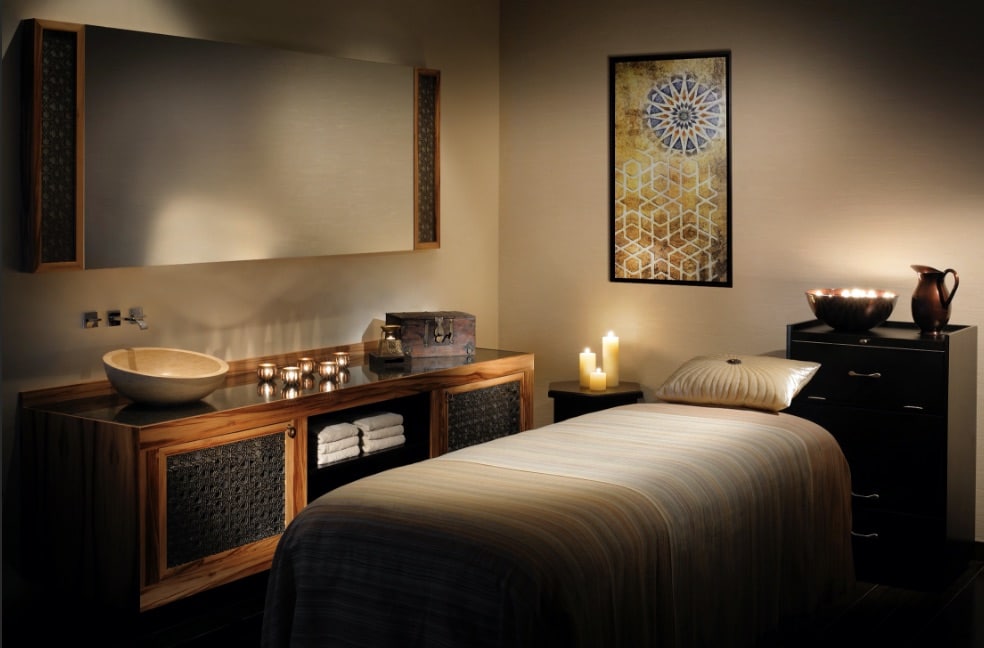 The relaxation treatment is Dhs.520 for 60 minutes which I would point out that it is price wise comparable to many other spas in Dubai. If you do have the luxury of time and balancing your mental health is paramount I highly recommend that you take as much time as you like to, either, before or after the massage use all the facilities that is available at the spa. Would I like to experience this again?

Most definitely.
Give them a call +971 4 414 6754
More details …
SARAY SPA
Tucked away behind ornately carved doors, the world-class Saray Spa is a health and wellness haven at the heart of the world's tallest 5-star hotel. True to its name and drawing inspiration from the historic Caravanserais located along the silk trade routes of old, Saray Spa offers a personal experience of restoration and renewal through rituals that have withstood the test of time.Ancient healing techniques and locally sourced natural ingredients are combined to pay homage to the Arabian heritage of Saray Spa. All products used in these treatments come from an exclusive line only found at the JW Marriott Marquis Dubai and are available in our luxurious Saray Spa Boutique.
Timings: Daily, from 10am to 10pm
Wellness Hours
Surrender your senses with treatments designed to rejuvenate your body, mind and soul. Book any massage from Monday to Wednesday between 10am until 3pm and receive 25% off.
Girl's Day at Saray Spa
Experience the ultimate in indulgence and retreat with your girlfriends for some 5-star pampering. Begin with a 30-minute back massage, and a complimentary reflexology session, followed by a delectable Afternoon Tea in the cozy and chic surroundings of La Farine Café and Bakery. AED 300 per person. Daily from 11am until 6pm. Terms & Conditions: Offer is subject to availability. Advanced booking required. Booking is valid for a group of maximum 6 people.
Just For Men
Saray Spa has designed a new menu featuring seven reinvigorating treatments tailored for professionals on the go, executives looking to de-stress, sports enthusiasts and athletes, and those simply wanting to press reboot or look their best for an upcoming occasion. With treatments beginning at AED 330 and ranging from 30 to 90 minutes, men can select between the Alpha Male Energy Booster, Gentlemen's Retreat, Executive Indulgence, Energy Reform, Men's Executive Massage, Fast and Furious or a Skin Purifying Facial.
Where? The Saray Spa JW Marriott Marquis Downtown