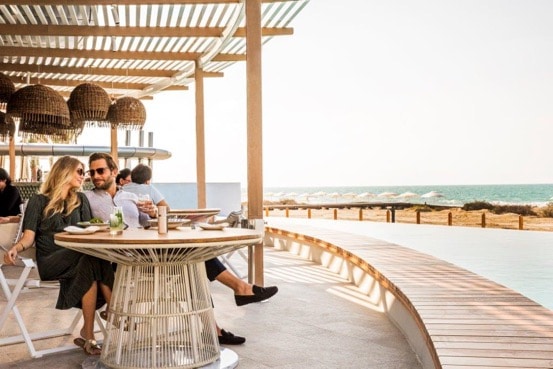 Jumeirah at Saadiyat Island Resort brings you the perfect getaway to celebrate unreservedly the love holiday with an impressive collection of romantic picnics, dinners and spa treatments. Indulge in the luxury of the Island Resort and experience the Valentine magic for timeless memories that will last a lifetime and more!
Whether you're coupled up or single, Jumeirah at Saadiyat Island Resort brings you a fun-filled break for Valentine. It promises limitless possibilities for the singles and a whole new appreciation of your loved one for those who are already partnered up. Let's explore the various momentous events and occasions to look forward to while marooned on the lush island with soft sandy beaches and the ever-refreshing sea breeze.
Valentine's Day | TEAN and Mare Mare
14 February, 17:00 to 19:00
Let's kick off with the exotic allure of Tean and Mare Mare, perched close to the beach with a spectacular view of the sea and island scenery. Tean and Mare Mare offers a multitude of classic dishes and a specially crafted set menu featuring the finest seafood. The boardwalk setting where these delicacies are served complements the whole mood with special décor and designs meant to wow your date. What more, you can also add to the mix with entrancing performances by skillful belly dancers and a Violin Player.
Expected spending is AED 1,000 along the garden area and by the pool.
For the boardwalk, expect to spend from AED 1,500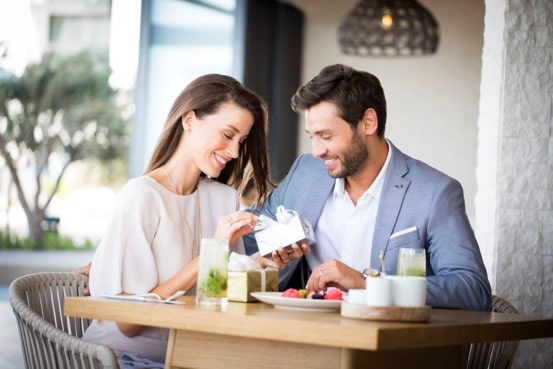 Valentine Afternoon Tea | Majlis Saadiyat
14 February, 14:00 to 18:00
Majlis Saadiyat invites you to join its Valentine's Day celebrations as it launches an impressive collection of its Signature Tea Blend Series. Known as Chanoyu, Sado or simply Ocha, the Japanese tea ceremony is a choreographic ritual that pours all one's attention into the predefined movements and aesthetics while preparing a bowl of tea. Matcha green tea is served with traditional Japanese sweets to balance the bitterness. This mix of sweet and sour will take you and your amore through an adventure of the taste buds while lounging in the comfort of the ocean breeze.
You will also get the chance to enjoy the Sencha Fukuyu which is a naturally fruity vegetal flavor, intricately blended with the ever-juicy blueberry fruit. This concoction is both sweetly aromatic and a fresh delight to sip as you enjoy the love holiday tucked away on the Island Resort.
Expect to spend only AED 50 for the legendary Fukuyu Myrtille Signature tea.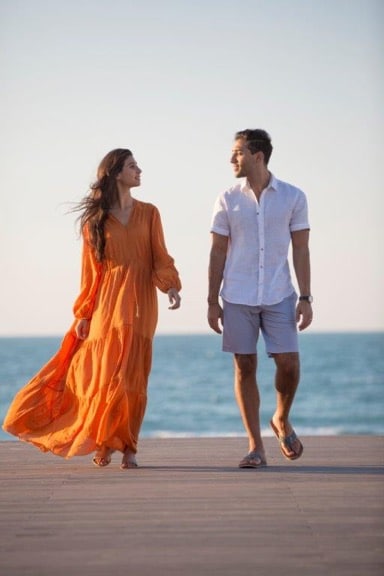 San Valentin Jazz Dinner | The Lounge
14 February, 20:00 to 1:00
Seeking more colorfulness and festivities for Valentine? Look no further than the long-awaited launch of the Island Resort's monthly Balloon Party. This 14th of Feb, the party will be especially centered on a love theme to help you celebrate Valentine's Day in style! The Lounge promises a full-blown romantic setup featuring a host of entertaining acts from magicians to the in-house 4-piece Jazz band. The ceiling will be full of decorative balloons containing a host of fantastic prizes including a one night stay at our beautiful resort hence giving the evening an interesting twist. The event is pretty ideal for singles, friends and couples alike!
Expect to spend only AED 600 for the Romantic dinner with a complimentary beverage.
Couples seeking only to party without the dinner will need from AED 400.
For an amazing bottle of Veuve Clicquot, expect to spend only AED 350.
Finally, expect to spend AED 120 for three cocktails from the San Valentin collection.
FOR RESERVATIONS
T:      +971 2 811 4342
E:      jsirestaurants@jumeirah.com
W:     www.jumeirah.com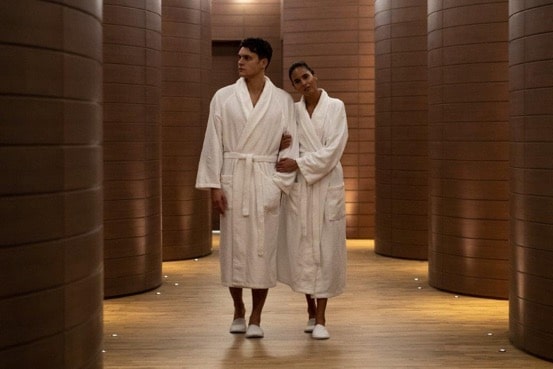 LOVE IS… VIP SIGNATURE SPA EXTRAVAGANCE
1 – 29 February, 9:00 to 21:00
What better way to relax and enjoy the love holiday than to indulge on a spa journey with our exclusive VIP Deluxe Suite. This experience is guaranteed to transform your mood and your whole Island Resort experience with its famous signature rituals and relaxation techniques that will leave you absolutely mellow and rejuvenated. Some of the highlights of this one-of-a-kind Valentine spa treatment extravaganza include;
A 60-minute massage followed by a 30-minute body scrub and a 30-minute express facial treatment.
Access to lounging pools, beach sand strips and other spa wellness facilities like gyms and saunas.
A massive 20% discount on any additional spa treatments selected plus another bonus 10% discount on any of the colorful retail items available for sale as mementos.
Cake and sparkling wine to tickle your taste buds thoroughly.
Expect to spend only AED 1,500 per couple
FOR RESERVATIONS
T: +971 2 811 4357
E:  Jjsispa@jumeirah.com
W: www.jumeirah.com