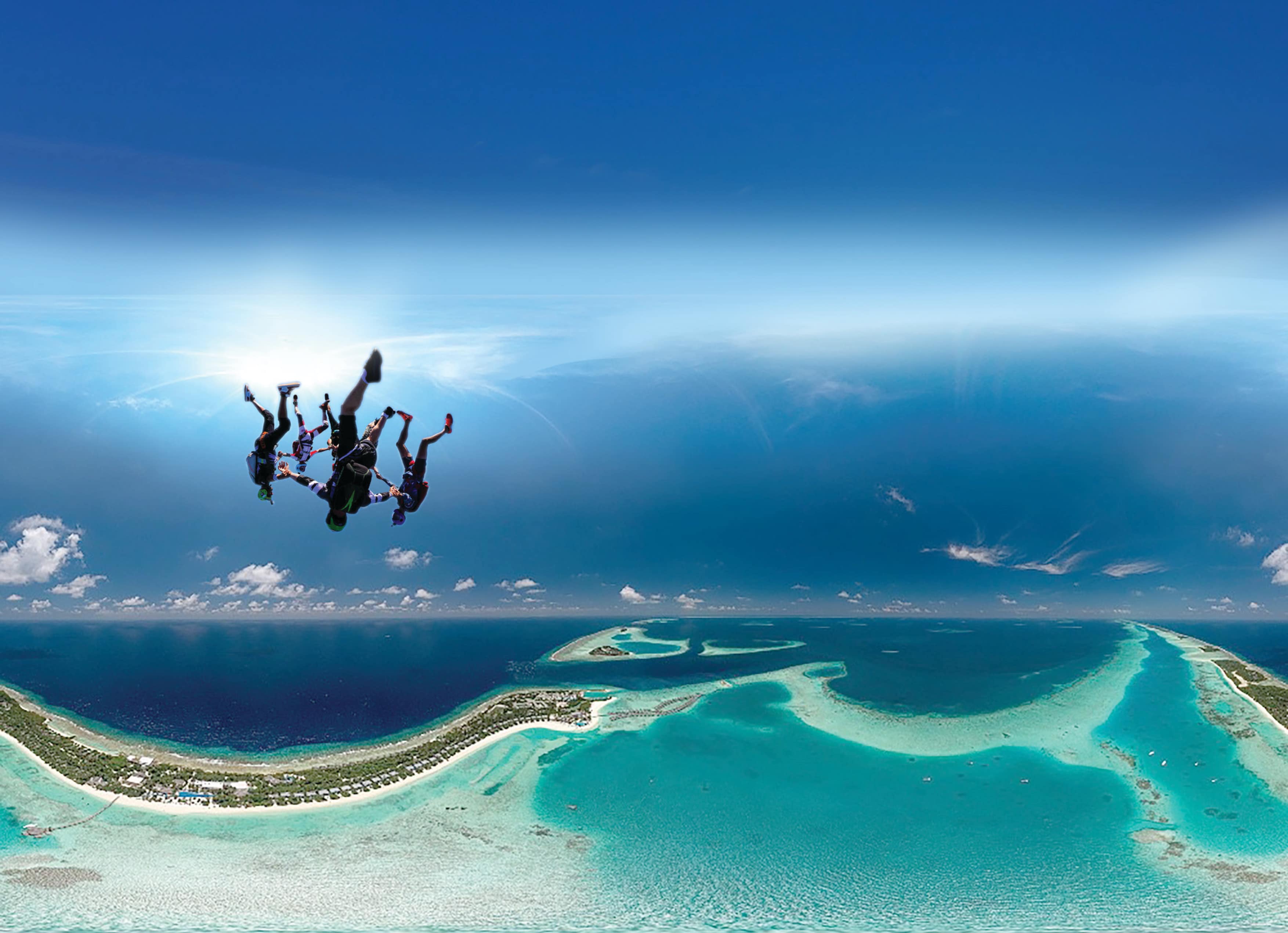 Now you can experience skydiving at its best above the turquoise ocean and beautiful atolls of the Maldives at the Kandima resort. An experienced instructor jumps with you in tandem or seasoned jumpers can go solo or in groups. Find out more!
The luxury Kandima Resort in the Maldives has introduced an adrenaline rush for guests in the form of a brand new and totally exciting skydiving programme. This beautiful atoll was already a favourite destination offering loads of activities but now it has a superb extra attraction that simply must be experienced.
Enjoy exhilarating 360-degree views of the breath-taking ocean setting before landing safely at Kandima Maldives
Perfect for both novices and experienced skydivers, this adventure alone is worth holidaying at this marvellous island resort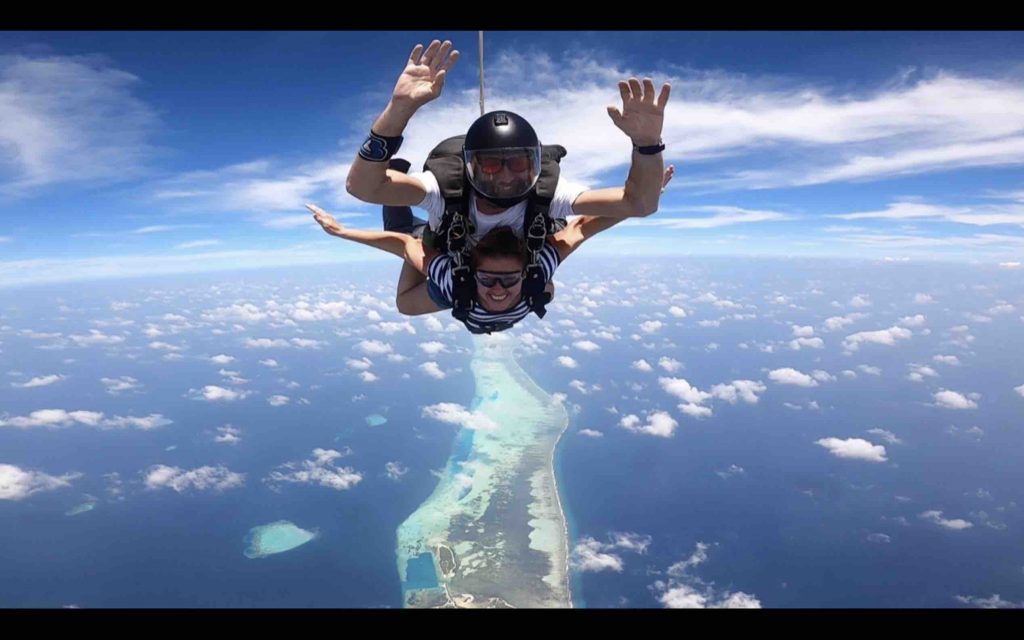 What the skydive is like
Climb into your jumpsuit, pull on your special goggles and climb on board for the ultimate experience. Your specially modified Cessna 208 seaplane awaits you at Dhaalu Airport, where your expert Skydive Maldives skydiving team take you through a 15-minute training session.
20 minutes later, you will have reached an altitude of about 12,000 feet, from where the views of the turquoise ocean and white sandy atolls is simply breath taking. You are in the hands of a highly experienced skydiving instructor who knows exactly what to do.
You leap into a full 60 seconds of freefall where you achieve speeds of up to 200 km per hour (125 mph). Then your parachute snaps open. There follows a glorious 5 minute descent to the secluded white sandy beach at the Kandima Maldives resort.
You will want to do it again immediately!
The tandem option captures the glory of your freefall on video
Maximise the thrill of your freefall experience, securely harnessed to a tandem partner – a qualified skydiving instructor. Get the entire scene captured on video for a most memorable keepsake. It's you against a marvellous backdrop of the blue Maldivian islands and coral reefs. Guests can request the video footage of their experience to share with friends and family back home.
Prices: From US$ 594 to 900 + taxes per person (minimum of two guests per booking) plus $55 cost of transfers from Kandima Maldives to Dhaalu Airport.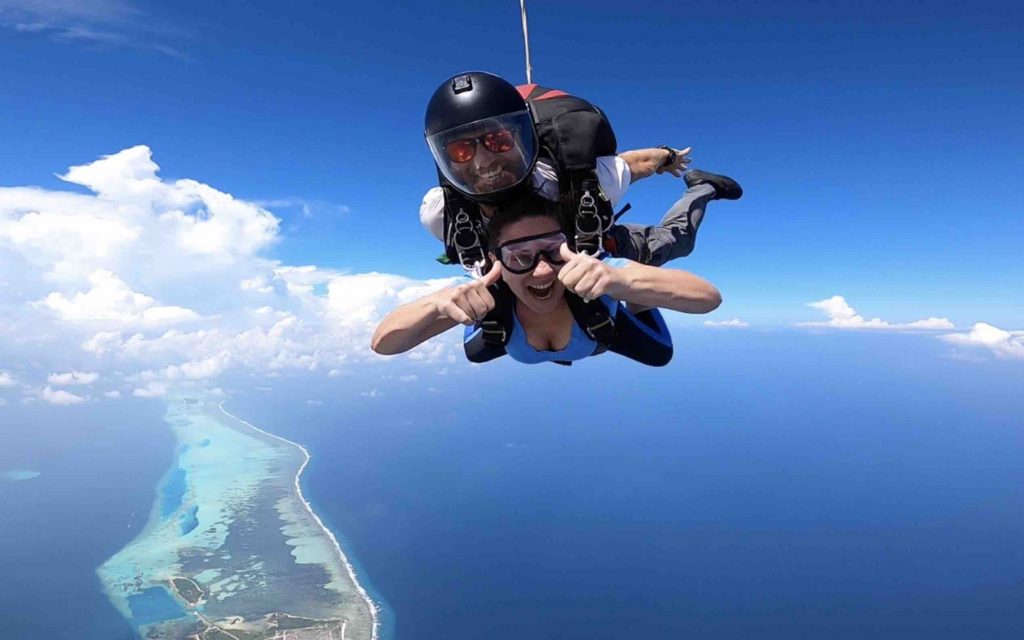 The ultimate jump for experienced skydivers!
Kandima & Skydive Maldives also offer two options for more experienced jumpers: group and solo skydive packages.
Prices: From US$ 79 to 252 + taxes per person plus transfers.
About Kandima Maldives
Kandima Maldives 264-room beach resort specialises in lifestyle experiences and activities in an affordable manner. The 3-kilometer resort has authentic Maldivian soul while making use of the latest technology.
It caters for guests of all ages: families, couples, groups of friends and honeymooners for relaxation, both aquatic and island adventures, wellbeing, fitness or just family time. Enjoy one of the longest outdoor pools in the Maldives, a football pitch, tennis and volleyball courts, Aquaholics water sports and dive centre, Kula art studio and many more.
There is plenty to keep everyone occupied, young and old.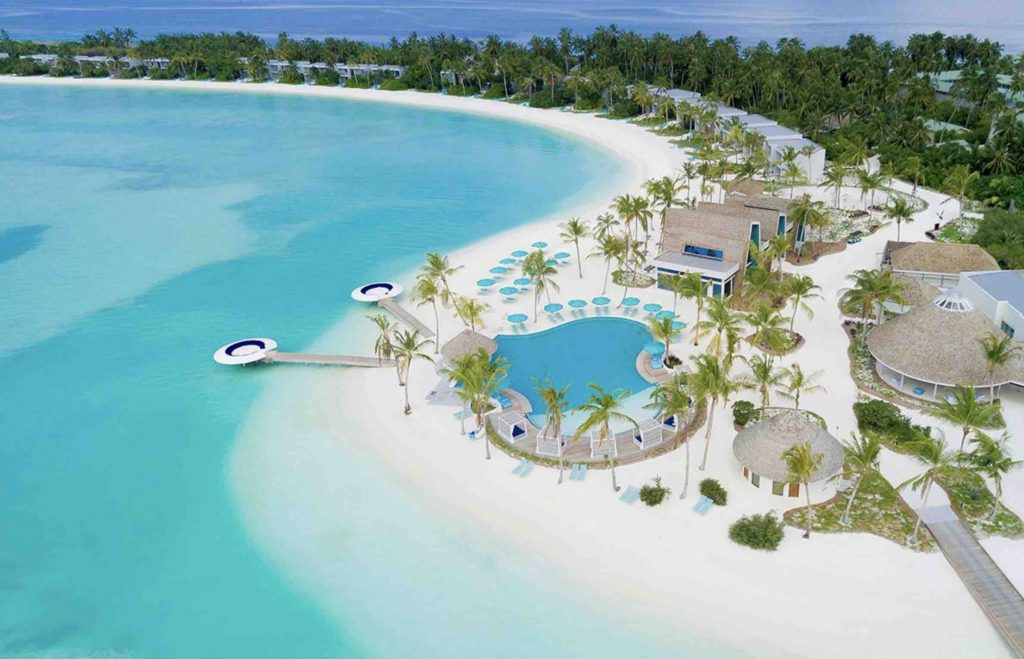 Find out more
More info at the skydive section of the Kandima Maldives website.
Where: Kandima Maldives, Dhaalu Atoll, Republic of Maldives
Email: mykindofplace@kandima.com.
Reservations Direct Tel No: +9606761100
Reservations Mobile Tel No: +9607967712
WhatsApp/Viber: +9607967712
WeChat ID: KM-7767712