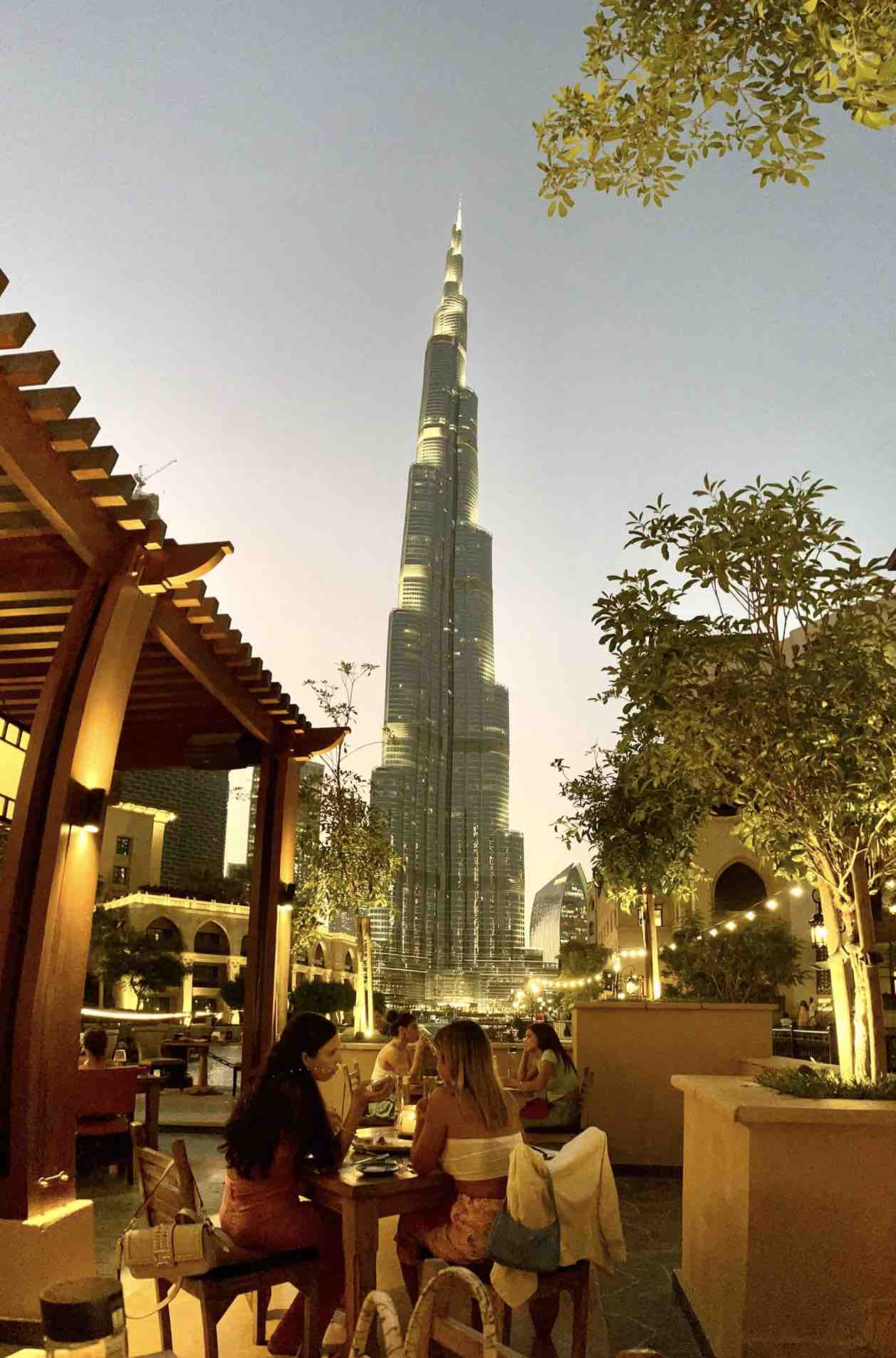 Asado restaurant in Palace Downtown has one of the most coveted prime spots on the lake-side edge of Old Town Island in the heart of downtown Dubai, and right in front of the magnificent Burj Khalifa and the Burj Fountains. The view from the restaurant is simply stunning as we sat outside taking it all in, we enjoyed savoring the added expectation of a mouth watering culinary experience to come.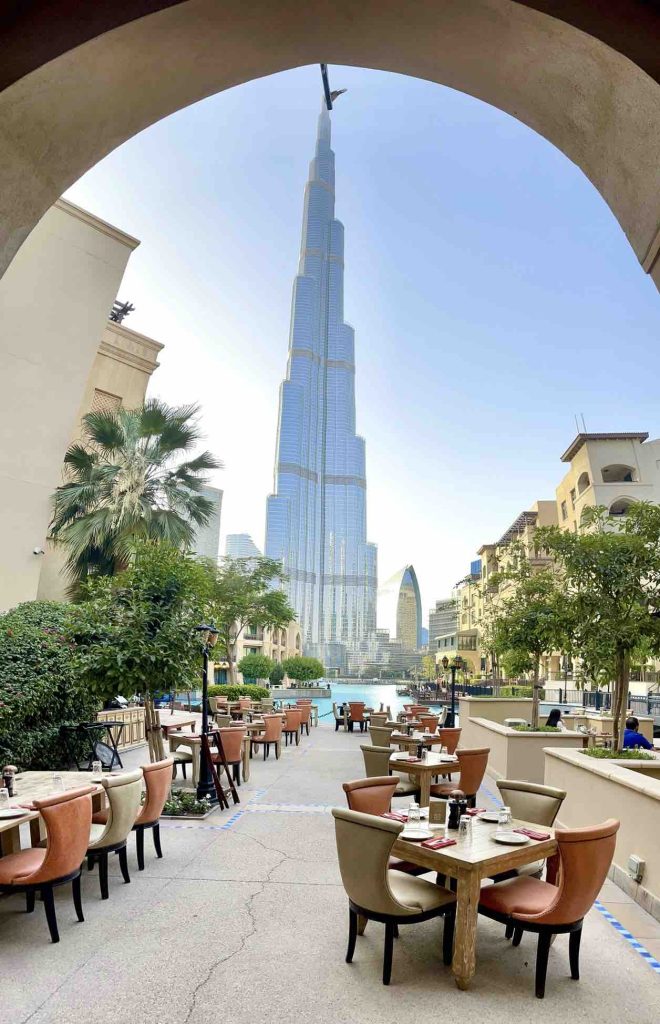 The restaurant is a perfect place from romantic couples wishing to enhance their date-nights, to friends enjoying a meal whilst catching up with each other, and families who require a delicious meal with attentive service. I must admit, I've been a few times to Asado before, and every single time my taste for grilled meats is heightened and the refusal for anything less is a definite challenge.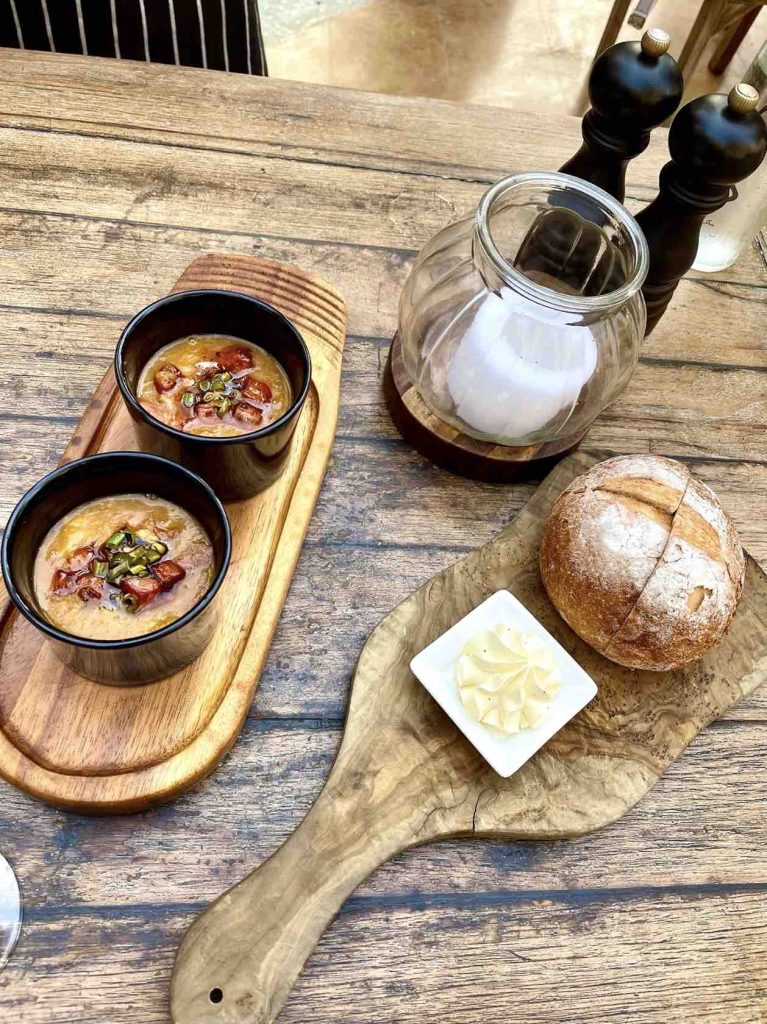 I'm quite fond of the technique of Al asador or a la parrilla.This well-loved meat dish by the gaucho horsemen of Argentina is often beef, lamb or goat skewered on a metal frame called an 'asador' and is roasted by placing it next to a slow-burning fire. Here, inside the restaurant, in a glass enclosed fire pit, the asadores holds the entire carcass of an animal splayed open receiving the heat from the fire. The meat for an asado is not marinated, with the only preparation being the application of salt before or during the cooking period. Also, the heat and distance from the coals/wood are controlled to provide a slow cooking; it usually takes around two hours to cook asado. Furthermore, grease from the meat is not encouraged to fall on the coals or wood and create smoke which would adversely flavour the meat. In some asadors the area directly under the meat is kept clear of coals.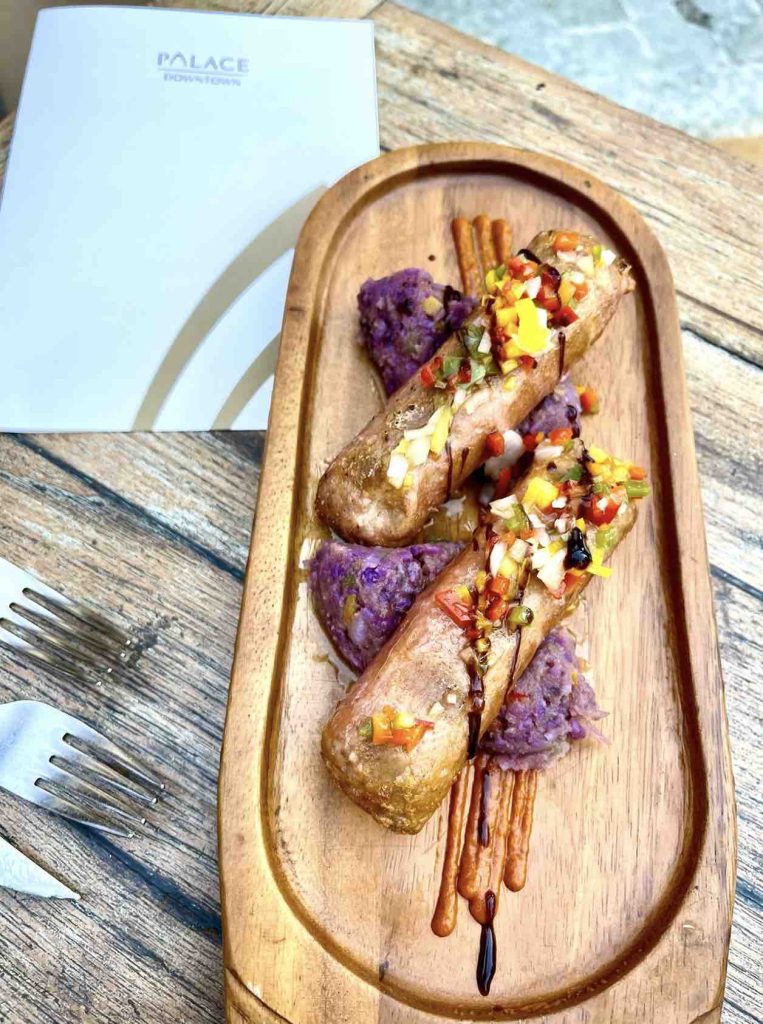 Al asador or a la parrilla is about technique and social aspect, and more importantly, a traditional event of having, or attending a barbecue in various South American countries, and especially no more so than in Argentina. And this coming week, May 25th, is the anniversary of the May Revolution in Argentina. We were fortunate enough to celebrate a variety of national dishes that did not disappoint.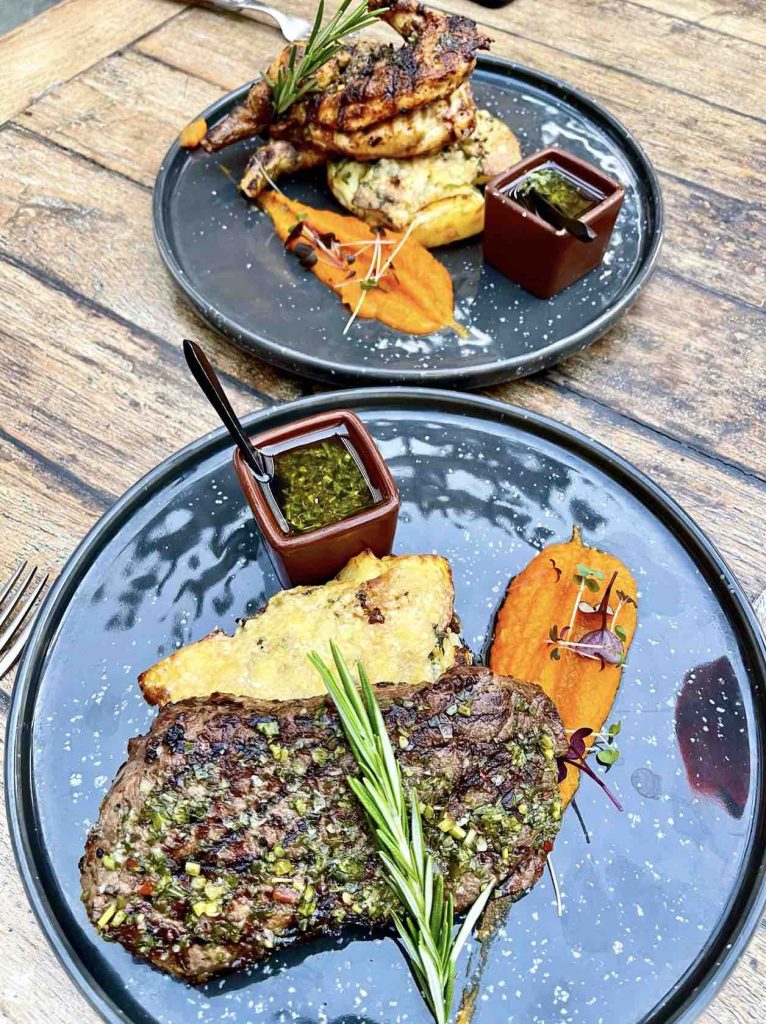 We started with crusty warm, freshly baked bread with the most splendid whisked, fluffy, melt-in-your-mouth truffle butter that Chef de Cuisine, Carina Arossa, magically created and we literally melted like butter…just forget about that diet you are on…its futile. I won't even try to fight it, as the appetizer, Locro – one of the national dishes that is often served on May 25th arrives.
The dish is a classic squash, corn, beans and potatoes or pumpkin soup that is well known along the South American Andes. It's hearty and meaty and I can taste the smokey quality of the chorizo and bacon. It was so good that I ate my dining companion's portion, and when you try this, you will concur!  
The first starters were beautifully lightly baked empanadas, which is a type of baked or fried turnover. The Saltena; filled with hand-cut Argentinian beef, onions, spring onions, capsicum and boiled egg seasoned with cumin and paprika, and next was a Tucumána which is similar but has the addition of raisins and chilli. Tucumán is known for the empanada Creole which is an annual National Empanada festival is held in Famaillá.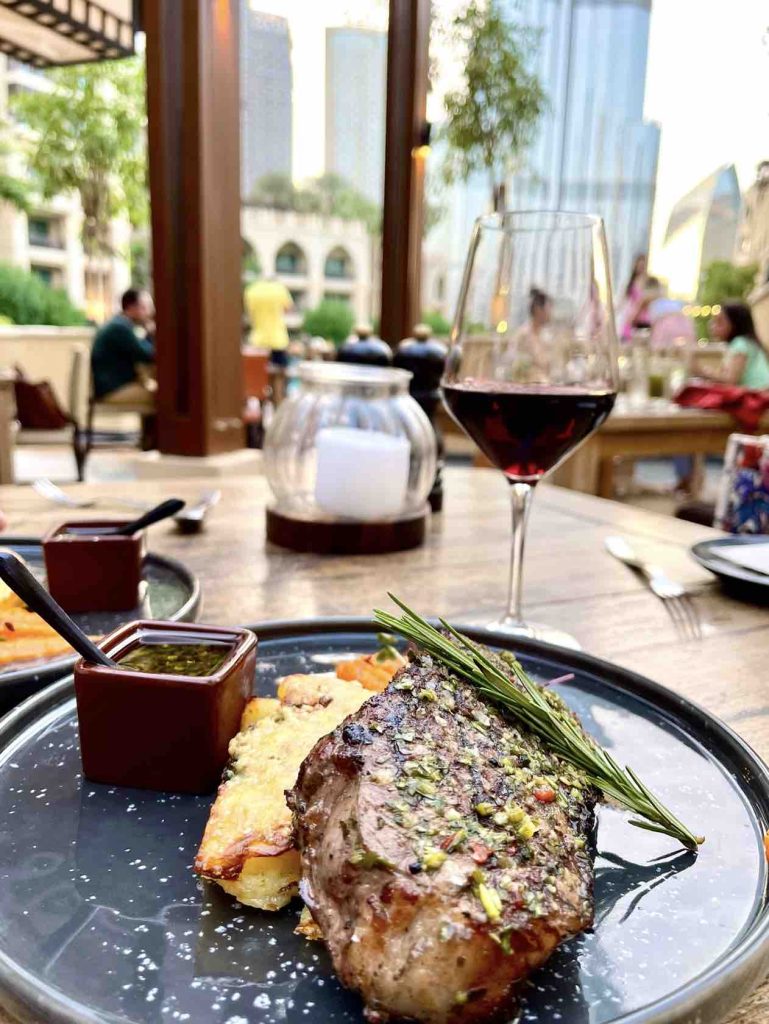 Those of Famaillá are made with matambre and fried in good fat. In Buenos Aires, the Creole empanada is so important that it has been declared a 'Cultural Heritage of Food and Gastronomy' by the Argentine Ministry of Culture, with every region of Argentina having its own characteristic variant. The second starter was a vegan sausage that was surprisingly very meaty in texture and tasted like, well, like meat! It was accompanied by purple mashed potatoes, diced onions and capsicum drizzled with a balsamic base aioli.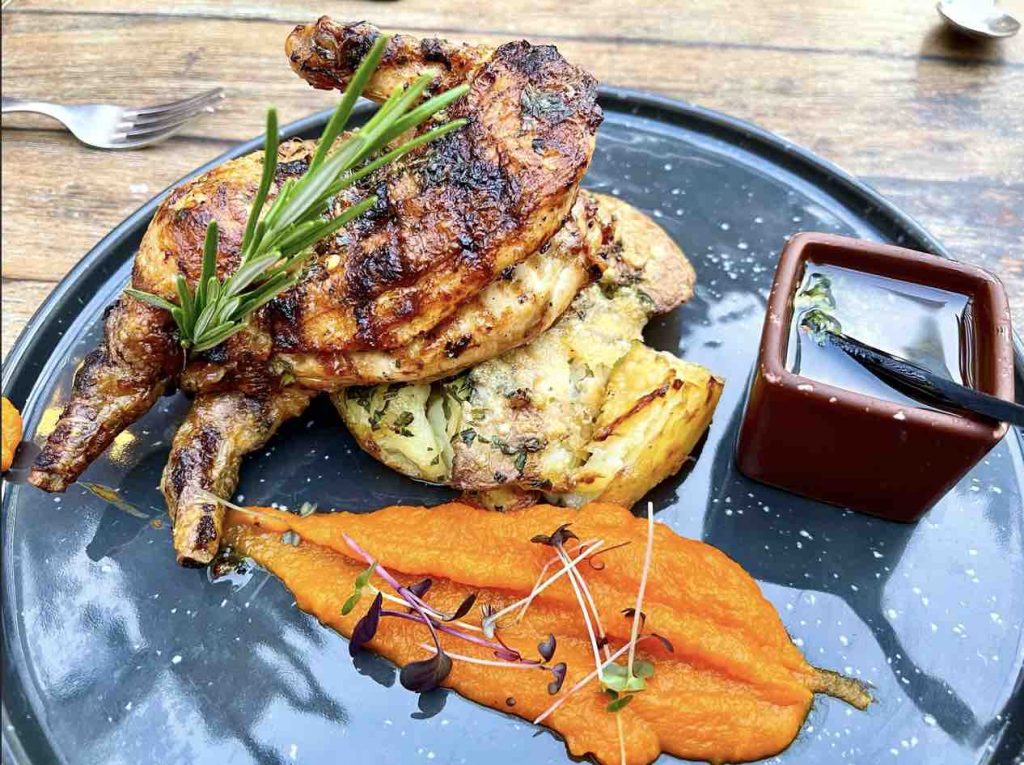 For our mains, my companion had succulent grilled chicken and I had the Argentinian Black Angus Striploin, both of which were served with potato gratin with herbs and parmesan cheese, silky smooth carrot puree (just how could this taste so utterly good?!) along with grilled baby capsicum and unctuous chimichurri which is a sauce of chopped parsley, dried oregano, garlic, salt, black pepper, onion and paprika with olive oil. The seasoning on the strip loin complimented well, and cutting into it was like cutting into butter. Need I say more?
After a breather, dessert was a platter of Crème caramel flan which is caramel pudding, or a caramel custard with a layer of Dulce de Leche; moist cream bread pudding with raisins, crepe stuffed with Dulce de Leche and banana ice cream. Our favourite without a doubt was the gorgeous moist bread pudding with raisins and it was gobbled up without us once coming up for air!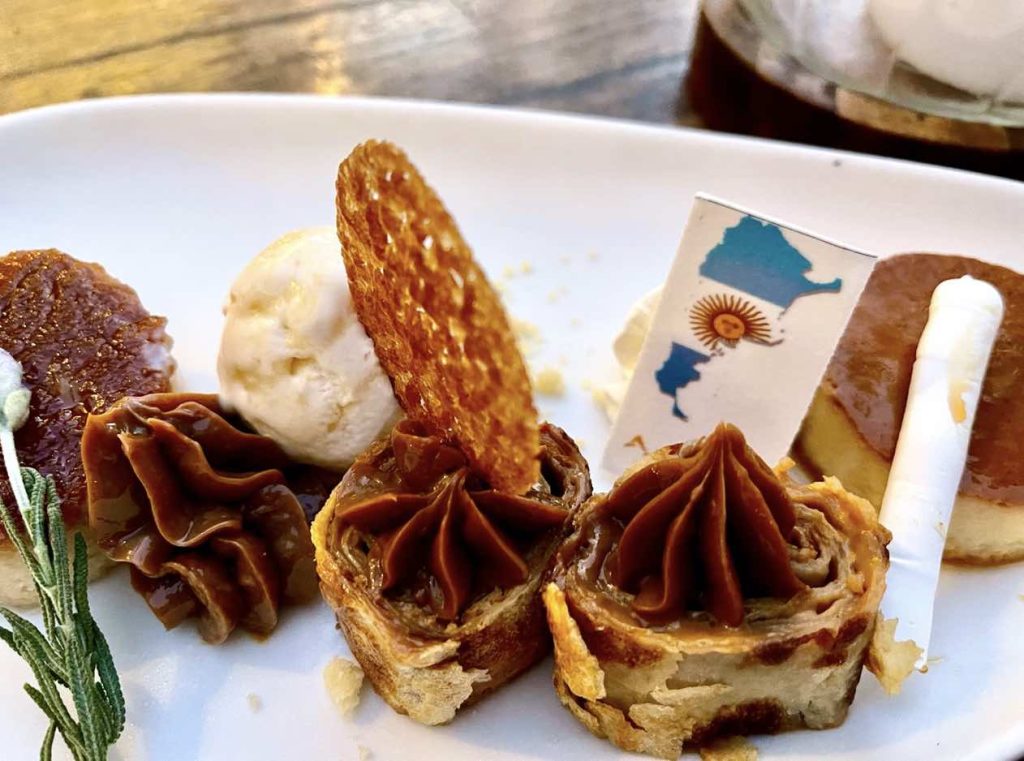 A little memento for the occasion: Argentinian Alfajores cookies were presented in clear pouches tied with ribbon as gifts. These shortbread cookies are filled with a thick caramel dulce de leche were so light and buttery that they seemed to us to be the most delicate of heavenly morsels ever.