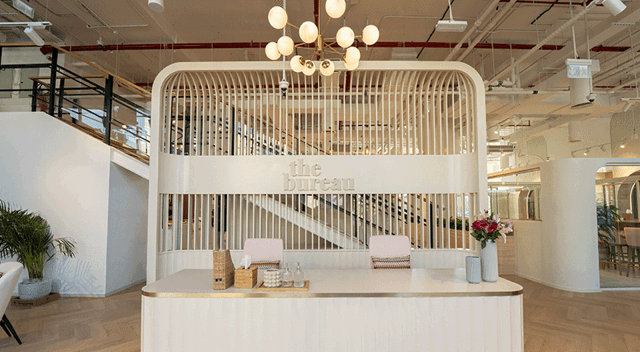 There's been a flurry of co-working spaces opening in the last few years, so the Insider vowed to check in and check them out.
Since COVID remote working and laptop lifestyles have become the new norm. You can enter any cafe these days and find a huddle of employees in a hushed meeting, or solo workers locked into their Macs, or even those with headphones on somewhat ostentatiously conducting Zoom calls and not even attempting to keep their voices down. Fortunately, to meet this demand there are now dedicated working spaces and members only clubs designed especially for the digital nomad and remote worker. Here are some of our favourites, new and old.
The Bureau, Gold and Diamond Park
This oh-so-dreamy spot hidden in the Gold and Diamond park is women only, and boy was it designed with the female psyche in mind. The interior is absolutely stunning, with pale pink walls, luxury lighting fixtures, a back wall doubling as a mini library, and everything pastel shades with floral touches. There's also private offices available for rent, sound proof pods, podcast studios, a phone booth, plus an upstairs yoga and wellness room called NAÕ with a nearby vanity room – you'll never want to leave once you're there. Additionally there's an on site Jones the Grocer to refuel and stay focused during your work day, where you can get juices, salads, and snacks. Ladies can opt for day passes from AED 120, and the membership starts at AED 950 per month, with the uber cute office rentals being a little more pricey, starting from AED 3,000.
Building 6, Gold and Diamond Park, follow on Instagram @thebureauae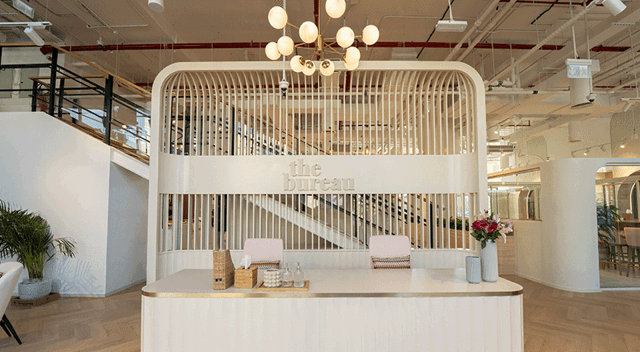 Astrolabs, JLT
Focused on the tech community and homegrown startups, Astrolabs has a real community feel and they pride themselves on the success stories of their members. They also offer partnerships with IBM and Google for Entrepreneurs which serve as a major attraction for new members, as well as being located in the heart of JLT close to major transport links and local restaurants and coffee shops. The work space has special areas for coding – called the coding cave – plus a device lab to test your apps and bookable meeting rooms. Get yourself a membership for AED 750 per month for their Moonlighter after Hours, which is a flexible non-peak hours on a monthly basis, or AED 1,500 gets you a flexible membership with 24/7 access and other perks, or for AED 2,500 per month you can pay for their annual membership which also includes a trade licence, sponsor for five residents and 24/7 access.
Cluster R, JLT, www.astrolabs.com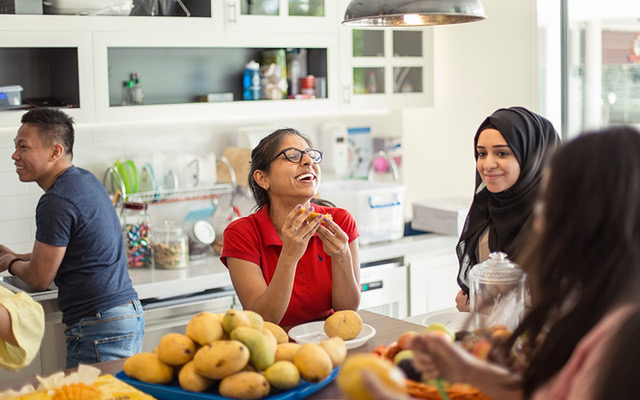 Nook, One JLT
Established primarily to help entrepreneurs within sports, fitness, and wellness establish their businesses, Nook also offers commercial licensing and a community feel that helps foster talent and coworking. Expect purpose-built studios, training areas, Zoom rooms for private video calls, event rooms, conference spaces, as well as hosting regular events and workshops from members and people within the local community. Prices for day passes at coworking desks are only AED 80 per day, AED 300 per week, or AED 1,000 per month.
Nook, One JLT, www.nookwork.ae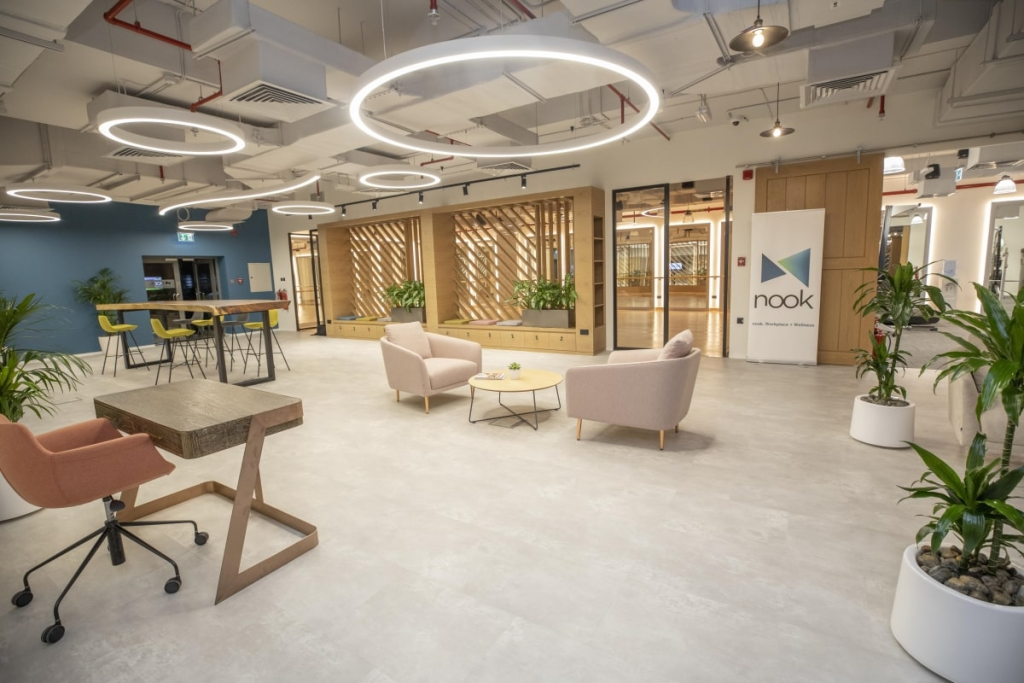 Cloud Spaces, various locations
With three locations in Abu Dhabi and spots in Dubai's Circle Mall in JVC, the newcomer to the market Cloud Spaces offers a new location solution to grow your business. Their first membership offer is called the Cloud Commingle where you have access to the open coworking areas where you can be creative, and you can also bring your clients to the lounge area and enjoy fresh juice and coffee from the Oxygen Bar. Next up is Cloud On-The-Go where you get 24/7 access to their bright and airy spaces plus unlimited tea and coffee. You can also have the Cloud Desk which includes your own dedicated workspace, plus the other perks above, for AED 1,395. Our favourite is the Cloud Bubble, which is a semi-private bubble style office perfect for a one-man business, with prices starting at AED 2,300 per month. Private suites are available and a little pricier, starting from AED 5,000 per month. It's fin, quirky, and an innovative space.
Cloud Spaces, Circle Mall, JVC, www.cloudspaces.ae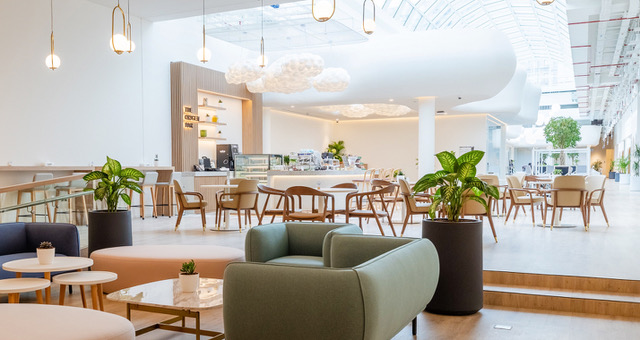 Let's Work, various locations
The most affordable option that also offers free credits for a trial period, Let's Work doesn't have their own dedicated workspaces, but teams up with suitable cafes and restaurants across the city to offer deals for work-hungry freelancers and digital nomads. Pick from places like the Rove at Citywalk, LDC Kitchen in DIFC, or Jumeirah Emirates Towers, and choose from perks including ambiance, free parking, and F&B offers. Choose from pricing plans on a credit system between AED 120 and AED 825 per month, so there's something to suit your schedule and how many days you want to work, while meeting your need for variety. The best part is the unlimited tea, coffee, water, and prioritised seating near dedicated plugs for your laptop. The brand has been popular enough to spawn outlets in Portugal, Spain, and Oman.
Let's Work, various locations, www.letswork.io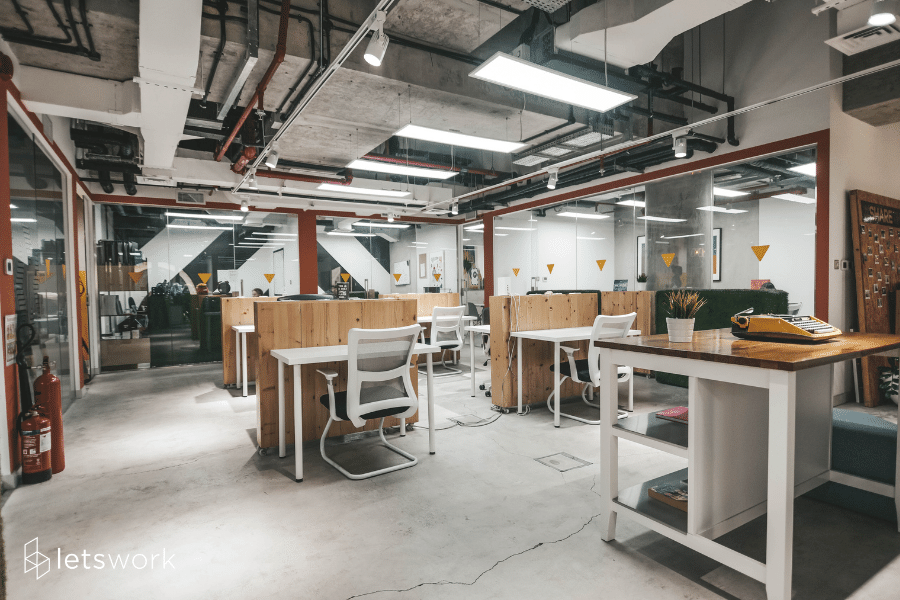 NEST, Tryp by Wyndham
A trendy and quirky little hidey-hole, the perks of Nest include privacy pods, an indoor garden zone, and community spaces. It's totally quiet in the common areas and the perfect place to concentrate on work – there's even a cosy sofa to have a quick nap on when things get tough. The one-day access with limited perks is AED 8- on weekdays and only AED 50 on the weekends, while you can visit 10 times for AED 599, or 15 visits per month with perks is AED 899, and the unlimited plan is a bargain for AED 1,499 monthly. And those perks we mentioned? Delicious coffee, pastries, fruit and other snacks, plus water, pool and gym access, free valet parking and cheaper hotel room rates. There's also a wonderful buffet lunch served at the hotel for AED 75.
NEST, Tryp by Wyndham, www.nestdubai.co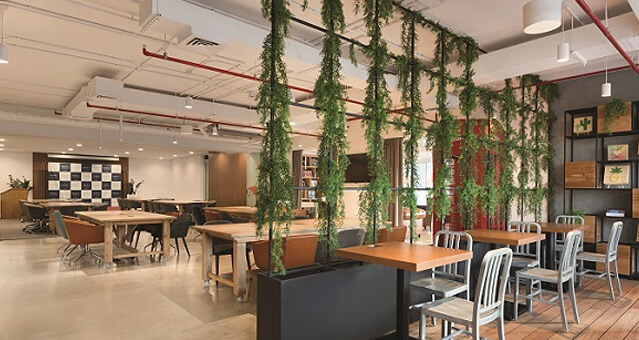 Nasab by KOA
A sprawling location in the shimmering desert, Nasab is where productivity meets luxury on every level. Members are encouraged to network as their clientele includes thought leaders and game changers, and the club itself has a glorious and elegant interior with two swimming pools, photography studio, tennis court, private offices, library, plus three choices for your lunch, coffee, and other snacks. Applicants are also subject to approval, and have to approve their uniqueness to be considered. They offer three membership tiers with prices starting from AED 140. Their Nomad plan for freelancers on the move give hotdesk access with office amenities and social benefits, which is AED 1,000 for 10 days over a month. Their Resident package is AED 1,500 per month with unlimited access, and you can even get private suites for your work crew starting from AED 2,000 per month. There's also regular workshops, discussions, and talks from industry leaders.
Nasab by KOA Canvas, Wadi al Safa 3, www.nasabdubai.com