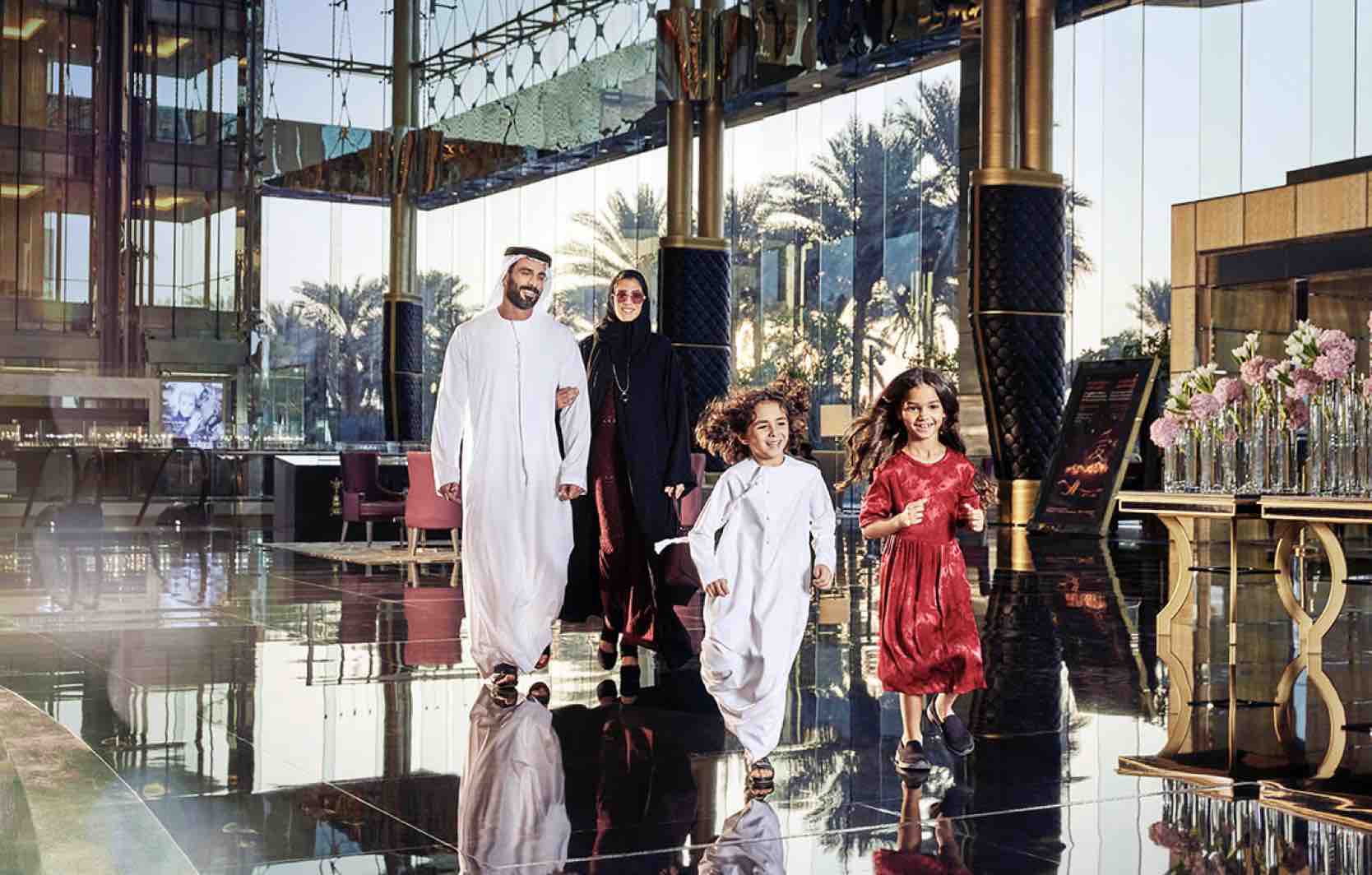 An Arabian-themed meal at the Meydan makes this Eid special. Or get a one-off bargain for stayover incl dinner. Dine in, al fresco, in-room or a takeaway with a difference. Bring home a 10g or 6kg lamb ouzi, slow-cooked for up to 48 hours.
Make it a special weekend to celebrate this Eid with a memorable Arabian-themed family meal at the 5-Star Meydan hotel by the racecourse. Or try a 10kg lamb ouzi takeaway!
Even better, book an overnight from just AED 699 including dinner.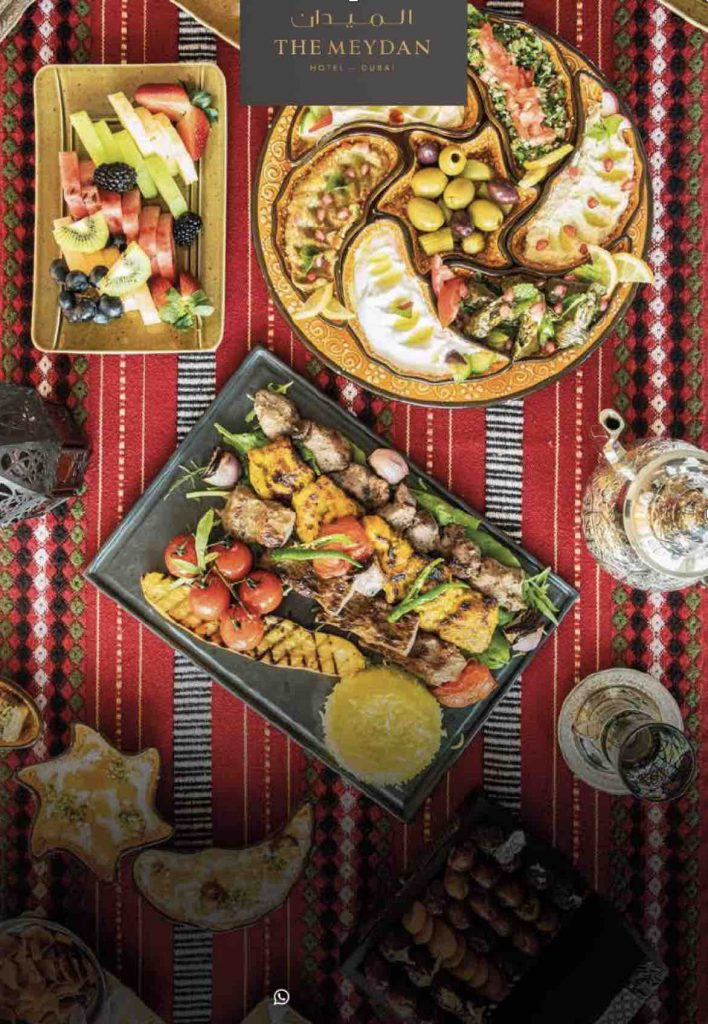 Arabian-themed lunch and dinner menu
Experience a 5-Star Arabian-themed dining experience, or al fresco overlooking the racecourse. You have a full range of beverages and an extensive wine list to choose from.
Organise a special outing for your family and friends in the gorgeous Farriers Restaurant. Select something different and exciting from the themed menu, or revisit old favourites. They even have hot Sticky Toffee Pudding on the dessert list amongst the classics such as Rose Water Infused Muhallabia and Basbousa.
It's an all-inclusive set menu. Start with a cold sharing Mezzeh Platter or a hot option or soup. Then try Dawood Basha (minced lamb balls in tomato sauce), Chicken Mandi (marinated grilled baby Chicken) or great Grilled Sea Bass, among the many mains available.
3 dining options: dine-in at Farriers Restaurant, in-room dining, or takeaway.
Lunch 12:30 – 3:30 : Dinner 6:30 – 10:30
Just AED 149 for either lunch or dinner including soft drink. Dress code smart casual.
Get 10kg of mouth-watering slow cooked lamb ouzi to feed 10 or more!
Party star of the takeaway menu for your Eid table is lamb ouzi. This traditional scrumptious UAE dish is one for the whole family and friends to savour.
The joint is marinated for hours in a selection of the best Arabic spices. Then it's wrapped in palm leaves and very slowly cooked over coals for anything up to 24 hours.
The hotel restaurant pile on roasted nuts, raisins and rice pilaf wrapped with saj bread. Lots of condiments too – hummus, tabbouleh, cucumber yoghurt, mutable and Arabic mix pickle. Finally, a seasonal fruit platter rounds off your Eid meal.
Available all days of Eid. Order 2 days in advance and pick it up from noon – 9pm.
The best AED 1,600 you will spend this Eid!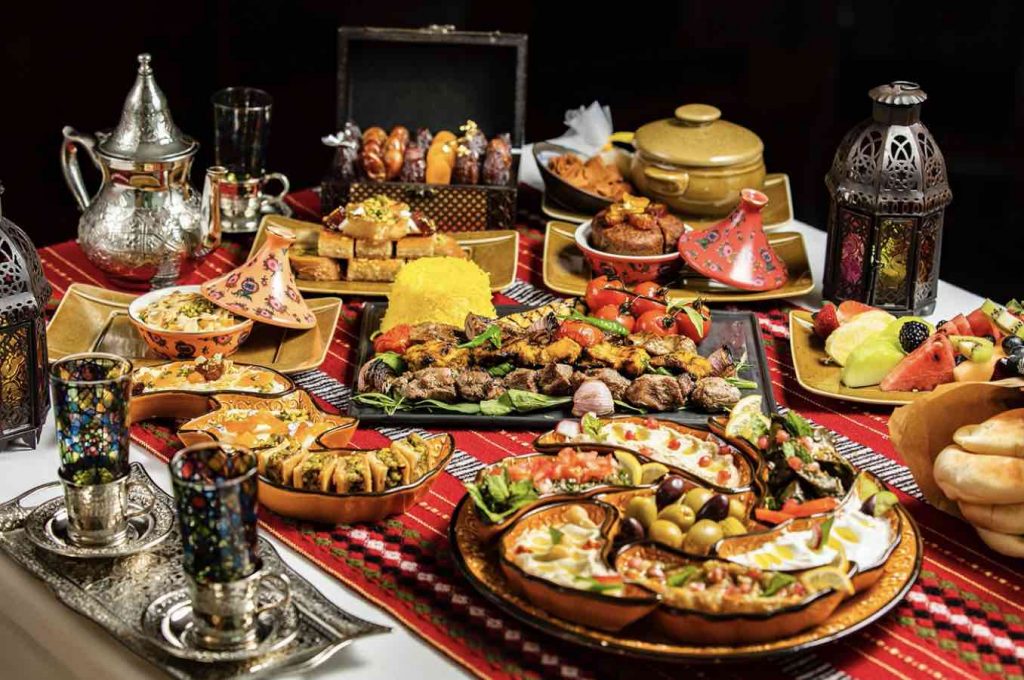 Unbeatable Eid stayover bargain offer
The Meydan is a truly lovely hotel for a family treat and it's only 15 minutes from the airport. Rooms are luxurious and spacious with a distinct Arabian Nights feel. Some overlook the Meydan racecourse where you can see the horses being put through their paces most mornings. Stable tours can be arranged where you get to see behind the scenes.
The rooftop infinity pool is a vantage point you won't forget, and it's right beside the kiddy's pool where you and the lifeguards can keep an eye on the frolics in total safety.
It also has a 9-hole golf course and probably the best sports bar in Dubai (Qube) – factors known to have drawn visitors from afar!
Breakfast and themed Eid lunch or dinner are included
25% off all food & beverages, and the spa
2 children under 12 stay for free and you may request an extra bed
Cancel up to 6pm on the arrival date
The hotel has been thoroughly sanitised and staff are trained to hospital level
All this 5-Star luxury for just AED 699 is a real bargain by any standards
Reserve it now
For Reservation contact us:
Tel: +971 4 381 3111
WhatsApp: +971 52 428 3558