We took the team out for a slap up brunch at one of Dubai's most notable and award-winning brunch Buddha Bar, and we weren't disappointed.
Known for its sumptuous red interior with heavy drapes, red carpets, and Far Eastern flair, Buddha Bar also offers a Pan-Asian menu focusing on seafood, plus truly stunning unique live entertainment acts. Visiting for their notorious Saturday brunch, the venue was nearly full when we arrived, and were guided to our table front and centre, after a quick welcome beverage with a blob of dry ice dropped into each person's choice of drink.. The crowd was a mix of demographics, but primarily people aged 30 and above, with a blend of visiting guests and residents – but the age group certainly didn't define the ability to party hard, as we learned a little later.
Greek DJ Mario – who looked fresh off the boat from an all-weekender in Ibiza – was spinning all the hits from Spice Girls to 'It's Raining Men', complete with raised arms and epic shades. He was accompanied by a live violinist (who was extremely good) and this added to the vibrancy and party atmosphere, even before people started dancing.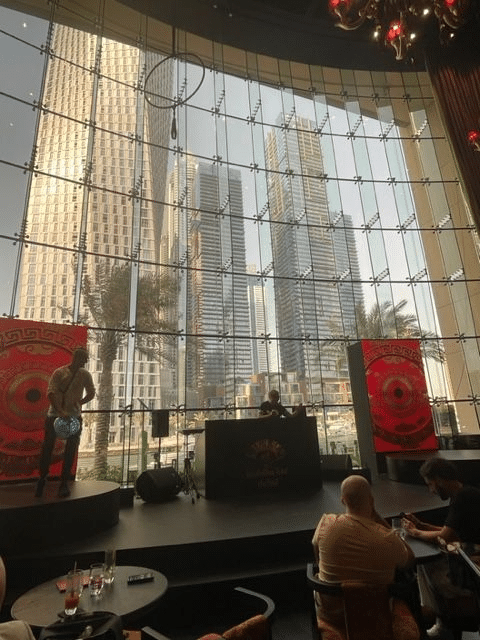 We were quickly served with a huge seafood platter on dry ice which was a nice aesthetic touch, and the food included oysters, sushi, chicken satay, burrata salad, deep fried prawns in a spicy mayonnaise and a tuna tartare salad – yum. Unlike some other brunches where getting a drink can be tricky, our waiters were more than keen to keep refilling our glasses with sparkling wine and beer, respectively. A quick refreshing snack was provided between the starter and main course as they brought up pina colada ice lollies with real chips of coconut, which were absolutely delicious.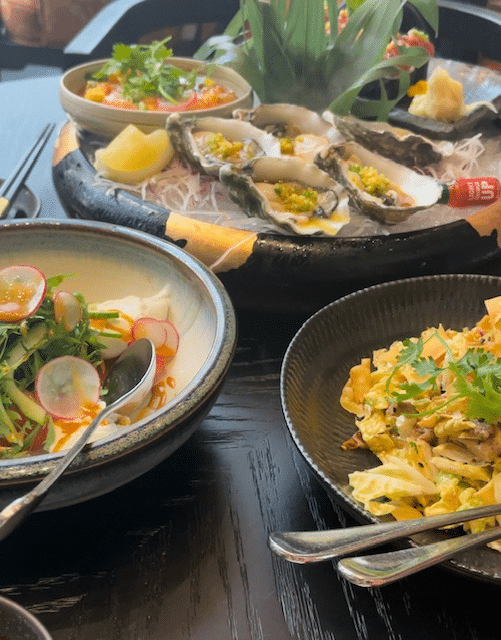 Mains came as swiftly as we had devoured the starter, and we were served more sharing platters including a Kung Po Chicken with cashew nuts, which was zesty and full of flavour, plus some sea bass, and a glazed beef dish with bok choi, and rice on the side. Portions were generous and the food wasn't too heavy, which is the perfect recipe for brunch consumption.
But the dessert tray had to be our favourite, with a range of desserts on an iced platter including homemade glazed donuts with gooey filling and editable chocolate topping, meringue with fresh berries, layered chocolate cake with its own chocolate label with 'Buddha Bar' printed on the chocolate, plus an array of fresh fruits including star fruit and halved passion fruits. While guests were enjoying the desserts, the staff came around with what looked like a giant watering can full of alcohol with a long stem which they poured directly into people's mouths. The Insider crew declined to partake in this particular activity as the rumour was that the liquid was tequila, however other guests looked most receptive to such antics. The staff were also well-prepared enough to put a napkin around guest's necks so they didn't ruin their outfits.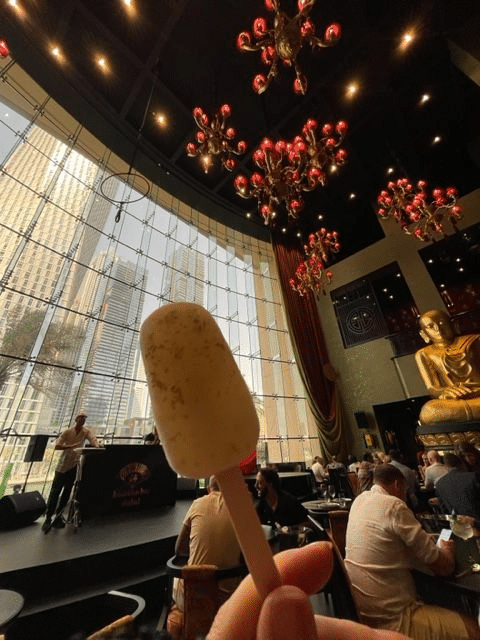 By about 4pm the vibe went through the roof, as the music turned up, and confetti cannons seemed to spring out of nowhere. Miraculously a civilised brunch can easily turn into party central with something as simple as adding glitter and confetti cannons into the mix – literally every inch of the venue, our hair, clothes, and even our drinks, were doused with sparkly paper – that didn't stop us or anyone else drinking though! We joined a group of guests on stage who were dancing with the musicians, and by now pretty much everyone else was up dancing around their tables. For a brunch that seemed fairly quiet and sensible to begin with, this was quite the transition.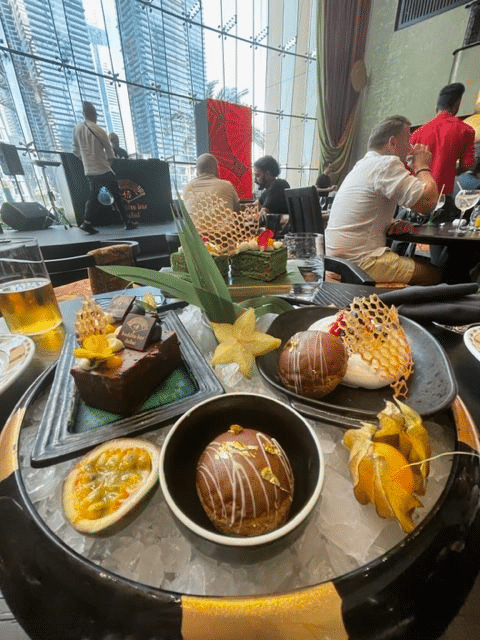 Thank you, Buddha Bar – we will be back.
For more information or reservations please visit https://www.buddhabar-dubai.com/ or Instagram @buddhabardubai