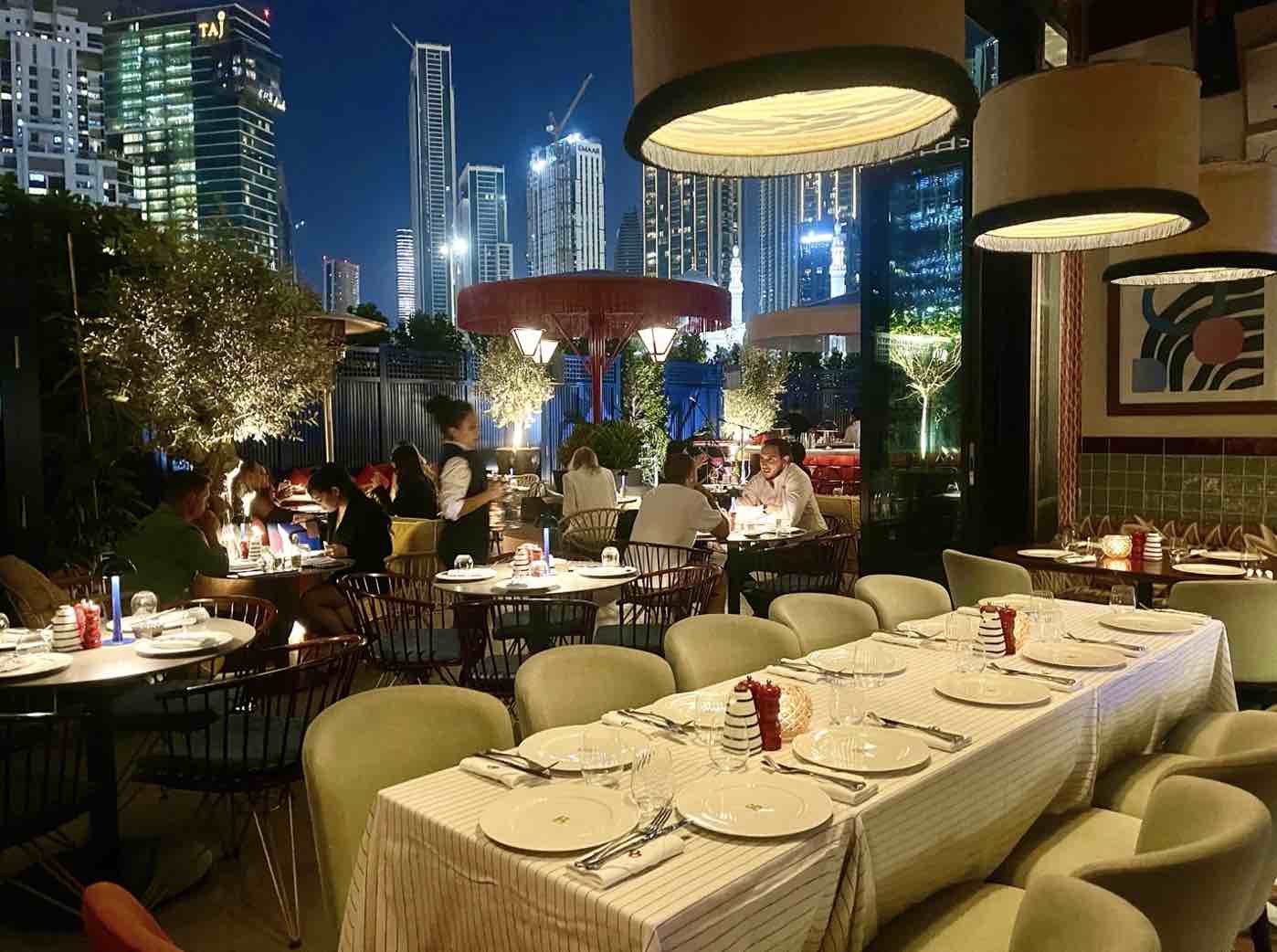 Basko is a real piece of work…synchronizing with the impressive and futuristic architecture of The Opus Tower in the heart of Business Bay. And what a piece of artwork it is, the reserved venue entrance strikes effusive allure as soon as you walk in. Once inside, the chic retro interior elicits nostalgia, vibrancy and sophisticated design, enchanting you at once. Alongside with the artistic details and abstract artworks the aesthetic of the restaurant offers an ambience reminiscent of the 60s with popping colours of deep reds and blues, the retro patterns and music instantaneously decompresses you, opening to the anticipation of delicious cuisine and the evening ahead.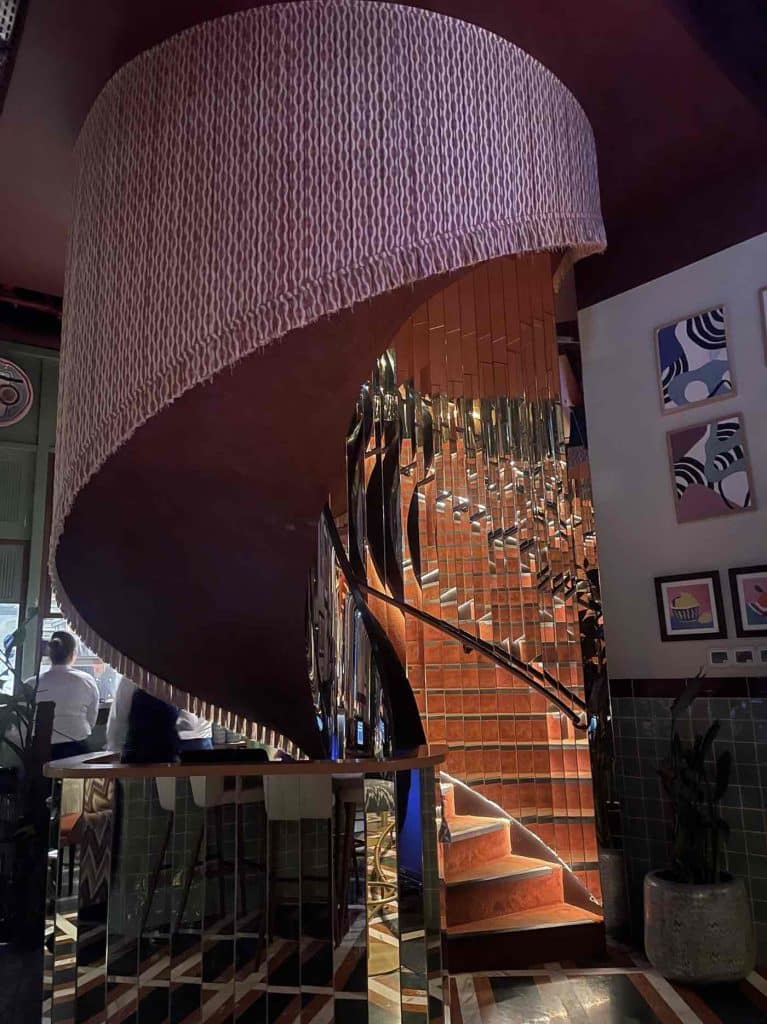 Before heading out to the terrace, my curiosity peaked as I was taken in by the mirrored, chandelier-adorned spiral staircase ascending interestingly to an unknown. To my surprise, a hidden intimate speakeasy lounge, Suave, magnetically lures you in. A truly intimate gem, it boasts deep velvety reds and sapphire blue interiors with ruby red tassels from the ceiling creating a rose like artwork above your head. Suave's intimate bar features a library of over 500 authentic vinyl records and a bar that serves only curated cocktails by a team of creative mixologists. Definitely, a place that is perfect for pre or after-dinner drinks and most recommendable intimate affairs if you and your partner want to go somewhere different.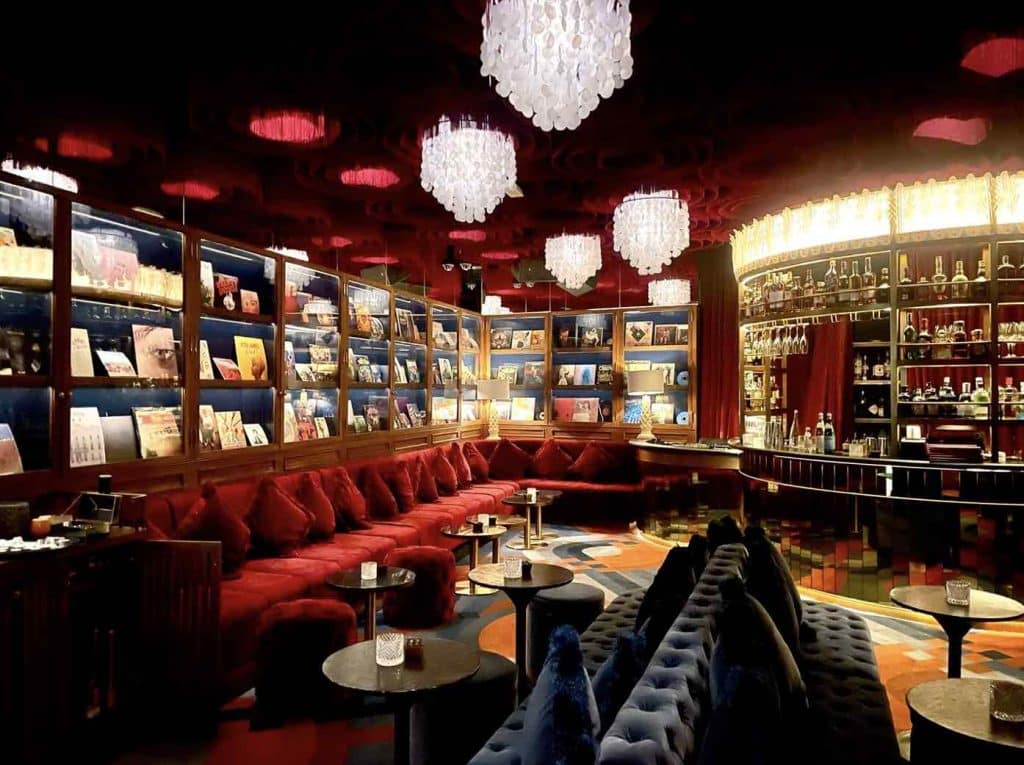 Back downstairs, passing through the distinctive dining area and a semi-open kitchen bustling with busy chefs outwards to the large wraparound terrace that opens up to Burj Khalifa views and Dubai's famous skyline. Seats with plump upholstered benches and chairs beneath fringed parasols and an enticing circular bar, where world-class mixologists attentively prep their creations of handcrafted cocktails for you.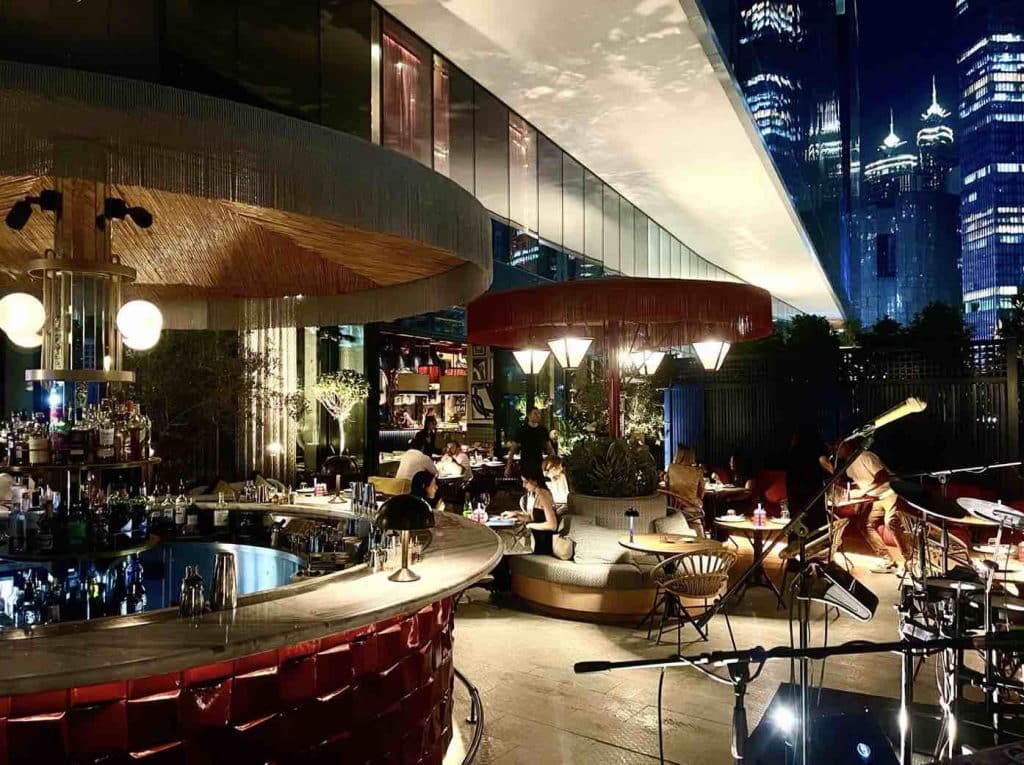 Not only armored with sophisticated designs and master mixologists but also the culinary talent, Executive Sous Chef Moustapha Hamed, recognized for his passionate innovative dishes and the legendary award-winning Head Chef, Youssef Akiki. They wonderfully curated and executed simple Mediterranean specialties drawing influences from Spain, France and Italy for a memorable culinary experience. Basko has recently featured a new exquisite menu in addition to favorite classics. The collective collaboration from both talents, in Mediterranean cuisine and true culinary craftsmanship is evident in every dish.
The signature Sea bass ceviche combines sea bass with thinly sliced avocados, fresh zesty citrus and an interesting basil ice cream…honestly, they had me at Sea bass…and same goes for the Shrimp Carpaccio both were very fresh and delicate.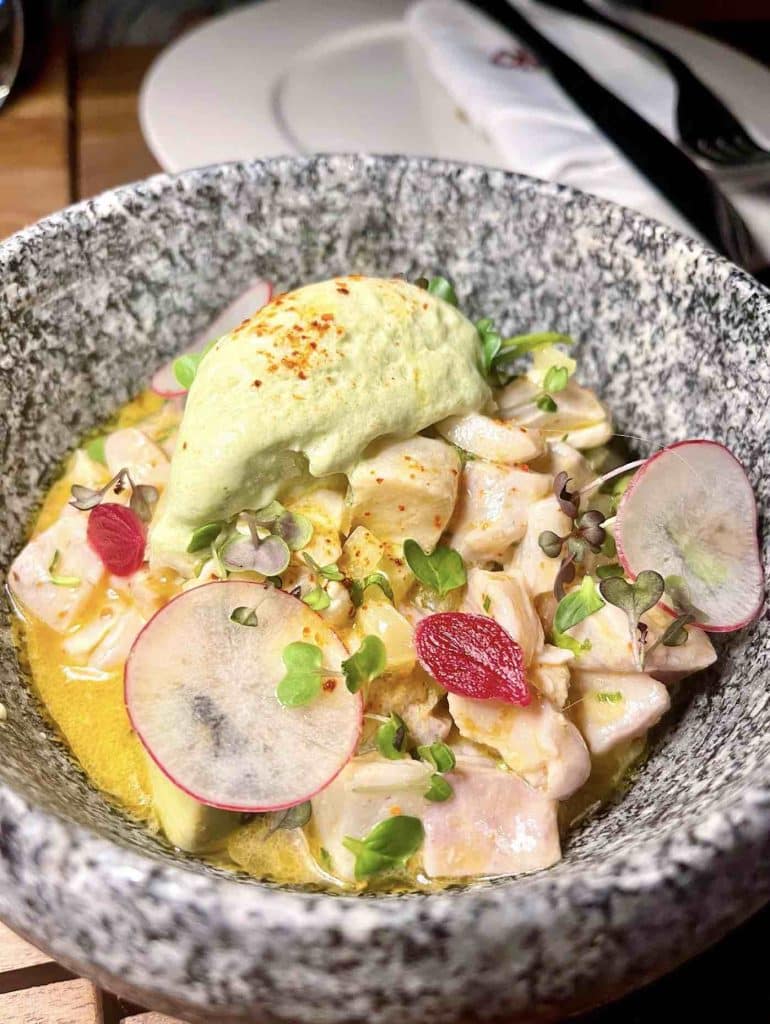 The grilled Truffle Burrata Flatbread was creamy yet light and gorgeous. While the long-time winning starter, Huevos Rotos – angel hair-thin potato shavings with runny eggs, lightly fried dressed with a delicious Harrisa sauce and thinly sliced Bresaola. Intensely luxurious. Another new addition to the menu is beautiful herbaceous crispy Artichoke Hearts battered and lightly fried with Basil Roumalade. It was welcomingly interesting and lovely.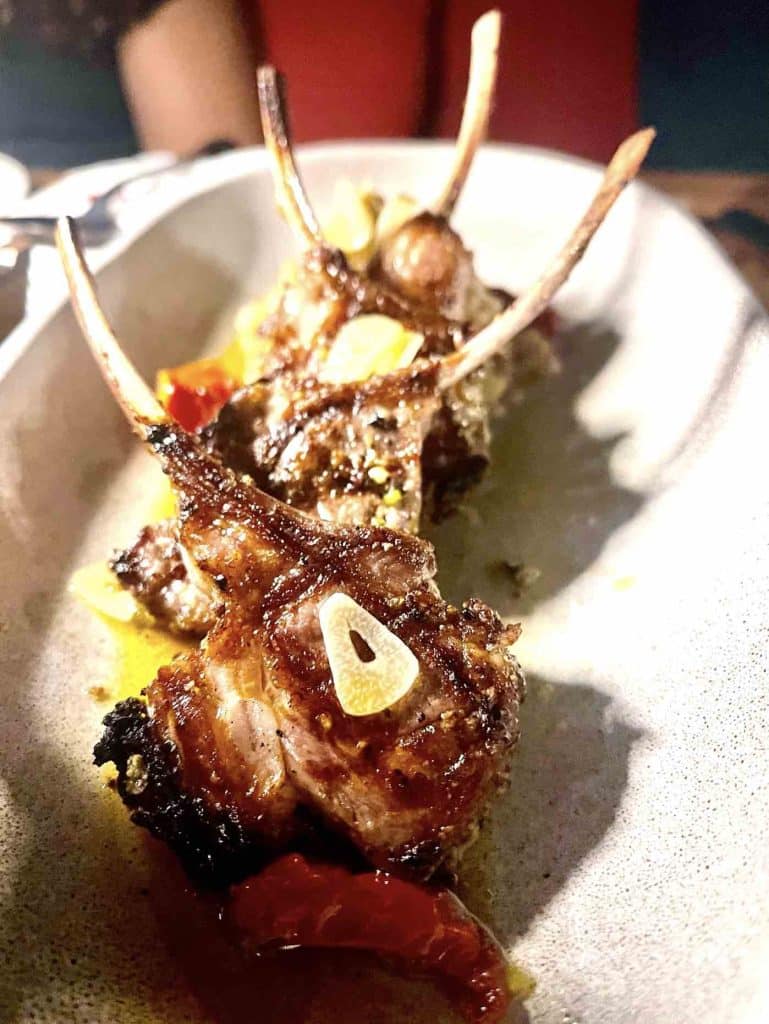 For the mains, the perfectly seared and seasoned pistachio crusted lamb cutlets with eggplant caviar was succulent in every way and would turn a vegetarian cum carnivore in a blink of an eye. My absolute, no holds-bar favorite is the Truffled Linguine that was al dente, coated and glistened with silky, creamed truffle sauce…I am enamored. A dish not to be missed and altogether memorable.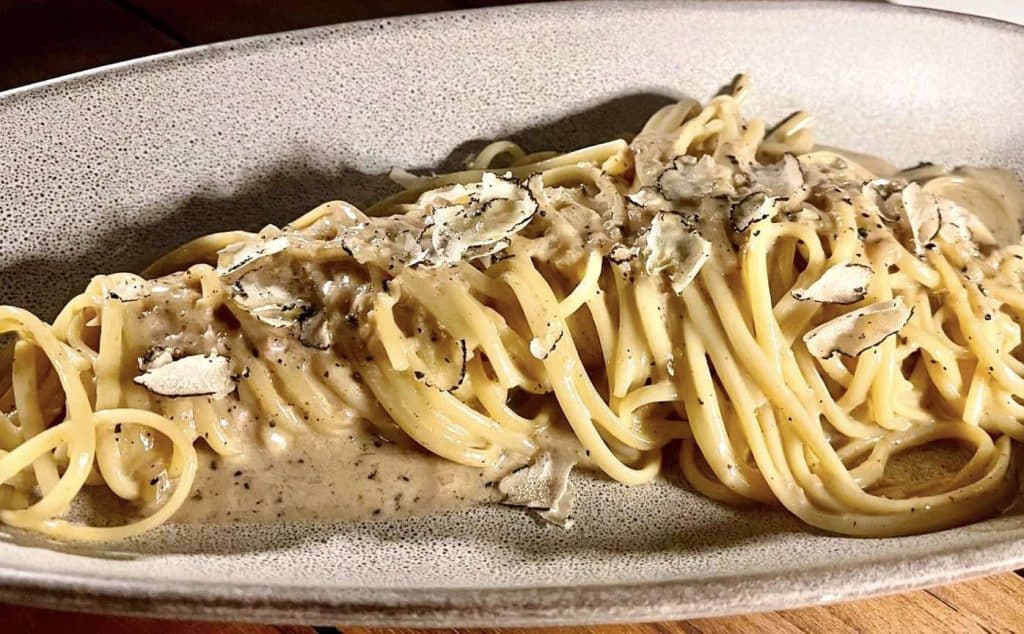 As uplifting as the food and stylish decor is, the genuine and affable service complements merrily proving Basko is the hotspot for an unforgettable night.