Clay is a recent and striking addition to Blue Waters' brilliant array of dining options, and well worth a visit. The name and theme are inspired by traditional clay pots used in Peruvian fires, meshed with Japanese techniques from settlers there in the 19th century, bringing you unique fusion food steeped in history. Fresh flavour, luxe decoration and enchanting ambiance are all synonymous with your dining experience at Clay.
Designed by a world-renowned architect, the interior welcomes you with a foliage-laden pathway before an elevator (or spiraling staircase) whisks you upstairs. The dusky mirrored walls everywhere give a labyrinthine impression but soon open out into an open plan deluxe dining area, filled with eye-catching decorative pieces, hidden coves, a lush bar area at the back and views over Ain Dubai. If you pay a visit at nighttime, you'll be hit with pulsating beats from their resident DJ; our lunchtime excursion was a little lower key.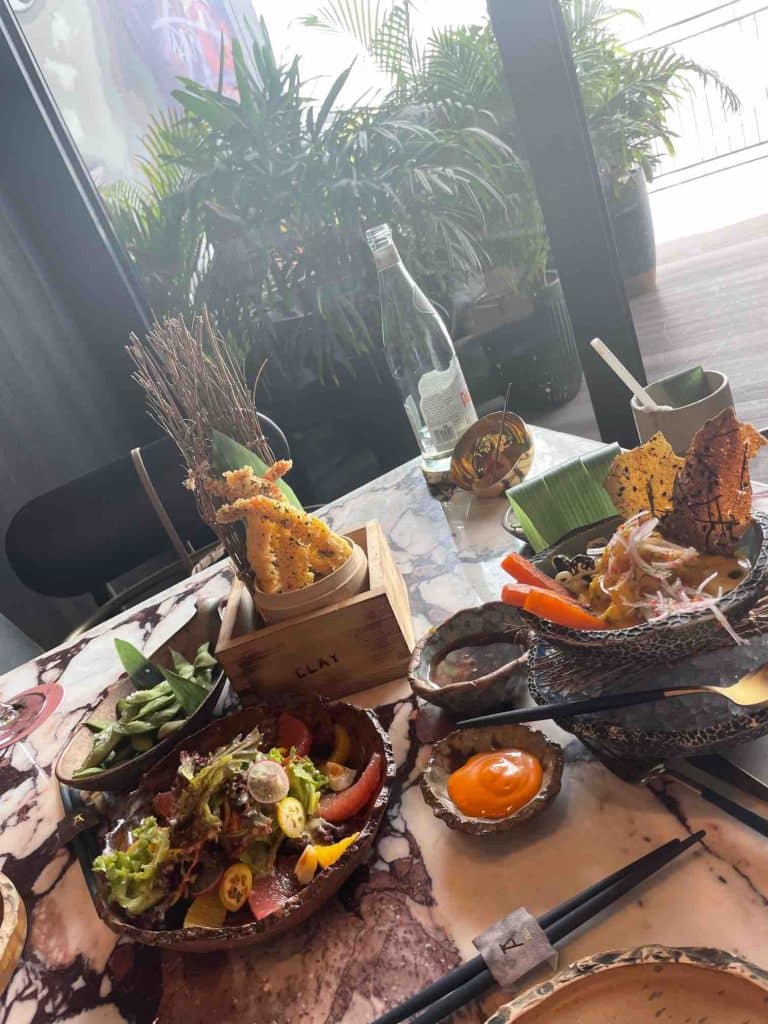 Clay is characterised by its fusion cuisine, most notable of this being the 'Nikkei', produced by Peruvian Head Chef Jolbi Haucho, and reflecting the Japanese influence. Their open kitchen and varied menu are as intricate and detailed as the interior design, while the extensive wine list and cocktail menu features something for all palates. We started lunch with a splash and sampled their signature cocktail No Prob-Llama, with coconut tequila and pisco sour served in a Peruvian clay pot, promptly followed by the Ichi Go – Iche E, with gin and matcha which was like drinking a citrusy cloud. The entire cocktail menu was innovative and unique with a mix of flavours from Peru to Tokoyo.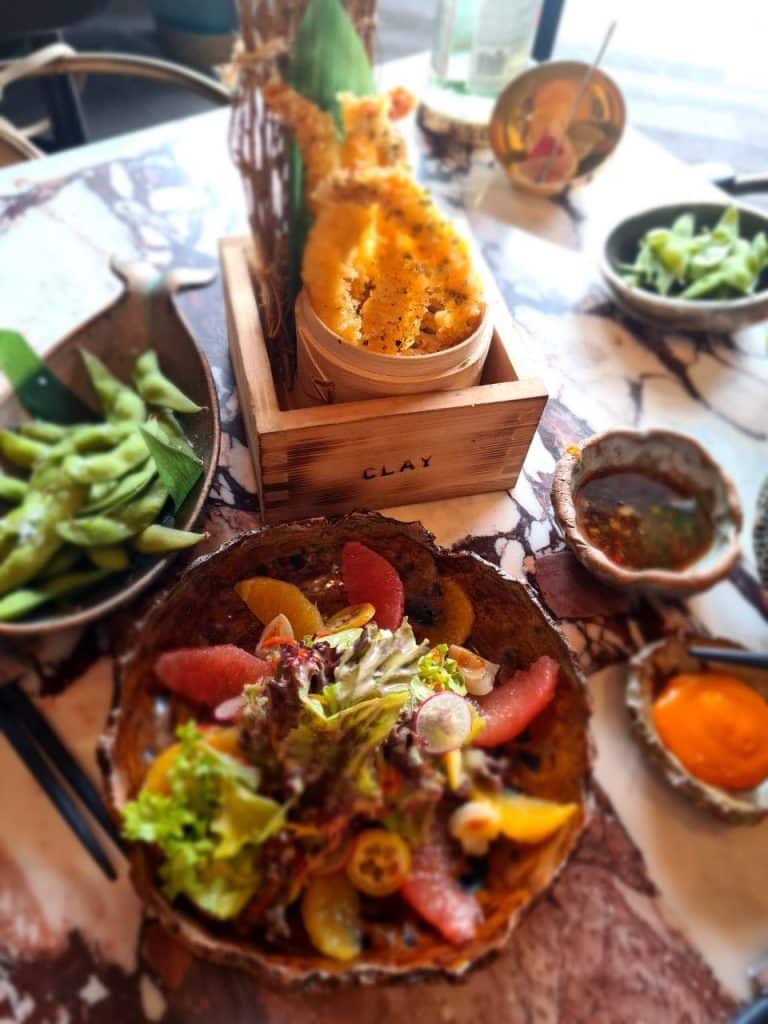 For starters we tried the Carretilla ceviche with burnt corn choclo, quinoa crackers and fresh sea basss, which was spicy and sweet. We also had the Prawn Tempura, which unlike normal fried tempura was refreshingly light, accompanied by the Fresca salad, with kumquat, lychee and grapefruit, all bursting with flavour. We heard so much about the Nikkei, which was served in our own personal mini-BBQ plate, so we tried the Wagyu Tenderloin skewers, with yellow chilli and tericucho, plus the Miso Black Cod, accompanied by broccoli. The menu and presentation of the food is sublime and making eating a feast for the tastebuds as well as the eyes. Most impressive was the Dessert Platter, featuring an enormous dish with an actual water fountain, dry ice and absolutely everything was edible except the serving dishes. It included Crunchy Churos, Yuzu Cheesecake, Miso Brulee and Mochi, however our favourite was the edible chocolate cherry blossom tree, the leaves of which were pink candy floss!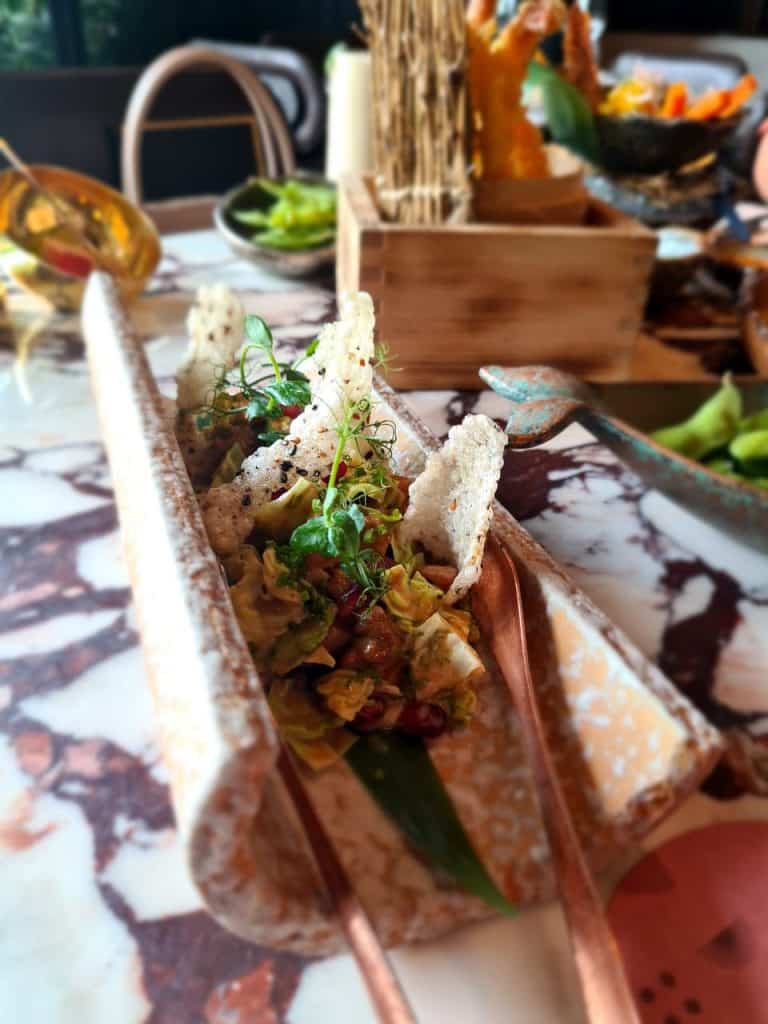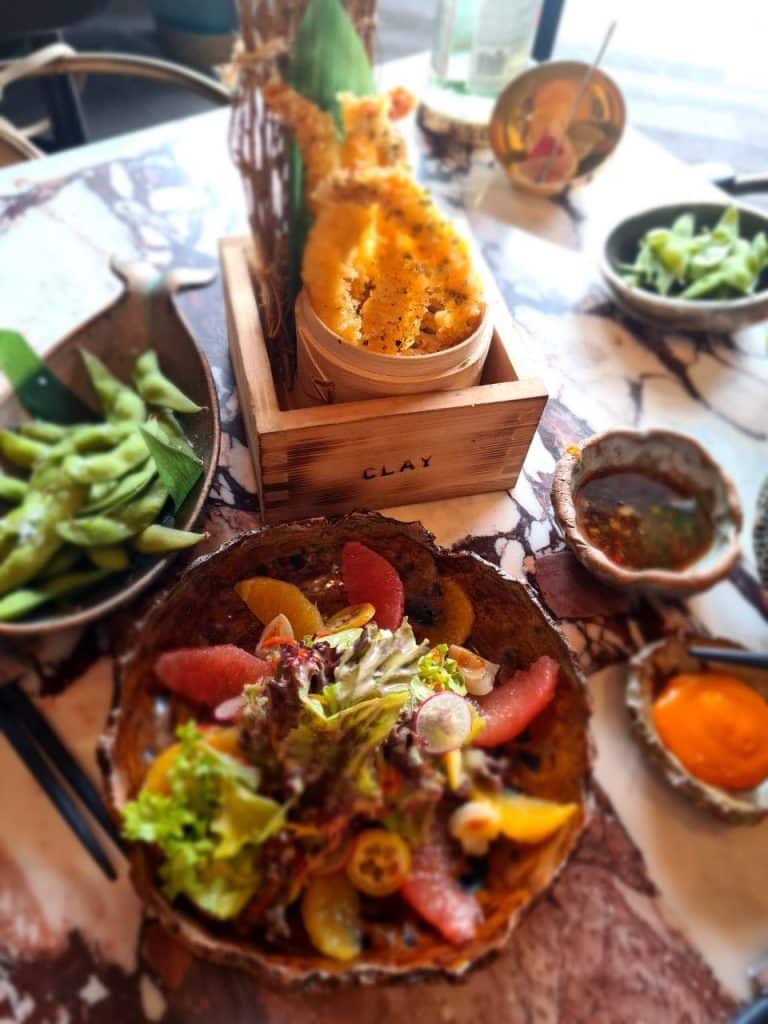 The best thing about the cuisine is that – while delicious and filling – we didn't feel unpleasantly stuffed, which is perfect if you're visiting on a night out in your finest attire and have plans to go somewhere after, or even if you're popping in for a lunch and plan to return to work. There's also an array of sushi and sashimi dishes, rolls, nibbles, clay style nigiris and Wagyu steaks and mains – in short there's something for everyone.
Clay is situated on Bluewater's Island near Madame Tussauds, and open Monday-Friday 12am-12pm and Saturday and Sunday 12pm-2am.
For reservations call: +971 4422 5600