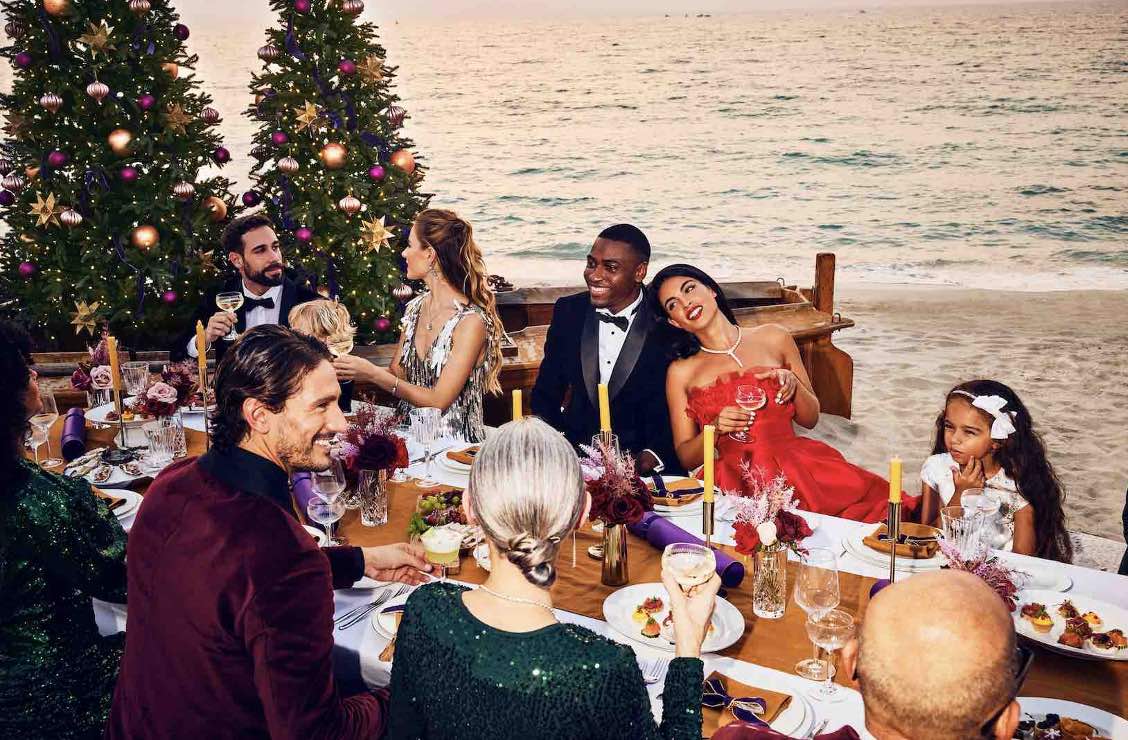 Nothing much is worse than not getting Christmas day wrong, we have done it and the shame lasts for another 365 days before you can redeem yourself so why risk it?
From Christmas eve, Christmas day and boxing day we curate the best for you and your family to experience all risk free read on …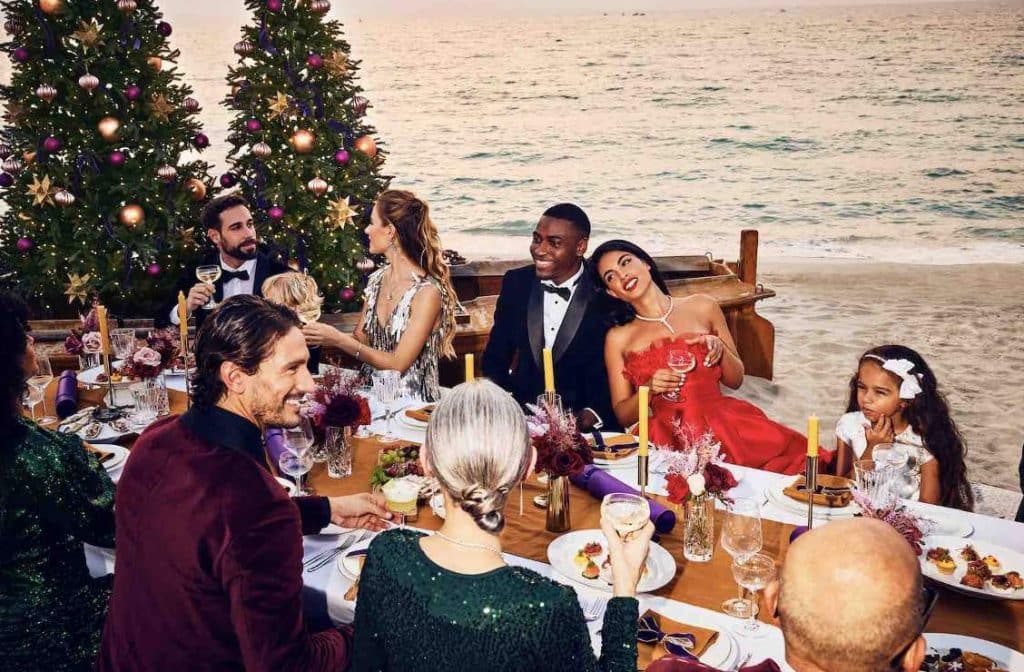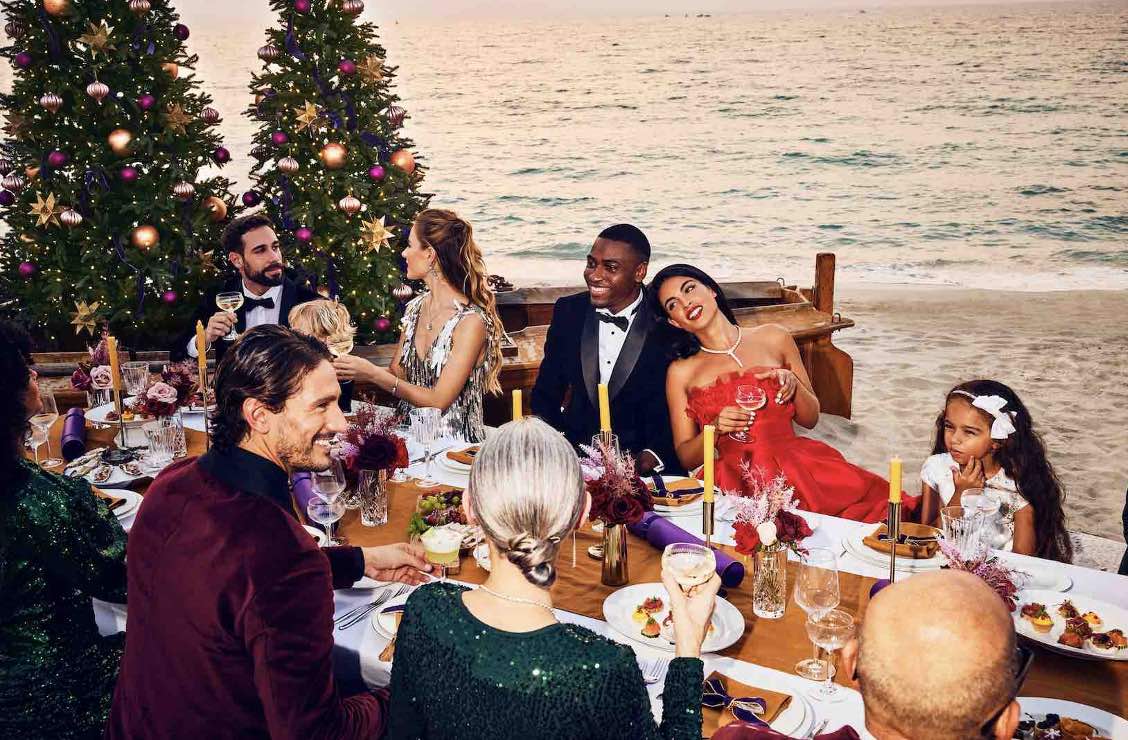 Jumeirah Saadiyat Island Resort
+ Turkey on the go
+ Christmas day brunch
+ Christmas eve dinner
+ BBQ
Saadiyat Island's team of chefs are allowing guests to have the best flavours available as they offer a Turkey on the Go, served with all the trimmings and a selection of canapes, from 5th December until 10th January 2023 serving 6-8 guests for AED 850. For non-turkey lovers there's also a leg of lamb with chestnut filling, potatoes, vegetables, and mint sauce, for AED 550. Additional desserts include Yule Log with chocolate or vanilla berries, pecan maple pie or Gallette des Rois, from AED 180 up to AED 220. guests are requested to book at least 24 hours in advance.
Book their White Festive Brunch on the 25th with sparkling sights, sounds and authentic taste. Tender roasts, succulent desserts, and activities for the little ones, from 1-4:30pm, and seating includes packages vary from AED 850 down to AED 227 for different locations, age ranges and beverages, which include soft, house, and premium bubbly. Also available in the hotel are an Italian feast at Mare Mare who are doing a Christmas Eve dinner from 7pm for AED 750 per person for a set menu, plus a lunch on the 25th from 1-4pm for AED 850 with wine and AED 650 for just the food. For something super casual check out their sports bar Offside which is doing an all you can eat BBQ for AED 450 with house beverages and AED 325 with soft. Arabic restaurant Tean is doing an a la carte Christmas lunch with spiced meats and fish, for AED 350 for adults and AED 150 for junior diners.
For reservations call +971 2 811 4342 or email JSIrestaurants@jumeirah.com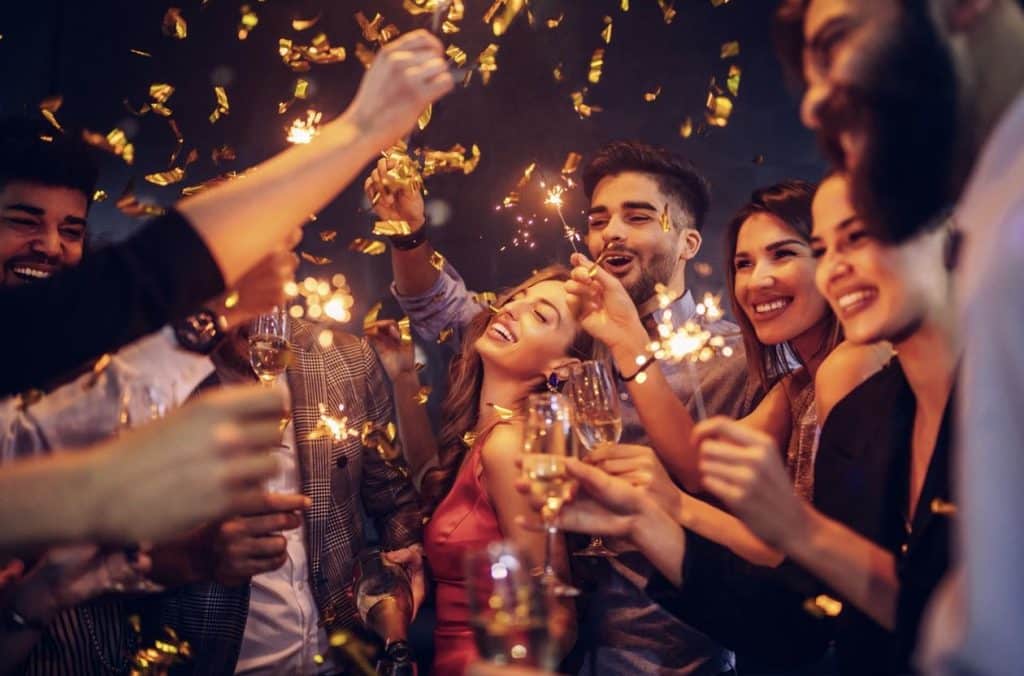 The Sheraton Grand Hotel, Dubai
+ Turkey to go
+ Christmas lunch office party
+ Christmas eve dinner
+ Christmas day dinner
+ Festive retreat
Christmas, New year it's all just such a grand occasion so The Sheraton Grand Hotel Dubai venue must be high on your list to visit. Elevate your holiday preparation and take home the most flavourful roasted farmed turkey with delicious trimmings that will impress your family and friends.
To go box includes: Roasted farmed turkey, Christmas stuffing, sweet potato mash, braised red cabbage, oven-roasted root vegetables, roasted potatoes, Brussels sprouts, cranberry sauce, gravy and homemade festive cookies. Dhs. 700 serves up to 10 people and Dhs.900 serves up to 15 people Bookings must be made 72 hours prior.
Christmas Lunch Office Party
The only thing the entire HR department in any company is scared of getting wrong is the office Christmas party. Fear not The Sheraton Grand Hotel, Dubai is here to help. Simply book one of the private dining rooms at Feast and enjoy a full Christmas dinner menu and make it a memorable day without the stress Dhs.105 for soft beverages.
Christmas Eve Dinner
Bring your family and friends and enjoy a decadent spread of freshest catch including oysters, mussels, clams and prawns, exquisite turkey carvings and an array of traditional festive goodies. With glistening festive décor and party music, your Christmas eve plans are all set. Dhs. 500 inclusive of bubbly package Christmas Day DinnerCelebrate the festive spirit with your nearest and dearest on Christmas Day.
Delight in a scrumptious buffet including a mouth-watering roasted turkey served with all its trimmings, prime rib, seafood, juicy beef wellington, festive dessert and more.
Dhs. 425 inclusive of bubbly package
Festival Retreat
This treatment is designed not only to relax your mind and body but to leave your skin glowing for the holidays. Awaken the body and mind with an invigorating massage leaving your body feeling energized. Take advantage of the additional 60-min body scrub or facial that will eliminate impurities and replenish your skin with necessary superfood nutrients.
AED 850 per person 60-minute body massage of your choice 60-minute Teami Facial or 60-minute body scrub
How to book: Email: info@sheratongranddubai.com
Phone: +971 4 503 4444
Web: https://bit.ly/FestiveOffersAtSheratonGrand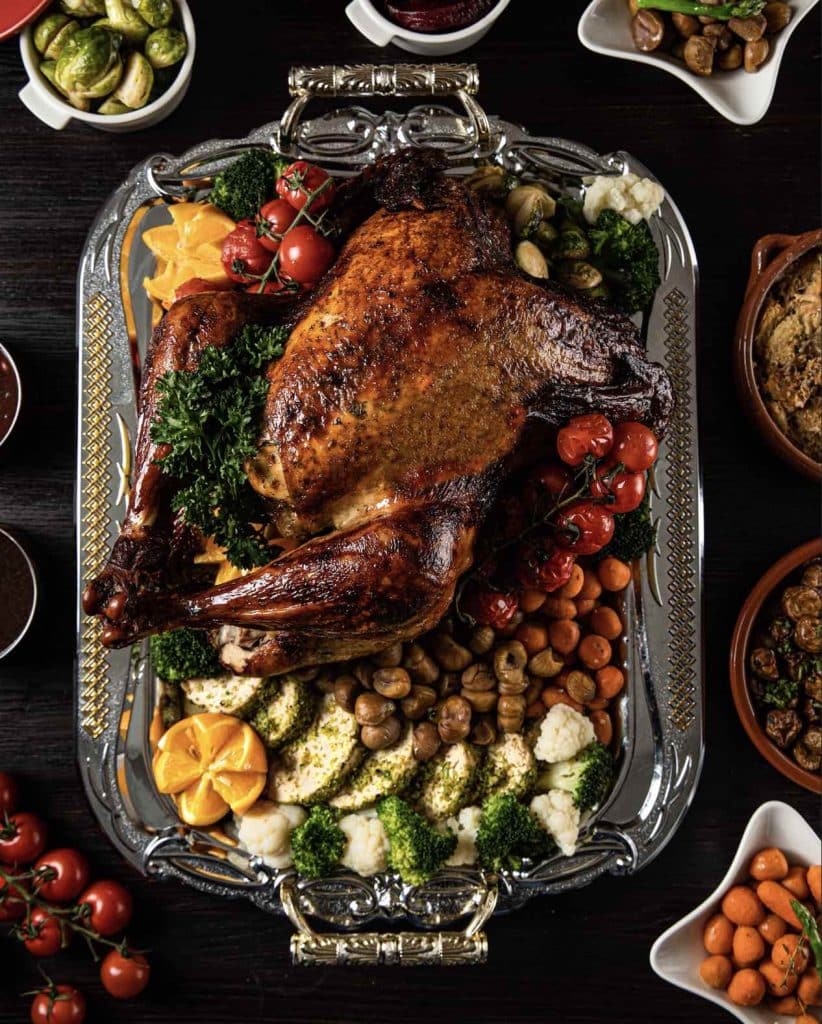 Sofitel Dubai Downtown
+ Festive afternoon tea
+ Hamper take aways
+ Christmas eve festive poolside market
+ Christmas eve supper
+ Christmas day brunch
This list would not be complete without mentioning the Sofitel Dubai Downtown. Why? Well let's just say it's one of our most rated places downtown of which we will examine in more detail early in 2023 with our new guide to downtown. For now it's Christmas with a little French Chic as there is lots going on.
Festive afternoon tea runs from the 8th to the 31st. Not many (if not any) hotels have a baby grand piano being played by Adam with all the Christmas classics. The afternoon comes with Chocolat Chaud a L' Ancienne, seasoned savoury snacks and joyous holiday-inspired French Sweets for dhs.199 per person.
For those looking to make their holiday celebrations at home extra special this year, takeaway gingerbread houses, festive hampers or turkey for AED 599 are available at La Patisserie from December 8th but please do give them 24-hour advance notice.
Christmas eve is a magical day and an even better evening and there are two ways to spend it at Sofitel Dubai Downtown. Firstly, you can attend the Warm Hands and Hearts with a Joyous Festive Market. On Christmas Eve, celebrate from 7 PM – 10:30 PM at the Festive Pool Market. Mingle while overlooking Dubai's Downtown festive skyline and the Burj khalifa. Inspired by the traditional Christmas market, a beloved holiday tradition, guests can enjoy a wonderland of Christmas lights, treats, and more! Guests can feast on a range of international cuisines served à la carte. Sip on mulled grape, premium beverages, festive cocktails, or hot cocoa. Guests are also welcomed to nibble on delightful desserts such as yule logs and snow Santa hats. Guests can also get into the Christmas spirit with live entertainment. For only AED 295 per adult
Second why not gather the family and head out for a Christmas supper at Sofitel Dubai Downtown alongside a sparkling selection of international cuisines will bring your heart home for the holidays. Featuring favourite classics, such as a carved, glazed Turkey, and roasted prime rib, this festive feast will take place on Christmas Eve, between 7 PM – 10:30 PM. Indulge in buffet service, live cooking stations and lively entertainment. Children aged between 6 and 12 can enjoy a surprise visit by Santa for only AED 170 (including food and soft beverages). Adults can choose between the soft package (AED 385 per person) and the house package (AED 495 per person).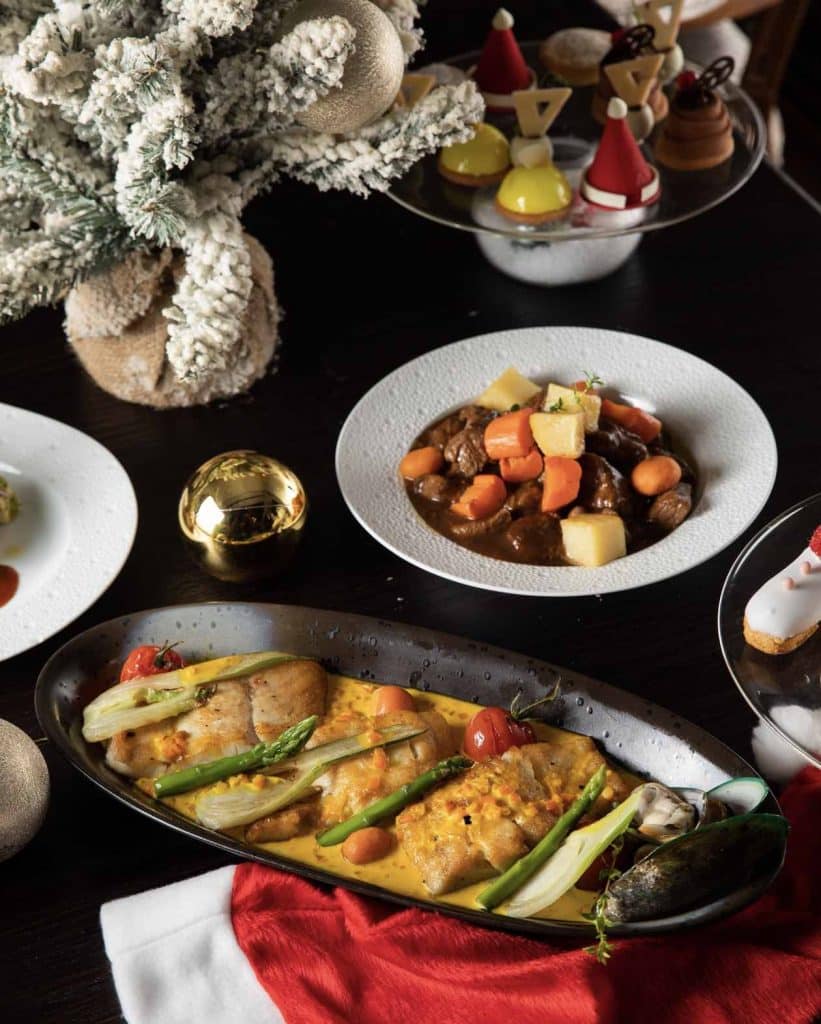 Christmas Brunch : Sofitel Skyline Views
Start Christmas Day with Joie de Noel and a delicious and memorable Family Brunch next to Sofitel Dubai Downtown's infinity pool. Enjoy a tantalising food cart set-up between 1 PM – 4 PM on December 25th, and watch live entertainment while sipping soft and house beverages as the kids play and make a splash. dhs.170 for kids between 6 and 12 years old (including food and soft beverages). Adults can choose between the soft drinks package for AED 350 per adult, or the premium house drinks package for AED 475 per adult
Website: www.Sofitel-dubai-downtown.com
Contact: Email: sddreservations@sofitel.com
Telephone: 04 503 6666
Social media: @SofitelDubaiDowntown (Facebook and Instagram)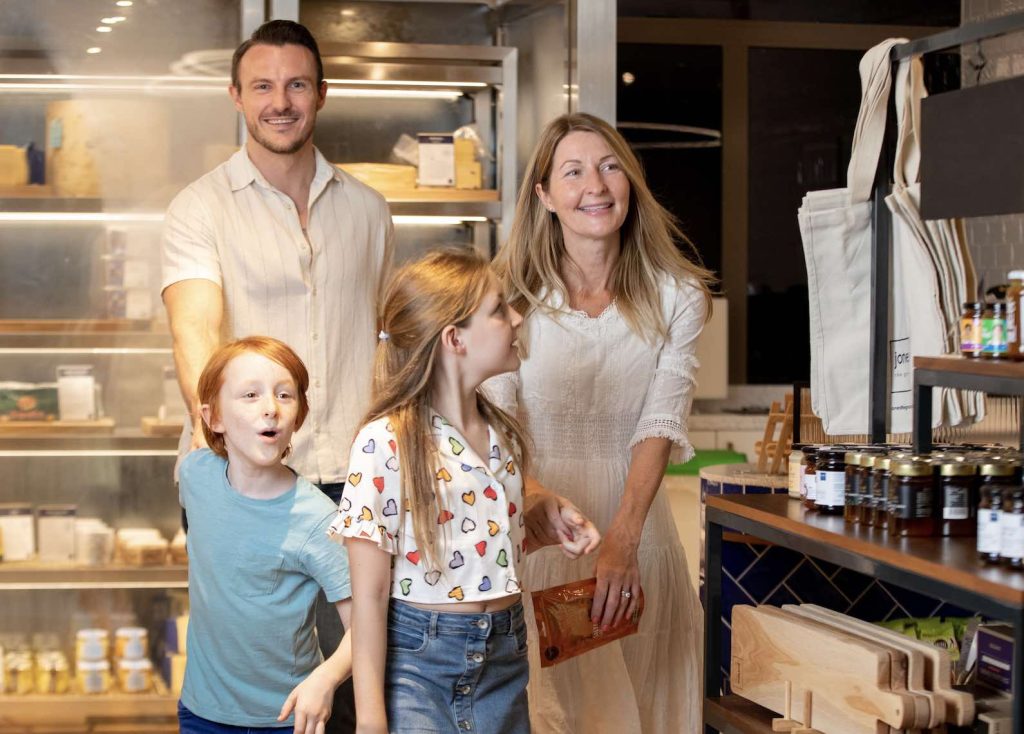 Delta Hotels by Marriott Jumeirah Beach
Celebrate this festive season at Delta Hotels by Marriott Jumeirah Beach, offering guests delicious traditional turkey takeaways, enthralling Christmas dinner and brunch complete with live entertainment. For New Years, whether the choice is something laidback, upbeat or vibrant family style, Delta Hotels by Marriott has all guests, their friends and family covered!
Take Away Treats
Those looking to celebrate the most wonderful time of the year with family and friends can enjoy a delicious turkey take away with all the trimmings from Delta Hotels by Marriott JB. Their succulent turkeys are between 5kg to 6kg and are served with roasted vegetables, potatoes, glazed brussels sprouts, broccoli, and a homemade brioche with raisin and sage stuffing. The turkey takeaway is the ideal way to relax and indulge during the festive period, leaving the cooking to the trusted chefs.
Dates: Sunday, 20th November 2022 – Sunday, 25th December 2022
Price: AED 699
Booking: Orders must be placed a minimum of 72hrs in advance by calling +971 50 189 6214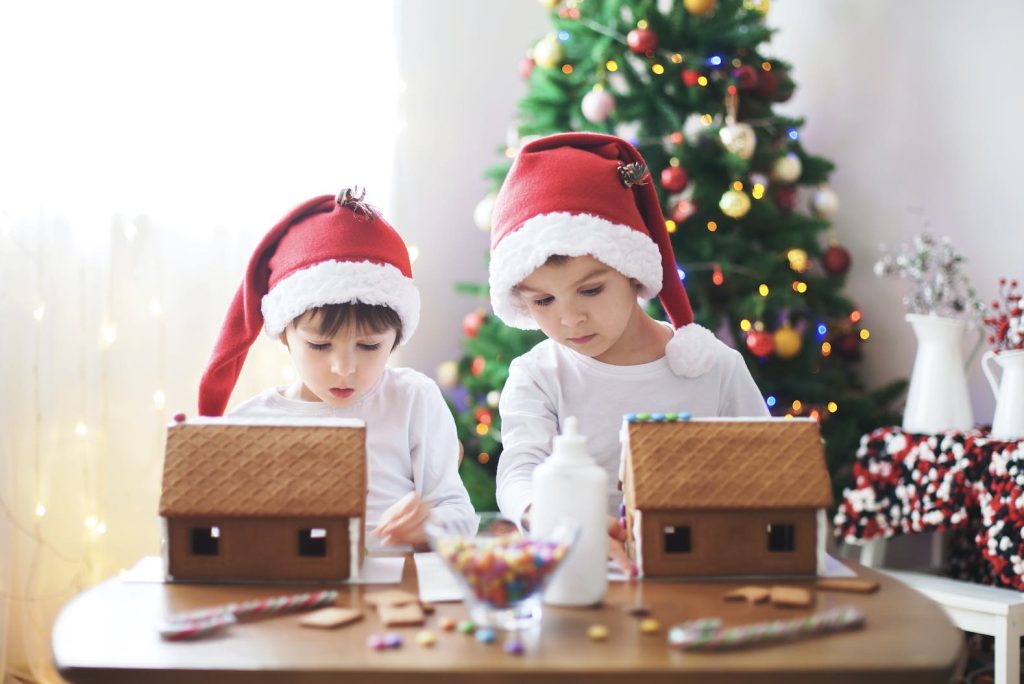 Gingerbread House Making
Bring your kids for an exciting fun and festive Kids Cooking Class at Jones the Grocer, Delta Hotels by Marriott JB. Kids will be able to celebrate the Christmas cheer while building and decorating their very own gingerbread houses at the newly opened Jones the Grocer! To further get into the role of a mastered pastry chef, kids will receive their own apron and chef and be hydrated with fresh juices while they create their masterpiece to take back home.
Date and time: 17th and 18th December, 1pm onwards
Location: Jones the Grocer, Delta Hotels by Marriott JB
Price: AED 145 per child
Reservations: For reservations please call +971 50 189 6214 or email restaurantreservations.deltajbr@deltahotels.com
Fogueira Restaurants & Lounge
The lively Christmas Day Brunch at Fogueira Restaurant & Lounge will offer the perfect setting for indulgent celebrations, featuring Fogueira's succulent meats, signatures cocktails and live entertainment. Guests can embark on a journey of authentic flavors from Brazil to Argentina via Peru and Colombia while enjoying the stunning views of Ain Dubai, JBR, and Marina.
Dates: Sunday, 25th December
Time: 1pm to 5pm 
For those looking for an eventful Christmas Eve, complete with delicious food, vibes, entertainment and unbeatable views of Ain Dubai, JBR, and Marina, Fogueira at Delta Hotels will be hosting the Christmas Eve Dinner. A celebration like no other, there will be a special festive churrascaria with succulent meats carved table-side, passadores and live food stations. Get ready to feast on delightful food and groove to fresh beats with friends and family.
Dates: Saturday, 24th December
Time: 6pm to 12am
Prices: AED 350 with free-flowing soft beverages, AED 499 with free-flowing house beverages, and AED 599 with free-flowing sparkling
Reservations: For reservations please call +971 50 189 6214 or email restaurantreservations.deltajbr@deltahotels.com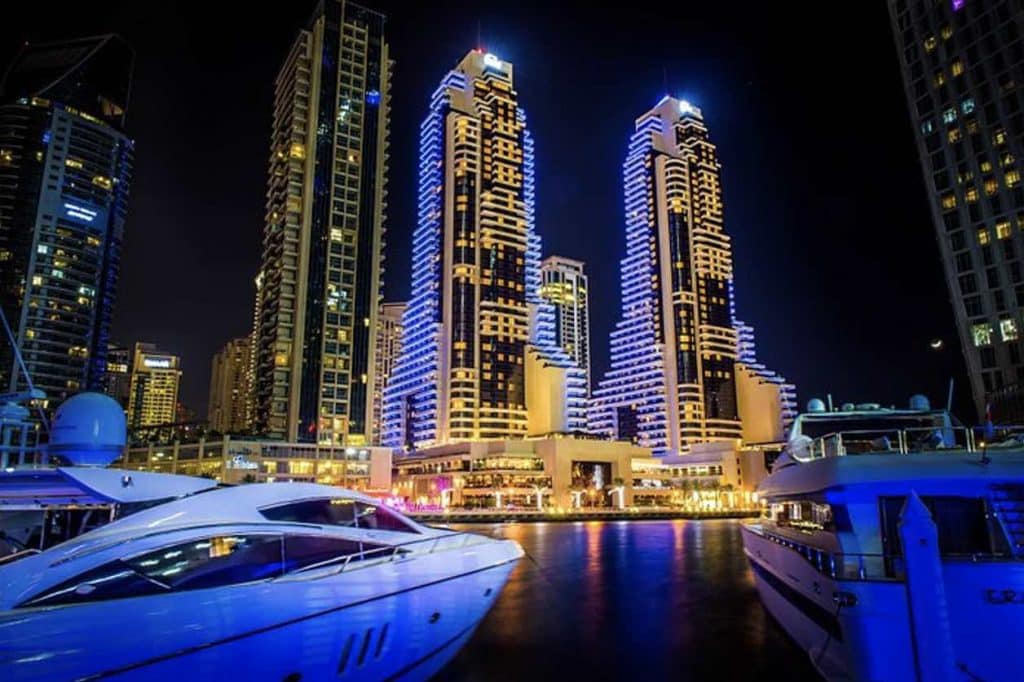 Grosvenor House, a Luxury Collection Hotel, Dubai
+ Christmas eve brunch Sloanes
+ Christmas eve brunch Toro Toro
+ Christmas eve brunch Bushra by Buddha-Bar
+ Christmas eve dinner Sloane's
+ Christmas eve dinner Rhodes W1
+ Christmas Day brunch Sloanes
+ Christmas Day brunch Rhodes 1
+ Christmas Day brunch Buddha Bar
+ Christmas Day dinner Sloanes
Christmas is a luxury affair and Grosvenor House is a luxury collection Hotel so if you are looking for fabulous luxury experience then the clue is in the name
Grosvenor House, A Luxury Collection Hotel, Dubai, is celebrating Christmas in style this year with a selection of exciting dining offerings for the whole family to enjoy. From fluffy roast potatoes to turkey with all the trimmings, fill your festive boots at the hotel's award-winning restaurants including Bushra by Buddha-Bar, Rhodes W1, Toro Toro, Sloane's, and Buddha-Bar. Spoilt for choice with brunches and dinners for both Christmas Eve and Christmas Day – you will be greeted with spectacular feasts and fun-packed party brunches to help you get into the festive spirit for the most wonderful time of the year.
Spoilt for choice, each restaurant offers brunches and dinners running all throughout the day on Christmas eve and the big day itself. We can't possibly list them all but here is our pick as we would go for a brunch Christmas eve and dinner on Christmas day
Christmas eve brunch : Bushra by buddha-bar
Enjoy an al fresco Christmas Eve celebration with Bushra by Buddha-Bar's fun and stylish Good News Brunch. Overlooking Dubai's stunning Marina, begin the festive celebrations with an afternoon brunch that will serve up a sumptuous blend of traditional and modern Middle Eastern cuisine. Join the party at Bushra by Buddha-Bar for an afternoon of incredible food, creative cocktails and live entertainment featuring a DJ, percussionists and a saxophonist.
Date: 24th December 2022
Timings: 1:00 PM – 4:00 PM
Prices: AED 675 inclusive of selected house beverages and sparkling grape, AED 975 inclusive of selected house beverages and Champagne, AED 325 for kids aged 6 – 12 years, and kids under six eat for free.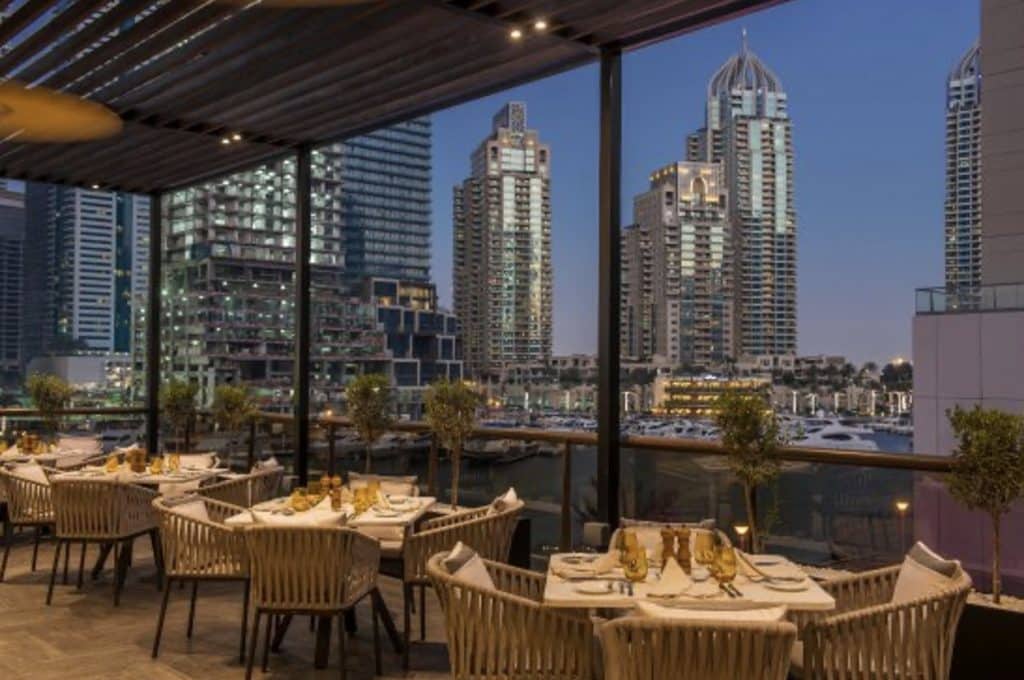 Christmas Day dinner: Sloane's
Whet your appetite at Sloane's' festive Christmas Day Dinner with an international buffet featuring live cooking stations and delicious treats for the entire family. This will be an evening to remember with a live DJ, entertainment, Santa's grotto, percussionists, and a rare visit from The North Pole.
Date: 25th December, 2022
Timings: 7:00 PM – 11:00 PM
Prices: AED 675 inclusive of selected house beverages and sparkling grape, AED 975 inclusive of selected house beverages and Champagne, AED 325 for kids aged 6 – 12 years, and kids under six eat for free.
For all the information please visit : https://www.marriott.com/en-us/hotels/dxbgl-grosvenor-house-a-luxury-collection-hotel-dubai/overview/?scid=f2ae0541-1279-4f24-b197-a979c79310b0 or call +971 04 399 8888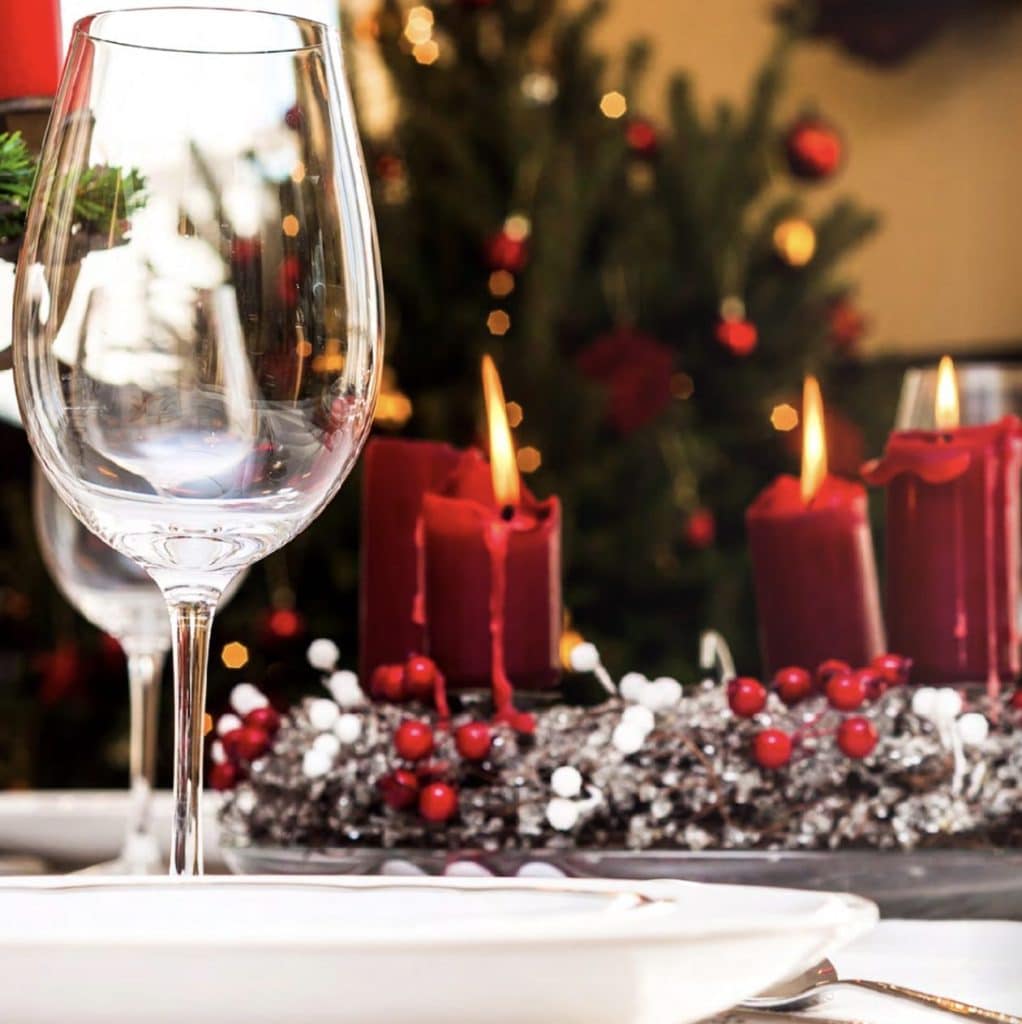 Best of the rest and well worth a try …
Emirates Hills
Longtime British favourite Reform have transformed into a winter wonderland with grotto, snow park and Christmas markets. Enjoy a three-course menu of festive classics from AED 199 and with beverages from AED 225 throughout December. You can also enjoy corporate group packages or select the takeaway turkey dinner with all the trimmings (pick up only with advance booking) from AED 440. On the 25th their brunches start at AED 450 with soft drinks up to AED 780 for premium beverages.
Dubai Marina & JBR
Bistro Des Arts in Dubai Marina is doing a Christmas Eve dinner with a four-course festive menu with house beverages, mulled wine, and cocktails from AED 499 from 6-11pm. On Christmas Day enjoy roast turkey, Buche de Noel with various packages between AED 399 for soft drinks and up to AED 550 including prosecco, from 11am-4pm.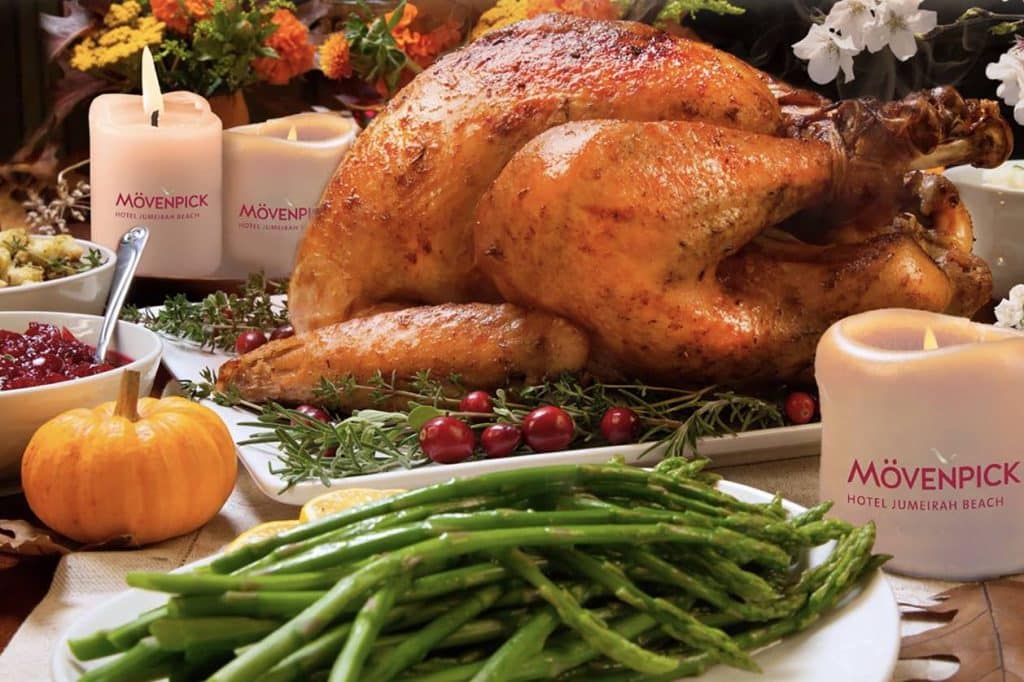 Movenpick Jumeirah Beach is hosting their events between 1st-26th Dec where you can get a full turkey dinner takeaway with all the trimmings including buttered carrots, turkey jus, Brussel sprouts, roast potatoes and homemade stuffing, in different sizes from AED 549-699, from 5-6KG and 7-9KG, with 48 hours' notice required for the booking. To book your turkey call +971 50 489 9436 or email hotel.jumeirahbeach.fb@movenpick.com
Ultra Brasserie has some tempting turkey hampers, perfect for gifting, with panettone, mince pies, choco pearls and nuts in a beautifully decorated basket, and there's also a buy-two-get-one-free hamper offer. If you want a smaller snack-size festive treat, order their mini turkey roast with all the trimmings for only AED 90.
Trendy Media One Hotel has two Christmas Day slots (1-4pm or 7-11pm) at The Garden on 8, with a lavish turkey dinner and free flowing beverages and buffet dining. Prices start at AED 299 for the buffet with unlimited drinks for 3 hours.
La Mezcaleria (DT and JBR) are doing festive brunch on the 25th from 2-6pm with sharing platters, main course, desserts, and stunning views. Prices are AED 250 with soft drinks up to AED 490 for premium bar.
Atelier M have a festive brunch on the 24th and 25th from 6:30pm until late, with lobster linguine, herb crusted lamb chops and pan seared turkey breast, and for dessert gingerbread yuzu meringue and orange yule log, accompanied by live music and DJs.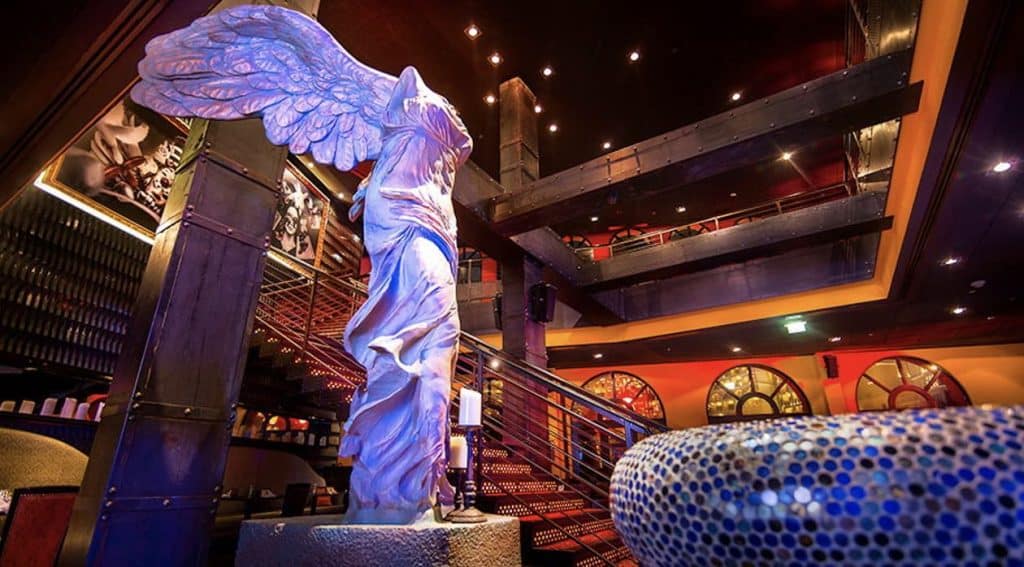 Barfly by Buddha Bar is newly opened in the Marina, and we have high hopes for its Christmas brunch on the 25th, rich in Asian delights. A la carte pricing with festive specials, from 5pm-1am.
Secret Jungle Brunch Christmas special at Mama Zonia at Pier 7 has sweeping views of the Marina skyline, with a four-course sharing style menu, its resident tribal drummers and acts and mischief monkeys. Prices start at AED 399 for soft drinks, AED 499 for house, AED 599 for sparkling and AED 799 for champagne, from 1-4:30pm.
Qwerty at Media One Dubai Marina has a turkey takeaway offer from end of November onwards for only AED 650, including all the trimmings, pickup or free delivery within 5km radius, advance booking is required.
Jumeirah
Souk Madinat's Folly has spectacular dining views of the waterways, and guests can sample a four-course dinner on the 24th from AED 550 with soft drinks and AED 1050 including cocktails, and on the 25th your roast turkey comes with all the trimmings and desserts, with soft drinks starting at AED 550 and the sparkling and cocktail package AED 1050, from 1-4pm.
Alpine-themed bar and restaurant Publique is hosting their festive brunch on the 25th with raclette, fondue, turkey feast, real eggnog and cheeseboards, with packages between AED 425-650, from 1-5pm. There's also a gingerbread house building class for kids every Saturday and Sunday from December 3rd-18th between 1-4pm for AED 99 per child including the tools and icing.
Burger connoisseurs SLAW have introduced a Rudolph Burger with a layer of turkey bacon, soaked in Oh Yeah Sauce, with deep fried turkey breast, dijon cranberry sauce and green Rocca leaves. Only available during December for AED 65, you can pair it with some loaded festive fries for an additional AED 35.
Downtown & DIFC
Throughout December The Artisan at Waldorf Astoria DIFC is hosting a special 5-course menu, with dishes including slow-cooked Angus Beef, Wild Salmon Carpaccio and Artisanal Panettone. Served daily 12pm-11-30pm from AED 120.
Asian favourite Hutong is doing a Festive Imperial Brunch on both Christmas Day and Christmas Eve, including their famous dim sim, with a starter, main, dessert and house beverages. Both days from 12:30pm-4pm, prices are AED 388 for soft drinks, AED 488 for house beverages, AED 548 for prosecco and AED 688 for premium champagne.
From the end of November, you can get a Turkey Takeaway & with all the trimmings – crispy shallots, root veggies and Brussel sprouts – for only AED 650 (pickup only) at LDC Kitchen & Coffee. There's also a range of sumptuous desserts and pies available to add on, and they're doing their own Pumpkin Spice Latte for only AED 25.
LPM at DIFC are doing a Christmas Day and Eve menu from 6-11pm on the 24th and 12:30pm-3:30pm on the 25th, priced at AED 640. The menu offers delights such as roasted turbot with artichokes, chicken and fois gras ballotine and desserts include the mont blanc and chocolate and mandarin log.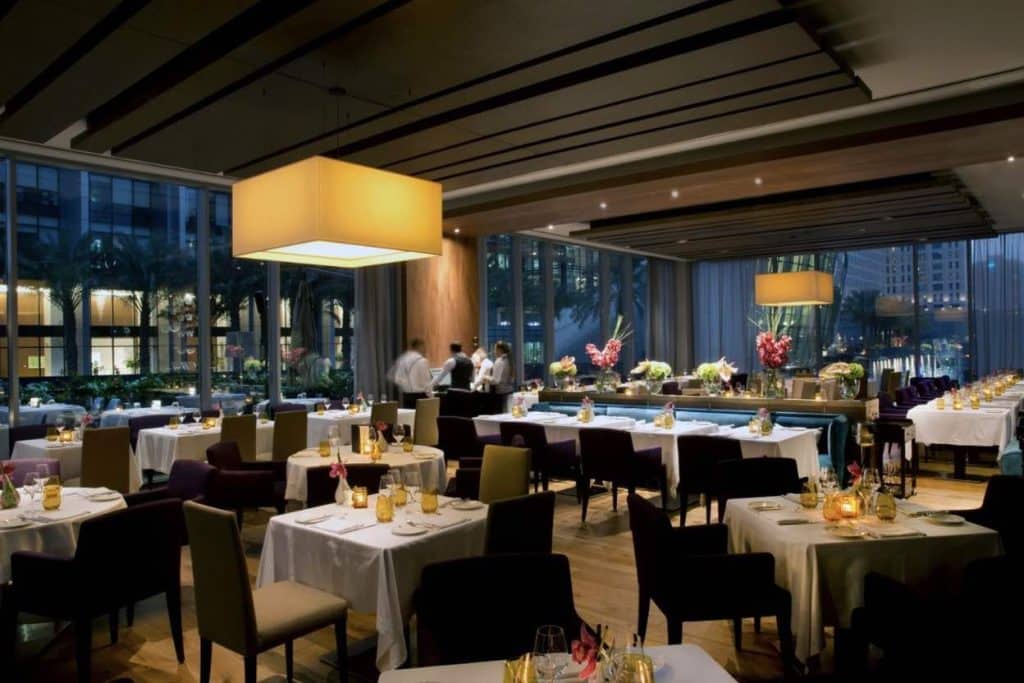 Roberto's in DIFC have a 5-course festive brunch available on the 24th and 25th, between 12-4pm each day, with house beverage packages at AED 395, house pouring beverages at AED 595, and the champagne package at AED 795. Feast on the casatiello, grigliata di carne, panettone, and cannoli siciliani or choose from additional from the a la carte.
La Mezcaleria (DT and JBR) are doing festive brunch on the 25th from 2-6pm with sharing platters, main course, desserts, and stunning views. Prices are AED 250 with soft drinks up to AED 490 for premium bar
Ernst Biergarten & Wirtshaus at 25hours Hotel One Central are a genuine German themed restaurant and have a Christmas a la carte menu and a jolly atmosphere in their tavern, with authentic ales, from 12pm onwards.
Plush CE LA VIE Dubai on level 54 of The Address Hotel brings diners a gourmet Christmas meal with roast turkey, cornbread, confit turkey leg, vanilla and caramel cake, and blueberry yule log. Pricing is for their a la carte menu with festive specials and dining is between 12-4pm and 6pm-midnight on the 25th.
Secret Brunch at the Burj Khalifa's 3BK Christmas special features a dazzling display of live entertainers including a singer and acrobats, plus a four-course menu and unlimited drinks. Packages start at AED 399 for soft drinks up to AED 899 for champagne from 1-4:30pm. They also have a Christmas dinner later that evening from 8-11pm.

Secret Garden Brunch Christmas special at Flair 5, downtown Ritz-Carlton is a beautiful outdoor venue and features a stunning 360-degree bar. Entertainment includes a live sax player, percussionist and garden-themed dancers, to accompany the four-course sharing style food platters and limitless drinks. Prices start at AED 399 for soft drinks, AED 499 for house, AED 599 for sparkling and AED 799 for champagne, from 1-4:30pm.
Lost Tales brunch at INTI at The Dubai EDITION downtown is a musical escape with signature house music, electro-tribal sounds, and marvelous roof terrace views. A four-course Peruvian menu with unlimited drinks start at AED 395 for soft beverages, AED 425 for house drinks and AED 625 for the sparkling, from 12:30-3:30pm.
Armani Ristorante at the Burj Khalifa has an abundant festive brunch featuring a six-course set menu, from 15th-30th December from AED 799 per person.
Indian flavours are provided by Amal at Armani Hotel Burj Khalifa where Chef Rohit has crafted a five-course set menu including vegetarian options for AED 540 per person from 15th-30th December.
Bluewaters
SHI at Bluewaters on the 25th brings guests a Christmas brunch with a Chinese twist, and stunning views of Ain Dubai. Kids will receive a special gift from under their tree and kids under 8 eat free of charge. Adults gets a five-course set menu with nibbles and welcome drink. From 1-4pm AED 550 for standard menu and AED 450 for vegan menu, includes soft drinks and kids between 8-12 get 50% off.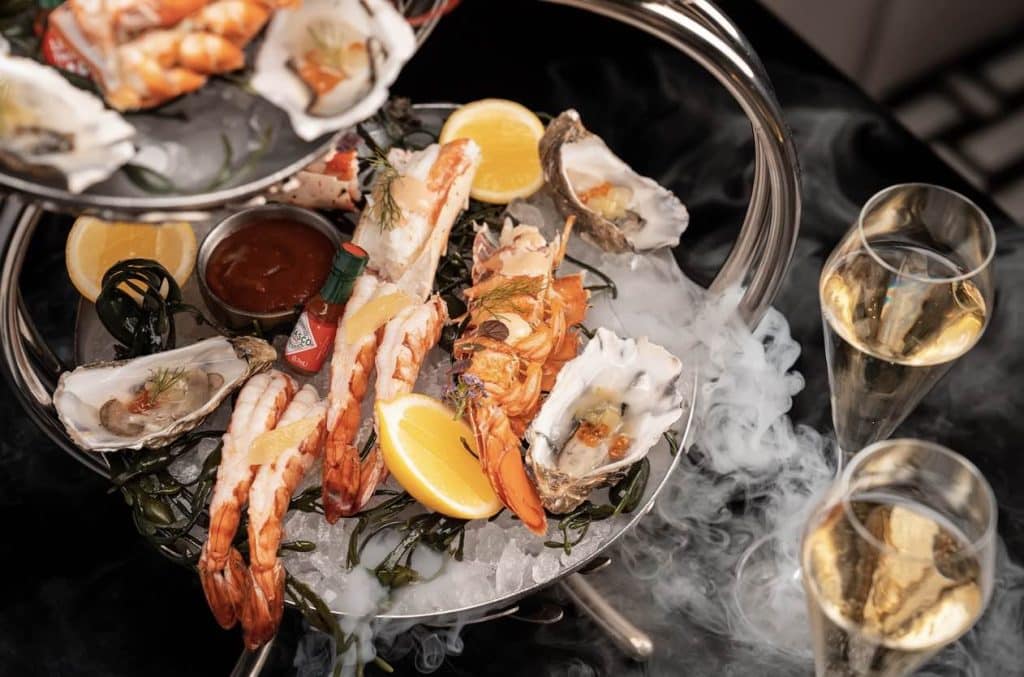 For Christmas lunch at Hell's Kitchen at Caesar's Palace with mouth-watering turkey, porcini-rubbed rib eye with butter poached prawns and Christmas pudding or berry trifle for desserts. 12:30-4pm AED 695 per adult with house beverages and sparkling and AED 295 for kids aged 4-11 years. Christmas dinner is 6:30-11pm with turkey Wellington, duck breast a la orange with Christmas pudding, plus live music. AED 495 for adults with a four-course set menu and AED 695 including grape pairing for each course, and AED 195 for kids aged 4-11.
Demon Duck at Caesar's Palace has an Asian themed brunch by celebrity chef Alvin Yeung with an exciting a la carte menu. Available on the 24th and 25th from 6-11pm with a la carte pricing.
Bacchanal at Caesar's Palace hosts a dinner on 24th and 25th with an extravagant festive buffet from 7-11pm, AED 600 with house beverages, AED 850 with champagne and AED 200 per child aged 4-11.
Palm Jumeirah
Factory by McGettigan's at Hilton's Palm Jumeirah promise a delicious turkey roast dinner with choice from a select beverage menu for only AED 149 – absolute bargain. They also have a Christmas Eve Jumper Brunch on the 24th from 7:30-11:30pm for AED 295 for kids over 12 and AED 495 for adults.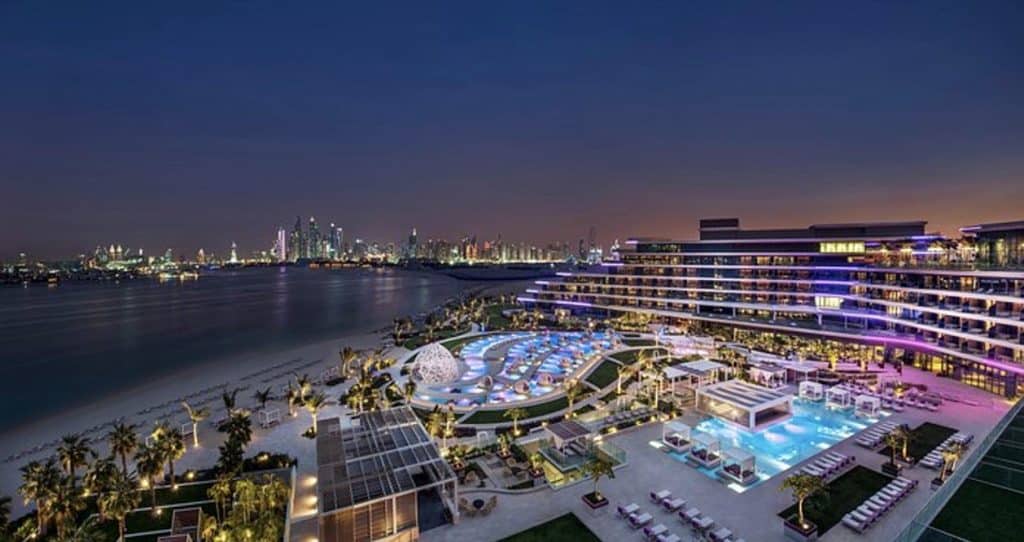 Celebrate Christmas eve on the 24th at W Hotel The Palm's Festive Buffet at LIV. With delectable turkey and all the trimmings plus vintage cheeses, from 8pm-11pm, AED 149 for kids between 6-12 (kids under 6 eat for free), AED 249 including soft drinks and AED 399 including house beverages and sparkling. For reservations contact +971 4 245 5555
CLAW BBQ at Hilton Dubai Palm Jumeirah have hearty American specials with a Christmas twist; chestnut soup, cranberry and quinoa salad, and slow-roasted turkey with creamed corn, plus Nutella cheesecake and yule log for dessert. From 12-11pm for AED 149 for a three-course set menu.
Trader Vic's at Hilton Dubai Palm Jumeirah on the 25th from 6-10:30pm has a lavish three-course set menu with Polynesian vibes and island bites, paired with their famous cocktails, accompanied by their resident band. All for only AED 349 including cocktail pairing.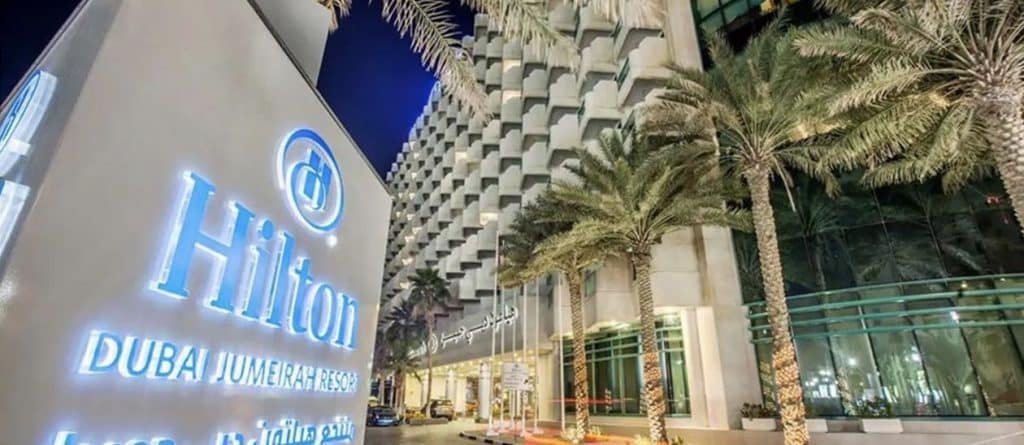 Naughty Noodles Christmas Day brunch at Maiden Shanghai FIVE Palm is AED 500 including house, cocktails, and sparkling beverages, and has an indulgent Chinese four-course brunch, live entertainment from dancers to drummers with a roaming magician. From 1-4pm.
La Coco has a stunning Winter Wonderland brunch by the beach with a DJ, dancers and unlimited drinks with your meal. 1-4pm AED 299 for soft drinks and AED 399 for house and AED 449 for sparkling.
Hanami at Andaz the Palm hosts an Asian Christmas feast on the 24th with live DJ and a menu that includes seabass carpaccio, maguro maki with truffle mayo and Christmas desserts such as yule log. 6-11pm AED 399 with soft beverages.
Le Jardin at Raffles The Palm Dubai has a Christmas Day dinner with crispy roast potatoes and classic turkey in an al fresco setting. From 6:30-9:30pm AED 350 with soft beverages, AED 450 with house, and AED 175 for kids between 6-12 years.
Business Bay
Basko/Suave are hosting a Christmas Eve brunch from 12-4pm from AED 395 for non-alcoholic and AED 545 for alcoholic, and in the evening, there will be an a la carte dinner from 7pm-1am. On Christmas Day their brunch and entertainment package starts at AED 395 for non-alcoholic to AED 595 for sparkling from 12-4pm.
Carna by Dario Cecchini at SLS Hotel are hosting a Christmas Day brunch for AED 395 per person, and from 1-4pm guests can enjoy a four-course menu, with an evening a la carte option from 6pm.
Casual and family friendly vibes at Kitchen6 at JW Marriott with international dishes and live cooking stations. 1-4pm AED 275 per person with soft beverages and AED 425 with house beverages. Dinner from 6:30-11pm for AED 225 per person without soft beverages and AED 375 with house beverages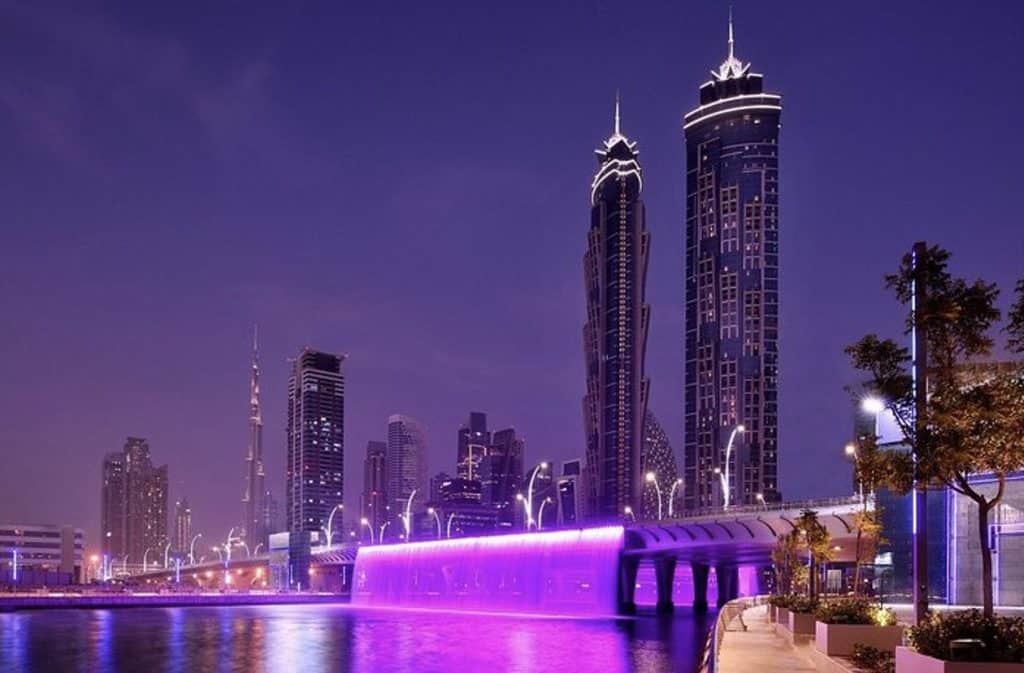 Secret Wonderland Christmas brunch special at the Taj Hotel is full of wondrous entertainment and delicious food. A four-course menu plus unlimited drinks start at AED 399 for soft drinks, AED 499 for house, AED 599 for sparkling and AED 799 for champagne, from 1-4:30pm.
Get your takeaway turkey from La Farine at JW Marriott with all the trimmings and optional sweet treats from AED 895 (for 8-10 people), orders 48 hours in advance from 19th November to 27th December.
Wanderlust Festive Brunch at JW Marriott has over 11 live cooking stations serving food and drinks, plus stunning views from its 5th floor location. 1-4pm from AED 425 per person including house beverages.
Jumeirah Islands
Isola in Jumeirah Islands Clubhouse are hosting an Italian festive brunch from 1-4pm with live cooking stations, entertainment and Santa giving away gifts. The set menu is AED 600 for food, an additional AED 250 including drinks or AED 100 for soft drinks. Kids 1-8 eat free.