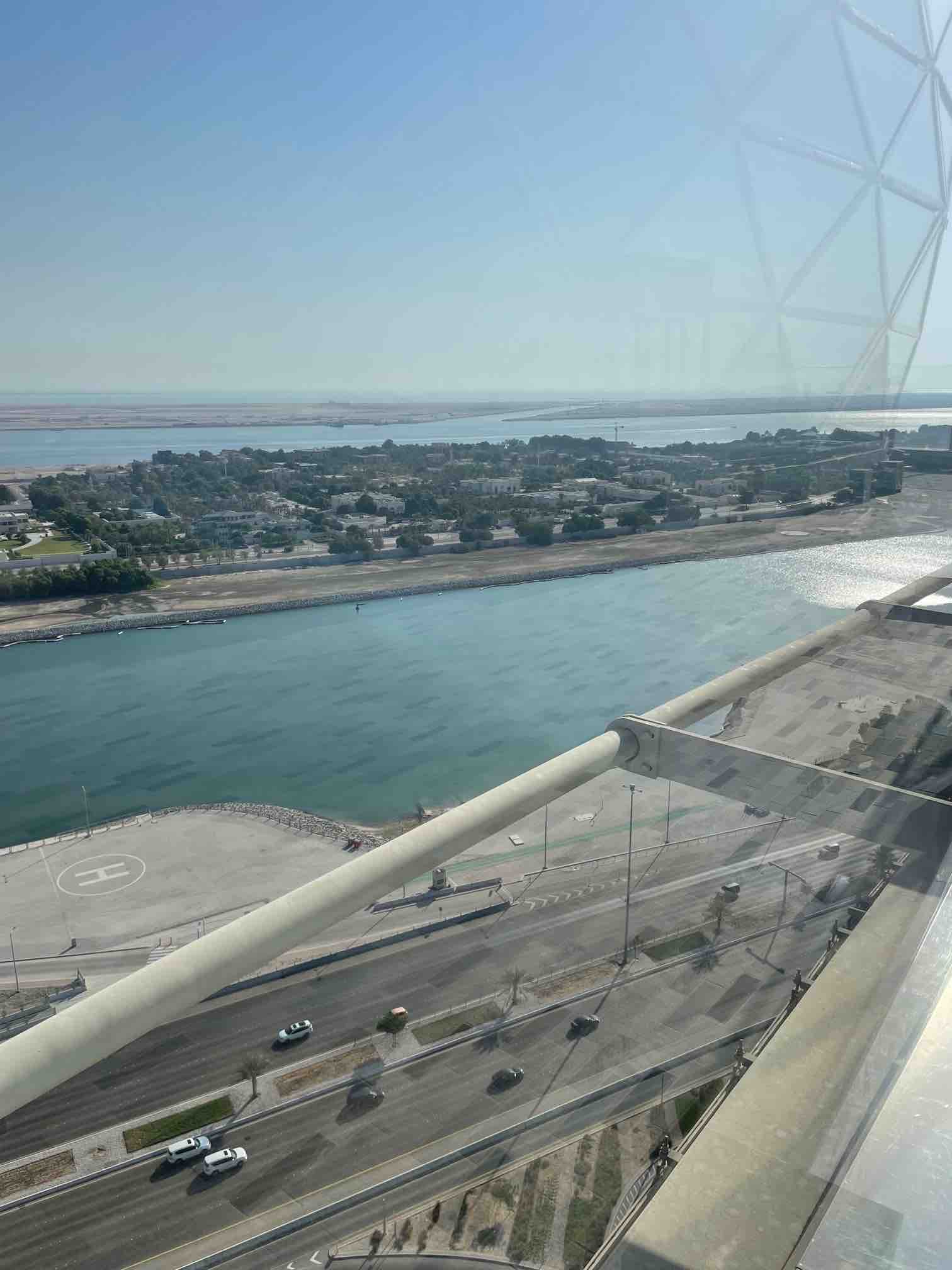 A Staycation Review of Andaz Capital Gate
Located slightly away from the hustle and bustle of Saadiyat or Al Bateen area, the Andaz Capital Gate is not only steeped in regional history but is uniquely identifiable by its imposing exterior towering at 18 degrees ensuring its place in the Guinness World Records as the farthest leaning manmade tower. This is quite an impressive sight as you approach from the highway, and its visually stunning interior that rivals the outside makes it worth a look. Classified as a boutique hotel it is part of Hyatt's series of lifestyle offerings but still boasts a five-star status, with a rooftop pool, French Arabic fusion restaurant, cocktail bar, and newly opened luxury spa.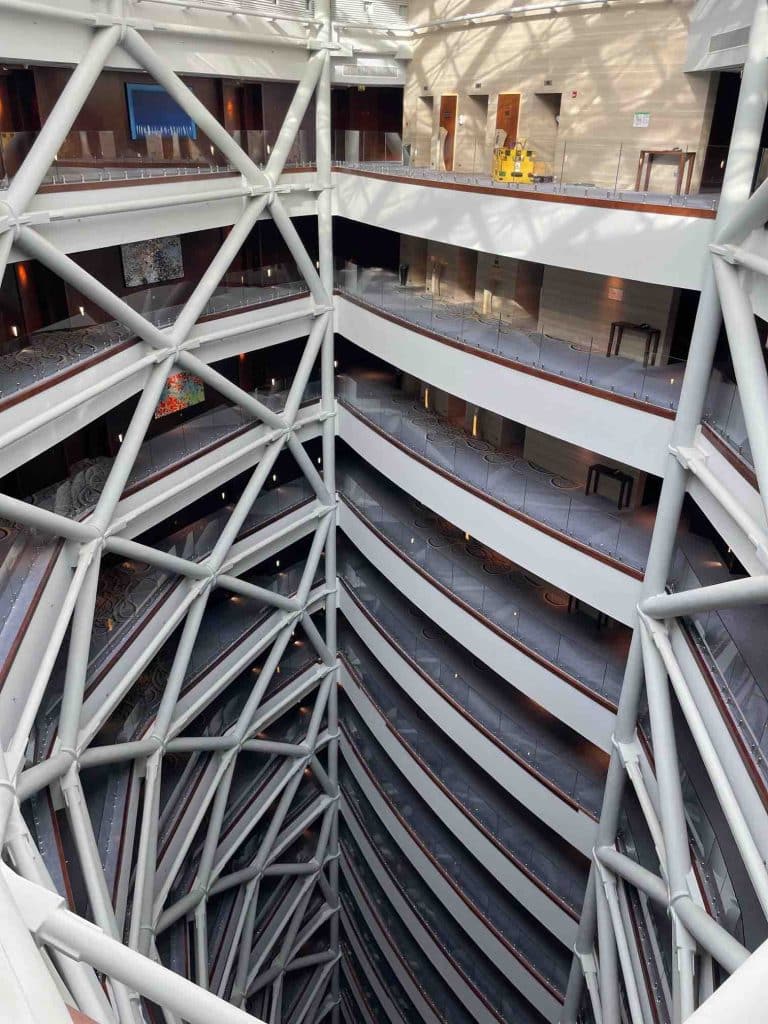 The Andaz hotels are notorious for representing the best of local culture and serving it up in a way that feels fresh, exciting, and entertaining. There are always intense details easily missed during your stay at one of these hotels as they are so vibrant and an absolute feast of the senses. Unusually, reception for Andaz is on the 18th floor – the lower floors are all office towers making the Andaz room count relatively small at 188, which results in a more intimate vibe. The walls of the impressive lobby are decorated with ancient form of Arabic calligraphy by a local artist, and there's a huge picture book with local hidden gems, entirely compiled from contributors of the general public. It's these touches that make the Andaz so rich and diverse, and one cannot fail to appreciate the effort and attention to detail. The staff in particular were exceptionally friendly at the Capital Gate, as I was even given a full tour, and invaluable assistance from the lovely server Asma at setting up my tripod and taking pictures for both the review and Instagram!
I headed straight to the rooftop pool which overlooked some impressive palaces of the Abu Dhabi ruling family on the manmade island nearby (no pictures allowed, FYI) and on the other side across the whole of the exhibition centre and neighboring hotels. The pool was pleasantly quiet; generally, I do not imagine this hotel to be busy on weekends or weekdays with the noise of fractious children, while the jacuzzi tub and poolside drinks service made for a lovely spot to watch the sunset. Dinner involved a trip to their signature onsite restaurant Cyan, serving a playful fusion of Arabic and French cuisine in the evenings and the site of their delicious breakfast in the mornings.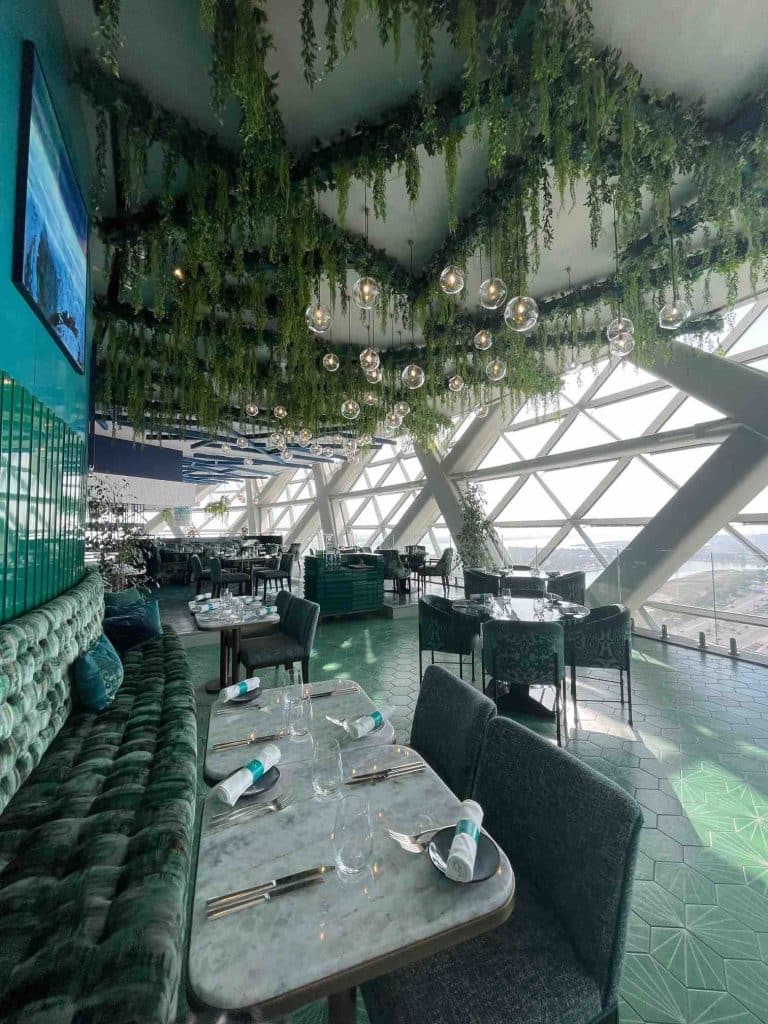 The design of the restaurant is truly stunning; a myriad of lush greens, from the velvet sofas, the hanging vines dangling bulbs and the sleek tiled walls, you're transported into a contemporary yet mystical tropical garden. The restaurant was a little quiet for a Friday night, but the staff are so warm and welcoming it's not a bother if you're a solo diner. For starters they served up some yummy little shredded duck and salad bites with a sweet sauce, and the crustiest fresh bread and whipped butter. For mains I enjoyed a tender and juicy steak with thick mashed potato, sauteed greens and a rich peppercorn sauce on the side. I was recommended their apple pie as one of their signature desserts which came deconstructed, with cubed spiced apple as the base, topped by multiple layers of homemade cream and light and crisp pastry dusted with icing sugar. After a chat with the Sous Chef, who was from Vietnam, I learned that there are more than 30 nationalities employed in the hotel, which certainly accounted for the varying influences on the menu.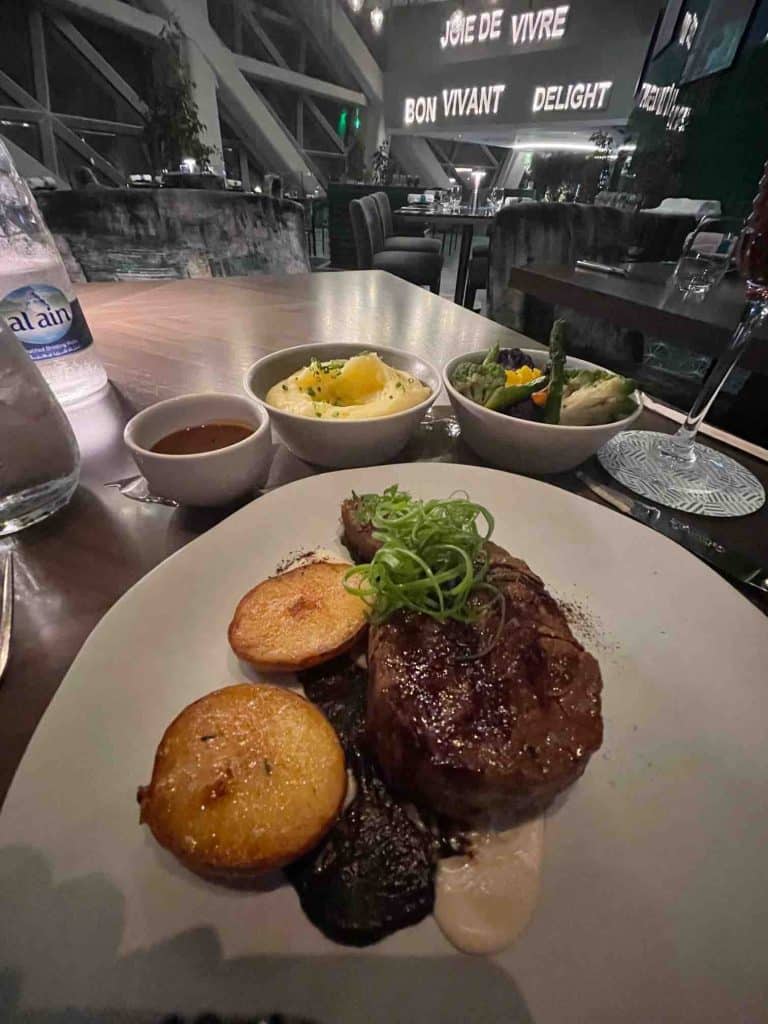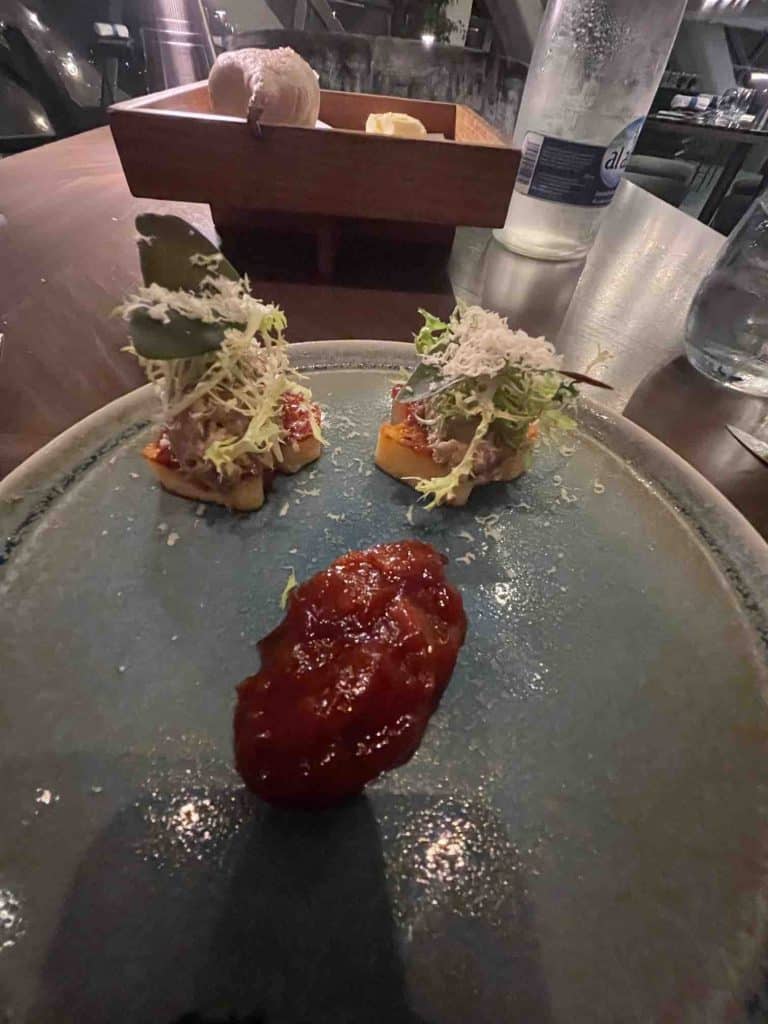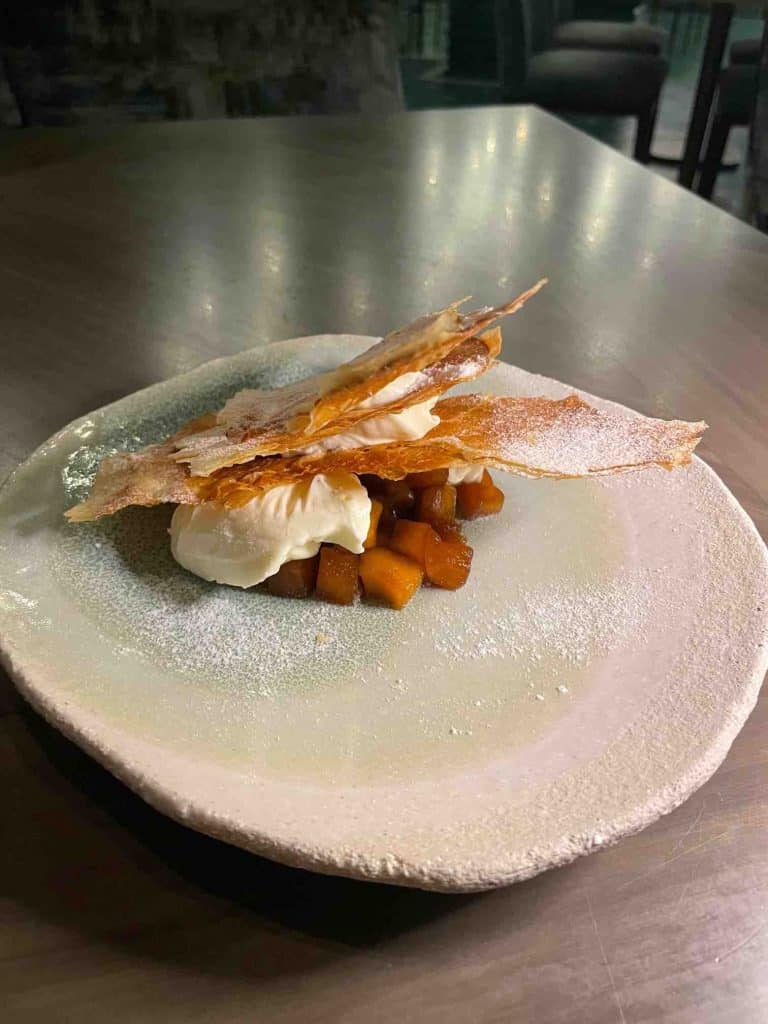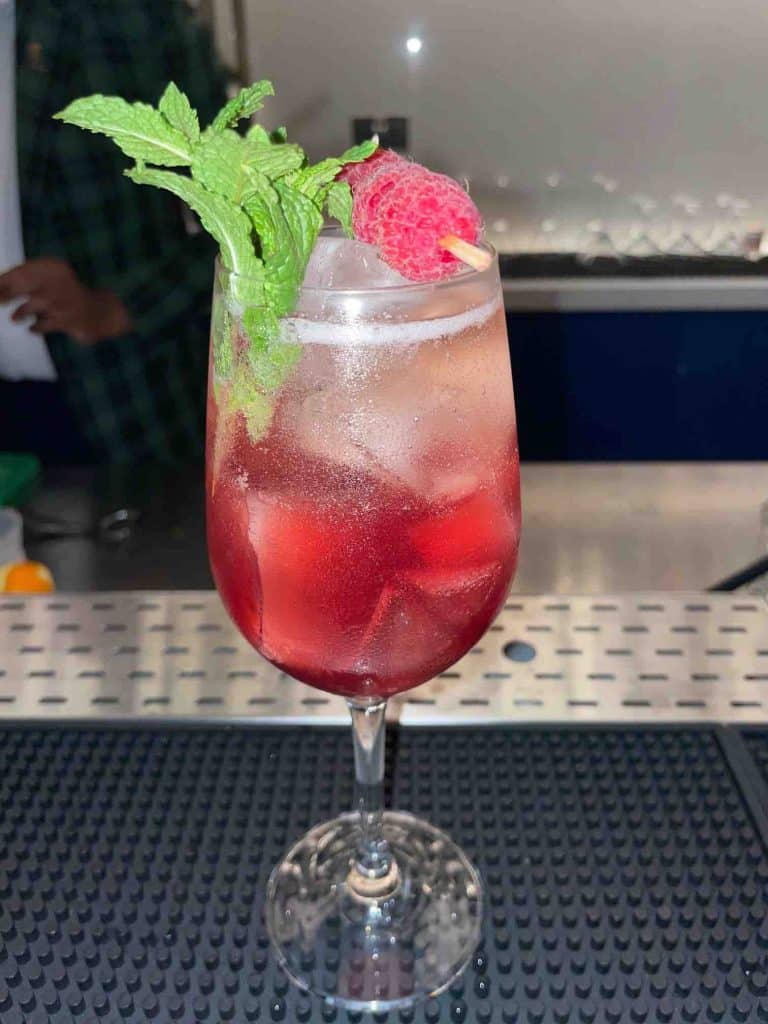 Attached to Cyan is their cocktail bar with roof terrace, 18 Degrees Bar, which is a perfect spot to unwind with post-work drinks. Their cocktails (too numerous to mention and I may have lost count after the fourth) were interesting and perfectly crafted by their inhouse mixologist, one featuring a giant smoke-filled bubble, which was hugely impressive. An overnighter in one of their bedrooms proved to be extremely comfortable and spacious, with a bathtub that overlooks the Arabian Gulf, a raindrop shower, and remote operated curtains which made waking up in the morning a bit of treat. After a lovely breakfast, which was a mix of buffet and al la carte and plenty of choices, I headed back to Dubai. Don't overlook this gem of a hotel on your next trip to the capital city.
The Andaz Capital Gate is located at ADNEC Abu Dhabi, for reservations contact: +971 (0) 2 596 1234