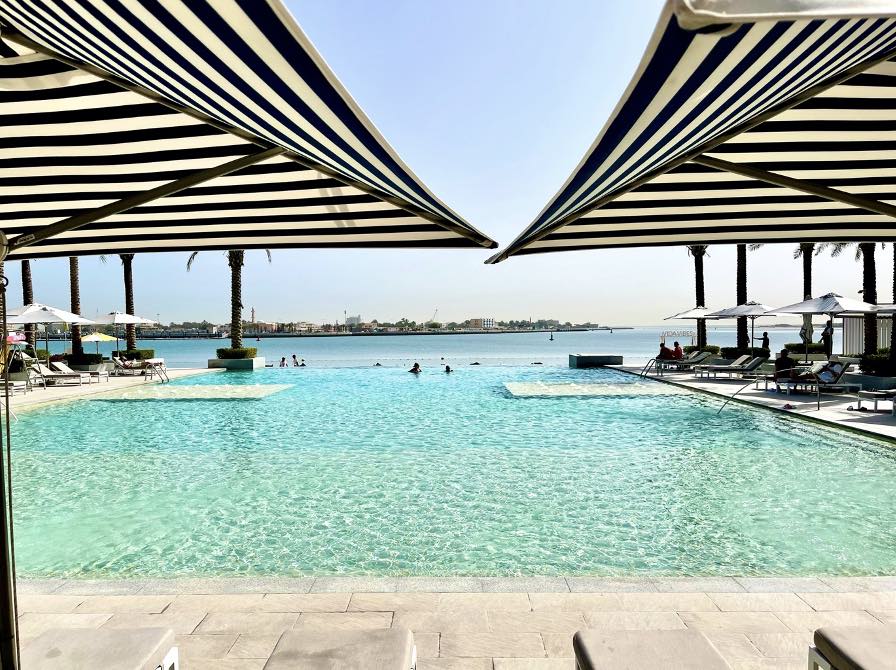 I had wanted to do a stay at this beautiful hotel as soon as it opened a year ago. I don't know what took me so long. One of many reasons is that it is pet friendly besides the fact that The Address Hotels are renowned for their five star establishments and attentive service.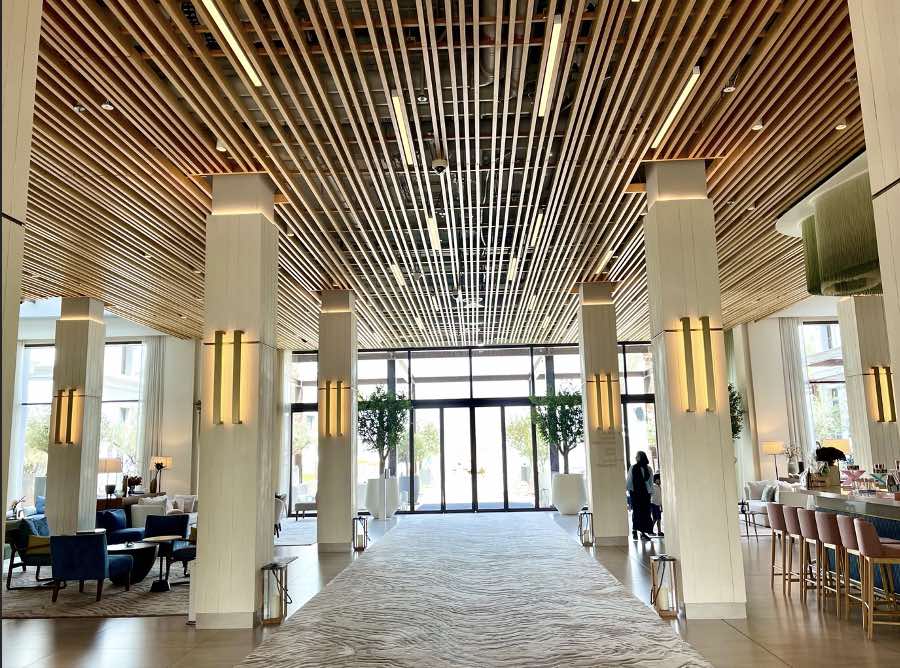 Particularly, the Vida Beach Resort is idyllic, quaint and charming and languidly nestled on this pristine quiet beach that feels like a far away, distant paradise island and not just a mere 45 mins away from Dubai, is a definite must try.
Before you leave the world behind, take one or two minutes and sit down on one of their invitingly plump outdoor seatings & look up the domed portico. The beautiful inscription from His Highness Sheikh Zayad bin Sultan Al Nayan 'with God's will, we shall continue to work to protect our environment and wildlife, as did our forefathers before us.' is a great reminder.
As soon as you walk through the entrance, the chic and contemporary design in the reception area leads you to the view through floor to ceiling windows and doors of the outdoor lounge area and all the way to the water's edge. One side is consider to be a business area with massive Apple desk top computers to freely use and cosy comfortable seating all around. Another side is a tempting delectable patisserie bar.
The plush carpeting makes you want to go barefoot and it weaves up to every floor and rooms. Before going to my room with my little chihuahua, she was spoiled with so much attention from guests to staff. We were so warmly welcomed. The hotel supplies a dog bed and bowl for your fur baby.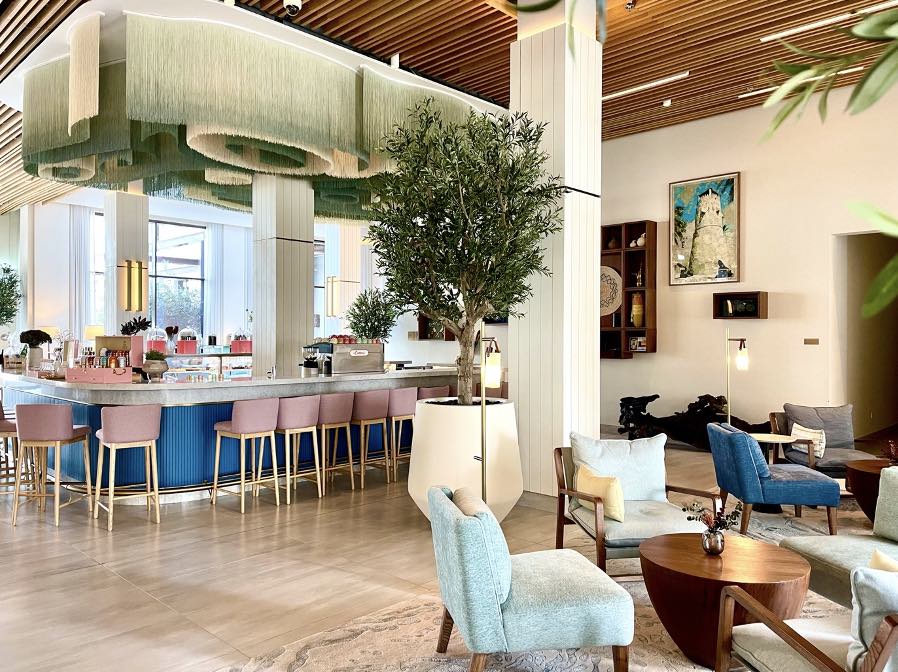 The modern contemporary design continues into our room, the view over looks the inviting pool and pool bar below. The lush amenities that accompanied the room is what you would expect from a 5 star hotel but they stepped it up a notch with this Australian brand, Grown Alchemist. A bioactive botanical skincare that is non-toxic, vegan,cruelty-free skin, hair and body care essentials. The body cream moisturiser of mandarin and rosemary leaf was divine. Fluffy bathrobes hanging in the wardrobe with thick slippers in chiffon ribboned bags. A smart tv for all streaming channels is at your disposal. The only thing I would have liked to see is reusable glass water bottles instead of one time-use plastic ones.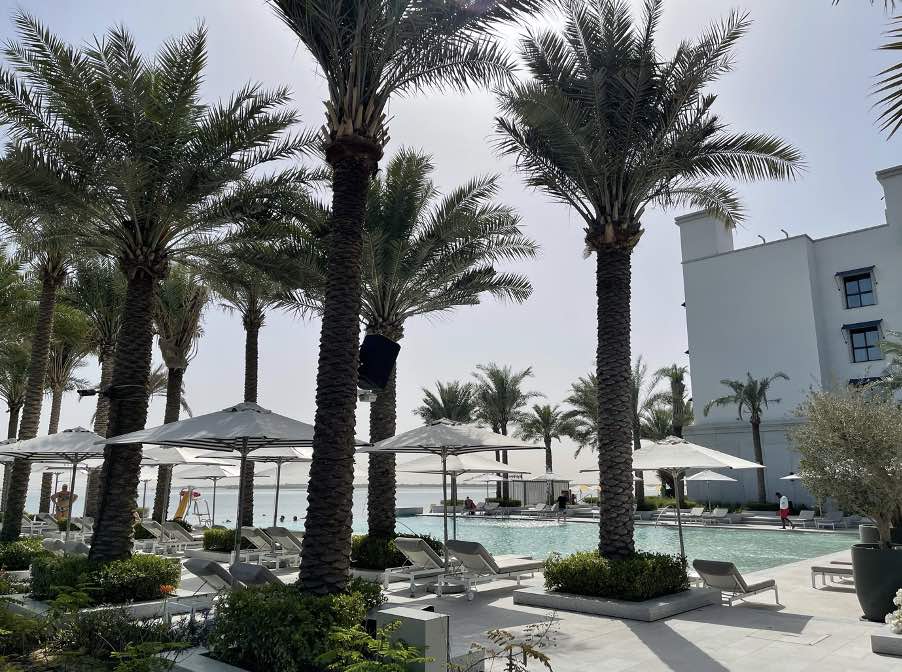 We made our way down for lunch at Origins and sat out on the terrace. Guests can opt for all inclusive packages at booking that includes meals and drinks. For lunch, it is all you can eat a la carte. I had a lovely Black Forest cream Chantilly mushroom soup infused with black truffle oil, and for my main a pan roasted sea bass accompanied with green lentil, chorizo, steamed potato and li le tomato shallot salad that was delicious. This kind of all you can eat is ideal as you order what you can eat and there's no waste and is served to you.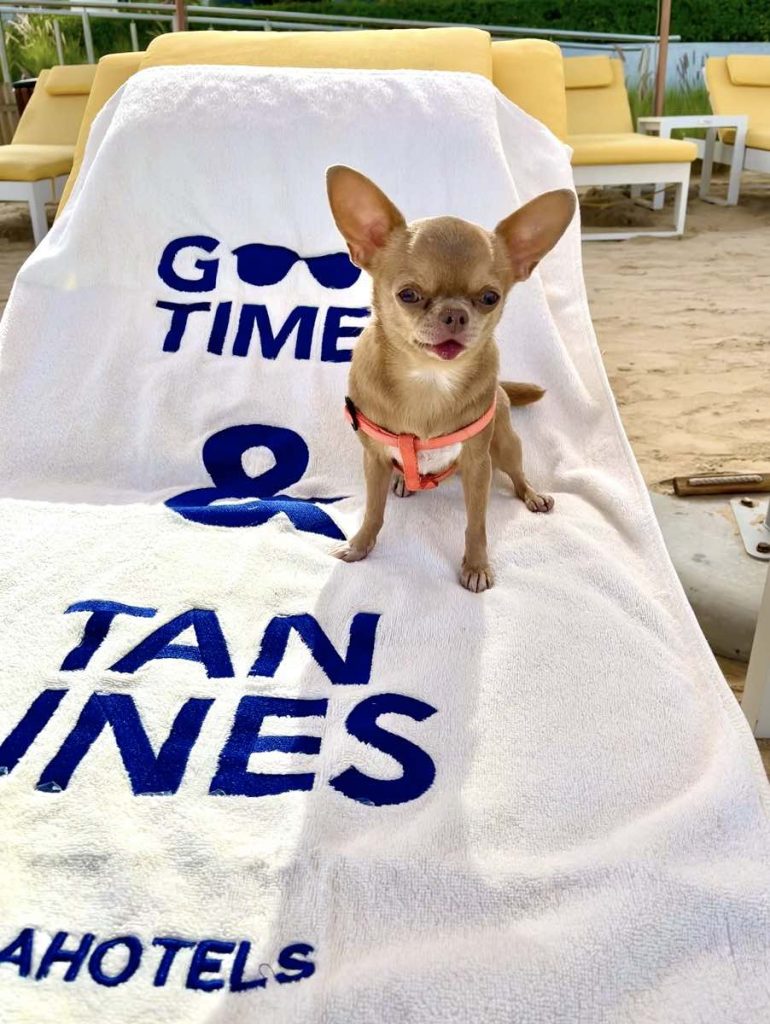 We then meandered down to the beach where doggies are allowed and they get their very own beach towels too. Afternoon cheeky drinks are on order and the warm, friendly service is efficient. The drink deals they have on is truly a steal. We feel absolutely content as we soaked up the sun listening to music through speakers un-intrusively around the property, caressed by the sea breeze and swaying palms. Just perfect…
And if that's not enough they have a gorgeous rooftop bar SoCal, for sundowners or late into the evening soirées. Or you can be adventurous and borrow one of their retro city bicycles, which I did and put my fur baby in the front basket and merrily explored the surroundings. Then for the next morning made to order eggs and fresh baked pastries amongst the abundant choices for breakfast is a great start to the day. I highly recommend the soft poached eggs with sauté wilted spinach is delicious over buttered toast.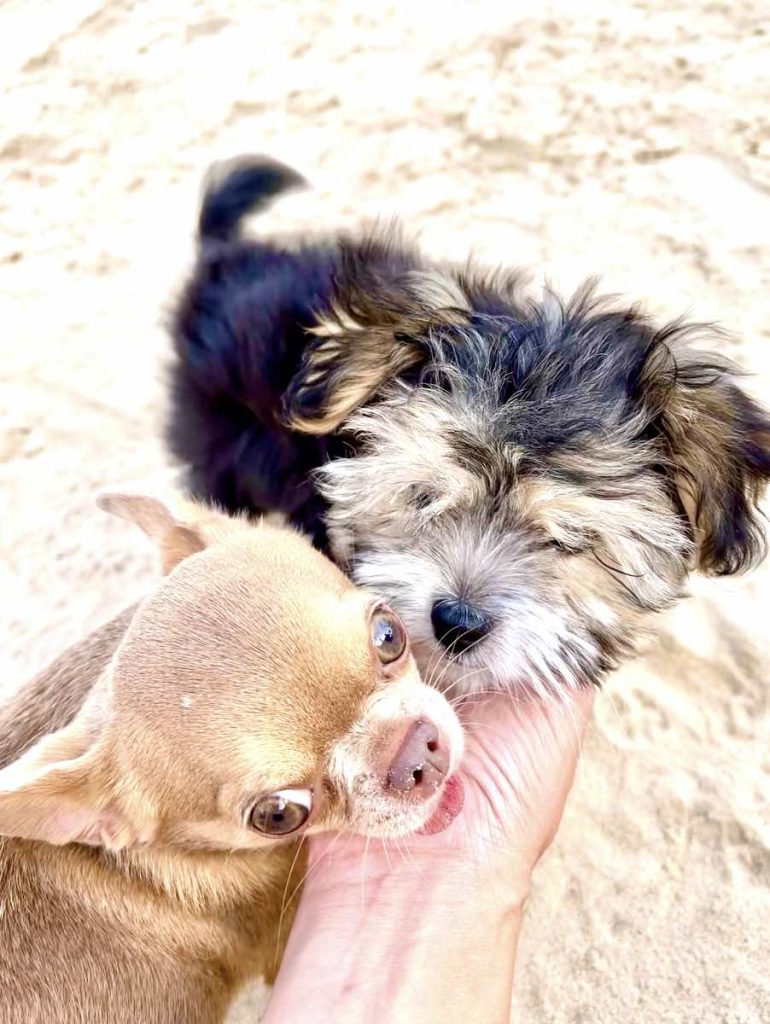 The hotel is running a Spring promotion for stays starting at the beginning of April and I'm tempted to come back sooner rather than later. I'll make sure that next time I'll bring gym gear as their fully equipped gym is quite motivational & impressive (there's a squat machine!). Honestly, you and your loved ones, either two legged or 4 legged ones or both, must deservingly indulge here…again sooner rather than later. And trust me one night is definitely not enough.