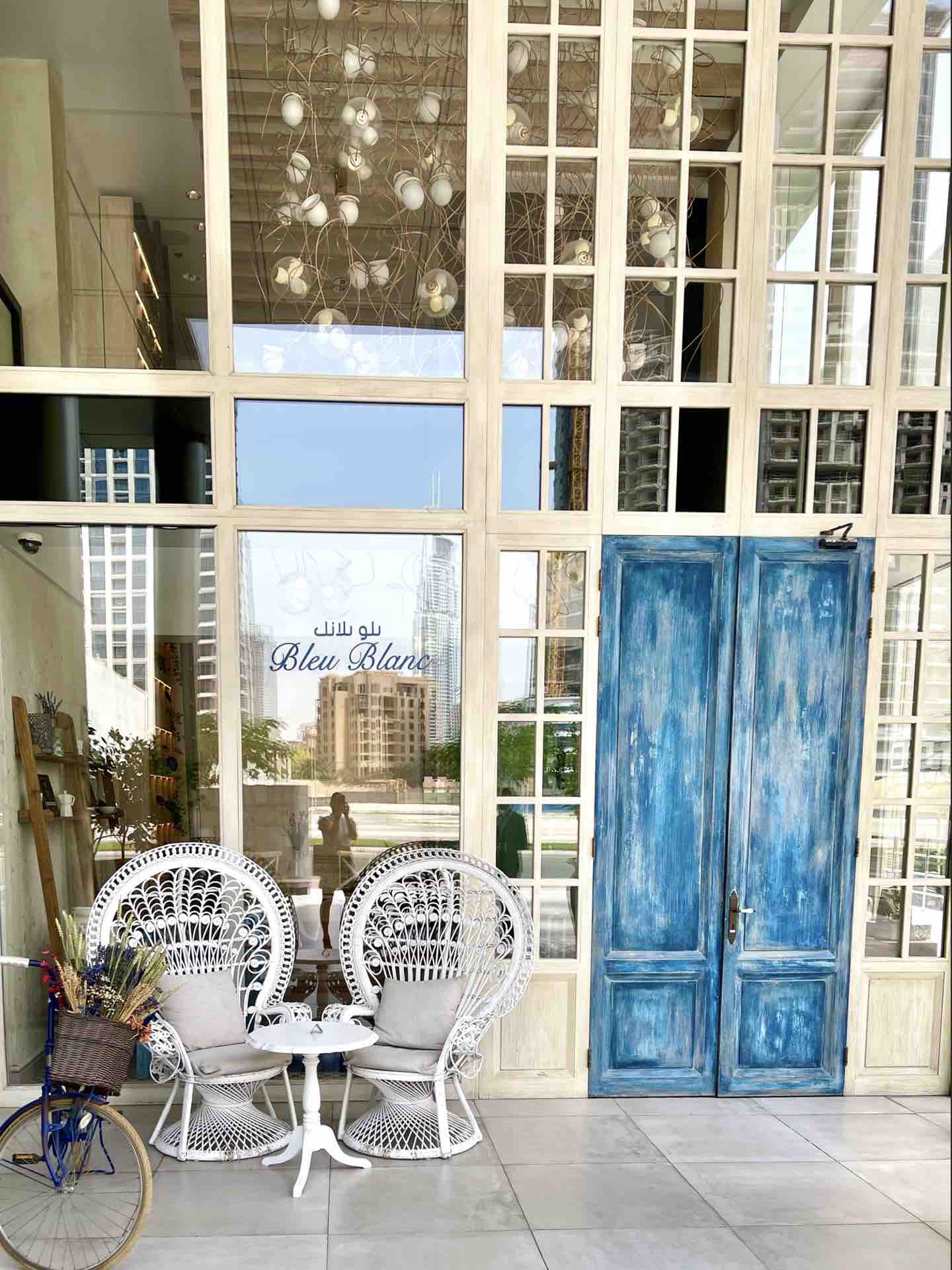 St. Regis Hotels is synonymous with refined luxury and opulence as per the founder John Jacob IV intentions. During the Guilded Age of New York's 1904 society, he introduced it to not only be a place that befits royalty but one that for its day was technologically advanced, with a telephone in every room, air conditioning and added the latest refinements of the new century. Today, as soon as you arrive at any of the St. Regis' establishments you will see the attention to details is spot on; starting with a beautiful insignia that could easily pass as a monarchial embellishment, to every uniform seemingly tailored to fit each individual staff member. However, having said all this, I would like to delve into the Insiders's experience at one of its restaurants, Bleu Blanc, St. Regis Downtown Dubai, for their newly relaunched Saturday brunch!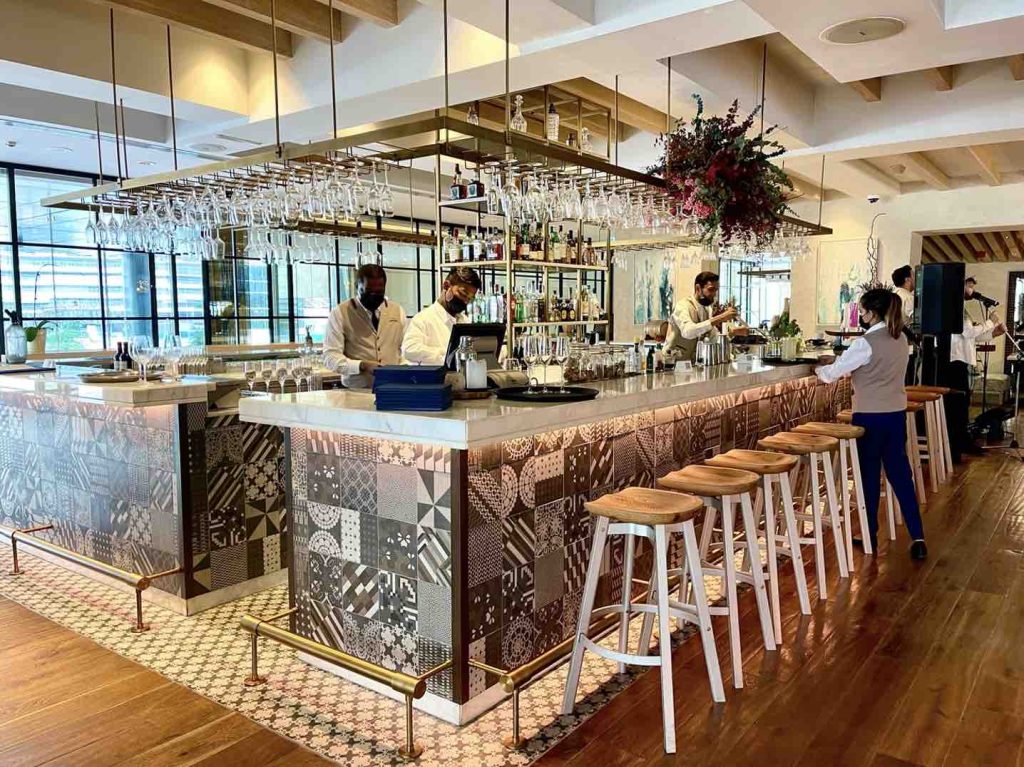 The front entrance to Bleu Blanc allows your imagination to anticipate rolling lavender hills in Provence behind its doors, with a well placed whimsical, decorative bicycle to catch the eye and inviting white wicker, crown chairs to relax in before you even step foot inside the massive french windows that lead the eyes to a mezzanine level before enticingly luring you through distressed blue doors.We were handed a glass of bubbly (which always sets the right mood) before taking the elevator to the restaurant on the mezzanine, and on arrival we found that the reception by the staff to be gracious and welcoming.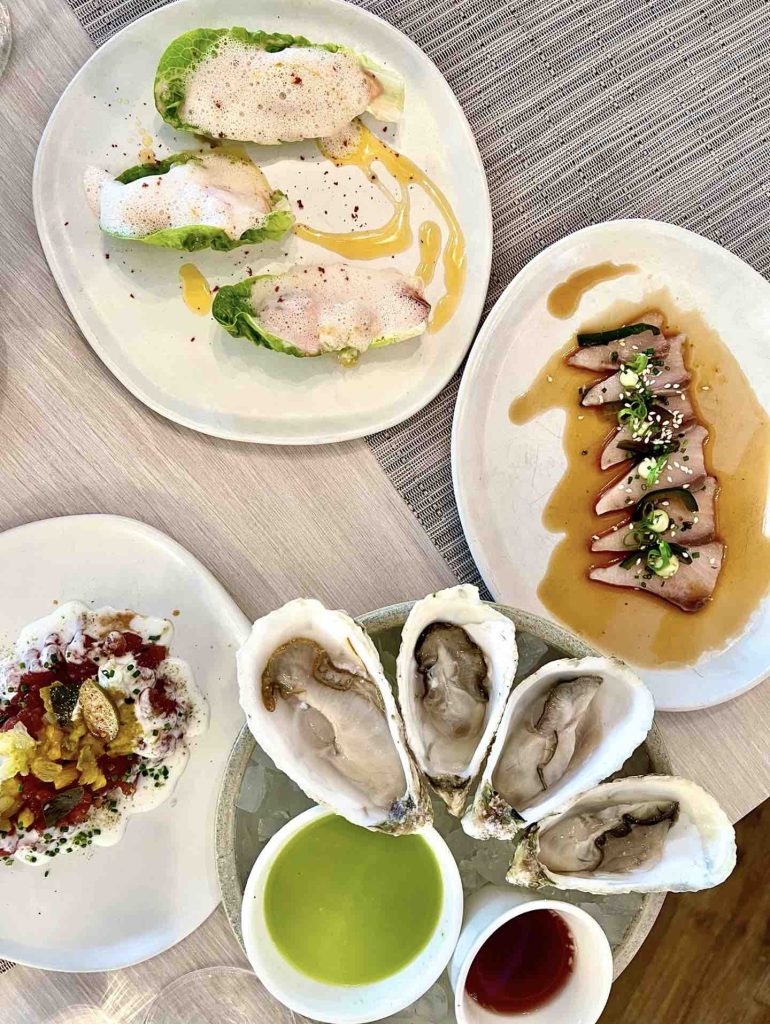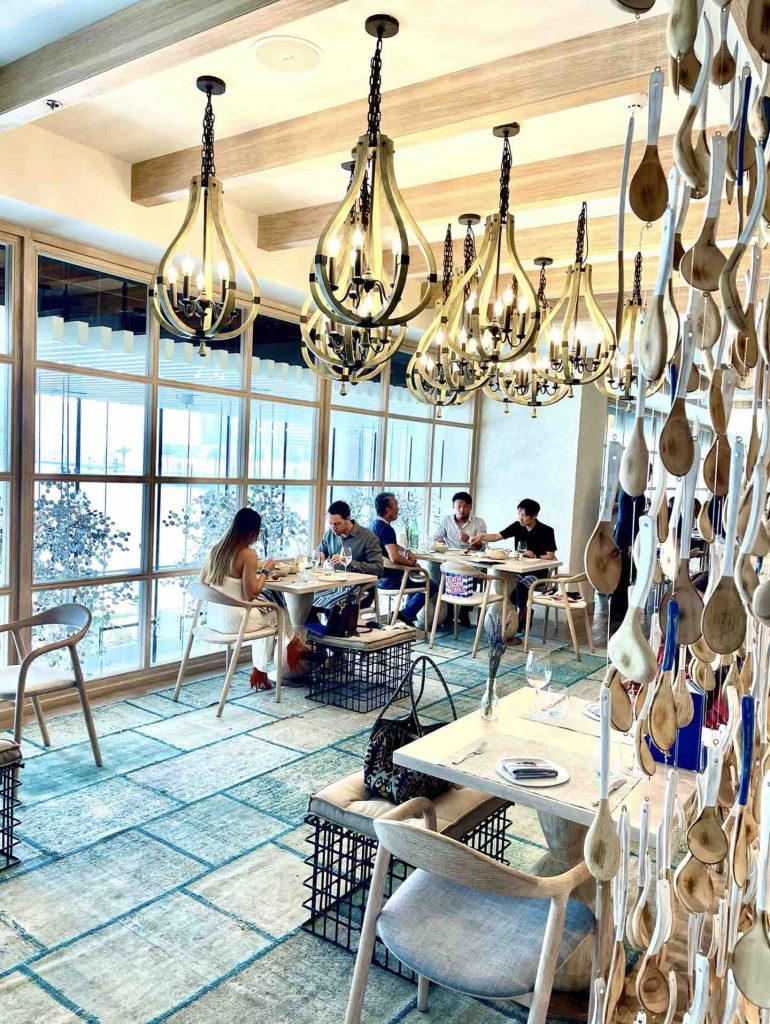 The interior design is uniquely Provençal, with exposed wooden ceiling beams throughout along with a few rustic chandeliers above round tables surrounded with wrought-iron cozy cushioned chairs. Beautiful, gorgeous perfectly lit, glass blown light fixtures hang from one end to the other in the centre of the restaurant. Graceful bureaus and buffet tables throughout the restaurant serves their delicate purpose, and cascading hanging curtain of period kitchen wooden utensils add depth and whimsy all at once. The centre of attention though, is the open-style kitchen with a pulley system, wood-fire grill that lights every day at 11am and runs throughout the day into the evening. Fresh garlic hanging above the grill and bowls of bright lemons, chillis and fresh herbs on the kitchen counter top off the ambience of a French country-style home.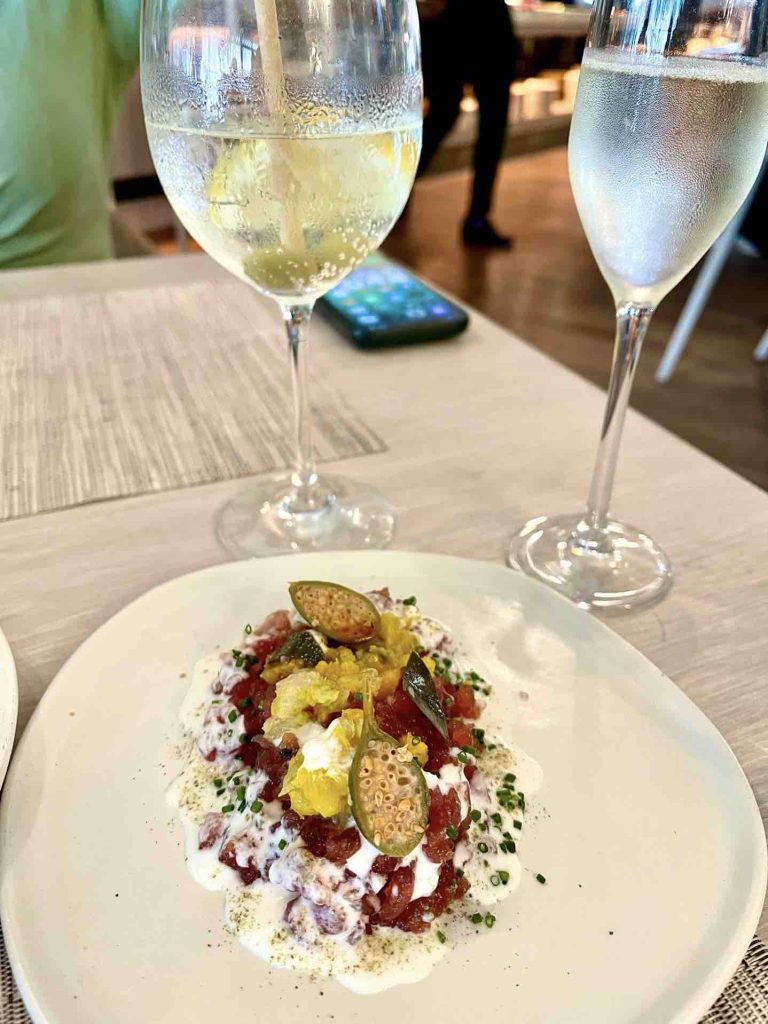 We sat down with anticipation with a 'what's in store for us' mode at this table service brunch as a trolley of their homemade infusions of Tanqueray cocktails came by. There are four different choices to choose from and I started with 'Asia in my Heart' composing of infused gin with Japanese Green Tea and Dragon Fruit, it was refreshing. My guest and I later tried 'The Mediterranean' that had olives and rosemary, and it was delightful and clearly both our favourites. The crusty sourdough bread baked from a beautiful cast iron behemoth oven with herbal butter was tempting, but it wasn't warm as one would expect.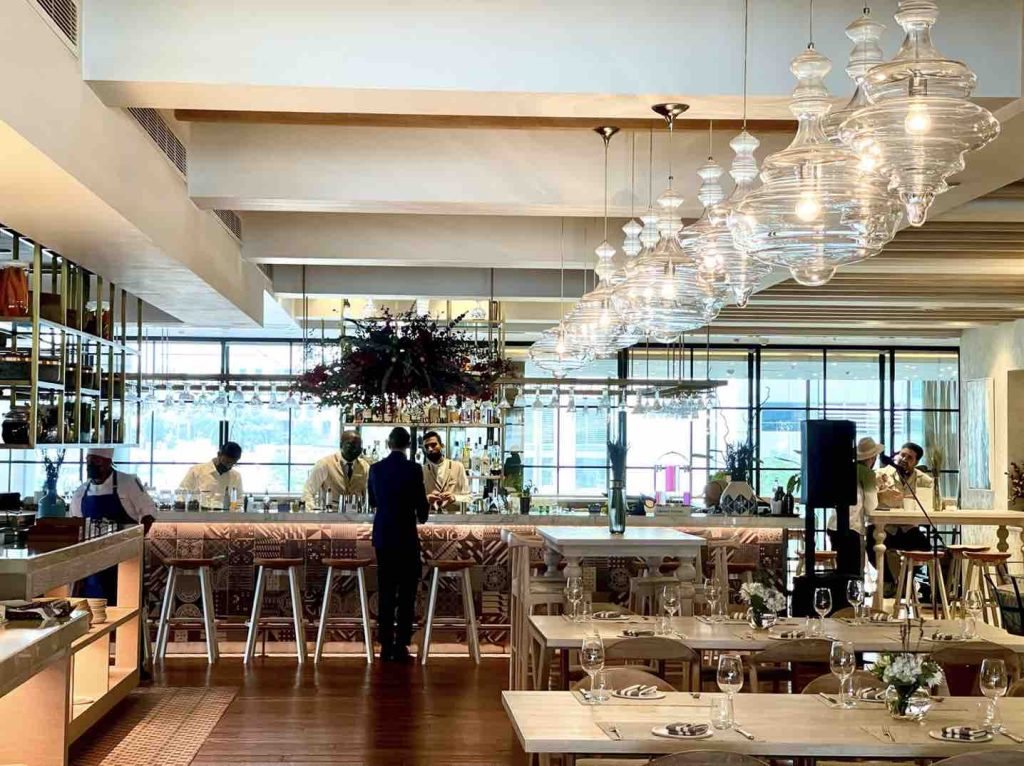 The live Crudo Bar is beautifully presented with fresh oysters, poached king prawns, Oak smoked salmon and fillets of Tuna and Yellowtail tuna. There were three chefs putting the different fresh surf dishes together and it was mesmerizing to watch as and I slowly drooled at the sight, hoping that no one would notice. The oysters were so fresh with the Migonette jalapeño dressing… just like it was freshly caught out of the sea… gorgeous… as were the perfectly dressed Tuna Tartar with cold crisp citrus salad, buffalo mozzarella and capers. The slices of Yellowtail tuna with avocado aioli and pickled sesame cucumbers was… hmmmm divine! The Oak smoked salmon with kefir dressing and dill was intriguing, though surprisingly not my favourite.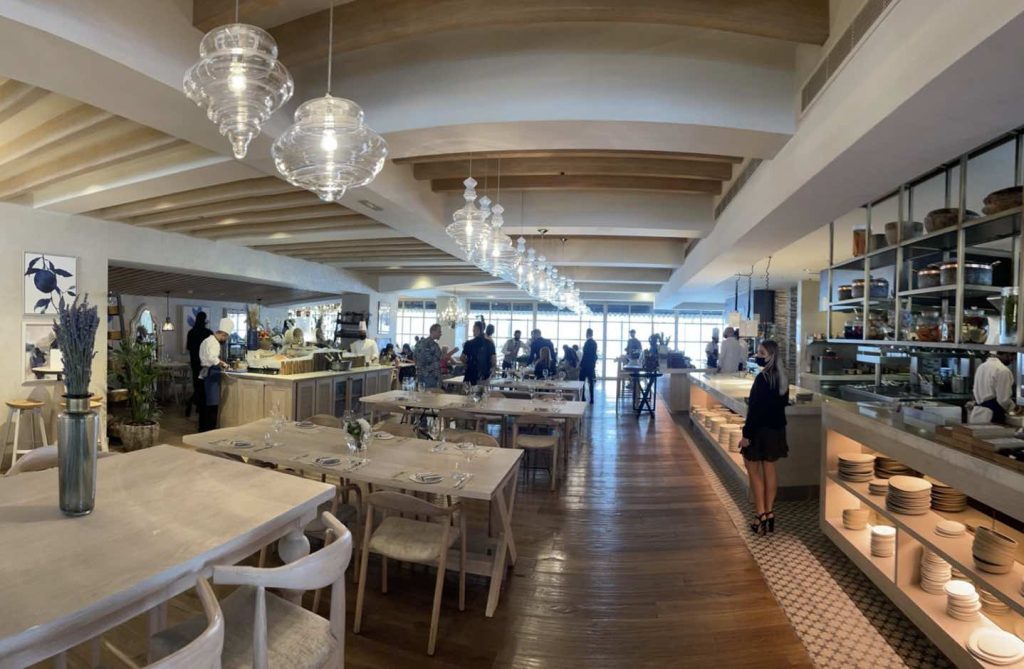 The salads of Asparagus with fennel and sweet succulent blood oranges with almond ricotta was to literally die for, with this wonderful combination marrying just perfectly. The Chicory Puntarelle with chickpeas and pecorino cheese was a close second. To conjecture: what may marry well together is not an easy task, and to pull it off and give your guests such a delightful clarity of combined flavours is a feat on its own and worthy of praise, as Head Chef Paolo Lostia and his team had proved.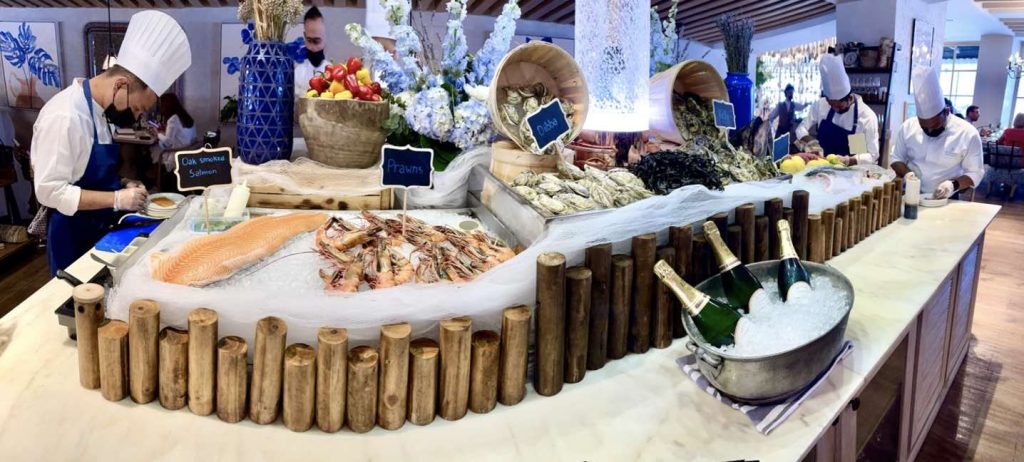 And just to warm up your insides before the Wood-fire course, there is a middle course that is a meal in its own way, and if you finish that you will have no room for anything else!. The middle course of lovely homemade Potato Gnocchi with tomatoes, mozzarella and fresh basil was filling and overly generous in size.
So be warned, do come dressed in loose clothing! For the next stage we would be entering the Wood-fire grill course with Wagyu Striploin and rosemary jus, Braised Lamb Shoulder, Smoked Seabass with Fume butter, preserved lemon and dill…and a whole Harissa marinated chicken over a bed of smoked rosemary in a clay pot. You may well have to order a gurney after this!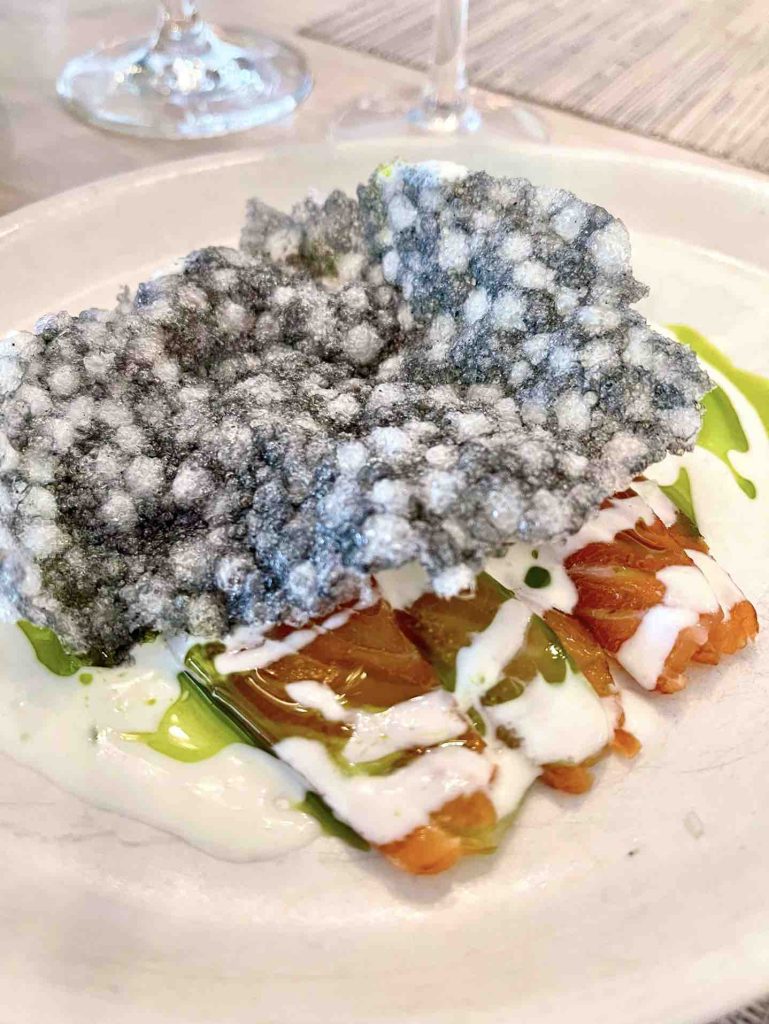 During our leisurely feast, along with live music performed in the background, we were treated with champagne sabering. Champagne Sabering dates back to the battles of Napoleon Bonaparte, who famously opened champagne with his saber in both victory and defeat. The art of sabrage is the signature ceremony of the St. Regis Evening Rituals which begin in its establishments at 6:45pm every day. And  even for non-hotel guests, when the day transitions to evening, it is a highly recommended sight, with a  glass of bubbly to be savoured from the sabered bottle. However, all good things must come to an end but before doing so one must have dessert! And when it came, we were delighted to see a trolley with chocolate profiteroles, Pistaccio Tropezienne (cake), together with Manadrin and rum soaked Baba (Bundt cake) with extra rum syrup, which was my personal favourite. Eventually, and fortunately for us, at least we were able to stand up and leave on our own accord!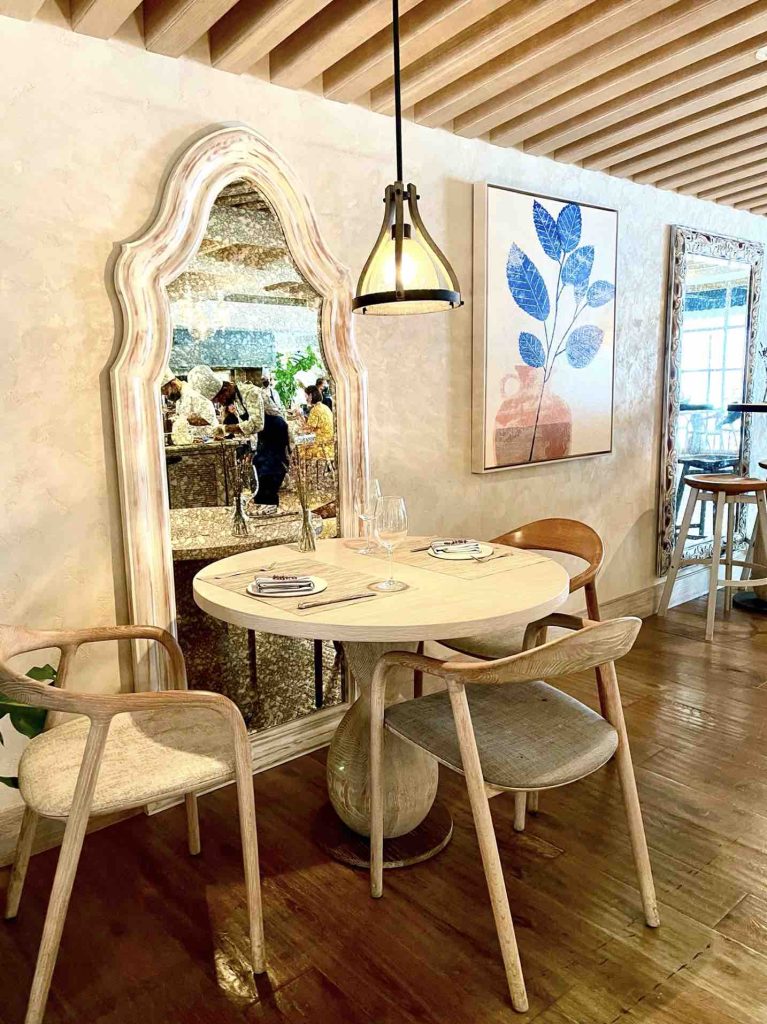 Due to the fact that the Provençal style is so effortlessly right here, with captivating unpretentiousness and nostalgia paying tribute to nature and tradition – for myself, sipping beautiful wine and eating exquisite dishes in just the right amounts, easily after I could refer our experience to the relaxing Southern French-Mediterranean way of living, where all goes on slowly and in harmony with nature. In a word, I felt that I was actually there…And goodness, this cornocoppia of food-table indulgence and enjoyment at St Regis Bleu Blanc is what Life is all about – non?
C'est la Vie!