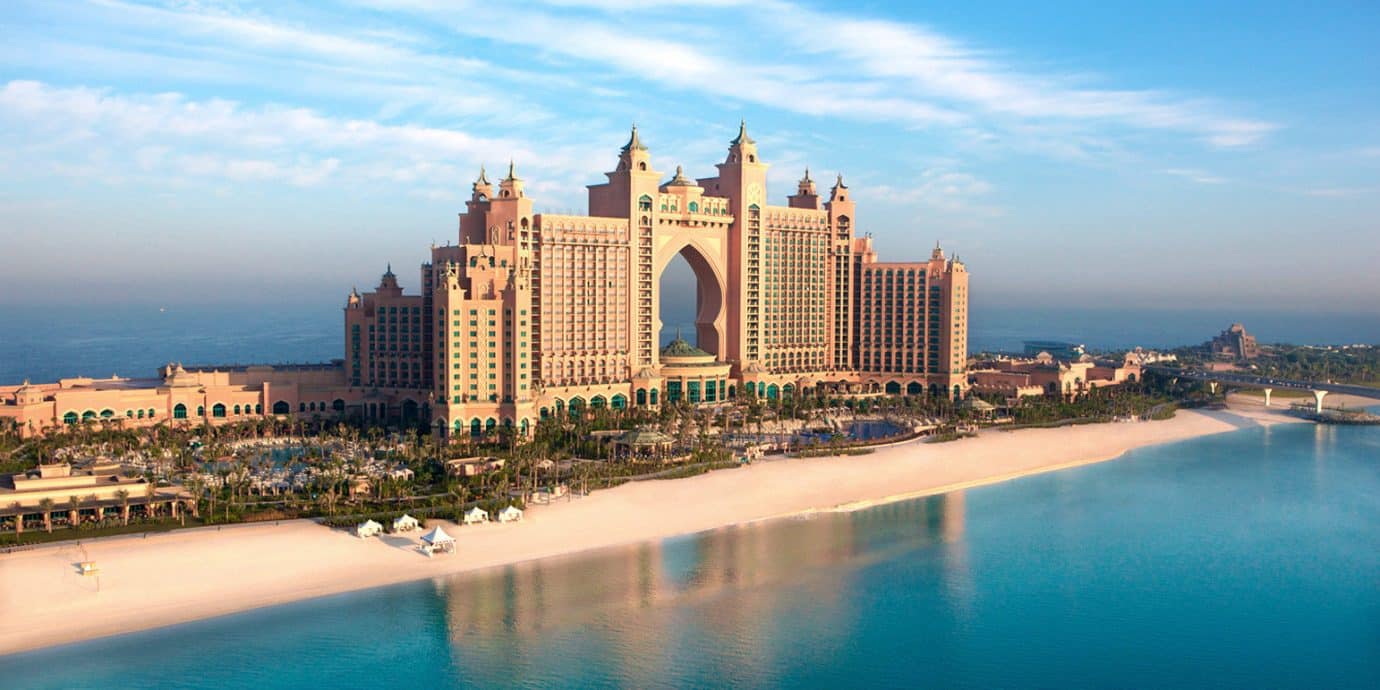 Dubai is known for its oh-so-glorious hotels, and promising to spoil tourists and residents alike are these brand new offerings, opening soon.
There's never a bad time to whisk yourself and your other half or your glam squad to staycation, and why not, as the city has some of the best hotels in the entire world. With innovative growth at incredible speed, the skyline is ever-changing and venues are seeking to out-do one another year on year. Love hotels and in need of a fresh spot for a staycay? Read on…
FIVE LUXE, JBR
Notorious party hotels FIVE Palm Jumeirah and the newer FIVE in JVC are opening a brand spanking new outlet called FIVE LUXE, which boasts 222 rooms and suites plus 275 residential apartments, plus a ton of restaurants and party outlets. Situated in JBR where the Corinthia Meydan used to be, you'll be able to visit sometime this year as it's due to open in 2023.
Jumeirah Marsa Al Arab, Al Sufouh One
By hospitality giants Jumeirah, the new resort Jumeirah Marsa Al Arab is reportedly inspired by a super yacht. Directly beneath the iconic Burj All Arab, the hotel will have its very own private beach, plus a huge number of rooms – 386 if our spies inform us correctly – plus 83 hotel apartments. We also anticipate the usual superior quality of dining outlets synonymous with a Jumeirah venue. This venue is also due to open sometime in 2023.
Kempinski Floating Palace, JBR
Whoa, apparently hotels in dry land aren't fashionable enough anymore, and Kempinski are attempting to out-class their competitors by building one that's actually floating out on the Arabian Gulf. Boasting 156 rooms, 12 luxury villas, plus new and unusual 12 glass boat houses located on the water off Jumeirah Beach Road. The glitterati will also be able to dock their yachts here and pop into the hotel to make use of their five-star facilities, plus their boutique shops and spa. This exciting spot is due to open in 2023.
Mama Shelter
A French hotel chain promising to bring a dash of Parisian chic to the Arab world, they already have successful venues in London and Prague. Mama Shelter is quaint and wallet-friendly, unlike the usual towering skyscrapers, and all 197 rooms of this hotel will display ist signature funky style. There will be an all-day dining restaurant, speakeasy bar, plus a dedicated pizzeria. We predict this place will be a popular party spot also because of its rooftop skyline bar and sprawling pool deck overlooking Business Bay. You can visit sometime in 2023.
One&Only One Za'abeel
Perhaps an attempt to compete with KSA's newly announced vertical city, luxurious hospitality brand One&Only is opening the country's first vertical urban resort, which will be as premium and glamorous as their other locations (prices start at AED 3,500 per night). As part of the development the resort will feature the UAE's longest infinity pool (because are you really doing anything in Dubai unless it's bigger and better than something else?) It's also located in one of the dual skyscrapers which have an intersection with the world's largest cantilever, otherwise known as a panoramic sky podium and also called The Link, which is a boulevard floating 100 metres above the road below. Sounds totally WOW. Visit the new hotel from December 2023.
Rixos Dubai Islands, Hotel and Residences
Another developer giant Nakheel has announced that their Rixos Dubai Islands, Hotel & Residences will be a luxury hotel and residential living area, and the first development at this location, which pledges to eventually have a total of eighty resorts and hotels across the Dubai Islands. If you choose to do your staycation here or even become a resident in their premium living accommodation, you can expect a prime waterfront location with the same excellent service you'd get from any other Rixos hotel. Apartments will be between 1-3 bedrooms, some with terraces, and the four-bedroom duplexes come with private pools, beach houses, and gardens. There's no official launch date yet but stay tuned for more information.
SO/Uptown Dubai, JLT
The bustling and convenient area of JLT (a stone's throw from the beach without the Marina traffic) is the perfect spot for a new five-star hotel. With 188 rooms, pool, spa, expect rooms and decor to be chic and stunning as the design is fronted by brand Ralph & Russo. Views are pretty special too, across Dubai Marina and even Ain Dubai. Add this to your staycation list as it's due to open in 2023.
The Lana
Set to be one of the most sumptuous openings this year, steeped in elegance and designed towards guest's every comfort, the hotel is designed by Gilles et Boissier, who have claimed inspiration from the waters of Business Bay and traditional Emirati culture. Expect 225 glorious rooms, an 18th floor restaurant, and a patisserie, all of which inhabit the spot previously taken by The Dorchester, so they'll be Burj Khalifa views as well. Keep your eyes peeled for this one as it's also due to open in 2023.
Vida Dubai Mall
A new Vida Hotel will be located right next to – of course – the Dubai Mall. Featuring serviced and gorgeously branded apartments facing the Burj Khalifa and Dubai Fountains, although they've yet to announce if they'll be operating as a standard hotel. Regardless, with the trend for apartment living, staying here will put you right in the centre of the action, with tons of shopping and dining options right on your doorstep. Check out this location from 2023.