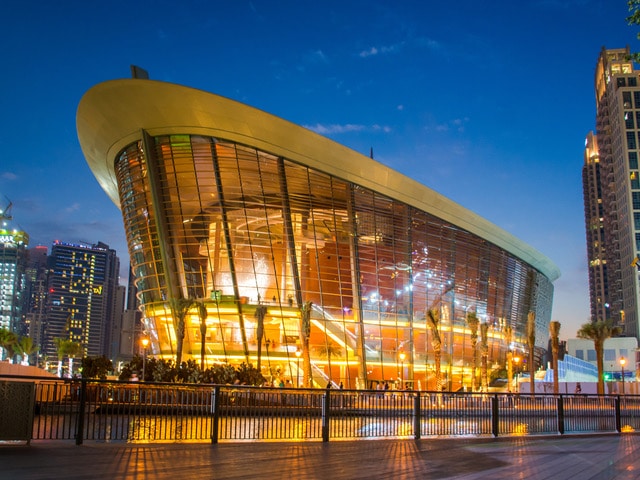 Catch all the latest shows, musicals and plays at the stunning downtown musical venue from 2023-24.
At a press conference held on Thursday at Dubai Opera, the venue announced their latest schedule for all musical events from 2023 and into 2024. Check out the list below.
Swan Lake: September 9 to 10
Madama Butterfly: September 12 to 13
Seafret: September 15
Space Spectacular: September 22
Zimmer vs. Williams: September 23
Gilberto Gil: Aquelle Abraço Tour: September 29
Matilda The Musical: October 3 to 15
David Garret Trio: Iconic Tour 2023: October 26
Kenny Garret: Sounds from the ancestors: October 28
Macbeth: November 3 to 5
Ali Sethi: World Tour: November 11
Jethro Tull: November 24
Orchestra del teatro alla scala: December 1
Slava's snowshow: December 8 to 10
Tinariwen: December 12
Handel's Messaiah: December 13
The nutcracker: December 13 to 17
A night with Matteo Bocelli: December 21
New Year's Eve 2024: December 31
New Year Day Gala Concert: January 1
Mike Oldfield: Tubular Bells: January 12
Ludovico Einaudi: January 19 to 21
The little Prince: January 26 to 28
La Scala Academy's Ballet School: February 17 to 18
The phantom of the opera: February 22 to March 10
Alice Sara OTT: April 24
Incognito: April 25
Musicaterna: April 27 to 28
International Jazz Day: Ravi Coltrane: April 30
Gideon Kremer & Kremerata Baltia: May 3
Film music week: May 9 to 13
Chris Botti: May 19
Les Deux Nuits: May 25 to 26
Want to get tickets for these booked? Visit their website and book tickets directly or check out their Instagram.