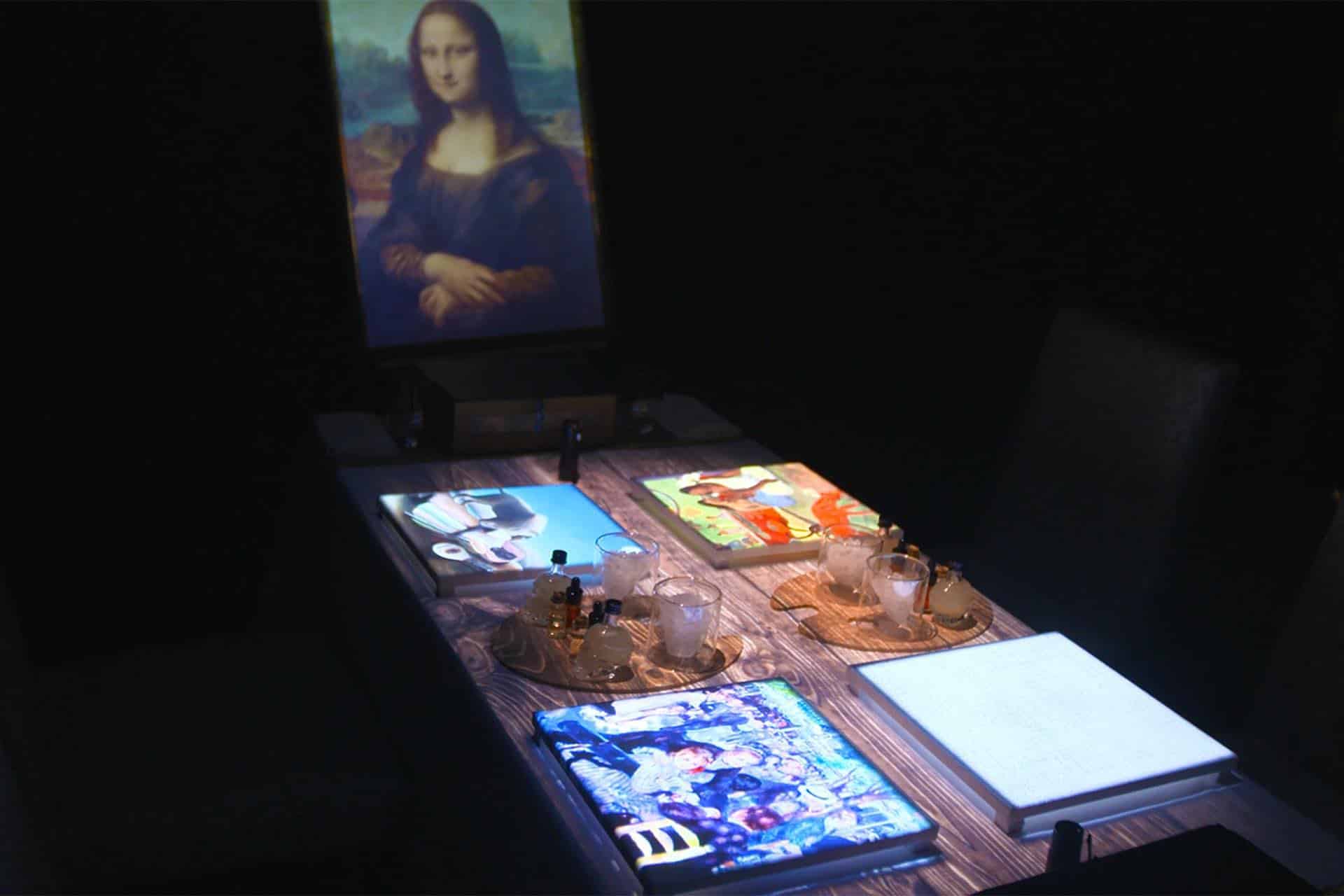 Fancy doing something a bit different on your Friday night? Looking for more than just a brunch or a nice dinner? Look no further, 'Seven Paintings' – an immersive dining experience in Shangri-La Dubai is sure to be like nothing you have ever experienced before.
When your dining experience has a show producer, you know you are in for a unique night. And a show it is: 'SEVEN Paintings' uses story-telling theatrics, illusion and cutting-edge 3D graphic technology in a 2-hour seven-course dinner accompanied by creative beverages, all whilst an interactive Mona Lisa sits beside your table narrating an illusionary discovery tale of some of the world's greatest artists.
We knew interaction was going to be key to the evening when, in an ode to Michaelangelo, we had to unlock the box holding the first course by using a torch to find the hidden code for the padlock. Our detective work did not go to waste when we then tasted the delectable mushroom mousse filled tartlet, balsamic caviar and gold leaf, displayed on a replica of 'Adam's Hand.'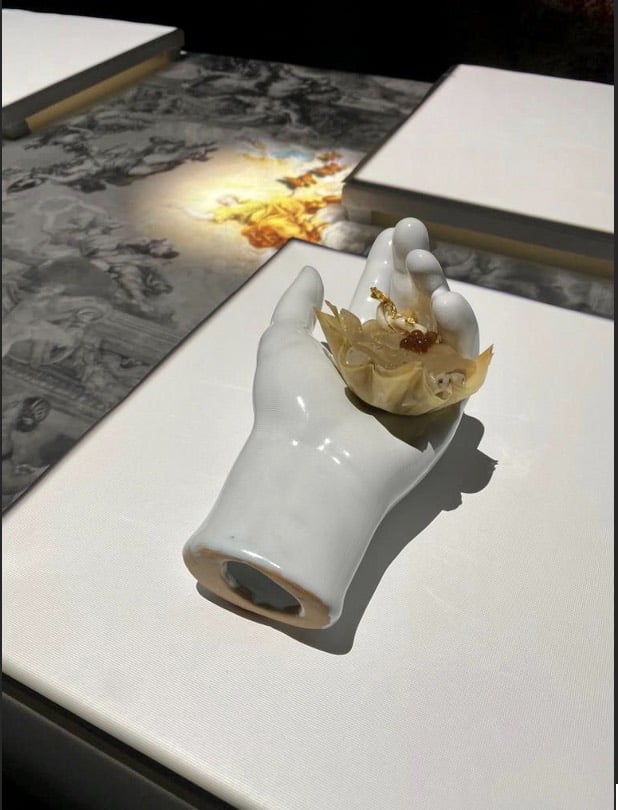 Immersive visuals and audio transported us to the era of each artist, with a mini chef Omar Sartawi appearing on the table to guide us through the next course.
We spray painted our own Banksy to reveal a sashimi grade tuna carpaccio served on homemade lovosh bread complemented by truffle aioli and micro herb salad.
The next course was served under an edible print of Picasso's 'Weeping Woman,' which we used to scoop up seabass ceviche in a moreish leche de tigre marinade.
Next up was the opportunity to paint our own salad dressing using a selection of pureed greens and Japanese sesame sauce. Masterpieces were made and honestly, who knew lettuce could taste so good?
Everything then went very colourful as we entered Andy Warhol's pop art era. And of course the famous Campbells Soup Can had to take centre stage here. We were served with what appeared at first glance to be a can of soup and a bottle of Coca Cola. In-fact, the icing constructed can was cut open to reveal the most tender beef cheek brushed with a tamarind glaze – ready to be finished off with beef broth from the cola bottle.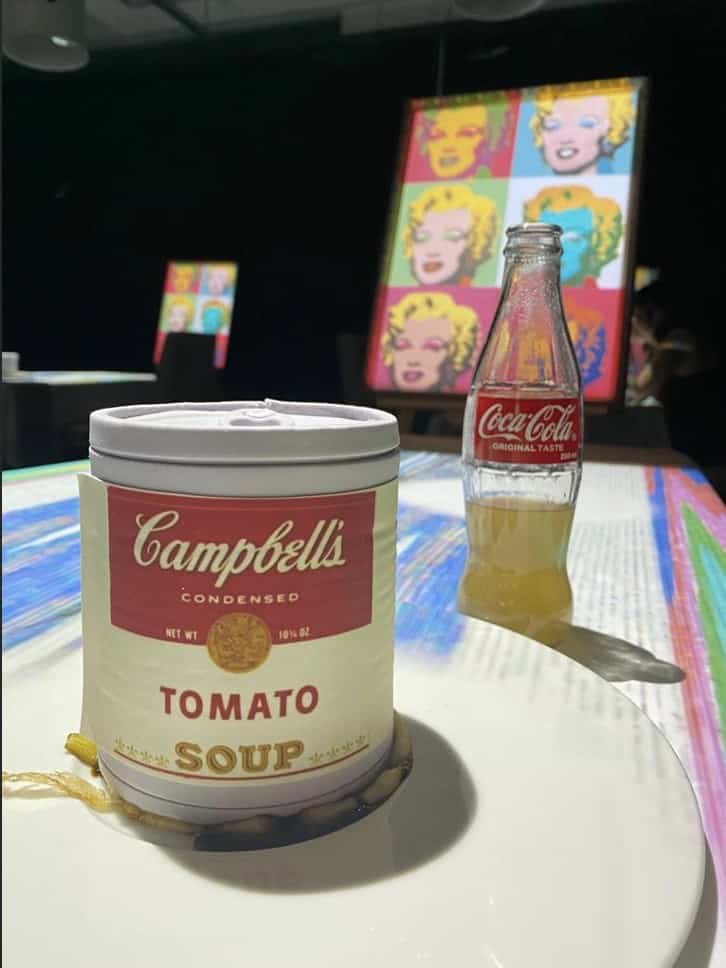 The star of the show came in the form of a semi-dessert course inspired by surrealist Salvador Dali. Truly immersive, all the senses were heightened as we were transported to another realm. Waves crashed around us as dry ice created a magical mist before we opened a leather box to reveal a potato (yes a potato!) topped with vanilla ice-cream. We seasoned the white chocolate and potato souffle with Himalayan pink salt from a pouch on the (biscuity) sand and extra virgin olive oil from a fragrance decanter. All I can say is WOW!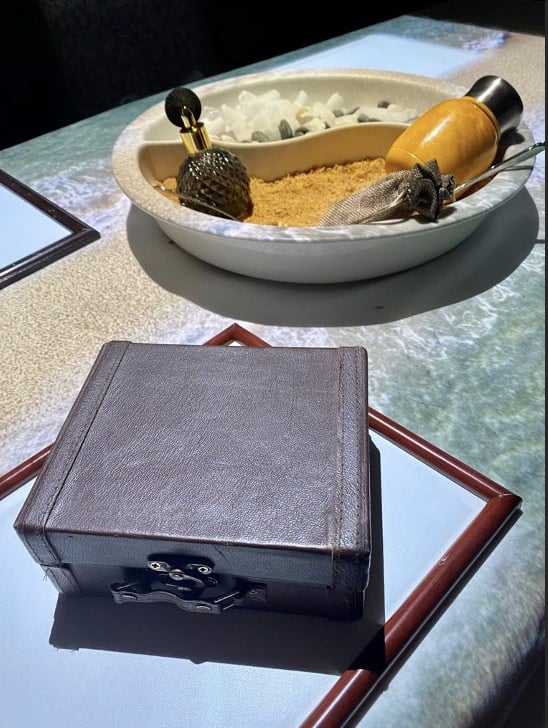 Last but not least we indulged our inner Vincent Van Goghs and recreated our own adaptations of 'Starry Night' using edible paints on a white chocolate bar which we took home as a momento of our night (and because we were so full from the other six delicious courses!)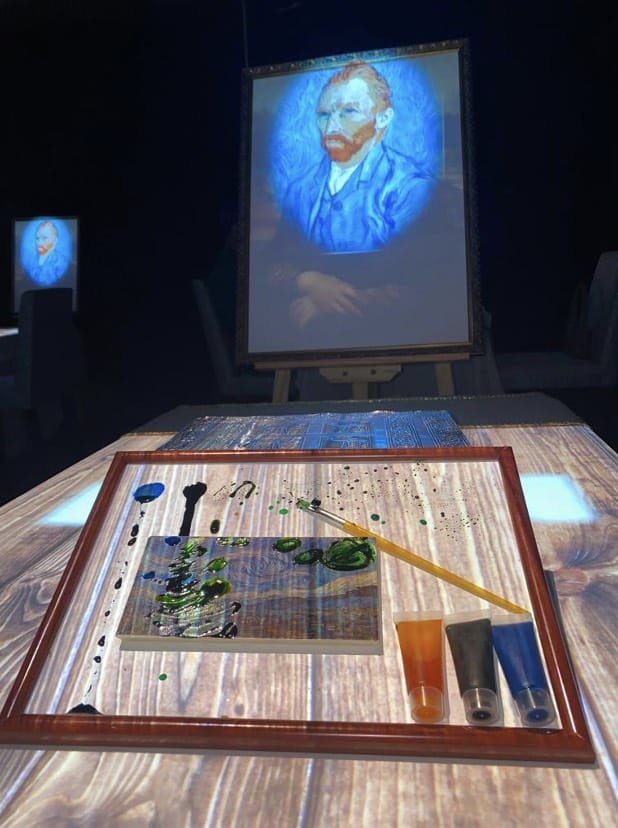 Internationally acclaimed food artist and chef, Omar Sartawi and Shangri-La Dubai's Executive Chef, Daniel Sheperd, have certainly created an avant garde food experience like no other whilst show producer Nadine Beshir must be commended for the story-telling and theatrics.
Experience 'SEVEN Paintings – An Immersive Dining Experience at Shangri-La Dubai' every Friday from 8 PM – 10 PM for AED 450 per person.