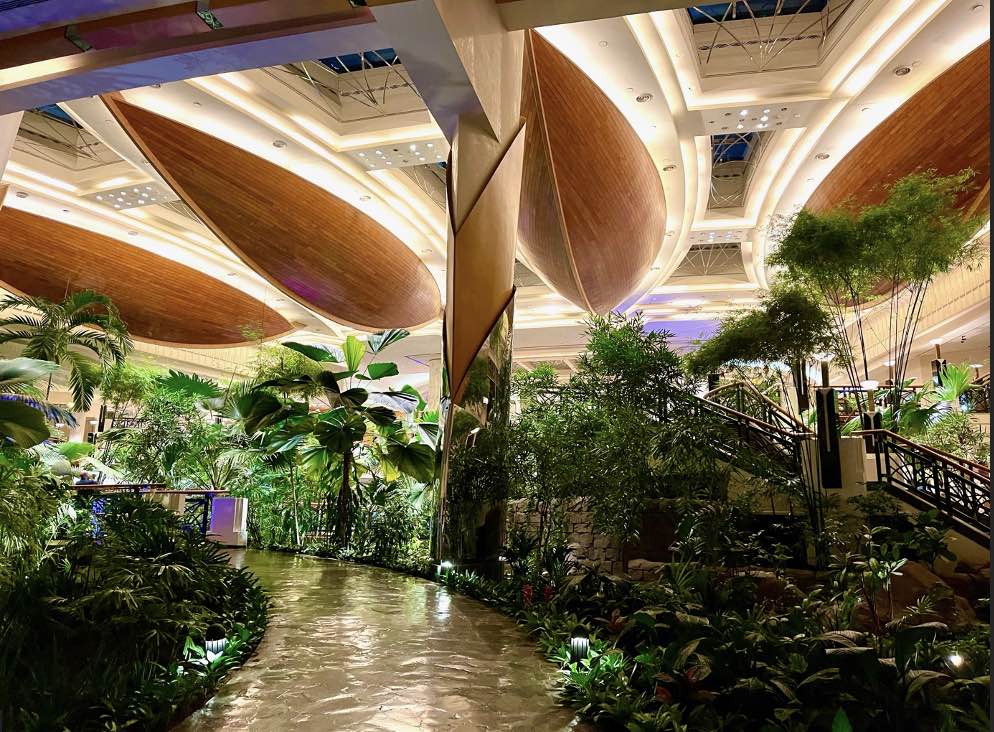 The spatial Grand Hyatt Dubai is impressive in size, set within over 37 acres of landscaped grounds, it towers over Dubai Creek with 682 luxurious rooms including 38 suites, a fitness studio hand in hand with an award winning spa and oh… just 4 swimming pools to choose from. And with 13 award-winning restaurants and bars to pick and choose, one can stay for awhile and not have to leave the premise even once. We were super keen to be invited to try iZ, an authentic North Indian cuisine restaurant that hosted Bollywood celebrities like Shahrukh Khan, Salman Khan, Deepika Padukone, Aishwarya Rai Bachchan and many more just to name a few. So that speaks volumes….when you see the same nationality of people like the cuisine of the restaurant patronising it…its safe to say its smack in your face good.
As we passed the initial front entrance of the hotel lobby we looked up to see four wooden, immense boat hulls, half way submerged into the ceiling that is striking not only for the sheer size but I don't think any other hotel in the world has quite the same design. As we wandered deep through the pathway of massive foliage with ponds filled with Koi, you feel like your walking through a serene, tropical jungle. 
When we arrived at iZ, the very first thing that hits you is the undeniable fragrant smell of mouth watering Indian spices, the delicious aromas diffused by moist and tender slow-cooked meats from four traditional cylindrical clay tandoor ovens in the open kitchen will make you uncontrollably drool. Guaranteed. Rich aromatic gravies simmering away and naan bread is being kneaded and flattened to be baked in the high temperature tandoor oven giving it the distinct char on the outside whilst skewers of meat is being prepped.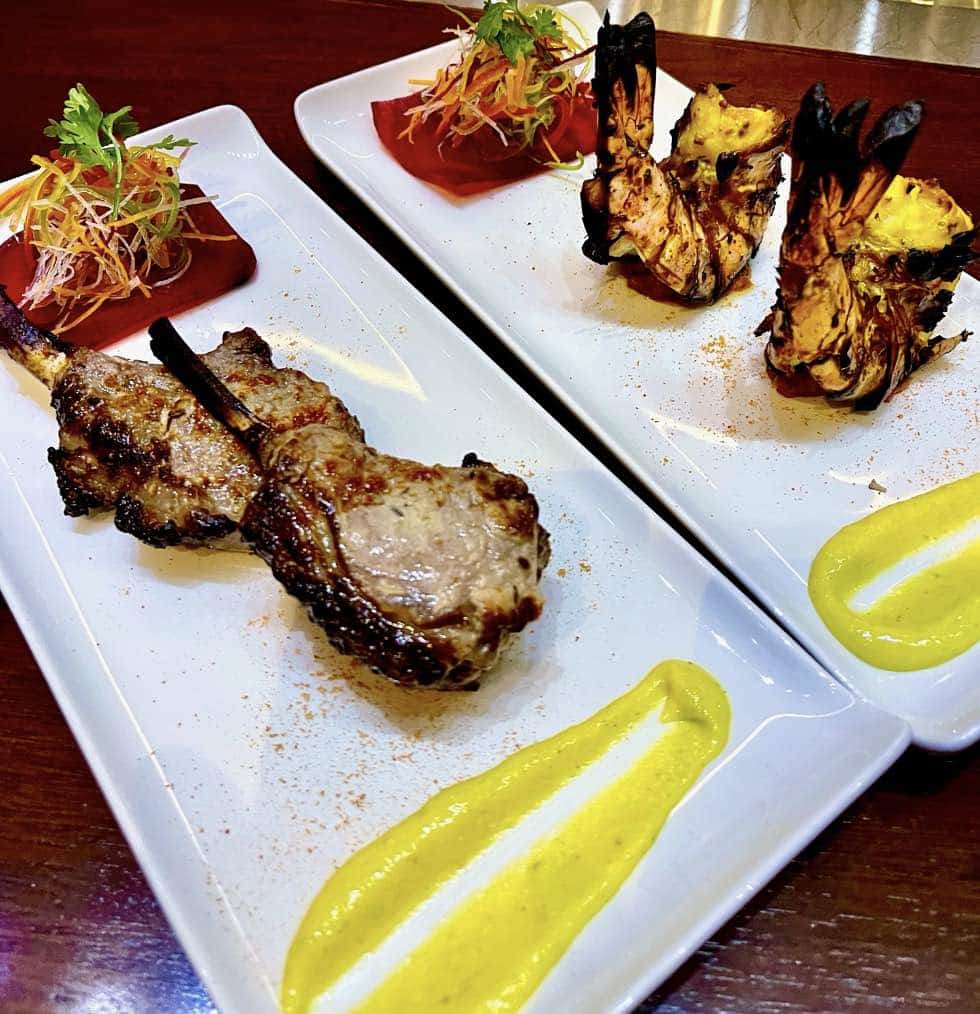 The restaurant has a lovely outdoor terrace seating area which is perfect during the winter months with comfortable indoor seating for intimate small and large family and friends for gatherings. The live kitchen has the Chef's Table seating around it and we both felt it was the best as it afforded us, front and centre of all the action as Chef Raj and his team effortlessly concocts our dishes to come. Sitting around the kitchen not only granted full view of the art of cooking but inquisitive minds and banter are delightfully fulfilled by interacting with the chefs. And then the dishes are served by them lending the feeling of being special and privately attended to.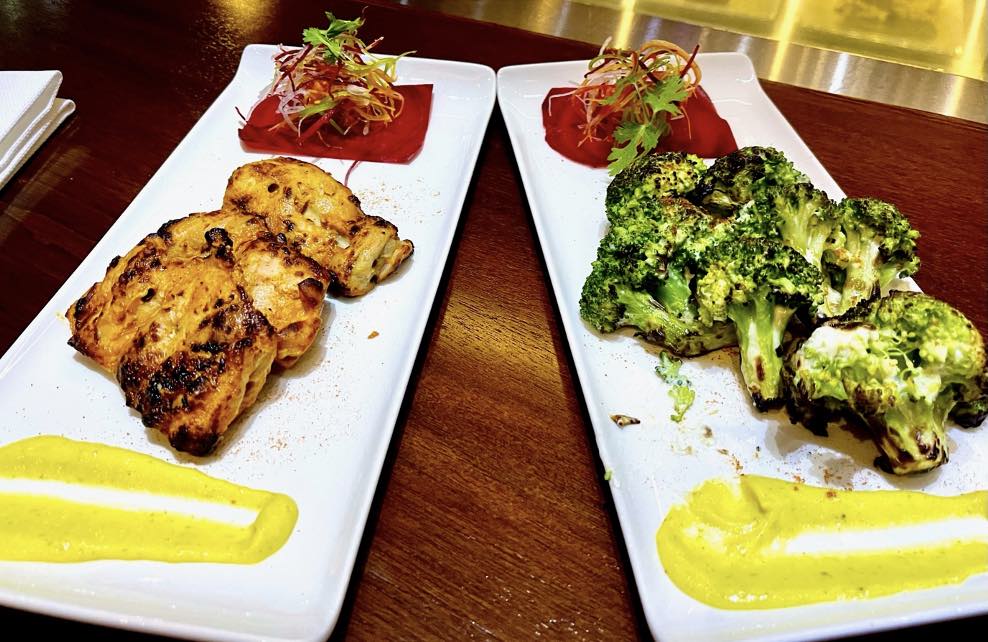 For our starters, we had Tandoori broccoli that was marinated with cream, cheese, yogurt and white pepper and skewered, then beautifully charred in the tandoor oven. Now, I'm not a gambling person, but I will wager anyone who has children that dislikes vegetables or a man that thinks veggies are for rabbits, they will gobble this broccoli up…seriously. The taste is creamy without being overwhelmed by the cheese and yogurt marinate, it is subtle and flavourful with just the right crunch. The Cheddar Chicken Tikka made of chicken thighs and marinated was moist and delicious. My two favourites of the starters would have to be the grilled King prawns that were the size of my palms!. They were grilled and charred to perfection and tasted freshly caught from the sea. And last, but not the least, two beautifully thick Smokey Lamb Chops grilled to medium rare, as per request, which was outstandingly succulent.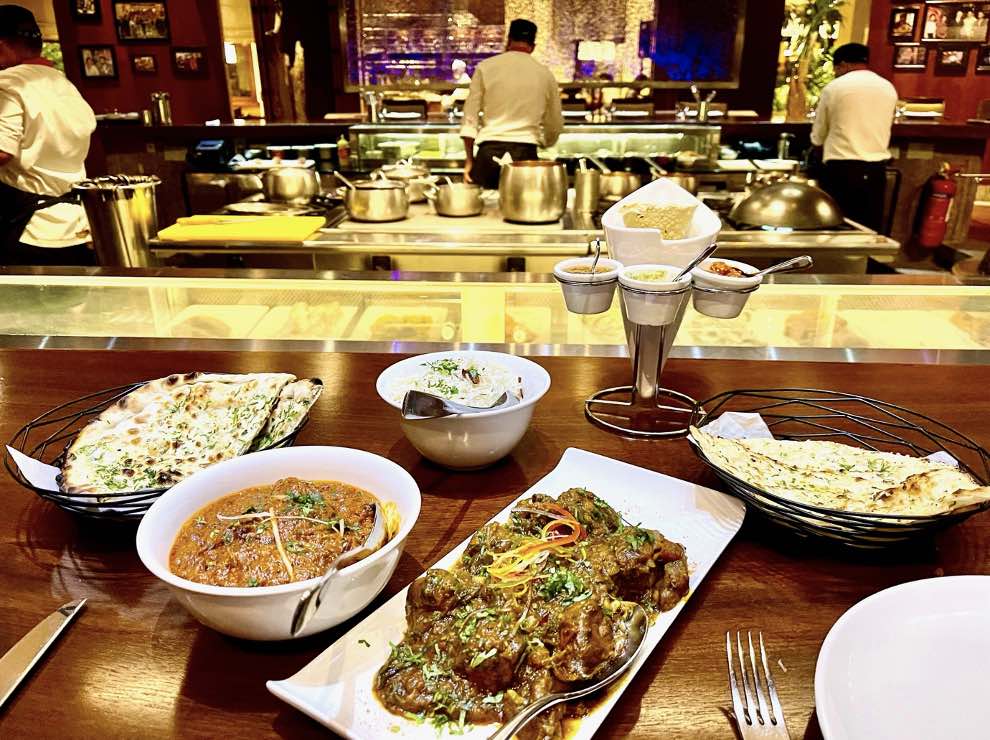 Generously accommodating our leisurely pace, we had our mains much later than usual. Our server, Himanshu ever so attentive and informative of his native cuisine and country had enlightened us and with his knowledge and recommendations. One such recommendation was Indian Wine and we were a bit skeptical. Domaine Sula 's Shiraz Cabernet wine was the choice. The silky and earthy Shiraz is packed with dark cherries, pepper and mocha notes, it was surprisingly too good! We were gobsmacked. Well, come to think about it, India is so diverse and has the climate and soil to absolutely nurture and create good wines. India's premier wine-growing region in Karnataka is the second-largest grape-producing region. And Sula's Estate Vineyards is situated in the Nashik Valley of Karnataka – also known as India's Napa Valley, is home to and India's most famous vineyard. I'm lost for words…you wouldn't think if your reading up to this point but regarding this unknown secret…it should be shouted out loud…why isn't it?! Ok ok, I must stay on course and not go on a tangent as our mains need to be praised.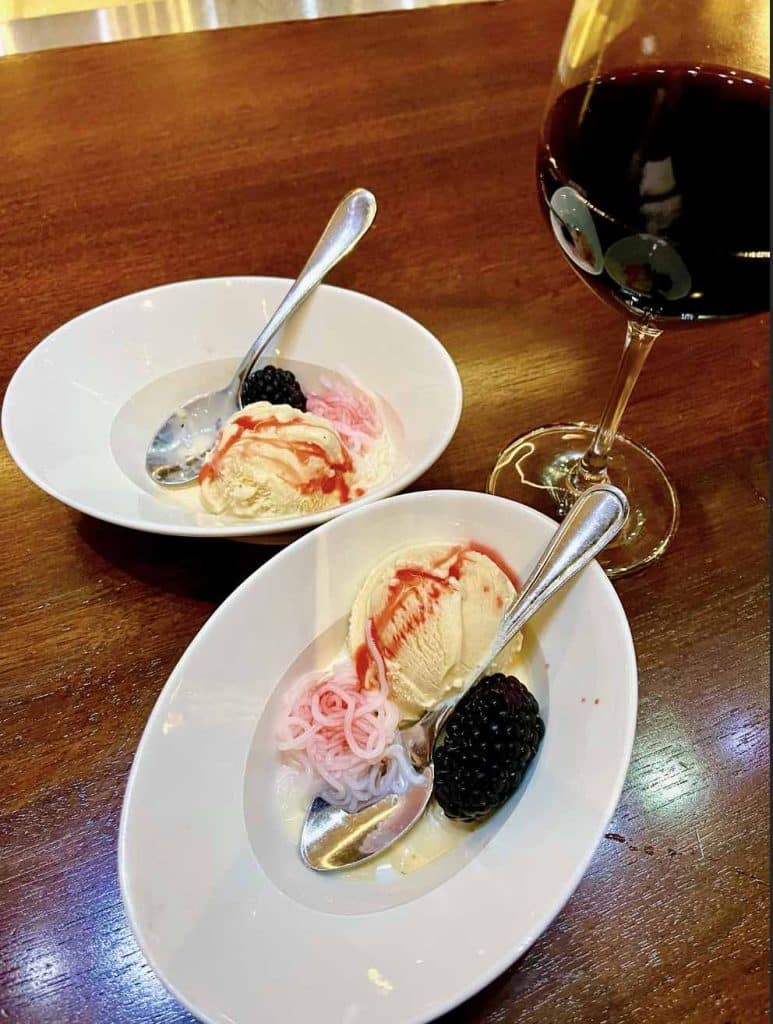 My dining partner had the marinated Chicken Tikka Masala, cooked in the tandoor oven before being added to the oinion, tomato and garam masala heavenly curry. In which he didn't come up for air with the introduction to paneer naan that he absolutely relished. I would concur that it was just so…ughhh good! I had the Lamb Sukka, a rich blend of broken wheat, onion and green chilli curry…the lamb was so tender and juicy I was mopping it up with my garlic butter naan like there was no tomorrow…
You would think at this point we cannot possibly even fathom to have another course…well after half an hour we had to try the dessert. Their homemade real cream, almond ice cream was, my goodness, utterly fantastic…It is a perfect digestive after the most delectable meal.