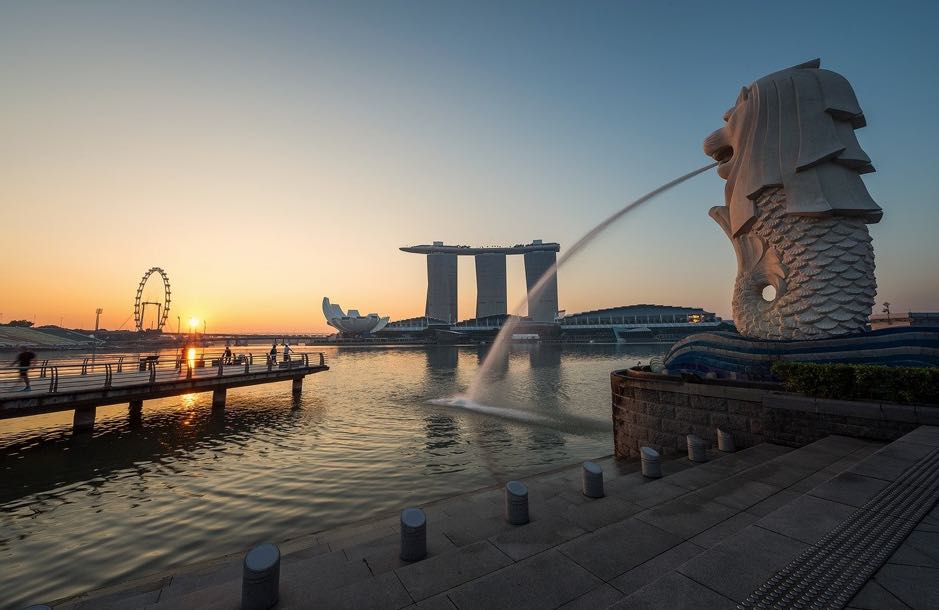 Singapore is gradually and safely reviving business travel and MICE events by taking significant steps to make the city a safe destination for visitors. New hybrid format events have been prototyped, tested and being implemented. In these extraordinary times, Singapore continues to stand as a premier business events destination connecting the world to Asia.
BTMICE (Business Travel & Meetings, Incentive Travel, Conventions & Exhibitions)
International event organisers are navigating the biggest challenge ever – Covid19.
As a premier business events destination, Singapore is ahead of the curve on this. The Lion City has been reimagining how best to manage the changes that the pandemic has forced upon us, and with good success so far. Over the past one year, Singapore has progressively resumed MICE events in safe, trusted and innovative ways.
New Health & Safety measures mean larger events can resume progressively
Success means visibly making everything much safer for visitors. The Singapore Government launched SG Clean, a national mark of excellence for cleanliness, hygiene, and infection control. The national campaign sets high standards of environmental public hygiene and build confidence in our businesses. To date, more than 29,000 individual premises have been certified as "SG Clean" across Singapore, including tourism-related and MICE premises.
The result is a very striking, safe and solid new approach of handling visiting delegates and staff. Hotels, restaurants, exhibition halls and other establishments have adopted new Safe Management Measures, such as social distancing and heightened cleaning of premises, to ensure reduced public health risk.
Innovative technology – a new path for MICE industry
Hybrid format has been tested and works efficiently
The objective is an enjoyable and seamless visitor experience that prioritises minimising risk of infection above all providing an immersive experience to visitors. Singapore's events industry is implementing innovative solutions to meet the emerging demands of a new era of business travel. From enhancing digital offerings to developing forward-looking concepts for hybrid and virtual events, companies in Singapore are reimagining and reinventing themselves.
One important outcome was developing a prototype for hybrid format events. This was tested initially on smaller gatherings of maximum 250 delegates, improved and finessed through on-the-ground experience. Effective from 24th April 2021, larger business-to-business (B2B) events in the MICE industry are set to return to Singapore with up to 750 attendees (with Pre-event testing (PET)). All this in line with the safe and progressive resumption of economic activities in Singapore.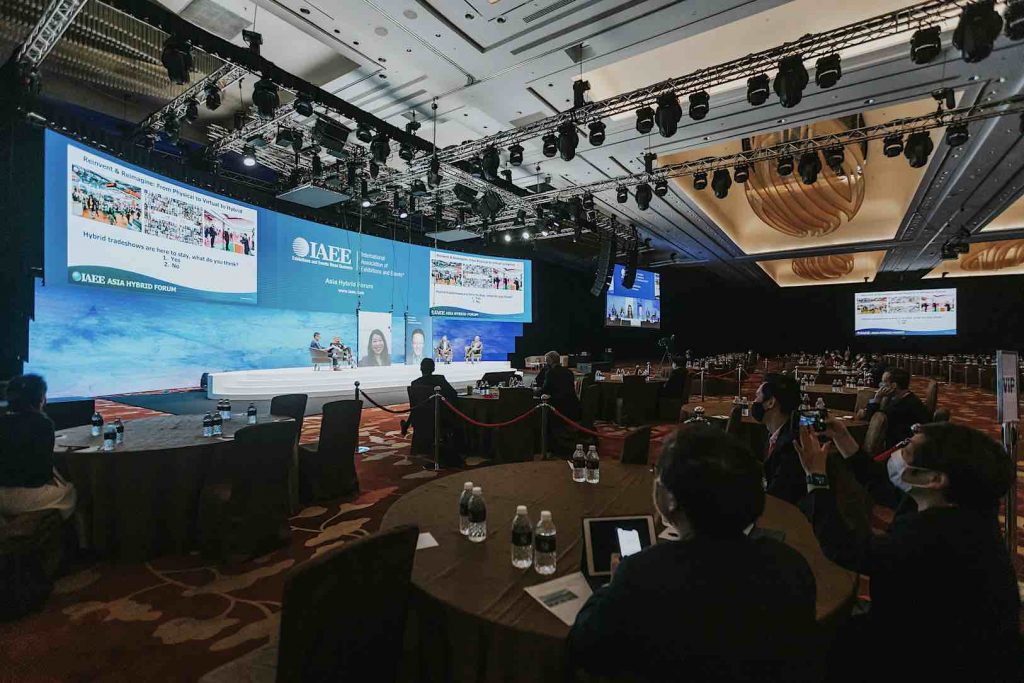 Previous successful major events concluded successfully
TravelRevive in November 2020 was the first major international tradeshow to trial the city's new hybrid tradeshow prototype for safe business events, safe itineraries, and digital enablers. With close to 1,000 attendees on-site, including some from overseas, the hybrid event brought to life Singapore's reimagined vision for safe, trusted and innovative business events.
The recently concluded Geo Connect Asia (GCA) 2021 featured new formats, processes and digital enablers to enhance safety, such as Geo Suites – where typical tradeshow floors were replaced by ballrooms converted into exhibition booths. Each booth catered to a single exhibitor, to minimise intermingling between different cohorts.
Other successful major events included IEEE (SMM & BEiS), APAC MedTech, Singapore International Energy Week, Singapore Fintech Festival & Singapore Week of Innovation and TeCHnology (SWITCH).
Schemes To Open up MICE Events Further
With support from Singapore Tourism Board (STB) and Enterprise Singapore (ESG), the Singapore Association of Convention and Exhibition Organisers and Suppliers (SACEOS) developed the Event Industry Resilience Roadmap (IRR) in October 2020. The aim was to establish best-in-class standards for safe business events.
The SG SafeEvents Certification, billed as a first-of-its-kind programme, was launched on 7th April 2021 by SACEOS during STB's Tourism Industry Conference. This new certification programme ensures that MICE and events industry upholds best practices such as hygiene and sanitisation, safe distancing and emergency management as events progressively resume in Singapore. Event organisers, venue owners and suppliers who meet strict benchmarks and maintain these best practices will be able to display a mark of assurance that they comply with the Singapore governments mandated safe-management measures.
A timeline on how Singapore has progressively resumed MICE events: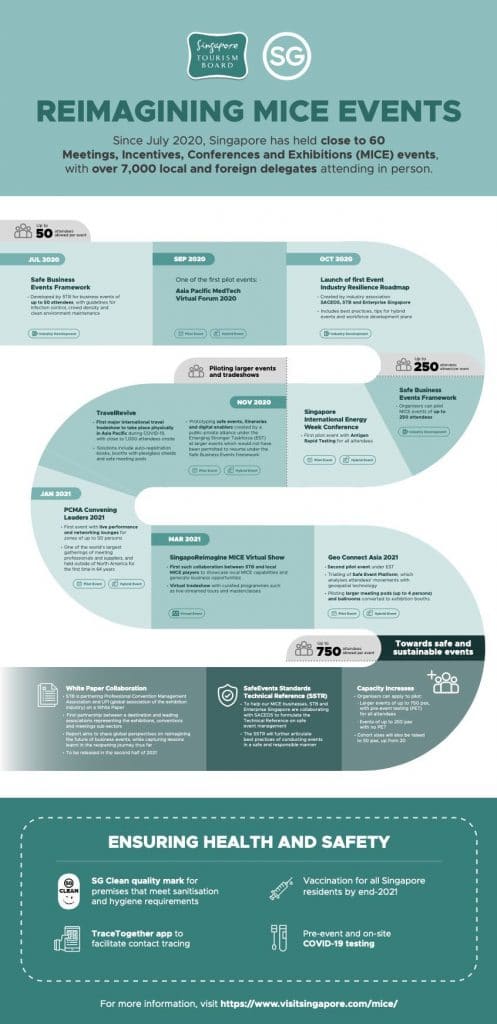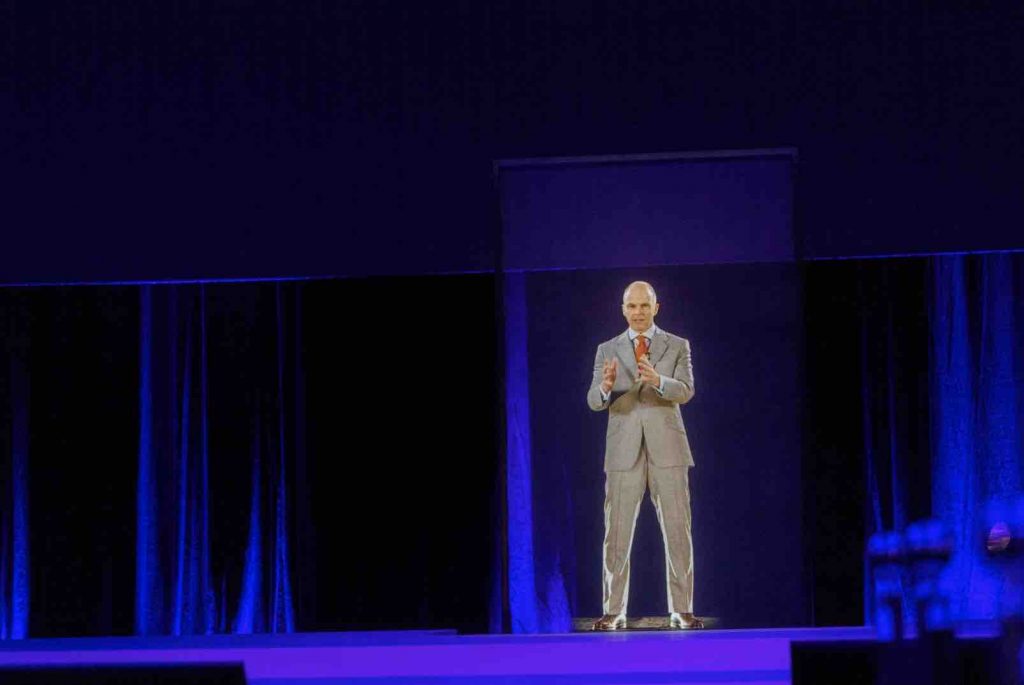 From TravelRevive November 2020: Welcome Speech Hologram by Dr Christian Goke, CEO, Messe Berlin, GmbH
Reimagine – the steps that Singapore is instituting to assure visitor safety
A reimagined safer Singapore for visitors through the SingapoReimagine initiative is also about creating a new safe standard for travel.
Reimagine Safety – Elevated health and safety measures based on new national standards. Steps include the SG Clean Quality mark, which requires tourism establishments to adhere to stringent levels of hygiene and sanitisation as well as Safe Management Measures (SMMs).
Reimagine Technology – Technology is at the heart of those efforts. From contactless technology and cleaning robots, to the TraceTogether app and token, Singapore makes travel safer, seamless and efficient. Virtual experiences, hybrid meeting venues and events, and even robot baristas are just some of the many elements you will experience here.
Reimagine City & Nature – Singapore aims to be the world's most sustainable urban destination with many exhilarating nature-based concepts such as Jewel Changi Airport and Gardens By the Bay.
Upcoming large events in Singapore
Since the launch of STB's Safe Business Events framework in July 2020, close to 60 events hosting over 7,000 attendees have been held in Singapore, with no reported cases of COVID-19 infection.
Many more are already lined up such as the Singapore Yacht Show, WFA's Global Marketer Week, and Asia's leading Infocomm Media and Technology event – ConnecTechAsia incorporating BroadcastAsia, CommunicAsia and SatelliteAsia.
For the full list of events in Singapore, see the online events calendar here.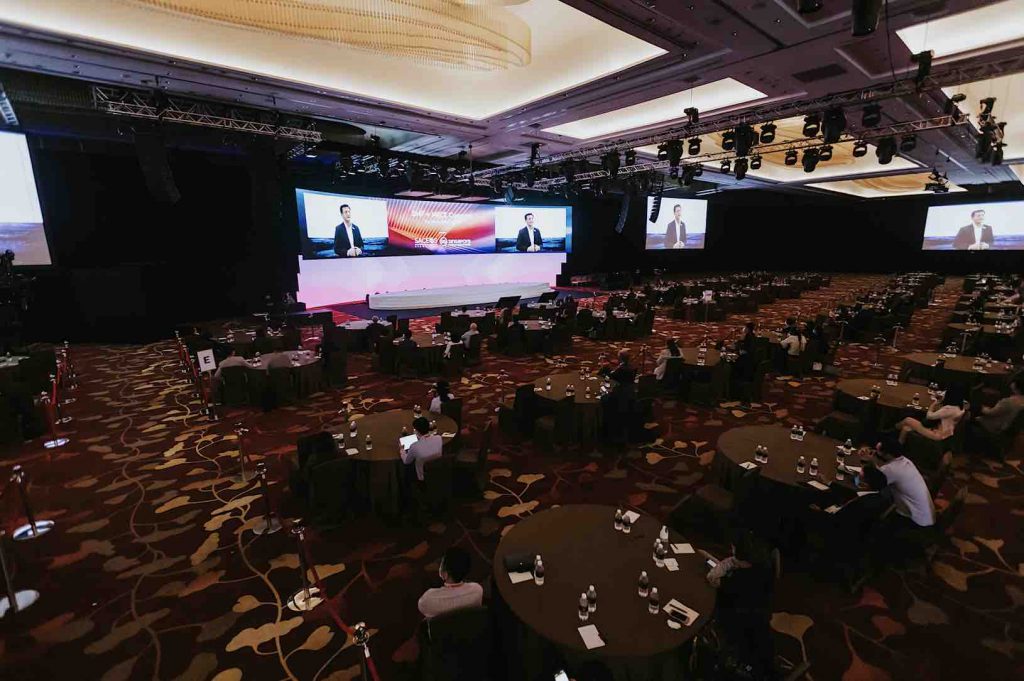 Find out more about MICE in Singapore
This short 1-minute video introduces some of the elements you can expect when hosting an event in Singapore. Worth watching.
The visit Singapore website holds a great deal of very useful information including travel requirements for tourists to Singapore
Contact information for event organisers
Your first port of call is the MICE information site with contacts and resources listed at the bottom of that page.