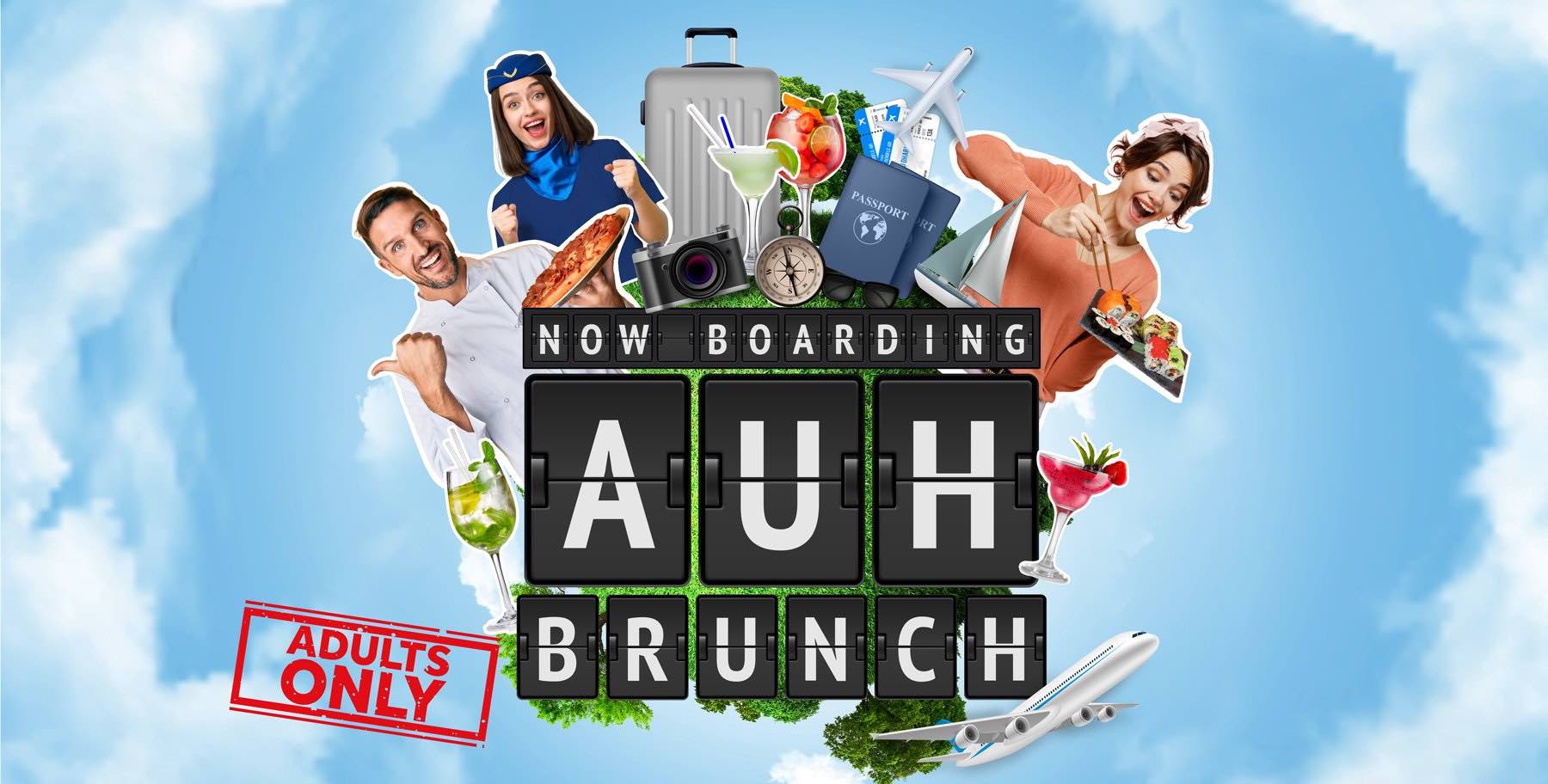 Adult fun Brunch! I could not imagine what the Marriott Downtown Abu Dhabi would be offering us but, I was keen to check it out. Being a city hotel I was not familiar with the property but from the self-parking in the basement, an experienced foodie couple and I took the lift up to Kuzbara restaurant where the brunch was being held. The couches and aeroplane seats near the entrance of the restaurant, gave the entrance a relaxed feel, but also made us anticipate what we would see behind the closed doors as a few of us had arrived early and anticipated what we would see.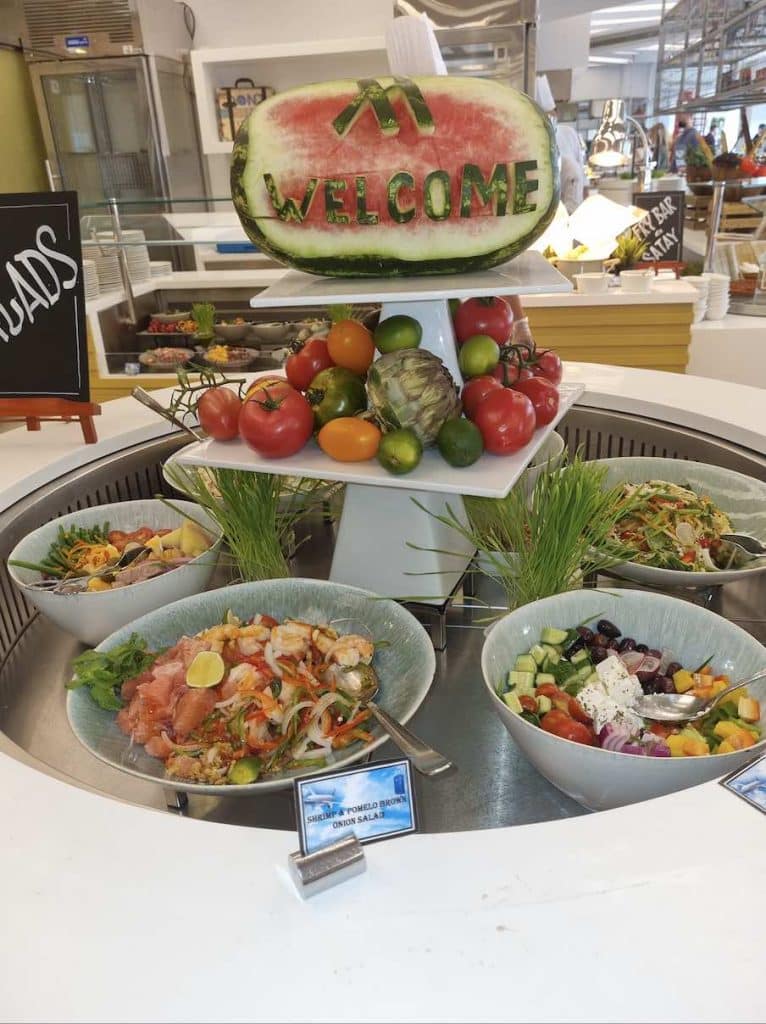 As the doors were opened we were greeted warmly by various members of staff. Behind them our eyes fell immediately on the orange and white Aperol spritz cart. Our welcome drink was served. The citrus flavors with a hint of vanilla topped with soda was just the drink we needed to get this flight started.
The tub of beers in ice and the throwback songs that the dj was playing reminded me fondly of family get togethers. The afternoon was starting off on a high note. On each table there was a game and a shooter glass or two, depending on what game you had. The Business class lounge satellite bar was where all our shots were made together with fruity presented gin and tonic. I was so taken by the fruits that I happily accepted to try out a glass till I got that first taste. Awesome presentation but I had to pass as it was a bit on the strong side for me.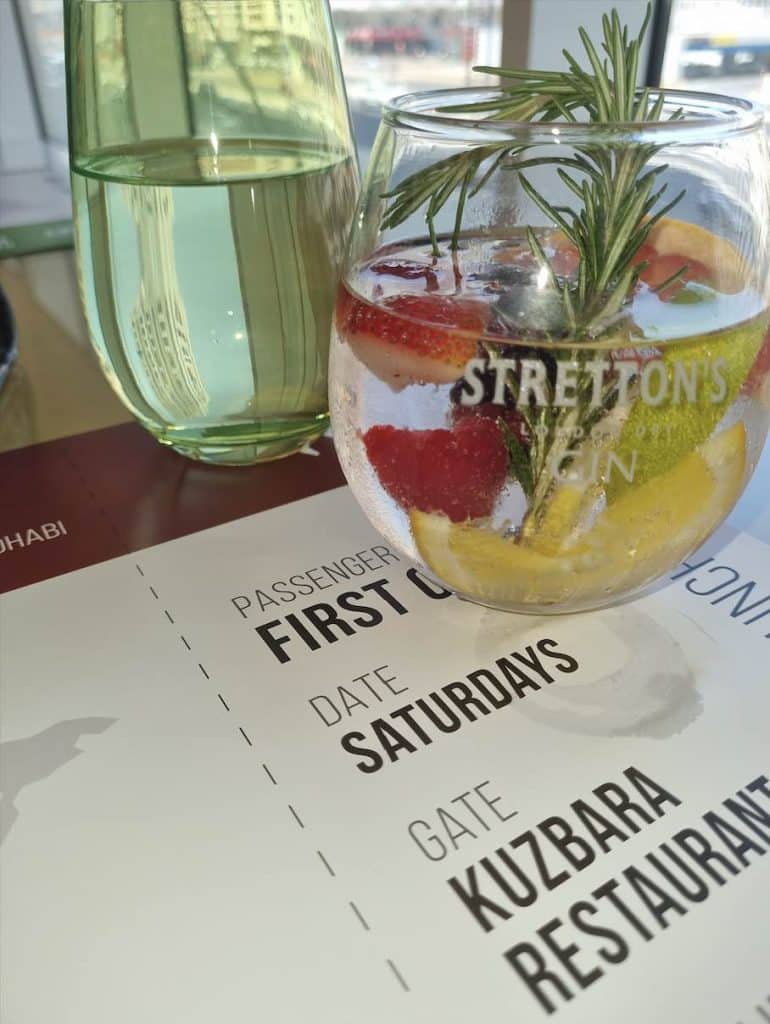 The spread was fantastic there was a bit of this and that, all the favorites of many of us. I decided to be traditional and start with the roast beef, roast lamb, roasted carrots, mash potato and steamed broccoli. The gravy that accompanied the roast was just right, full of flavor but not overpowering in any way, crisp carrots, and creamy mash potato got my taste buds singing with joy. The sushi rolls were lovely and so fresh. I am one of those people who like sushi but need it steamed or deep fried for me to enjoy it and I certainly did with my lobster tails on the side.
With my tummy already almost full I decided to stroll through the different sections of the buffet. The Foodie in me just had to admire and take in everything that was on display even if my tummy had no space left then my eyes certainly had space.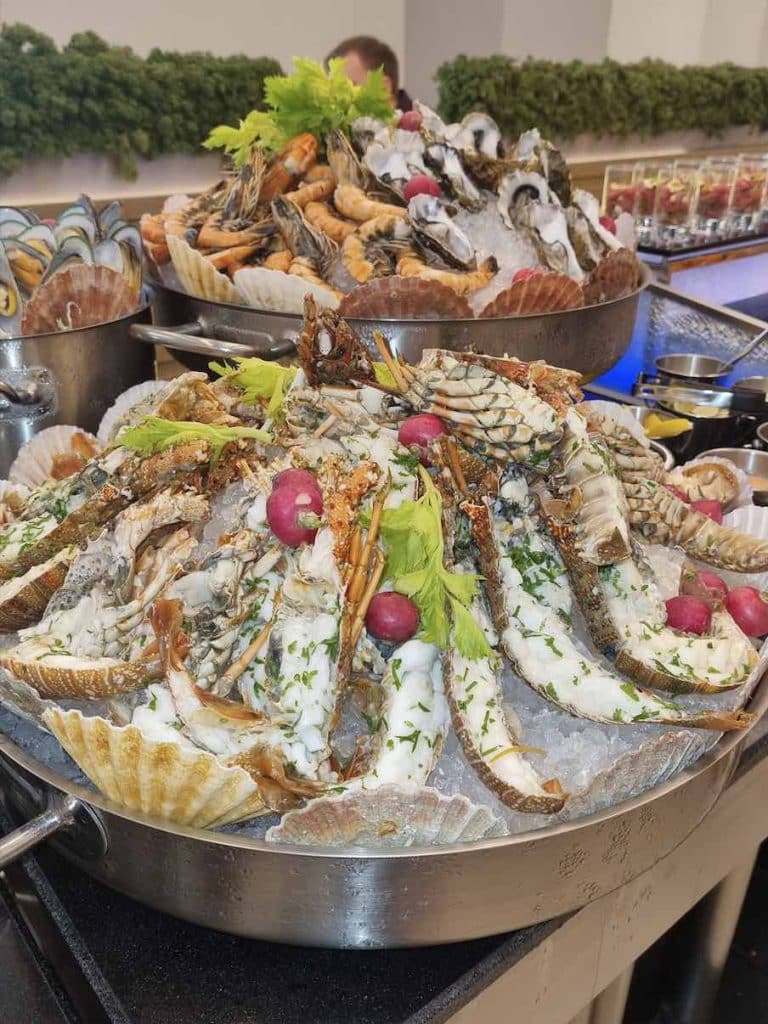 These are the stations that caught my eye freshly grilled seafood station, a lovely mini salad bar, a fast food section that had hot dogs, breakfast burgers, tacos together with a fry bar and satay section, a deconstructed salad section, desserts and a tandoor tawa chat section. They all looked so tasty but I just had to indulge in the fry bar and satay section.
Very interesting to me was the deconstructed acai bowl section, the smores bar, the gluten free and vegan section, and the cheese and bread station.  They had catered for the traditional foods that we like to indulge in but also the guilty pleasures that we like to indulge in every now and again.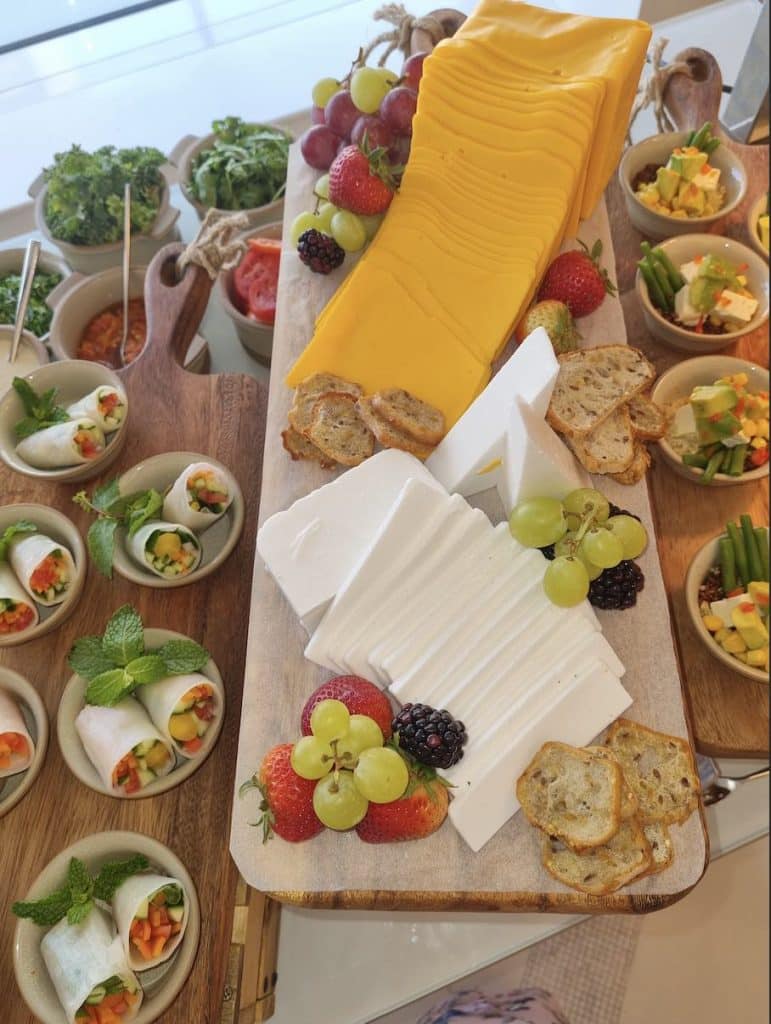 I finally got to try a smore not really my thing but after seeing in movies I was curious as to the hype about them. The gluten free and vegan dishes looked so inviting my compliments to the chefs, there was just so much variety of beautifully presented dishes. Our palates certainly travelled around the world as we tried a bit of this and that.
Toward the end of afternoon I had a slither of the delicious cheese cake and a refreshing virgin strawberry mojito. As the dj continued to get our feet tapping and hips swaying as we tried different sections of the buffet some of our fellow passengers aboard this lovely adult flight had already began to try out the games. There was also a section at the back of the restaurant with larger tables where various games where set up. Among one of the games was the ever so popular spin the bottle from back in the day.
Maybe next time I will try out the games section and be a bit more adventurous in my tasting of dishes. This is definitely an adult brunch, well thought of and needs to be attended more than once. So for all who would like try out an adult only brunch with great ambiance definitely make your way to Marriott Downtown Abu Dhabi and hop aboard that first class flight at Kuzbara Restaurant.
To book your seat at the AUH Brunch call 02 304 7777 or visit marriottdowntownabudhabilife.com/specials