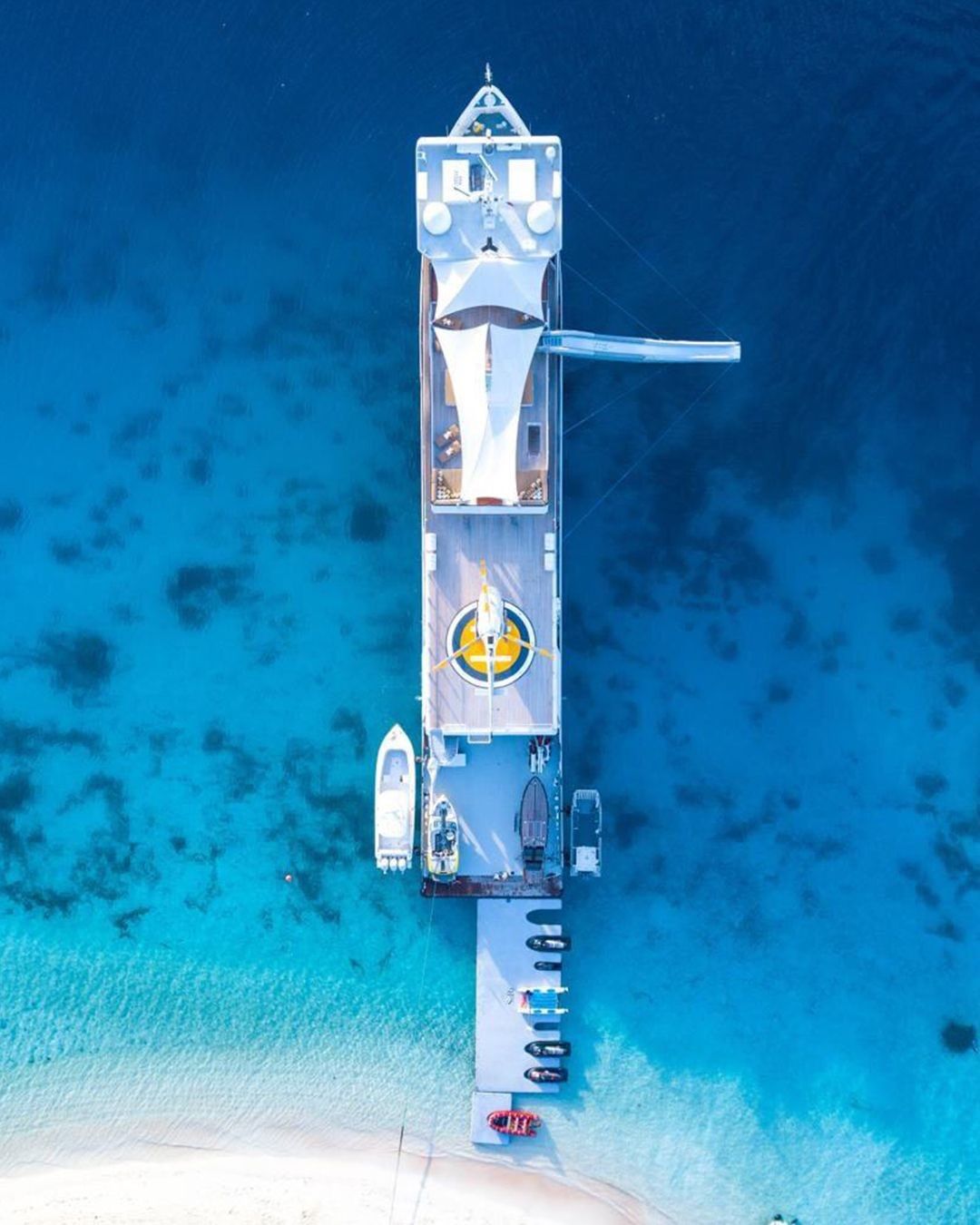 SURI is a beautiful 63-metre (208 ft) yacht built by Halter Marine in 1978 and refitted in 2007 and again in 2012.
Her owner is the investor and billionaire Richard Kayne, who makes SURI available as a charter yacht for a price of US $350,000 per week in both the high and low season. She is an expedition yacht suitable for cold climates and adventurous journeys, known for her wide selection of toys and equipment. The interior of SURI was styled by Jeffrey Botwin, and her exterior is the work of Joseph Artese Design.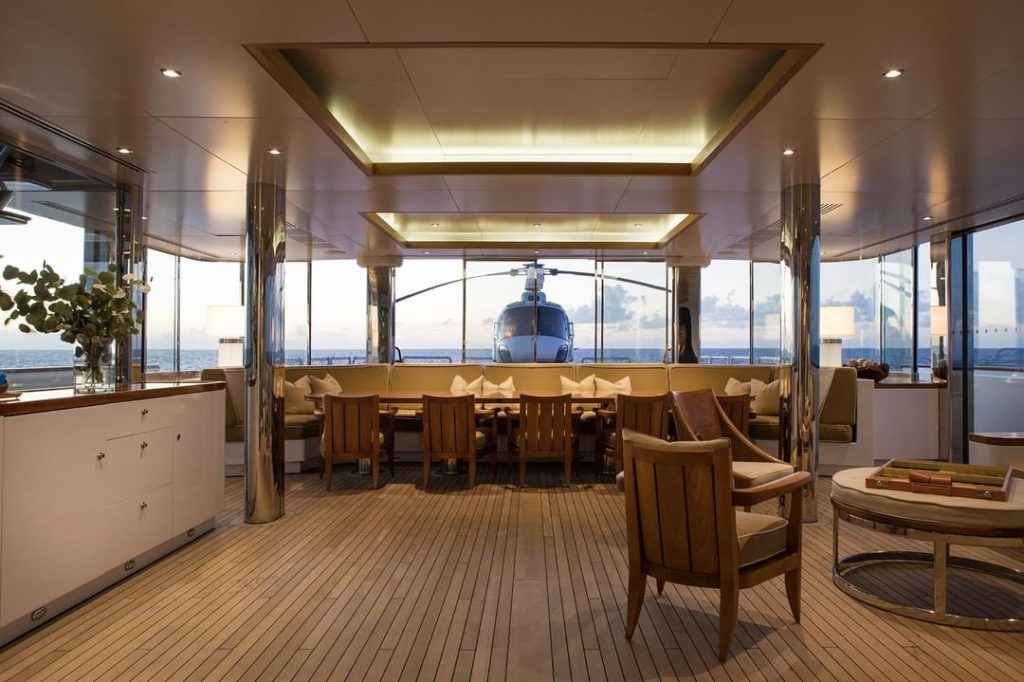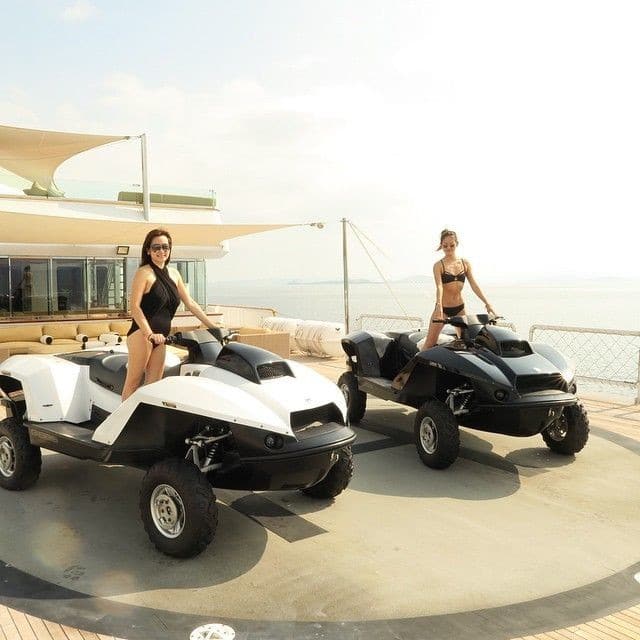 SURI interior
The interior of SURI has been described as having a beach house style with luxurious amenities and only the most high-quality furnishings. The American designer Jeffrey Botwin is responsible for the interior styling of SURI, and surprisingly she was his first and only major project in the superyacht industry. He mostly works on bespoke furniture and has been active in the fashion industry in the past, although yachts could be in his future plans for new ventures.

SURI was definitely a successful project for him as the yacht is widely popular as a charter vessel and is usually fully booked throughout the season. She can welcome twelve guests in seven luxurious cabins, which include a spacious master, four VIPs, one double and one twin cabin. All cabins are airy and bright, with light furnishings and ample space for luggage and storage. A lot of rooms aboard the yacht feature window seats, which provide comfortable seating and a fantastic place to sit while SURI is underway. Seventeen crew members find space on board and are available to tend to charter guests while they enjoy themselves aboard SURI.
The facilities on board the yacht include a spa, gym, yoga room and on-deck jacuzzi, although there is no pool. There is also a state of the art movie room with an updated entertainment system. Arguably the most interesting feature is a glass-bottom media room where guests can see the magnificent underwater world without having to leave the comfort of the yacht. This is especially popular in colder climates when snorkelling or scuba diving might not be possible. To enhance the experience further, SURI possesses a so-called feeding tube that allows fish food to be transported below the yacht, so there is always something to see underwater, even on quiet days.
The interior of SURI is styled according to a classic nautical theme with many wooden furnishings, cream upholstery and designer furniture. In some places, the original features of the former crabbing vessel were updated and improved but not removed entirely to allow the yacht to keep its charm and unique style.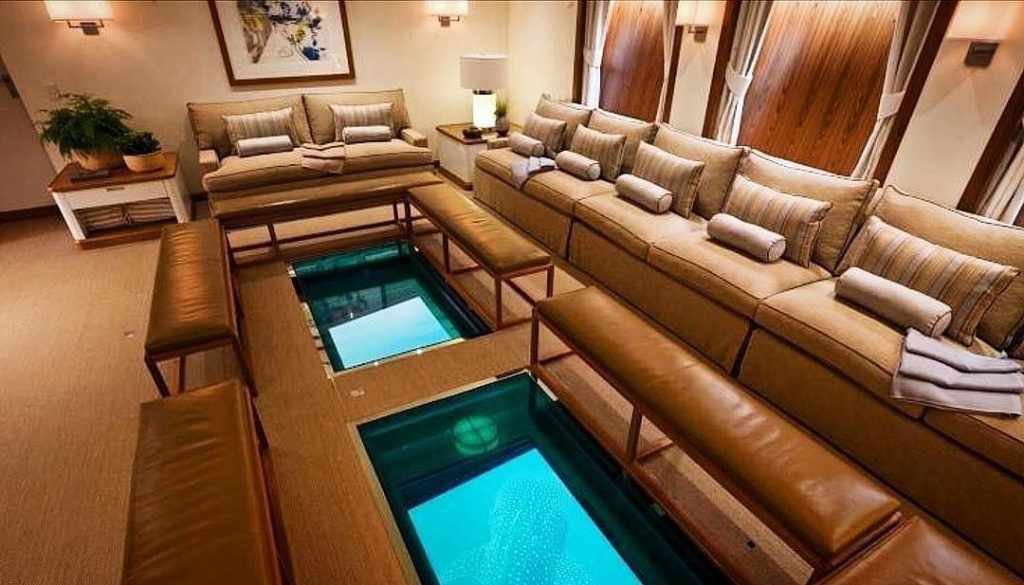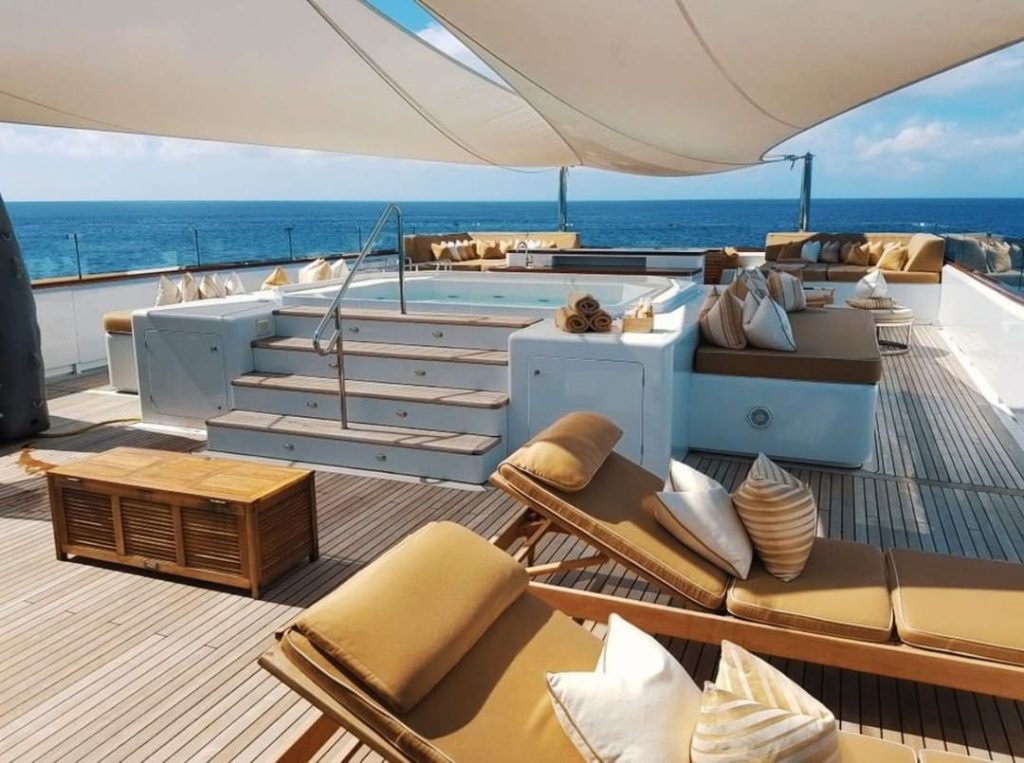 SURI specifications
After her 2012 refit, SURI now has a total length of 63 metres (208 ft), a beam of 11.6 metres (38.1 ft) and a draft of 3.35 metres (11 ft). These measurements make her the ideal expedition vessel since she is large enough to carry a good selection of equipment and provide luxurious amenities for her guests but still easy to navigate and maneuver even in shallow waters. Due to her being a former crabbing vessel, SURI is a sturdy yacht that can handle rough conditions in hostile regions like the waters around Antarctica.
She is powered by twin Caterpillar engines which allow her to reach top speeds of 13 knots, and she cruises comfortably at 11 knots. SURI might not be the fastest superyacht, but she is reliable for long distances, and her strengths lie elsewhere than her speed. She has an impressive range of 9,900 nautical miles and is the ideal yacht for those seeking unusual destinations that go beyond typical charter trips. SURI has a full displacement hull which allows for maximum stability both at anchor and when underway. She has a steel hull and aluminium superstructure adding up to a total volume of 1,352 tons. Her 241,260-litre fuel tanks and 28,450-litre water reservoirs allow for complete autonomy and long excursions without having to replenish supplies at a harbour.
SURI exterior
SURI was designed by Joseph Artese Design, a renowned Seattle-based studio specialising in both the exterior and interior layouts of superyachts. They were responsible for refitting the former crabbing vessel and converting her into a luxurious superyacht with high-end facilities. SURI still has some design elements reminiscent of her commercial days, and she sets herself apart from other traditional charter yachts by her unusual shape. Her superstructure is located towards the bow of the vessel with two large, open decks. The lower of the two can be used as a spacious helipad that allows even larger aircraft to land comfortably.
On the aft, a swimming platform can be extended from the vessel, and there is plenty of storage space for water toys and tenders. SURI is an all-white yacht with relatively small, square windows, protecting her guests from rough weather conditions and allowing maximum levels of privacy. She provides spacious deck areas with comfortable seating opportunities accompanied by fantastic views. The upper deck is one of the most prominent outdoor spaces that can be covered by large awnings if required. There is an on-deck jacuzzi and an outdoor bar, as well as a generous dining table that can seat even large groups. While the yacht's superstructure is located very close to the bow, there is still a small private deck tucked away below the bridge, which is the ideal place to watch the sunset.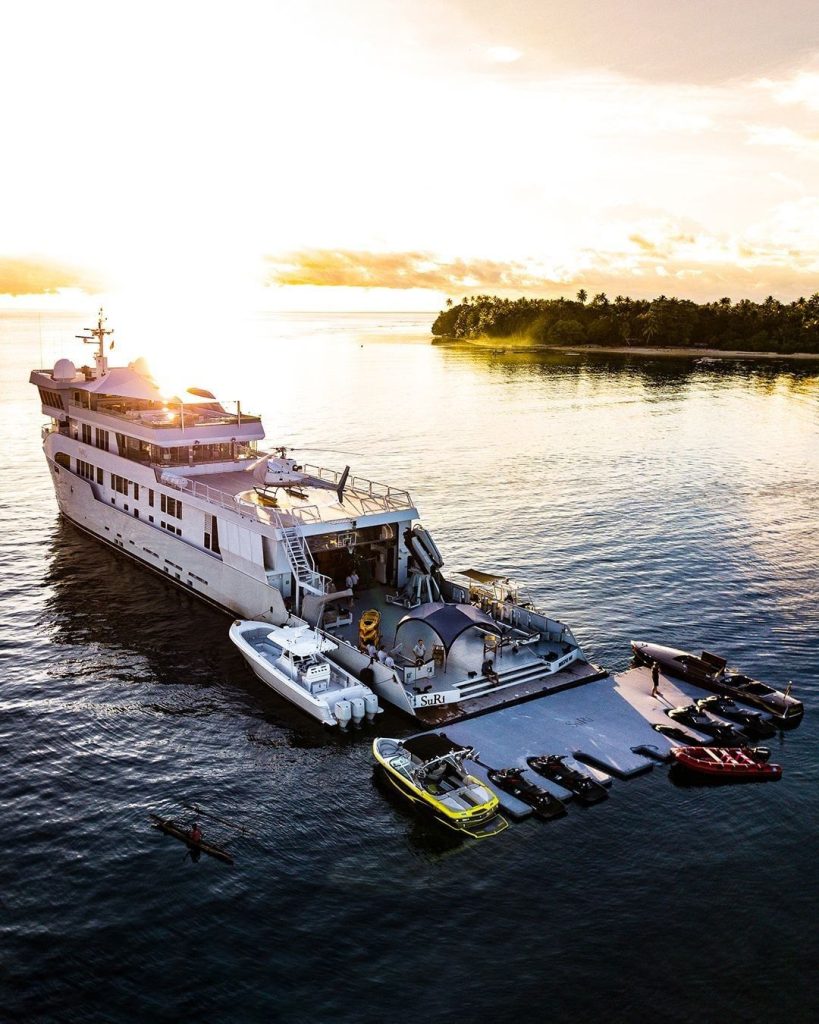 SURI toys and equipment
As a charter yacht SURI carries a great variety of toys and equipment on board and has been described as "the ultimate toy box", which is just one reason why she charges a premium charter price. The list is long, but most notably, the yacht has five jet skies, two of which can be used standing up, two seabobs, three stand up paddleboards, water sky equipment, nine surfboards of varying sizes, a wake board, three kayaks and a small sailboat. She also has an array of inflatables, including a banana, towable toys and a large water slide for guests to enjoy.
It goes without saying that there are high-quality snorkelling equipment, scuba diving equipment, fishing supplies and towable toys on board the yacht. More unusual features include four rowing boats and a hovpod hovercraft. She also has a variety of land vehicles, such as four electric bikes and two BMW scooters. During charters, SURI comes with a Squirrel Helicopter that seats four passengers in addition to the pilot and a Searay amphibious seaplane that is able to dock on the aft of the impressive yacht.
If all these features aren't enough to entertain guests, they can utilise one of SURI's five tenders to go on land excursions or explore shallower waters. Her largest tender is an 11.28 metre (37 ft) Intrepid Center Console Cuddy with twin Yamaha engines that can reach top speeds of 45 knots. There is a full bathroom, including a shower on board, and the vessel is ideal for longer fishing excursions.
SURI price
SURI was purchased by her current owner Richard Kayne for an estimated US $45 million in 2007. He had her refitted twice, once in 2007 and again in 2012. Originally she was a commercial vessel named FIERCE CONTENDER and used for crabbing. SURI was launched in 1978 but completely refitted at Yacht Escort Ships boatyard by her owner Richard Kayne for an unknown price. He had her converted into a shadow yacht to accompany and support his then vessel JEMASA. In 2012 he decided to have her refitted yet again, this time at the Bay Ship & Yacht Company yard in California and in the process even extended the length by 11 metres (36 ft) to a total of 63 metres (208 ft). This was quite an unusual refit during which the vessel was cut in half, and the additional length was added in the middle. In 2017 Kayne listed the yacht for sale, although there have been no reports of a change of ownership since then. SURI is available for charter at a weekly price of US$350,000 and incurs estimated running costs close to US $4.5 million.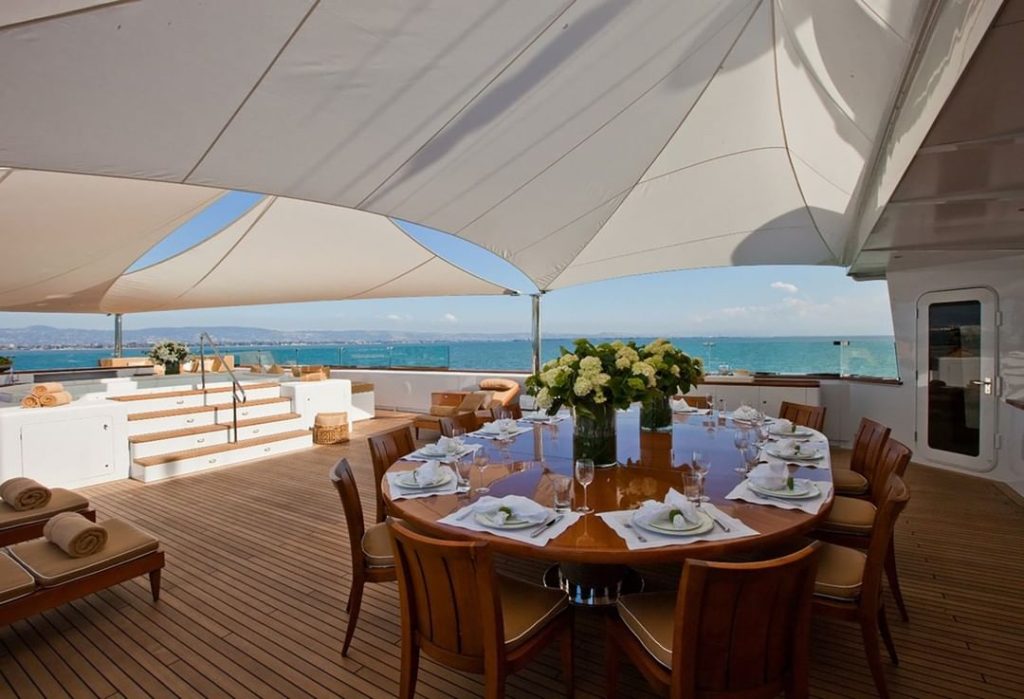 SURI owner
The owner of SURI is the billionaire investor Richard Kayne who co-founded Kayne Anderson Capital Advisors. Born in 1945, he graduated from both Stanford and UCLA, he began his successful career working as an analyst. Today, Kayne has an estimated net worth of US $1,3 billion which can largely be attributed to his financial advisor company which is responsible for managing more than US $18 billion in private investments and funds. Kayne has many investments in real estate, new energies and healthcare. In 2015 his company was sold for a reported US$ 2,6 billion raising Kayne's net worth considerably.
Together with his wife Suzanne Kayne, the 76-year old billionaire lives in Santa Monica in a beautiful mansion with an adjacent golf course. In addition to his yacht, SURI Kayne also owns a Canadair Challenger private jet. He originally purchased SURI to support his previous yacht JEMASA which has since been sold to her new owner Hadia Abdul Lateef Jameel, for an unknown price, who renamed the vessel HADIA. JEMASA was named after Kayne's three daughters Jenny, Maggie and Saree. The name SURI was created by combining Suzanne and Richard.
Yacht Charter
The SuRi yacht is available for sale and charter, for more information visit: https://mysuri.com/