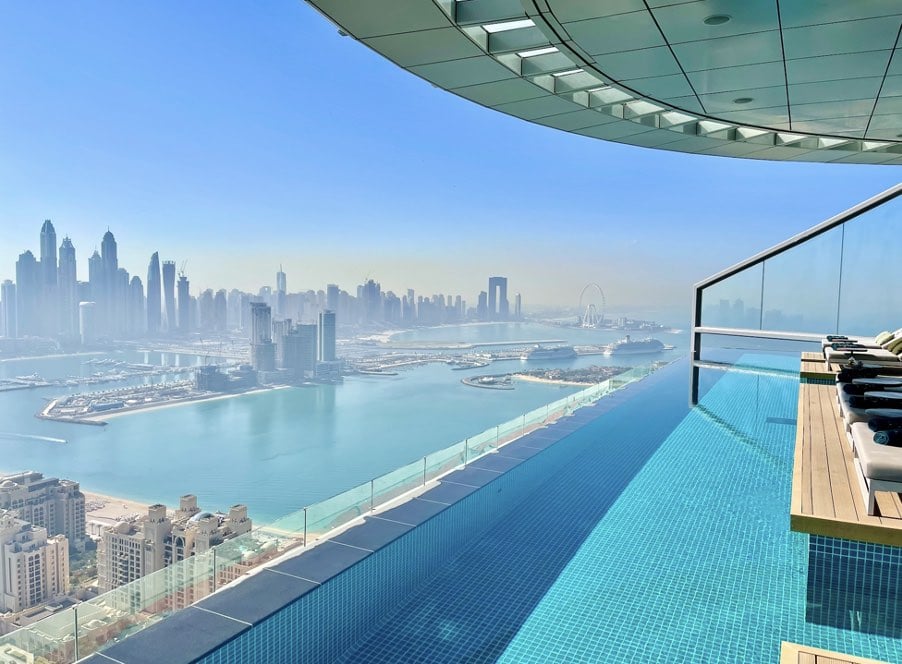 Roof-top pools are not exactly new, we been to many, Singapore, Miami, Vegas and even London puts in an effort. Aura however is in a completely different league and leaves the rest for dust. It's got to be the most recent stunning addition to Dubai and must be experienced.
The Aura Sky Pool Lounge is some 200 meters up in the air on the 51st Floor. Entry is found second door to the right from The St Regis The Palm. The lift is an express type and shoots you there in a mere few seconds so no hanging around.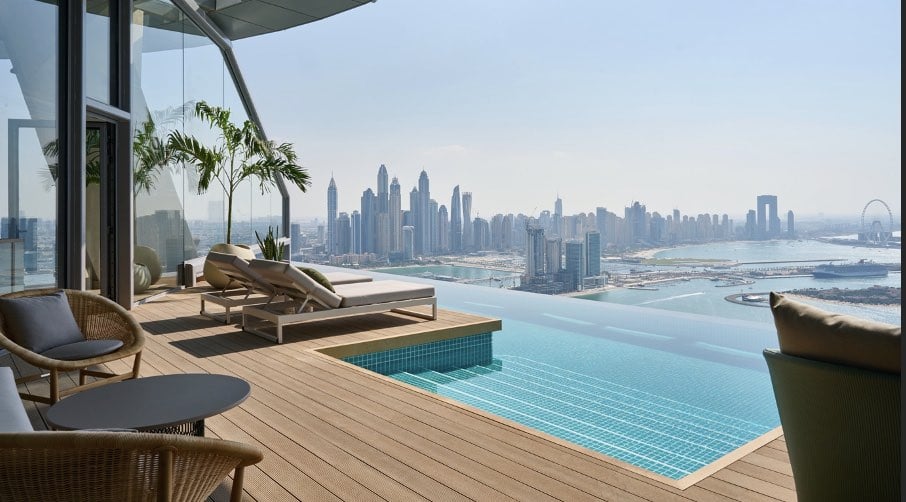 As you enter to your left you have a glimpse of the skyline which looks to the downtown area while a brief a check-in is required. Walk a short way into to the main lounge area and the left-hand stairs lead down to the changing rooms, while another set of lifts to your right will also take you there.
" Aura is just flat out impressive, the scale of which is impossible to judge by pictures or video, let alone from the ground"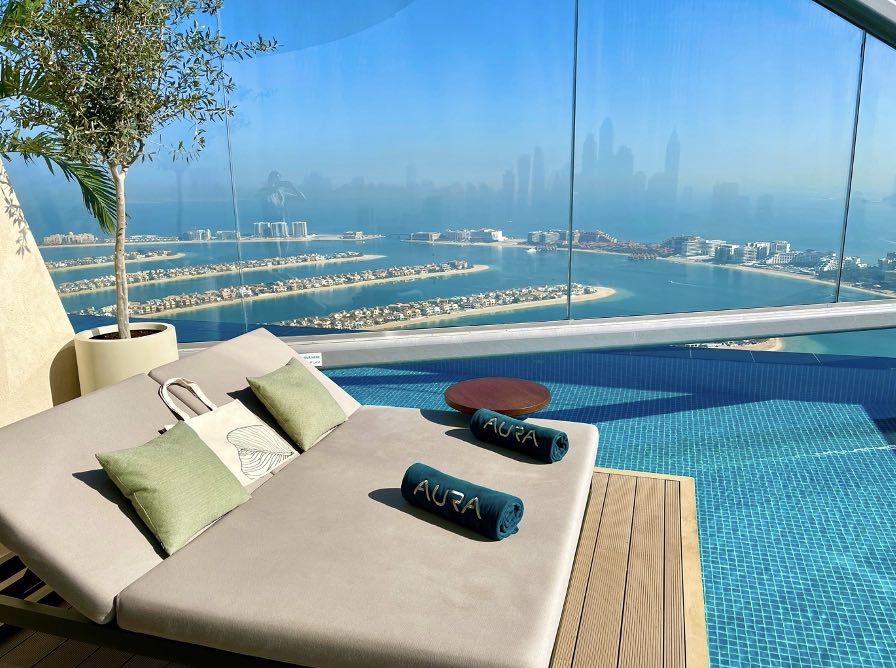 As you reach the lounge and turn right the spaciousness of Aura seeks to impress and indeed it does, square on. Its scale is impossible to judge by mere images or video – let alone from the ground. Vast open sections give way to a decking area that would not be out of place in a resort. We could not help but stop in our tracks and just take in the sunlight pouring in through the backdrop provided by the skyscape of Dubai.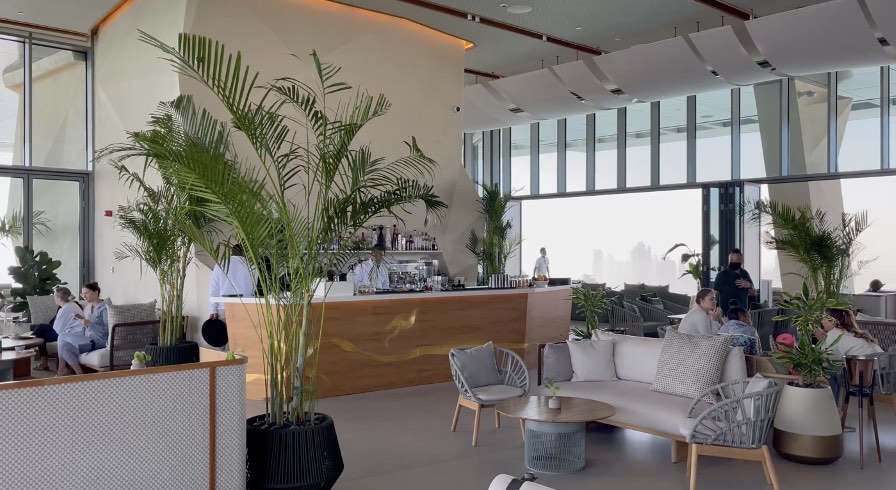 Sunbeds are plentiful, different rows with the first right on the pool side itself. We are led to our beds down the far-right side and sit speechless for a moment taking it all in
Post our expressions of amazement, we go on a quick tour and look around. Size is something Aura didn't skimp on and the pool deck behind us facing straight up the Palm looking square at Atlantis is of considerable width that it requires its own bar – always a good thing. Again, multiple rows of beds giving everyone a landscape view of the Palm. The 360 degree pool could have been a gimmick but is not – it is big, deep, wide and you could swim two people side by side around the entire building if you wished.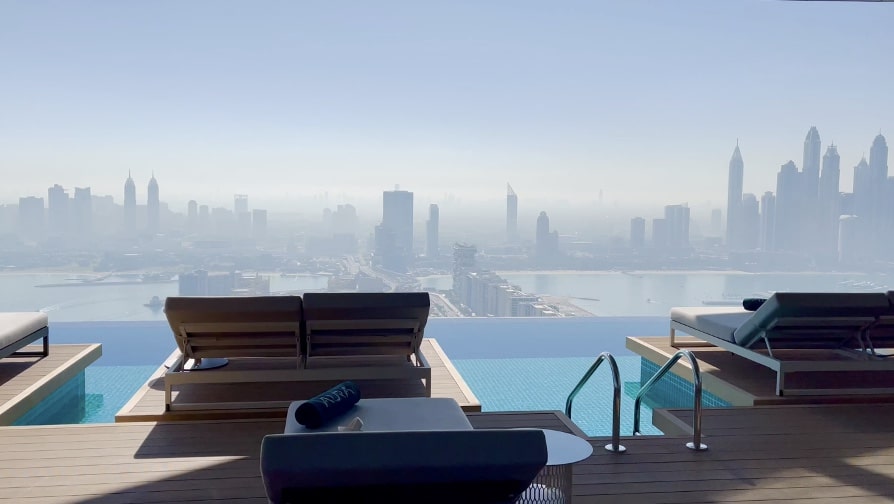 We make our way through a few cocktails and glasses of Rose while tasting the delicious seabass and truffle fries all served perfectly by attentive staff. Music is spread all around and there is provision for a DJ. The sun begins to set and since we are so high up you can see the change from bright white to golden and then to red before it sinks out of view leaving that post evening glow all over
We visited Aura on a weekday, and it was busy, energetic but somehow chilled and we were just not prepared for the impact of the experience. For once pictures and video just don't come close.