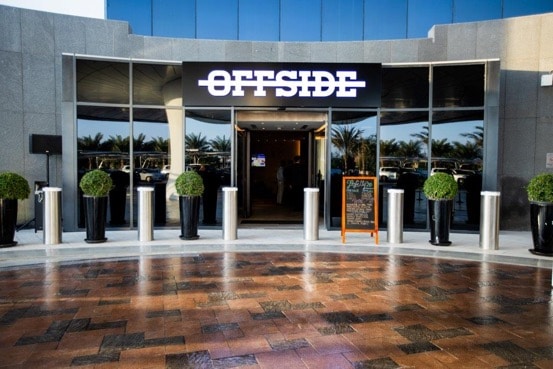 A great sports bar gives you a lot more than just TV! Live rock music Thursdays with The Boxtones and a fun Quiz on Wednesday. Great atmosphere, really superb food, 11 screens and dog friendly too! Offside Sports Lounge on Saadiyat Island. Be there.
A great sports bar offers more than just beer and sports TV. You want atmosphere, comfy seats, great food from an amazing menu and super service. You get all that and more at:
Offside – the new place to chill and shout at the screen!
At Offside Sports Lounge on Saadiyat Island, just off the beach at the Jumeirah at Saadiyat Island Resort.
Great for couples, families with kids, singles, big groups of friends, and DOGS. Yes, it's pet friendly and even offers a special food menu for dogs. Smoking outdoors only. How unique is all that?
11 Screens
Giant 5×3 metre projector screen
Fish & chips with mushy peas, chicken wings, Wagyu burgers, bangers & mash, Black Lip mussels, steak Diane, lamb ribs, smoke salmon . .  + sticky date pudding, bread pudding . . The menu is really good with lots more to suit all the family.
Football, F1, Tennis, Rugby, Golf and loads more
Brilliant venue to watch 6 Nations Rugby with mates
Lots of bar games & pool table etc.
Happy hour AED 20 on selected beverages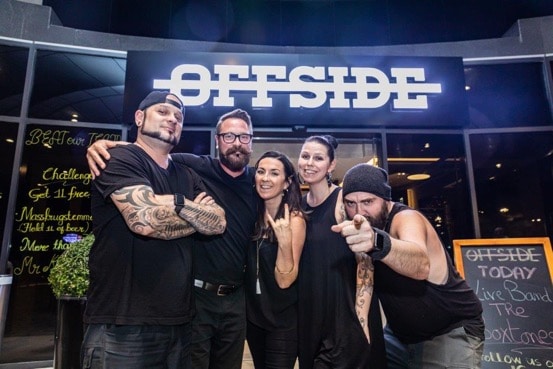 Offside rocks on Thursdays with The Boxtones live
The Boxtones create rock music underpinned with Celtic song writing. Filtered with progressive sound and pounding rhythms, they renew your life juices.
Irresistible stuff.
They appeared with The Stereophonics, Pharrell Williams, The Who, Bryan Adams, Kaiser Chiefs, Travis, Liam Gallagher and lots more Big Names.
Hear a preview and visit the Boxtones website.
Rock on with the band and get 50% off your meal every Thursday. From 6PM – 10PM.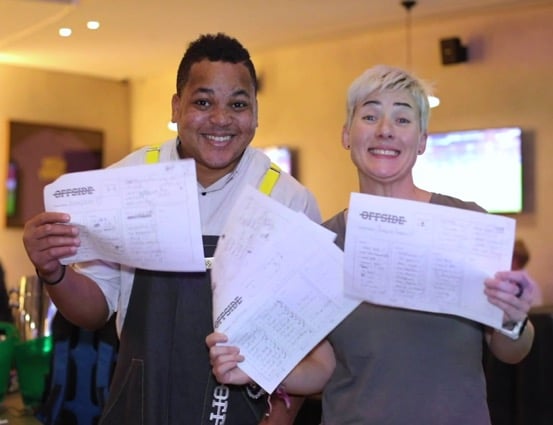 Wed night is Quiz Night with Sonya Mac
If you have active brain cells you will enjoy this. Individuals or teams welcome. Lots and lots of prizes.
It's a really fun evening and the Happy Hour helps to make it even better
Free Entry
Every Wednesday, 8pm
Happy hour: 5 to 8pm | AED 20 on selected beverages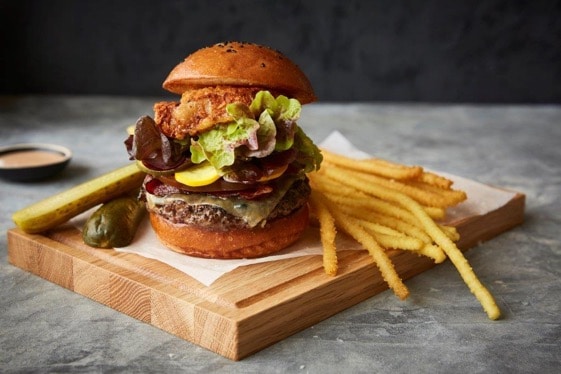 More info
Visit the Offside website and see the great menu.
Opening Times: Sun & Tue–Thu 17:00 to 01:00, Happy Hour 17:00-20:00 | Fri–Sat Midday to 01:00, Happy Hour 12:00-20:00 | Closed Mondays
Where: Off the beach, Jumeirah at Saadiyat Island Resort
Dress Code: Casual