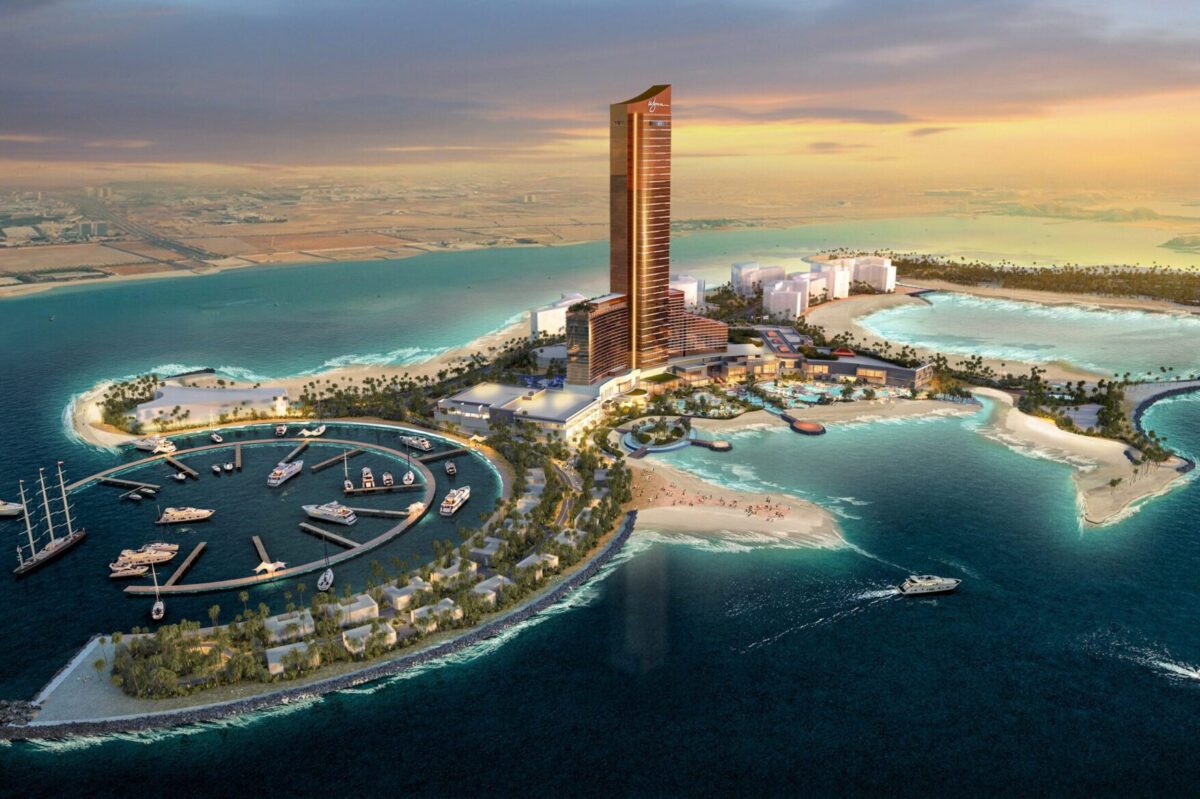 All bets are off as the region welcomes its first ever Wynn Resorts location.
There's been talk of casinos opening in different emirates for the last few years, and the location at the Wynn Al Marjan Island was announced earlier this year as the first official location, with a special governing body being set up to create and manage the regulations for commercial gaming. Here's everything we know so far…
Why the Wynn Al Marjan Island?
Al Marjan is down at the Sharjah and Ajman end of Ras Al Khaimah, and if you're not familiar with this sleepier (than Dubai) emirate, it's known for staycations and the odd beach party away from the much noisier Dubai. It's an easy drive from Dubai however, and will take you about an hour to drive to the island, which is actually four separate man-made islands spread out over 2.7 million sqm of reclaimed sand. This is the first hotel from the Wynn Resorts group in the UAE, and Craig Billings (the CEO) said: "On the development front, we were excited to begin construction on Wynn Al Marjan Island, which we believe will be a 'must see' tourism destination in the UAE."
While the resort won't be officially open until 2027 (boo) work is already well underway.
What gaming will be available at the Wynn Al Marjan Island?
Given that the UAE is creating a brand new governing body to authorise and maintain the gaming standards, and CEO Craig Billings also mentioned that the UAE site would be bigger than even their original site in Vegas, we'd take a serious 'gamble' on the resort having actual licensed games – time to place your bets?
What else is special about the new resort?
Well, by all accounts the resort is going to be a mega structure, with its tower soaring 350 metres above the sea, which is going to be a feat of genius architecture on an island. For comparison, the tallest structure Dubai's Palm Jumeirah is only 240 metres high (nothing is ever the biggest in this part of the world for long!) There's also space for day trippers and international guests with 1,500 rooms, suites and villas. No wonder the estimated cost of the project is USD 3.9 billion (or AED 14.32 billion).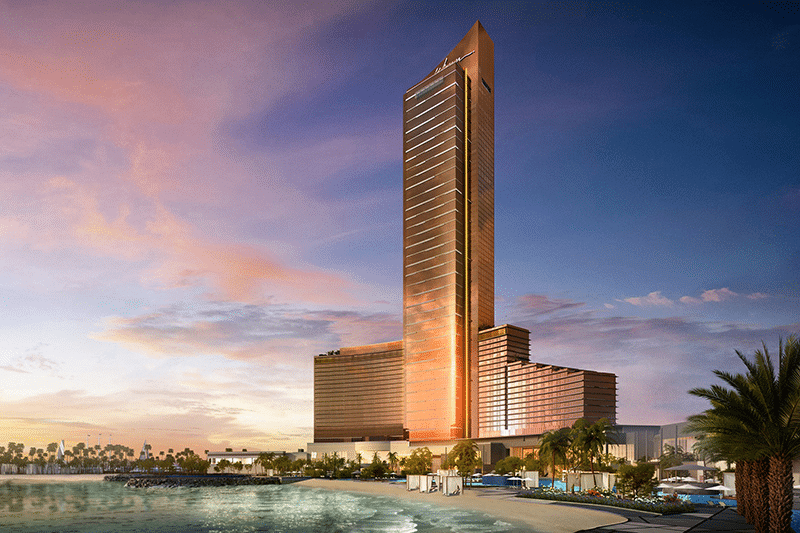 What dining options can we expect?
While the specific outlets have yet to be finalised, we can expect the same globally superior brands from Wynn, and current reports suggest that there will be a total of 24 food and lounge locations. Epic hospitality is one of the things that makes the Wynn Resorts brand widely acclaimed, and their current portfolio in Vegas includes brands like Cipriani, Sinatra, Mizumi, Wing Lei, Steakhouse and Sarah Thompson's Casa Playa – it's exciting to think of these brands reaching the sandy shores of RAK.
What about entertainment?
Fun and games aside, there will be live theatrical performances and unique creative productions featuring international artists and musicians, light and laser shows, nightclubs, world-class shopping (though they'd struggle to beat The Dubai Mall's offering), incredible spa and wellness facilities and so much more.
2027 can't come quickly enough.