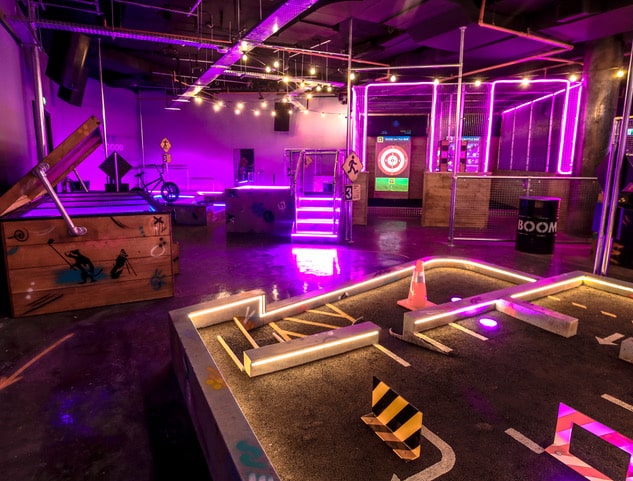 Boom Battle Bar has Arrived in Dubai: Let the Games Begin!
Dubai has a new hotspot in town, and it's making a loud entrance. Boom Battle Bar, with a thriving legacy of 25 branches in the UK, has opened in the DoubleTree Hilton at JBR. Located in a cool, warehouse-style setting, this venue radiates a neon-lit, industrial-chic vibe that's impossible to ignore. And to keep the energy up, a DJ spins nostalgic R&B beats, setting the stage for an unforgettable night.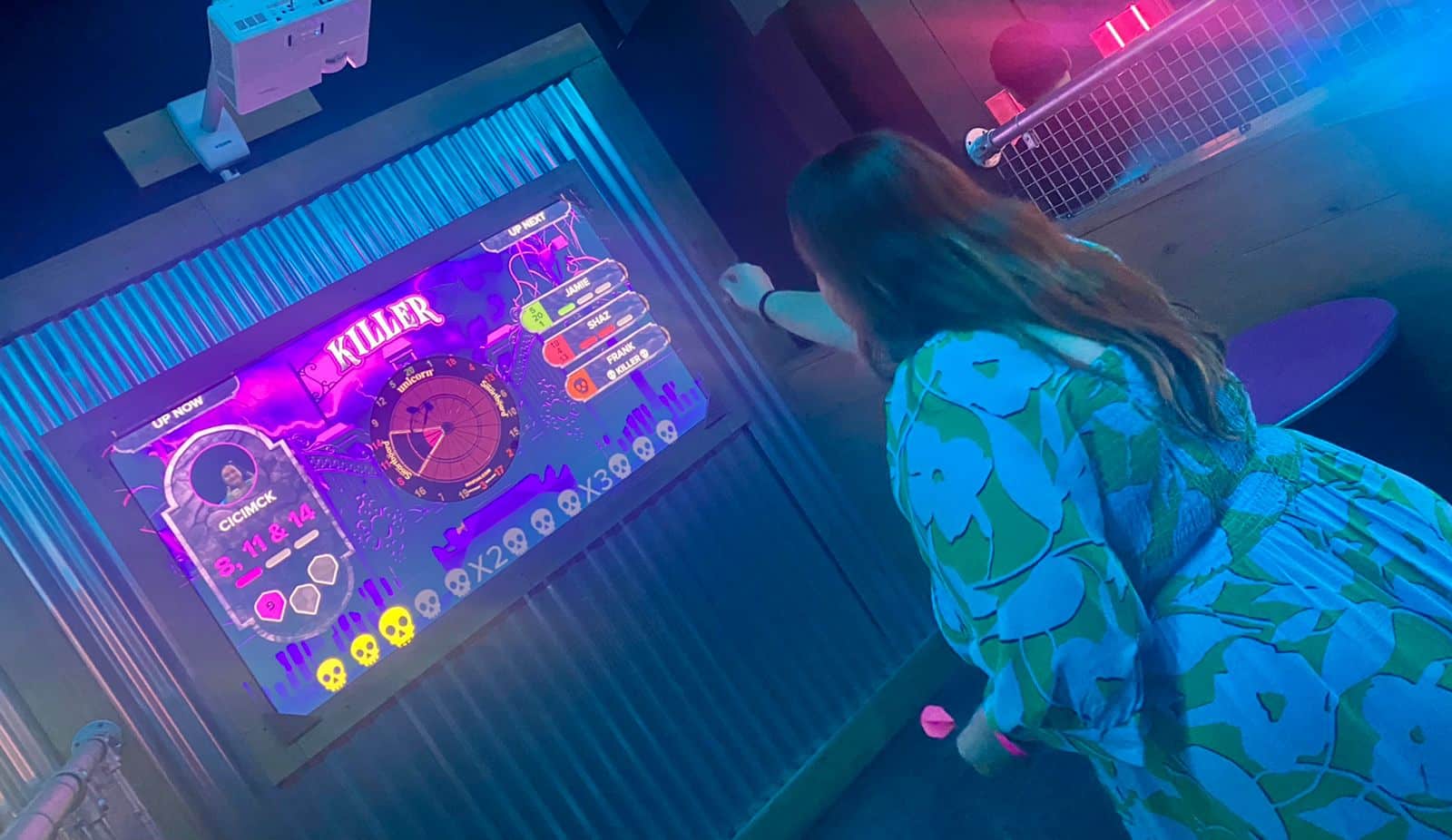 What's the main attraction, you ask? Games, and plenty of them! Whether you're out with a friend or on a date, Boom Battle Bar has something for everyone. Take your pick from a selection of exciting games, including Augmented Reality Axe Throwing, Crazier Golf, Augmented Reality Darts, Beer Pong, and Shuffleboard. And if you're a budding superstar singer, fear not – karaoke is on its way!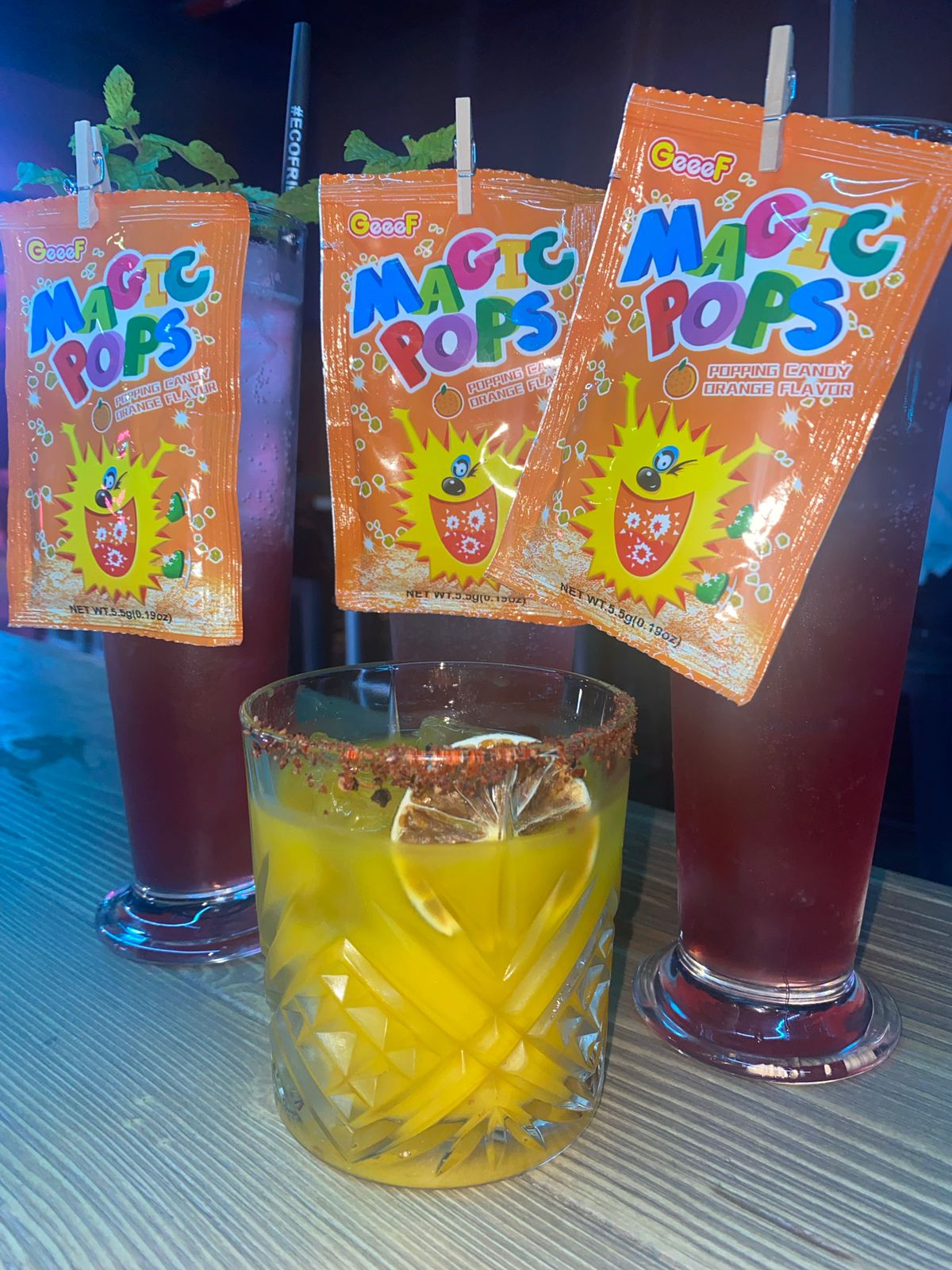 Our adventure at Boom Battle Bar began with a sense of curiosity and excitement. First up, axe throwing. But before you unleash your inner lumberjack, you'll need to sign a waiver and adhere to a strict "no alcohol before axe-in-wall" rule – a wise move. An experienced guide was on hand to teach us the art of axe throwing, with real axes, no less! After some practice, we were ready to aim for the bullseye. Once we had our fill of traditional axe-throwing excitement, it was time to delve into the world of augmented reality games, where we hurled axes at virtual zombies.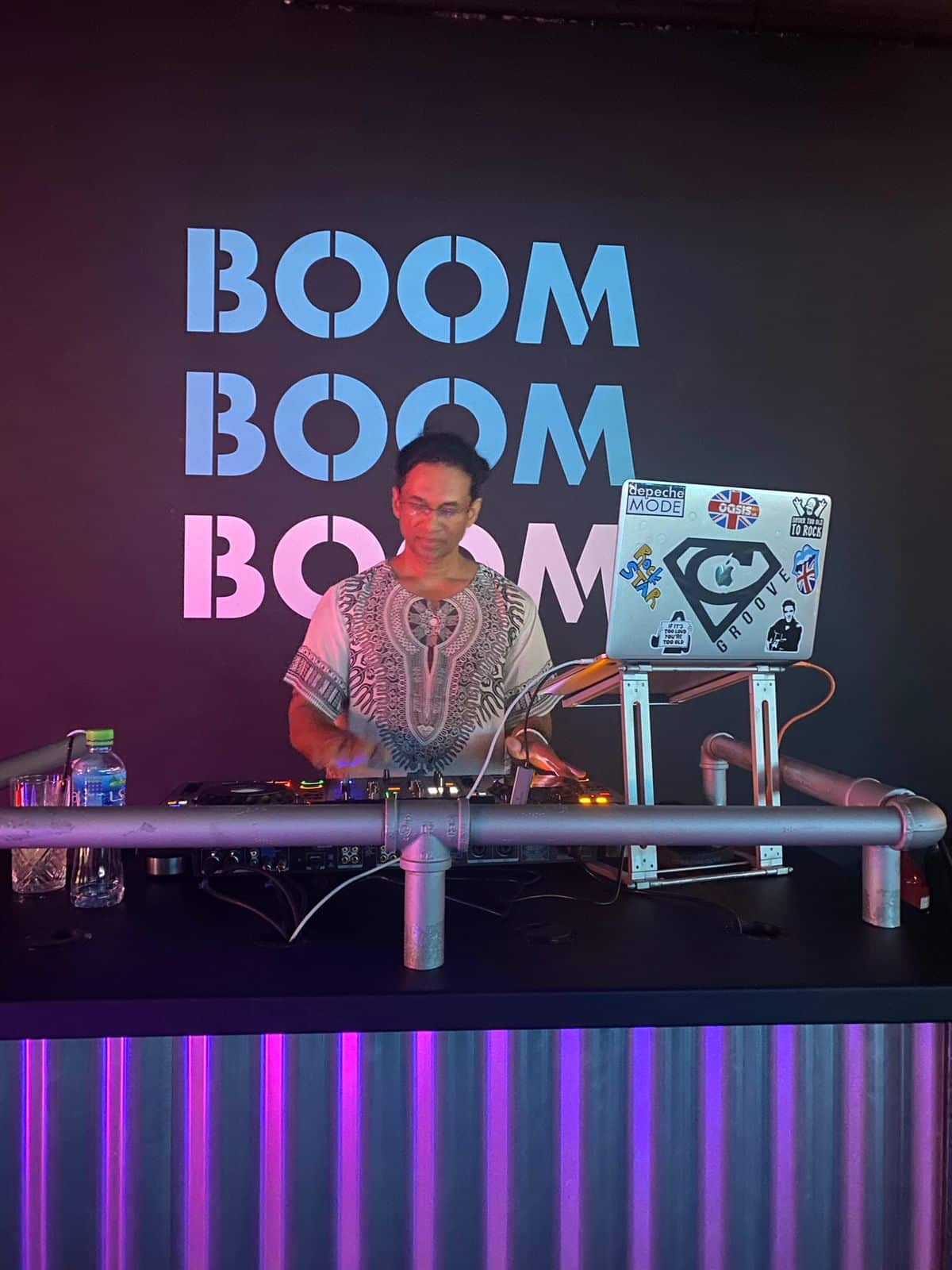 With our axe-throwing adventure behind us, it was time to quench our thirst. Boom Battle Bar boasts an expansive cocktail menu, and staff were quick to recommend the spicy margarita. For something a bit different, we also tried the fruity Boom cocktail, complete with a side of crackling candy this truly was a taste explosion.
Next on our gaming journey was augmented reality darts, taking the traditional pub game to the next level. Various games were on offer, and we opted for a competitive round of "killer" – a game focused on eliminating opponents. Those who were knocked out didn't seem to mind though, as it meant they could indulge in the tasty food that had just arrived. The menu is designed for sharing, offering a range of delicious options. Highlights included the buffalo wings, crispy halloumi fries, and juicy beef sliders.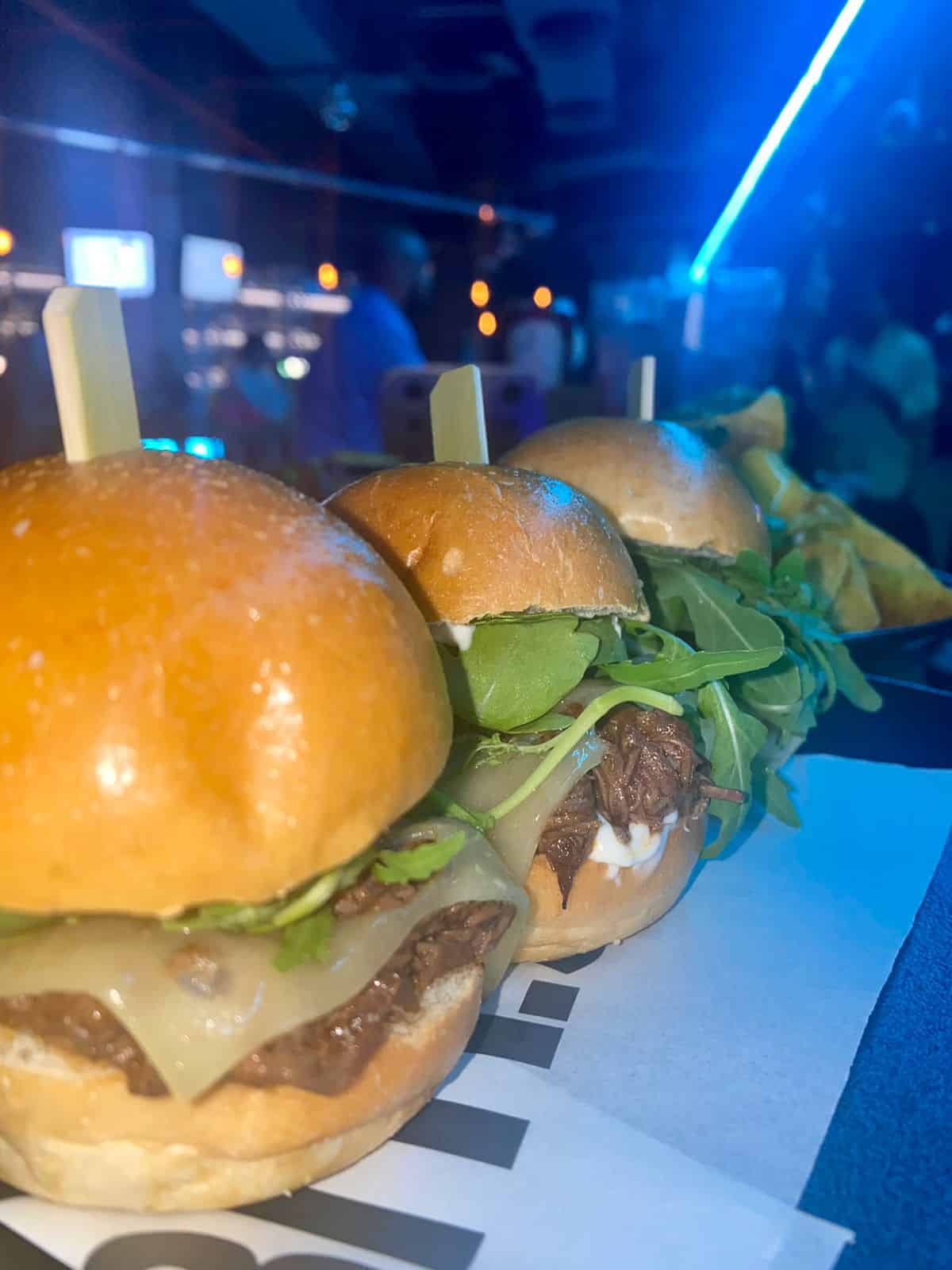 With beer pong on the horizon, we were thankful for our pre-game meal. Each team had the choice of a beer pitcher, but for those seeking an alternative, prosecco was on the menu. Both teams showcased questionable beer pong skills, but it was all in good fun.
Now, it was time for "crazier" golf, a mini-golf experience like no other. Expect catapults, loops, conveyors, baseball bats, and even cycling to guide your ball to victory. Don't be surprised if your foosball skills come in handy to slow down your opponents.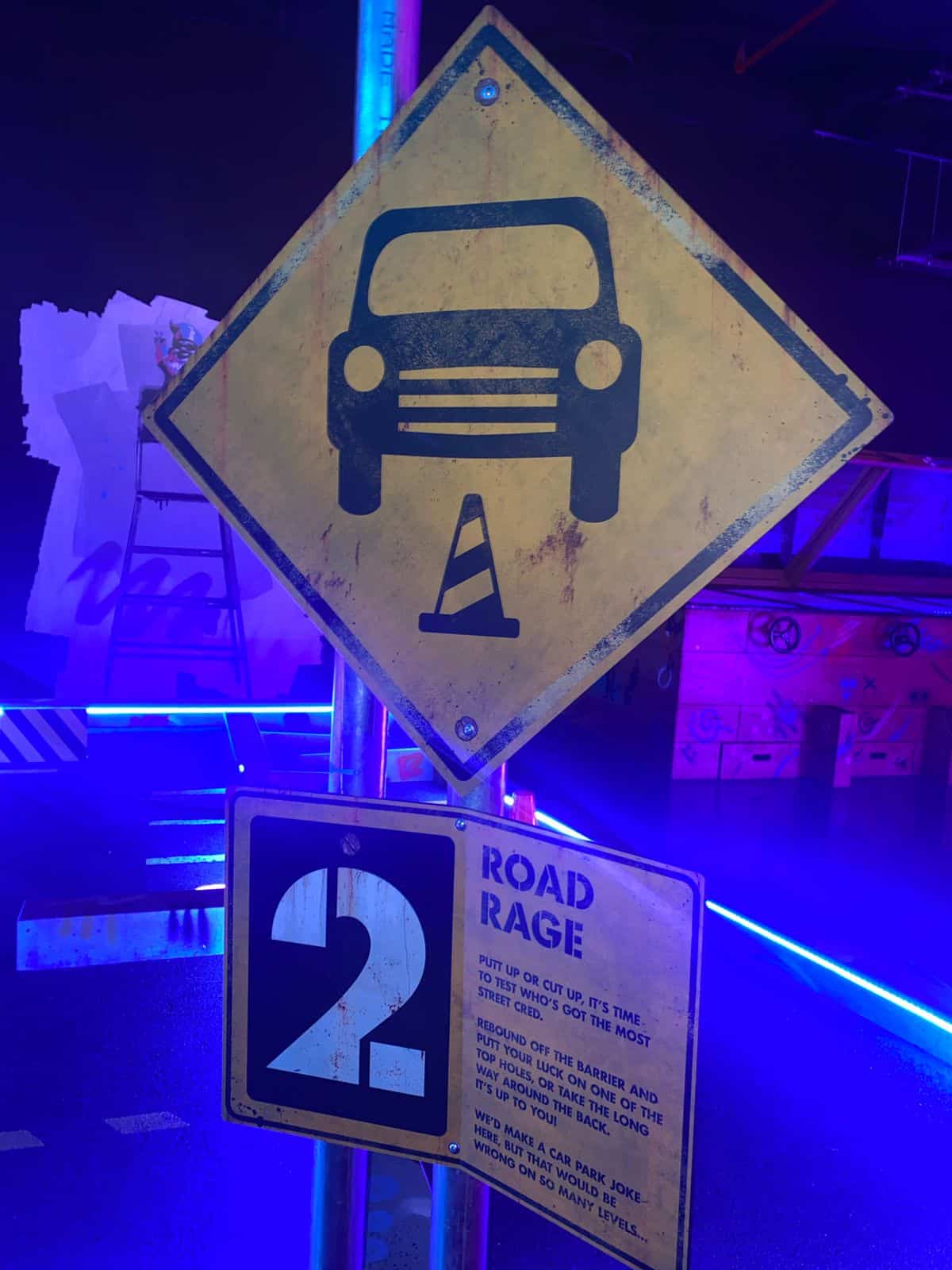 Last but not least we played shuffleboard. We had never heard of it before, let alone played it but left thinking we would love one in our home (if our home had a gigantic room that fit a 22-foot long table in!) Totally addictive, sliding a puck down the board to land in a certain position sounds easier than it is; too hard and it shoots off, too soft and no points. Oh and you can try and skim your opponent's puck off the board
In conclusion, Boom Battle Bar is undeniably the hottest new spot in Dubai. Whether you're planning a dynamic date night, a team-building event, or a birthday celebration that stands out from the rest, this venue has it all. They offer a range of packages tailored to your group's size, occasion, and competitive spirit. Our verdict? We can't wait to return for more thrills and competition!
For more information or reservations please visit their website www.boombattlebar.com/ae/dubai/