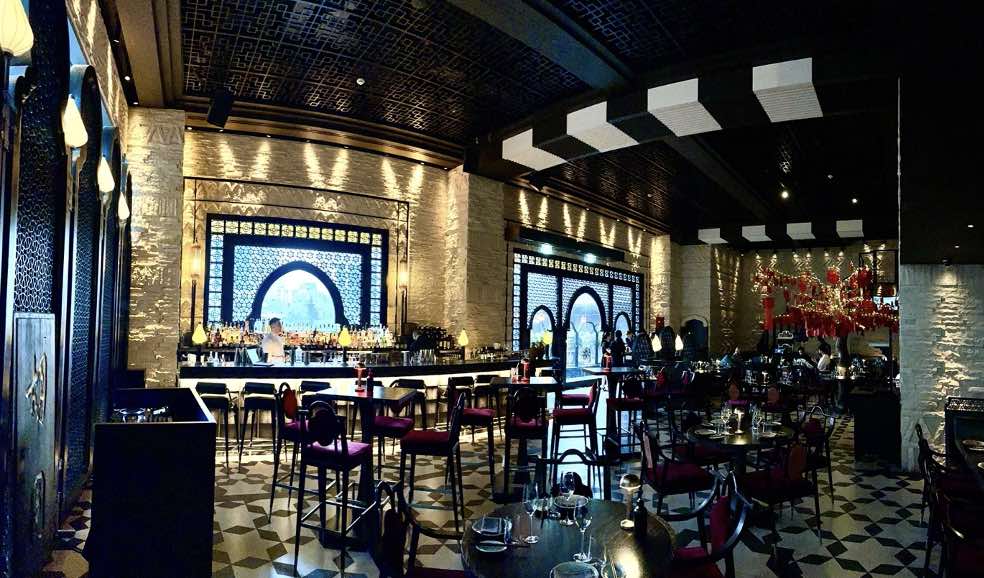 Among the Chinese, 'have you eaten?' is synonymous with 'how are you?' and we were just fine after visiting Hutong
Hutong has been one of DIFC's trendy dining spots since January 2020 and promises upscale authentic Northern Chinese cuisine in a stylish setting. The name 'hutong' itself is derived from a Mongolian word, which means 'water well' — a name given to small streets that originated during the Yuan Dynasty, which is unique to northern China. Hutongs are special places in the city center of Beijing, forming the urban fabric of the city, while the Dubai-friendly version craves to do the same with its delectable menu and Asian vibes, perfect for post-work drinks, business lunches or weekend brunches.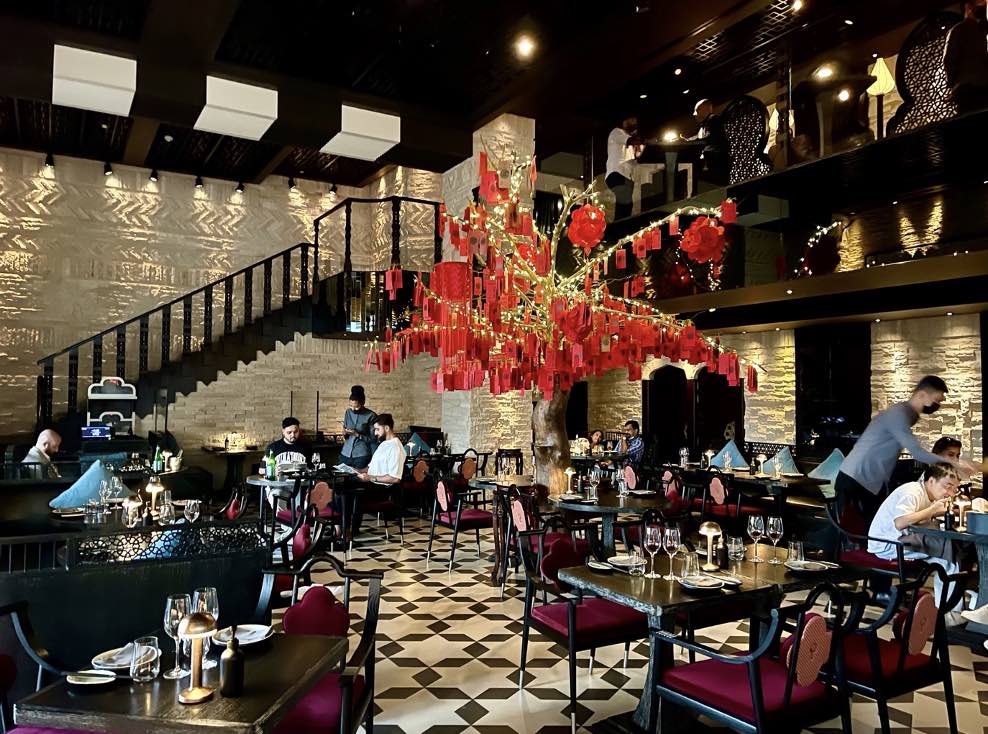 When you arrive, your attention is immediately drawn to am enormous tree, with dangling red envelopes, (red envelopes containing money are given to the young during Chinese New Years). The dining area is like a 'central courtyard' like the siheyuan. Characteristically, Chinese-style, beautiful wooden chairs surround intimate dining tables, intricate metal laced screens adorn the windows, the lighting is subdued with a beautiful bar area and Buddha bar-style lounge music plays in the background, while the upstairs dining rooms are available for private gatherings and events.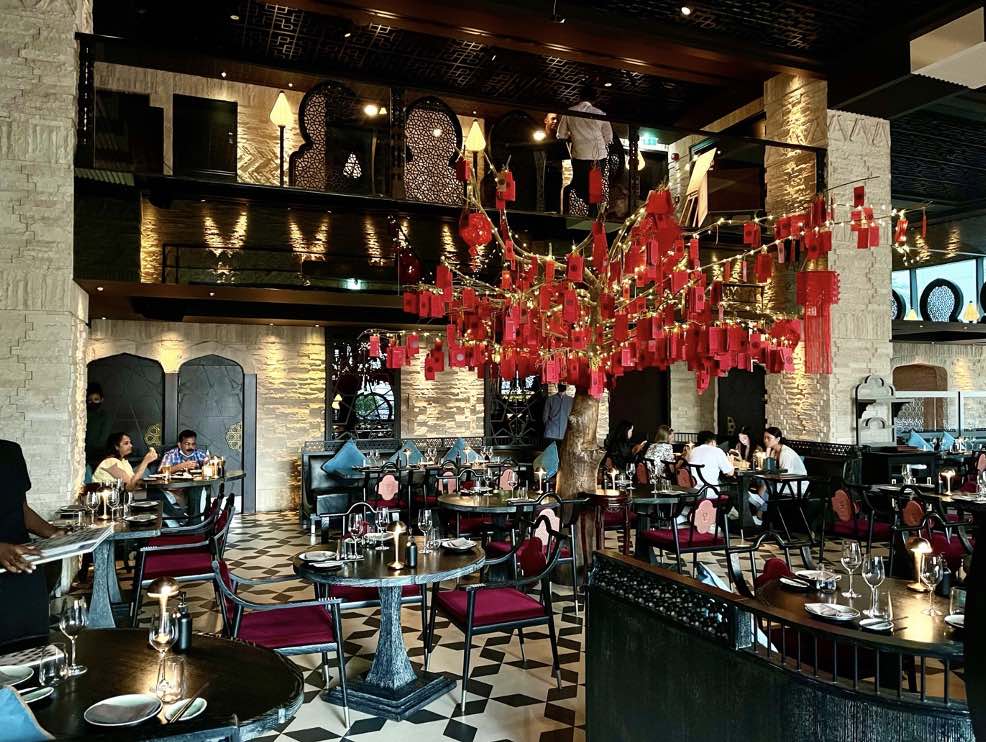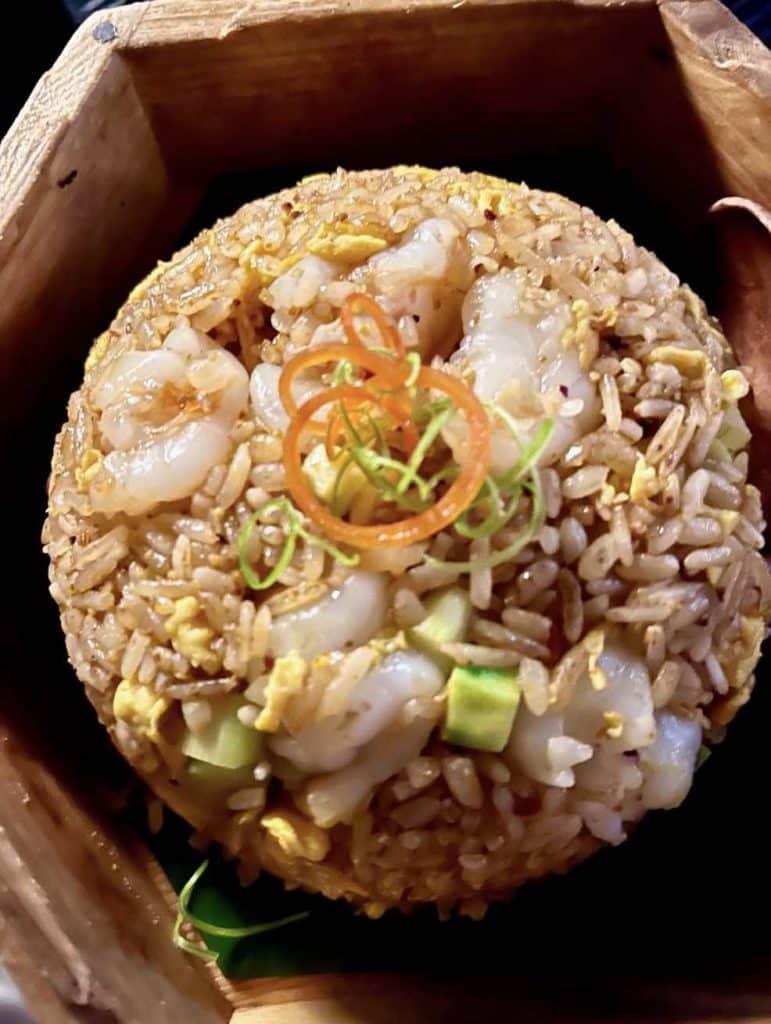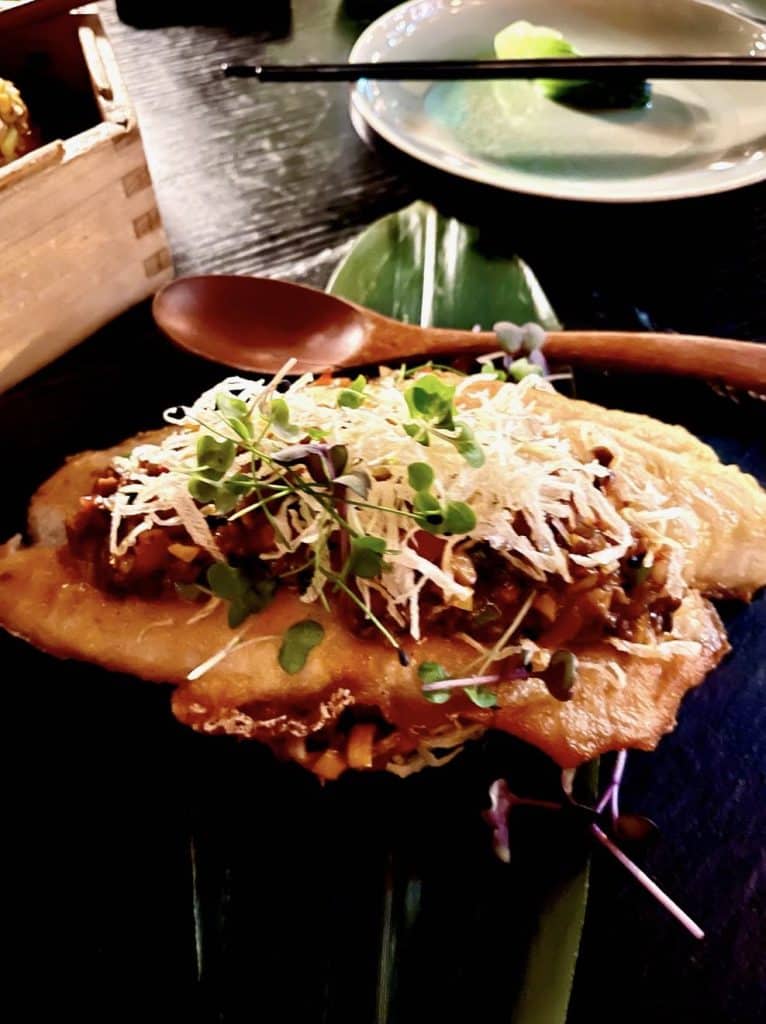 Hutong subtley evokes the ceremonial splendour of Chinese imperial residences; guests can catch the discreet Far Eastern design against a demure Western-style backdrop, from the black-and-white geometric flooring to the creamed tinged slate walls. While enjoying the delicious food, guests can absorb the calmness and peace endowed by traditional culture, the historical bearing of the old Beijing courtyard, and the artistic atmosphere cultivated through its modern aesthetics.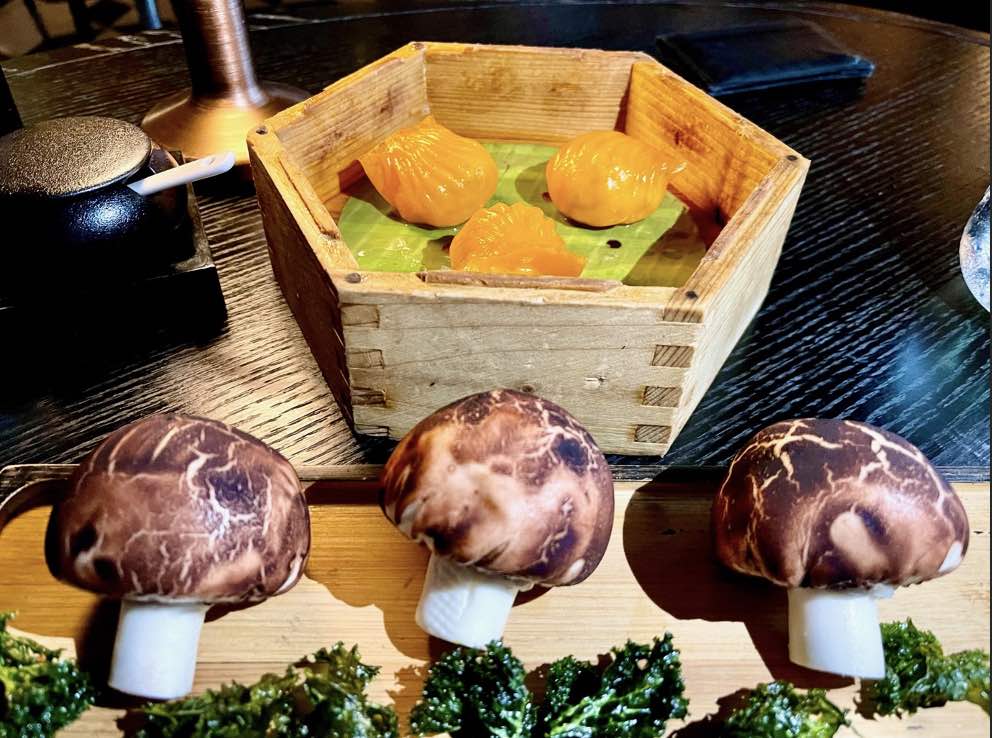 China prides itself on one of the world's most enriched and complex food scenes. Thanks to the geographic variations, historic legacies, and the world's biggest population, almost every Chinese city has its own food specialty and each Chinese region its own menu. This is largely reflected at Hutong, as it boasts a contemporary and occasionally fiery menu full of dim sum, cocktails, and other dishes in a uniquely stylish setting. There's a reason why this venue is intranational, with locations in New York, Miami, London and Hong Kong.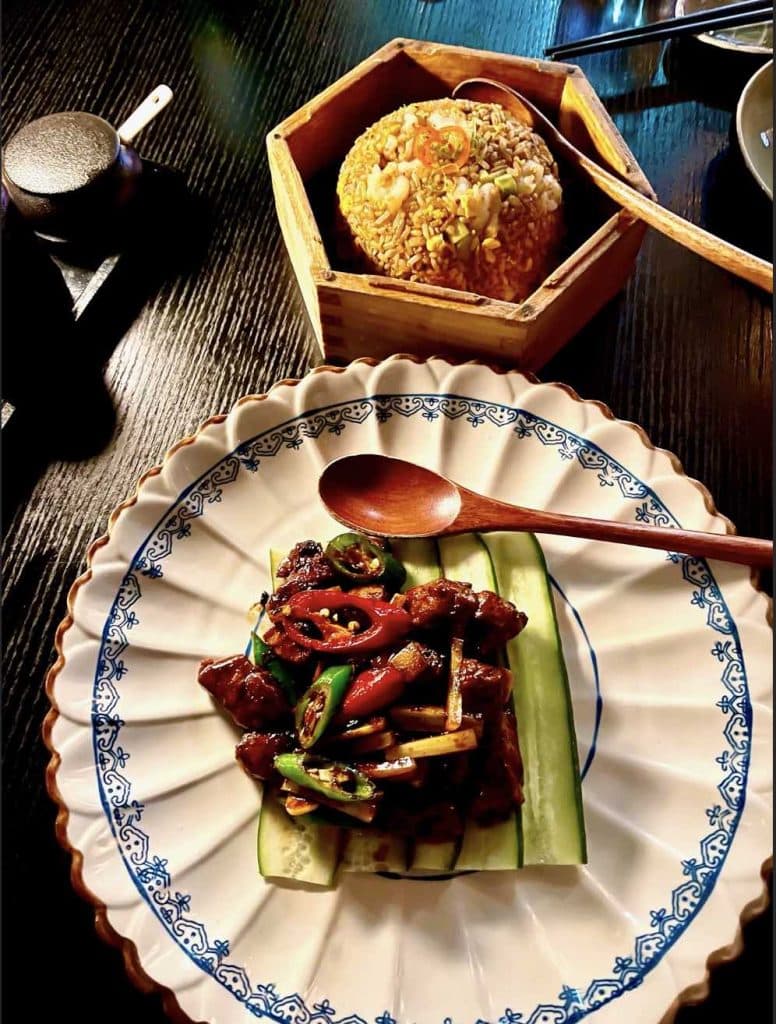 The famous roasted duck from Beijing, is also served in many banquet-style Chinese restaurants, including some Cantonese ones like Hutong- Hong Kong. The thinly sliced duck, along with its crispy skin, is an elaborate dish wrapped with scallion in specially made pancakes. On arriving at your table, the chef sets fire to it, which is a mesmerising experience to say the least.
For the Golden Hour dining, you are able to supplement for extra, a half to full Roasted Peking duck to the already amazing selections that comes in this three course meal, consisting of: two starters, one main and side dish and a dessert.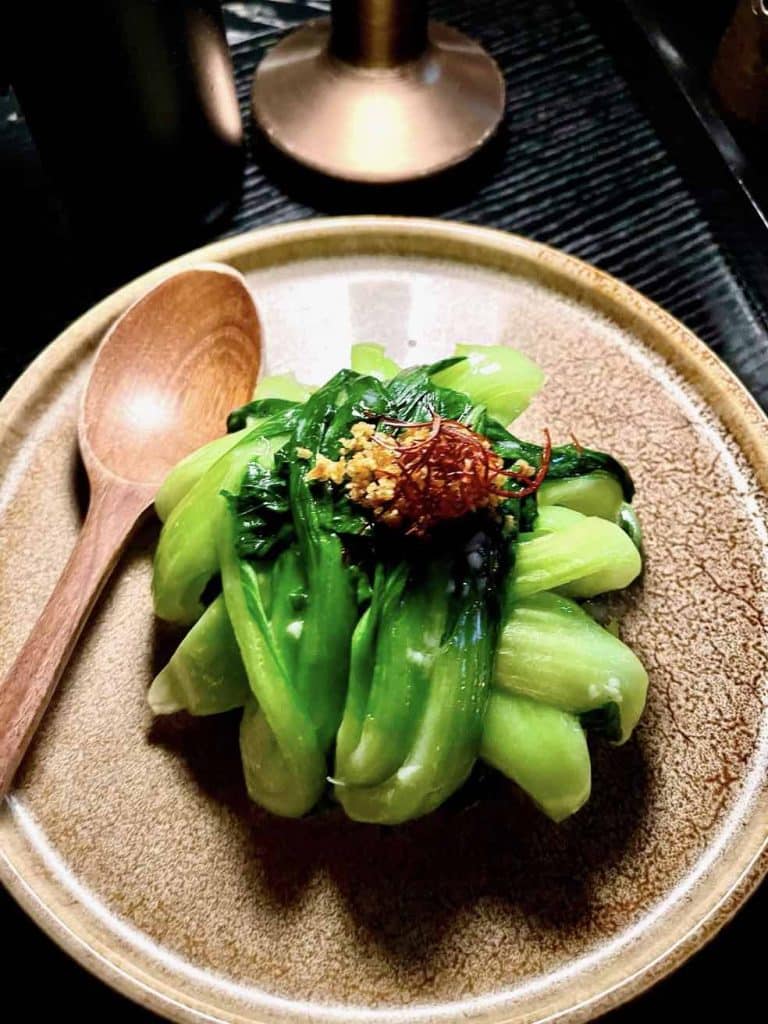 For starters we enjoyed the Bamboo shoots & Shrimp Har Gow dumplings – minced bamboo shoots and little 'parcels of happiness', which were flavour-rich prawn meat wrapped in lightly translucent ('crystal') dumpling skin. It was perfect with the lightness of the prawn meat filling inside. The Black Garlic and Chicken Sui Mai just adds a wonderful complexity in taste to this delicate thin skin dumpling that melts in your mouth. The Vegetable spring rolls are not the usual guilt-ridden, oily, deep fried appetisers you have had before but a textured light pastry stuffed with mushrooms and cabbage. Even better, was the Wild Mushroom and Truffle Bao, not only beautiful to look at with its artistic presentation, but it humbly evokes comfort-food vibes at the same time.
Delving deeper into our gastronimical journey, we savoured the Wok-tossed Sea Bass with crispy leek. If I was alone and not in public, I would have kept eating without coming up for air! And the Wok-tossed Beef Tenderloin was so tender, you could cut it with a spoon. The flavours throughout the menu are outstanding. In Chinese culture, not having a plate of Chinese greens on the table for dinner was like not having rice—it was simply unthinkable. The vegetable dish is as highly regarded and competes with the meat or seafood dishes served. Truth be told, when it is visually appealing it compliments the taste. The side dishes of crispy Garlic Shanghai Choy and Prawn Fried Rice pays homage to the Golden years of Imperial Beijing.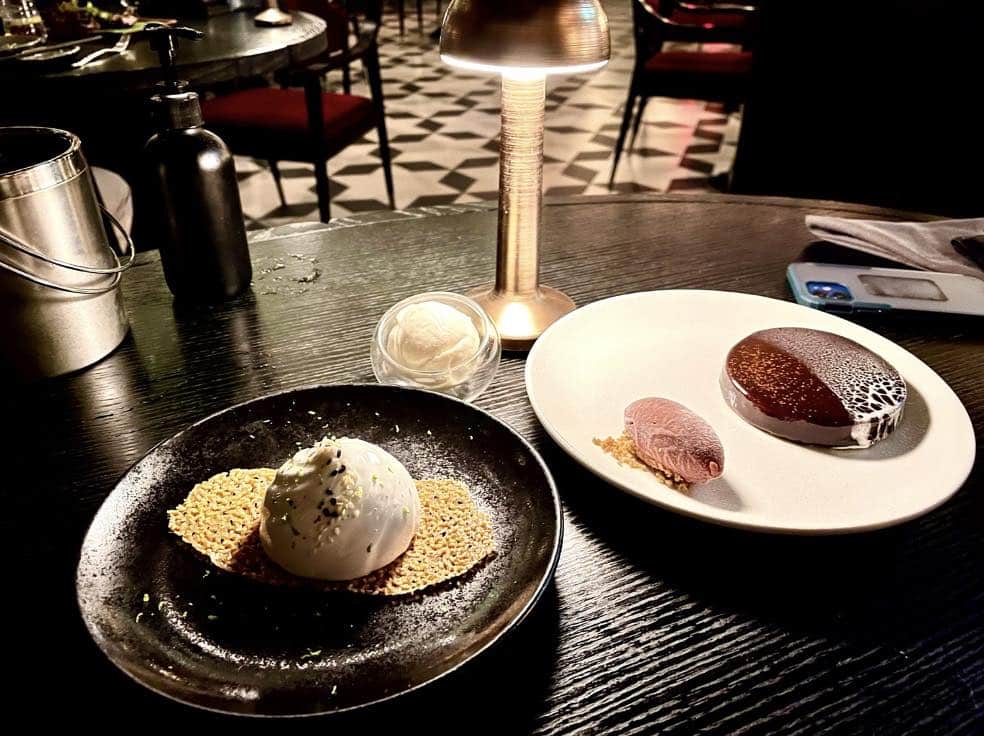 To end with a splendid finish, we tried the Bao and Soy Sesame Ganache with sesame biscuit, sesame praline, salted caramel and creamy soy ice cream. Sesame seeds, in my opinion, in general is under-rated, it is so aromatic in oil form and when lightly toasted, it adds anything to the next level. The Ma La Spicy Cremeux Chocolate Mousse with Sour Plum sorbet was just incredible, and this Insider humbly requests that Hutong market it, and sell it in pints! Overall, we enjoyed our trip to traditional Chinese fare and would happily return.
Hutong is located at DIFC Gate Building 6 on the Ground Floor.
For reservations contact: +971 44 220 0868 or @hutongdubai on Instagram.