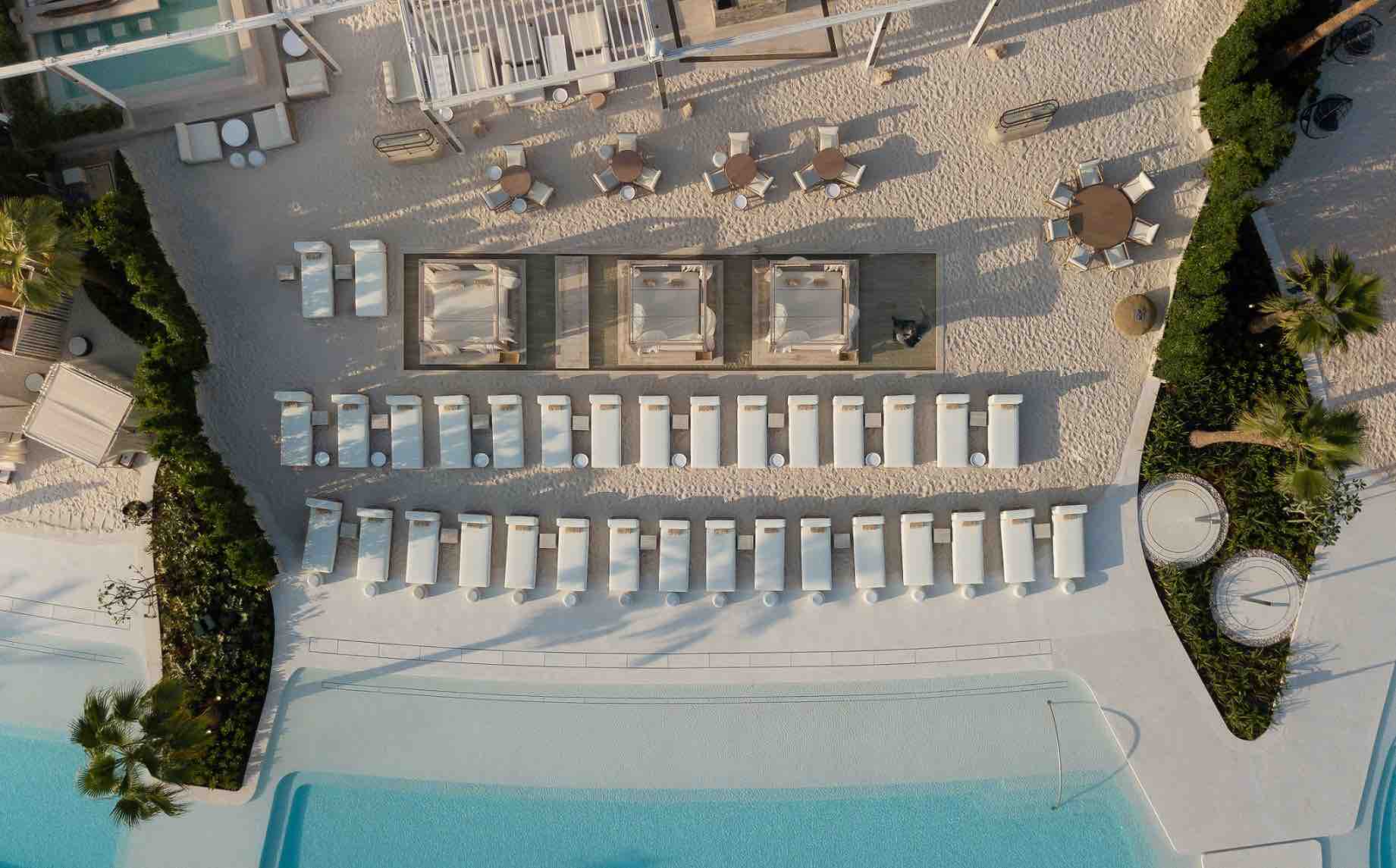 San Beach is no ordinary beach club. Infused with ancient African philosophy from its sandy roots to the lofty culinary heights, the name "San" is derived from the first hunter-gatherer tribes with cultural traditions around harmony with nature.
Referencing their wisdom, ritualised energetic potency and vibrational alignment, the stunning venue effortlessly recreates their healing energy with its vibrant authentic decoration, soul-nurturing menu and dreamy Maldivian vibes. Created by Food Fund, who also operate The Meat Co., Tribes, and Clay, company CEO Johnny Tomazos says the brand's vison is "an elevated African experience of barefoot luxury." It is the first African themed beach club and restaurant destination worldwide.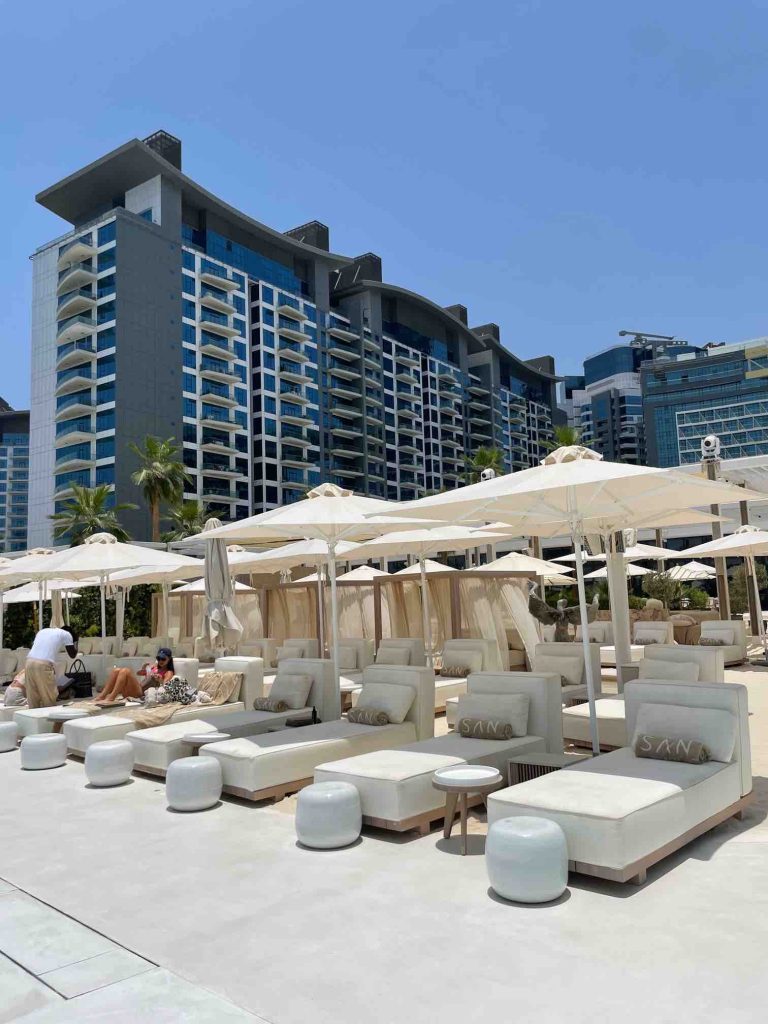 Seeking harmony with the elements we headed straight for the Maldives-imported white sand shores around the lush pool area; fortunately, the water was ice cold and refreshing, countering the scorching summer heat. Reclining on a luxury sun lounger we immediately felt welcomed into the San community with staff who felt like an extension of our social group. Our congenial and attentive waiter Vincent brought us delicious virgin Pina coladas while we swam up the submerged marble pool bar. For a real splurge we recommend booking the palatial Beach Villa, steeped in luxury with an espresso machine, mini bar and delicately floating veils for shade.
Stepping out of the sun and into the tranquil open-plan restaurant, we came face to face with the live seafood counter and a couple of giant lobsters – sorry, boys! At least it's testament to the freshness and commitment to superior ingredient quality. Described as a casual dining affair, where one can wander barefoot from the beach into the sumptuous restaurant, or arrive dressed to the nines for a night out, the cuisine is certainly not casual. We boldly assert the San menu serves some of the finest dishes in the city – certainly from a beach club – with its ingenuity, creativity and diverse selection. Head Chef Rizwan suggested his favourites, and we feasted on an incredible Red Prawn Carpaccio, Oscietra caviar and gold olive oil, smokey Octopus Carpaccio with citrus fruit salad, and a langoustine platter and Seabream Truffle ceviche – the presentation and freshness of the seafood was utterly superb.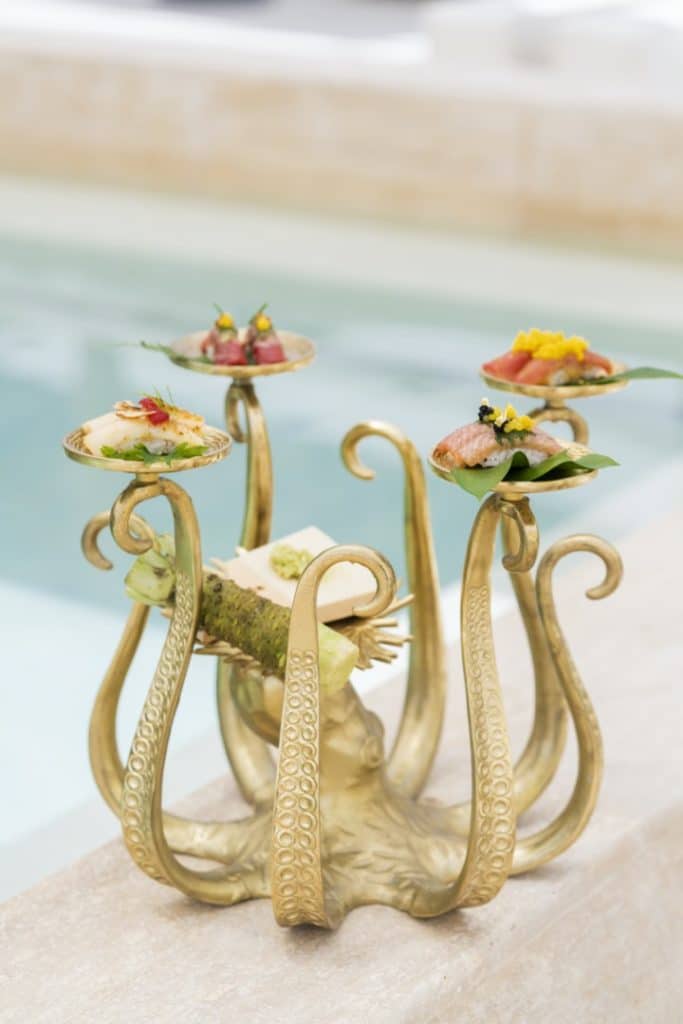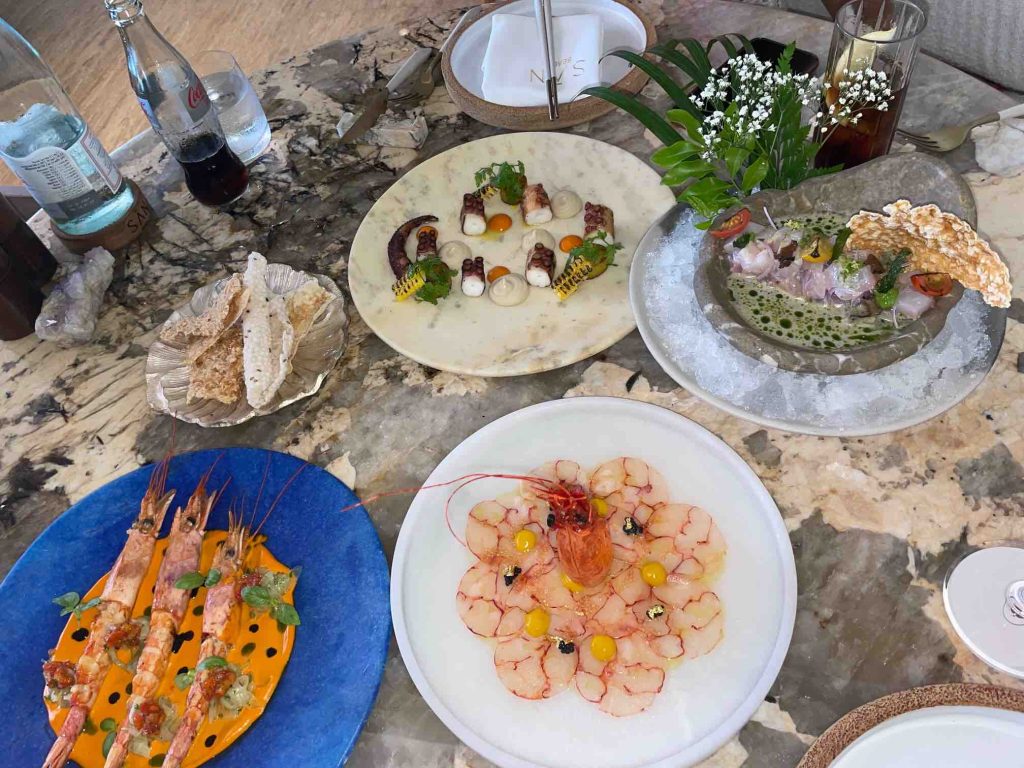 For mains we had fresh Lobster Pasta, one of their signature dishes, the flesh of which was tender and juicy offset perfectly by the lobster bisque. The Beef Short Rib was so tender you could cut it with a spoon, and was served with quinoa pops and polenta puree. It's easy to be healthy at San, as despite the food being plentiful and delicious, nothing felt too heavy and would deter you from returning to the beach post-lunch. We barely had room for dessert, but the deconstructed banoffee pie with the toffee cream served like noodles under a crunchy topping were unique and intriguing. A special nod to the crockery which is all custom made for them, and all of the table décor and crystals (literally enormous geodes on every surface) were all authentically sourced from Africa. The cutlery however, was Bugatti branded – a perfect contrast between homespun and opulent.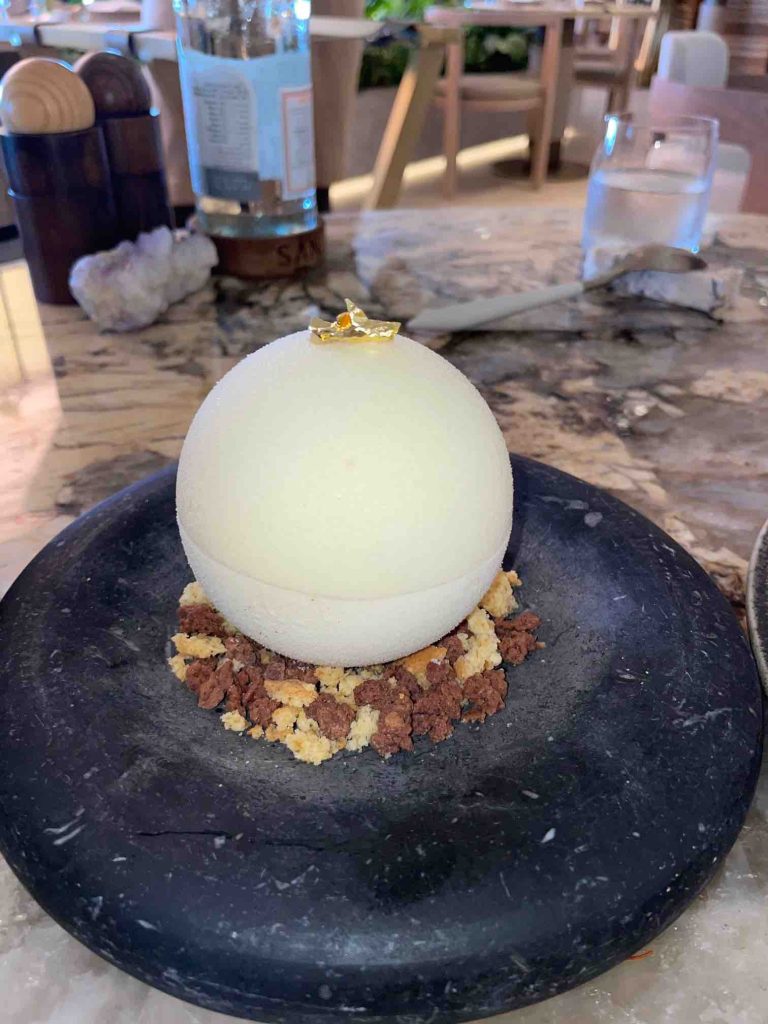 After a leisurely lunch, soaking up the sights and sounds, we headed back out to the beach and spent the remainder of the afternoon dipping into the water. The sunset views are absolutely stunning, and as we were leaving the venue began filling up for dinner guests. We would recommend for breakfast, lunch, dinner, or just a luxurious pool day, and it's possible to indulge in a little spending and spoiling, or have a more budget-conscious visit. The ethos of San is: Return, Connect, Awaken, and it was certainly a magical day flowing with experiences that left us refreshed and replete by the day's end.
Monday to Thursday from 9-12am and Friday to Sunday from 9–1am. Sofas from AED200 per person (credit to use at SĀN). Located at The Club, Palm West Beach.  Call +9714 458 0499 for bookings and to book a buggy from the self-parking.