The late Gary Rhodes' legacy lives in with a new vision, casual dining spin and delicious menu
The iconic Rhodes W1 brand was founded by the late world-renowned celebrity chef, author and restaurateur Gary Rhodes. They welcome a new era of culinary excellence as his family scale to new heights and introduce a brand-new menu helmed by an exciting team. The award-winning casual dining experience has since been commandeered by the chef's son, Sam Rhodes, who is the new General Manager, and he is joined by Head Chef Alex Mobsby, who brings his 16 years of experience and favourite British dishes with his own influence and vision. Gary's legacy as a pioneering chef, television star, receiver of an OBE and forging a career that spanned across four decades including heading six Michelin-starred restaurants is assured and Rhodes W1 guarantees to assure its status as an international favourite.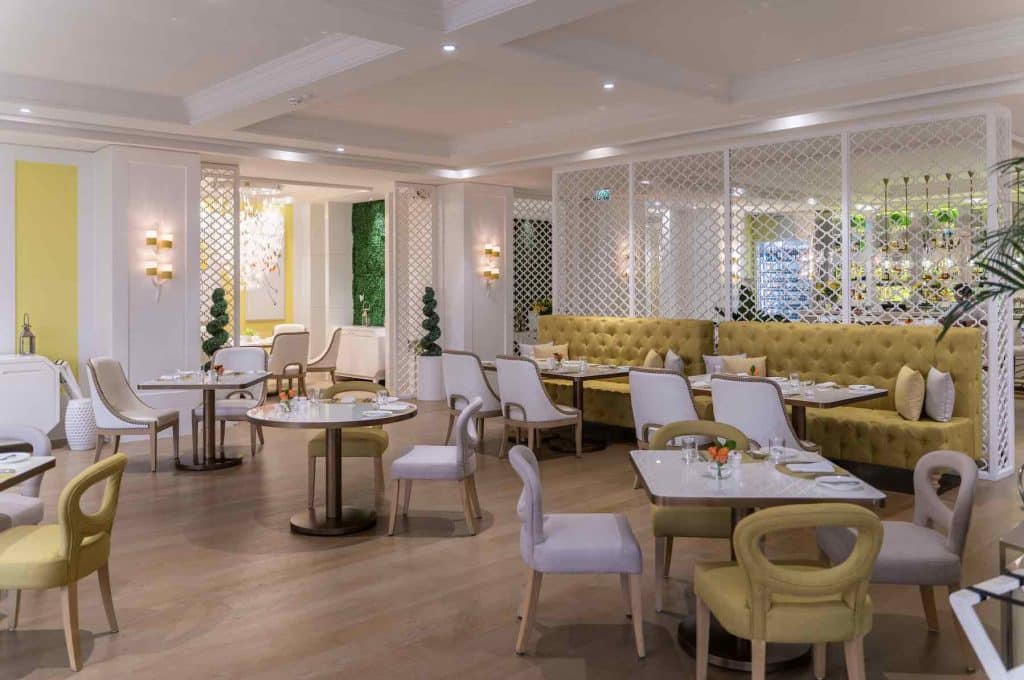 Open for dinner, Rhodes W1 has been welcoming guests from all demographics to rejoice in the menu, which combines exceptional service with a casual atmosphere and superior food. Amongst the typically-British- served-with-a-dash-of-European fare is an eclectic cocktail mix, plus a larger beverage menu, all served in a classically beautiful waterside setting at the Grosvenor House, a Luxury Collection Hotel, Dubai overlooking the Marina. With a brightly lit and cheerful interior, the new décor features luxe white furnishings, accompanied by dense green foliage and hanging contemporary chandeliers, the effect of which conjures images of a fresh green English garden in the height of summer, which is sophistication with a cosy twist.
The intricate mesh of textures is replicated on the guest's plate with an array of tastes and styles, including originals such as White Tomato Soup, served with cherry tomato butter toast, and Smoked Haddock with Welsh rarebit, and tomato and chive dressing. For the main course, we recommend quintessentially British classics such as Pie and Mash, Shepherd's Pie, and our top dish Cod, Chips and Mushy Peas. They also do a Rhodes Roast on Sundays which features an à la carte feast of mix-and-match options. You can also taste European influences such as Veal Escalope Holstein, which is accompanied by a fried hen's egg, anchovies, capers, and nut-brown butter, while the Burrata Truffle comes with a delightful radicchio marmalade. One of their signature dishes – and rightfully so – is the RW1 Burger, with baby gem lettuce, dill pickle, gouda cheese and an exclusively homemade sauce.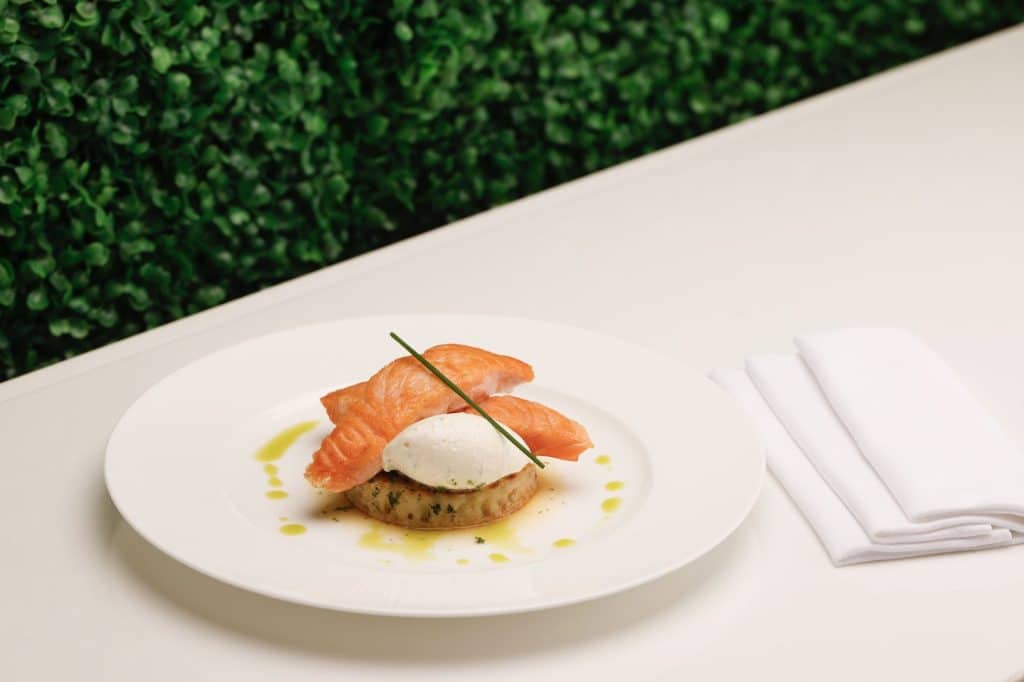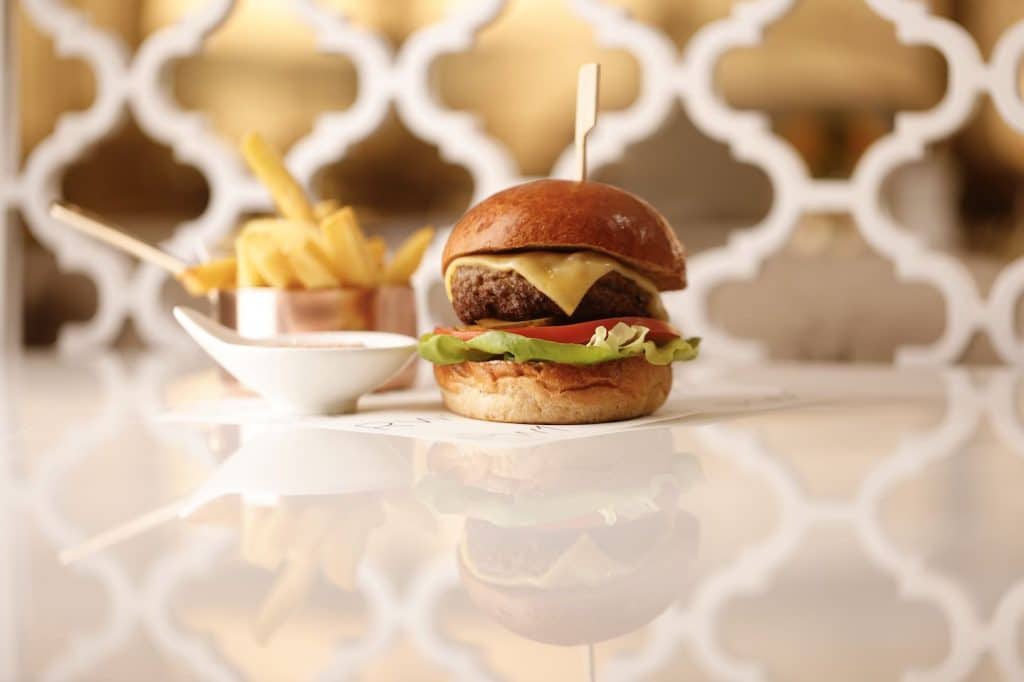 Gary's son Sam has spoken about his vision for the brand and its commitment to excellence, and unique and interesting dining options. Commenting on the start of this new chapter, Sam Rhodes, General Manager, said: "I am so excited to have been given the opportunity to re-imagine Rhodes W1. My
late father, Gary Rhodes built an award-winning restaurant, which promised superb quality food with excellent service. The team and I are striving to uphold his legacy as we take the Rhodes W1 concept in a new direction. We can't wait to welcome you to the next generation of Rhodes W1 with a new menu and stunning views of Dubai Marina."
Gary Rhodes was also recognised for kick-starting the careers of an entire generation of young and world-class British chefs. New Head Chef Alex Mobsby, who also counts Geales Dubai, and a whole of British independent and large-scale venues on his CV, welcomes the chance to uphold the standards of his culinary hero while introducing his own stamp of creativity.
Rhodes W1 is open 7 days a week – Dinner: 1 PM – 10 PM, Saturday Evening Brunch: 7 PM – 10 PM, Sunday Rhoast: 1 PM – 9 PM at the Grosvenor House, a Luxury Collection Hotel, Dubai and is featured in the Michelin Guide.Rhodes W1 is open 7 days a week – Mon-Fri 6:30pm-11pm and Sat-Sun 2pm-11pm, at the location at Dubai Marina's Grosvenor House and is featured in the Michelin Guide.
For reservations please call: +971 (0) 4 317 6000 or visit www.rhodesw1-dubai.com