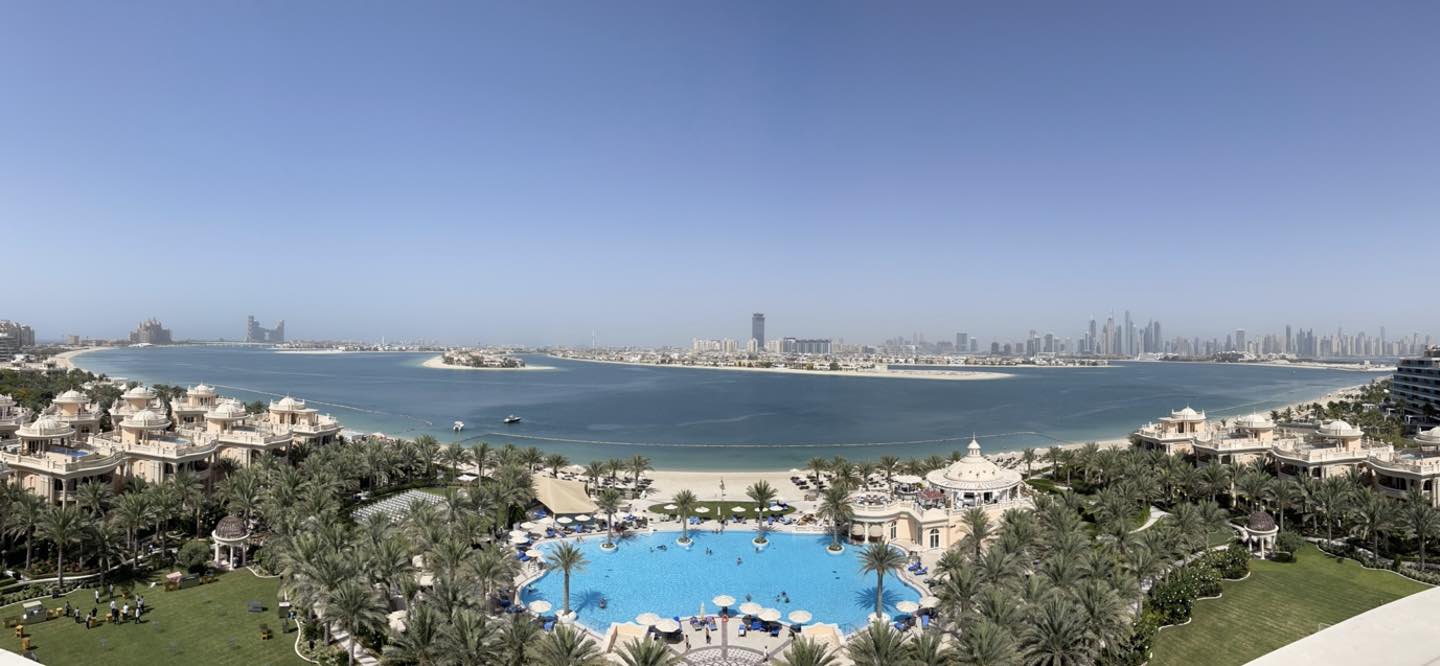 Raffles The Palm, Dubai has it's own 500 meter private beach shoreline of powdery white sand flown in from the Maldives. It was following a rebranding and overhaul of the former Emerald Palace Kempinski Hotel and is truly impressive in stature and size alone. The journey from the domed mirrored, massive chandelier lobby to the spa takes you through gold-gilded moldings, armoires and deep plush carpeting.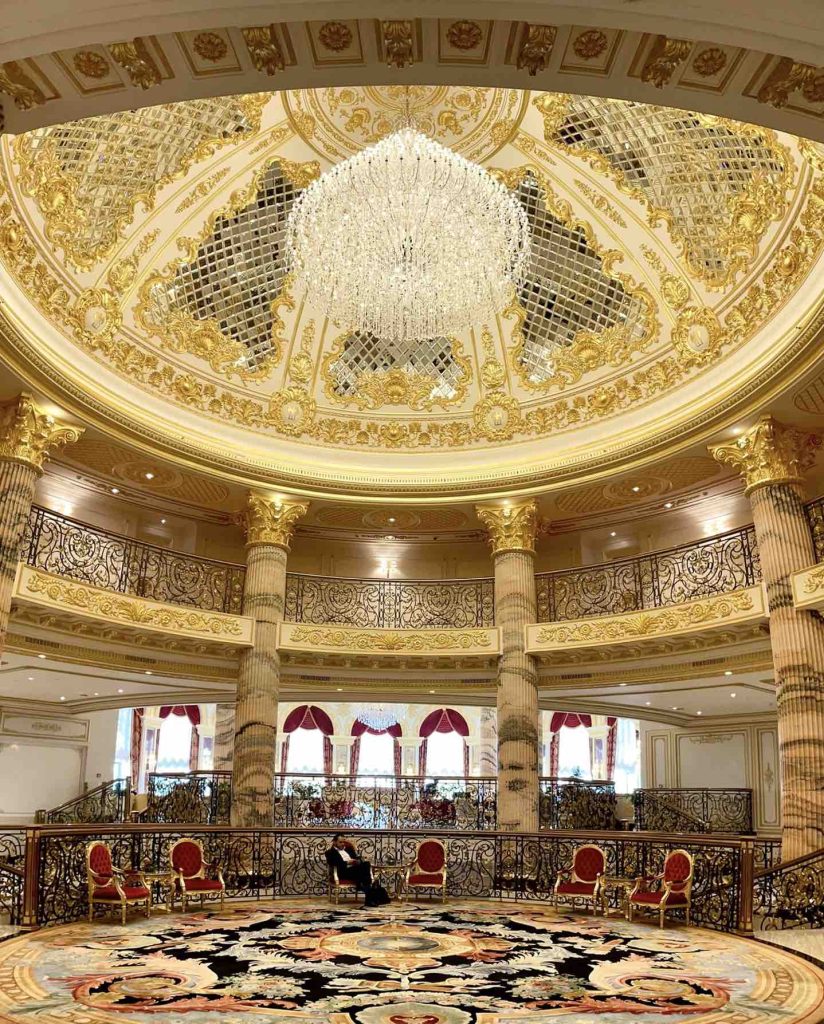 Welcoming both hotel and day guests, the spatial wellness facility is operated by luxury French skincare and spa brand Cinq Mondes, it is over 3,000 square meters of muted Arabian-inspired décor and pure bliss. It comprises 23 treatment rooms, including two double suites, four Cinq Mondes traditional deep soaking Japanese bathtubs (I've always wanted one!) – two of which are double facing – and seven scrub rooms. The Spa also has two hammams (separate for women and men), it's intentions of creating a tranquil oasis of rejuvenation and dare I say, transformation. Bare with me, I promise I will elaborate.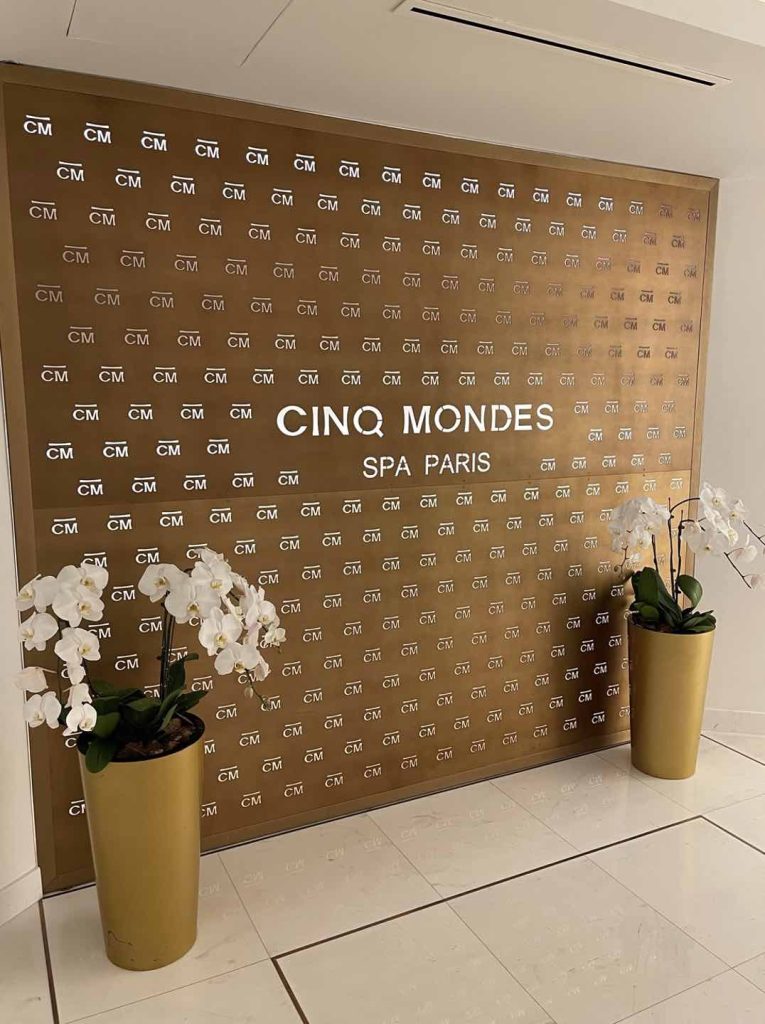 I believe it is paramount to know what you are getting yourself into. Cinq Mondes' CEO and founder Jean-Louis Poiroux and his wife Nathalie found traditional medicine fascinating, and how it could be collaborated into beauty regimes and health treatments. They subsequently spent 18 months travelling across the world in search of the most authentic beauty rituals. Acquiring their knowledge in India, China, Japan, Bali and Morocco created the foundation for the later inspiration of their personal brand. Their first spa was the only one in France to offer health regimes designed in partnership with international experts from the different forms of traditional medicine across the globe. Industry suppliers involved include Gharieni as well as wet area specialists Barr + Wray which helped realise the spa's hydrotherapy facilities. "Our originality lies in the authenticity of our rituals and treatments," says Poiroux. "We were pioneers in Europe when we started offering our customers special choices like Kobido, a Japanese facial massage that provides a remarkable natural lifting effect."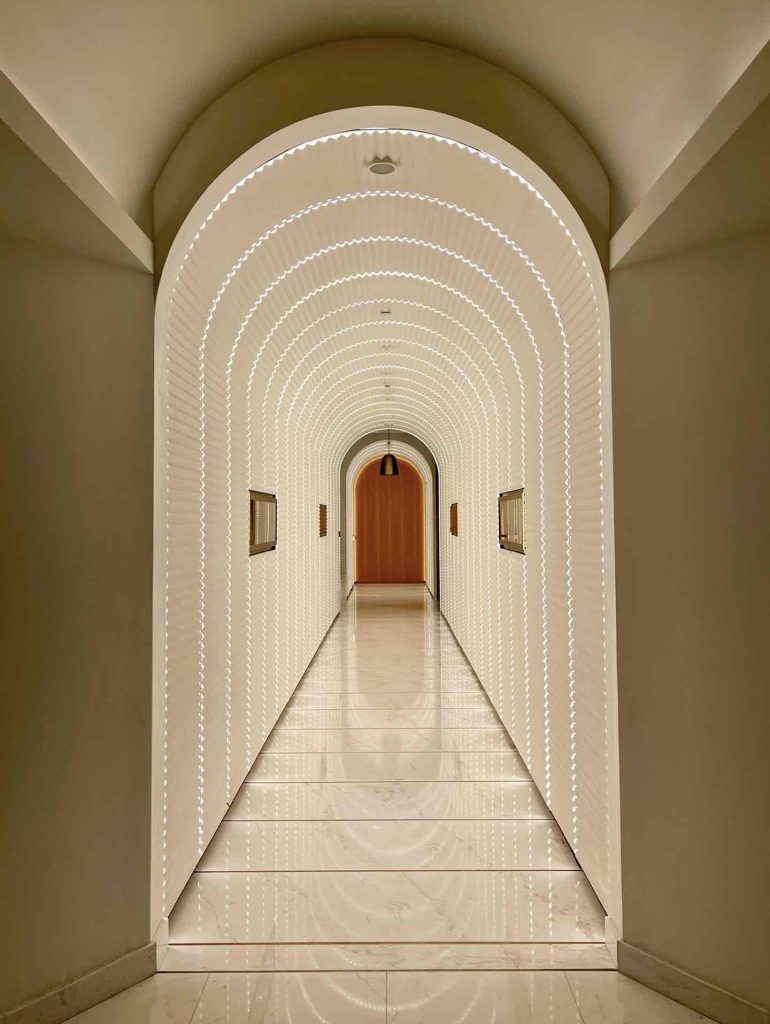 Cinq Mondes is insistent on using petrochemical-free ingredients during any product formulation and strives with its research team to develop green products using botanical sources specially chosen for their effectiveness without having any link to the environmentally unfriendly oil industry. 'The company's commitment to sustainability is also evident in its ongoing pledge to use only Forest Stewardship Council-certified cardboard in its packaging'.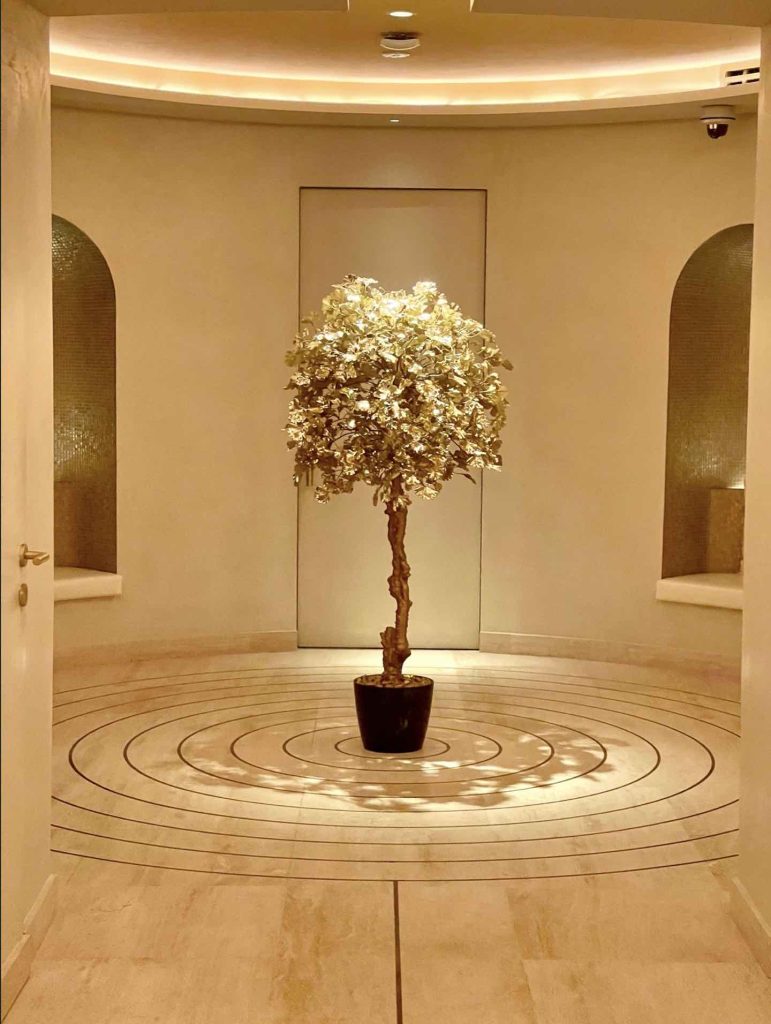 Now to elaborate my first experience at the spa, I luxuriated in their signature Imperial Beauty and Well-being treatment consisting of a 90 minutes MLX Quartz bed massage, then a 30 minutes Kobido ritual. The MLX Quartz bed by Gharieni is like Psammotherapy (Hot Sand Therapy) and was initially used in Ancient Egypt for medical treatment to treat a number of ailments ranging from scoliosis to inflammatory diseases; it aims to ease muscle aches and pains, and reduce symptoms of chronic inflammation and rheumatism. It also helps relieve musculoskeletal and arthritic pain, stimulate lymphatic flow and detoxify the body.  The quartz conducts infrared energy, delivering a more intense warmth. "Quartz amplifies the effectiveness of the treatment by absorbing, storing, releasing, and regulating – and ultimately balancing our entire body functions," believes Sammy Gharieni, CEO of Gharieni Group one of leading world medical, spa, and wellness equipment manufacturers. Today, psammotherapy is used in wellness and spa resorts to provide mental and physical relaxation.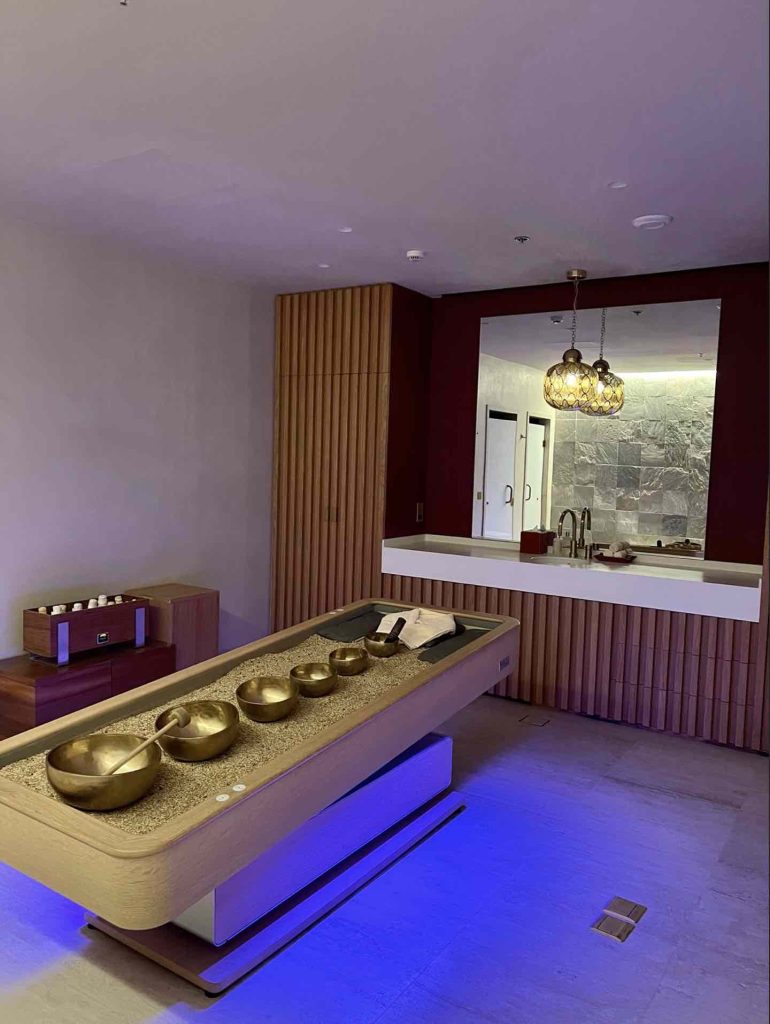 As I lay on top of this trough-like table of heated alpha quartz crystals more coarse than beach sand, I felt the 'sand' beneath me conformed to my shape and cocooned me with warmth. The sand was certainly more ergonomic than a flat massage table. It was almost like lying on a towel at the beach as the therapist had me inhale a relaxing whiff of essential oils then ring the sounds of ancient Tibetan bowls. Research has shown that the sound waves from the Tibetan bowls resonate through your body to the soft, receptive sand.  First, the rich blend of harmonic tones helps balance your chakras and switch to Theta brainwave frequencies, ideal for reaching a meditative state.She then wonderfully proceeded to knead my arms, legs and shoulders head-to-toe, before flipping me over.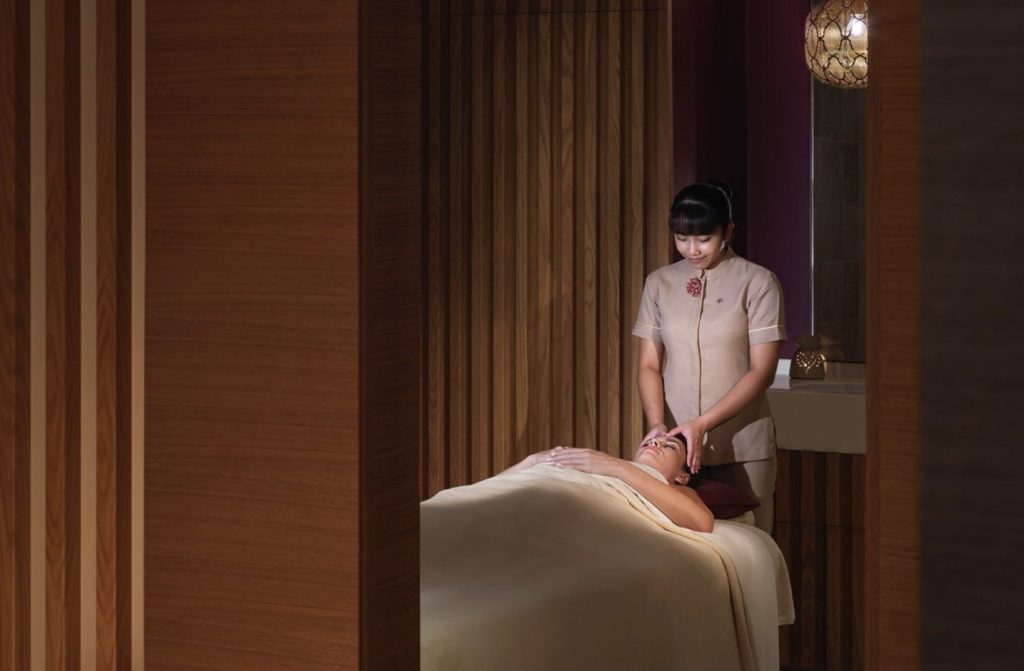 She followed by giving me the most uplifting facial massage I've ever received. Among one of the innovative treatments available is kobido and in Japanese, translates as "the ancient way of beauty", a traditional form of Japanese rejuvenating facial massage that supports facial energy flow and focuses on minimizing skin ageing and fine lines; maximizing skin radiance. And let me tell you, I need all the help I can get as I descend into ageing oblivion. The technique lies in a mix of fast and slow hand movements to the face, neck and upper chest. These techniques of kneading and rhythmic and gentle sliding, stimulates blood and lymphatic circulation (releasing toxins), reduce blemishes and normalize skin hydration, restore fluid balance and reduce mental and psychological stress. However, it would need to be performed on a regular basis If you want a non-invasive natural lifting effect. And why wouldn't you after regularly smashing the gym, you should also indulge on the 'work' on your face. Thankfully this regime doesn't require the will and discipline of working out!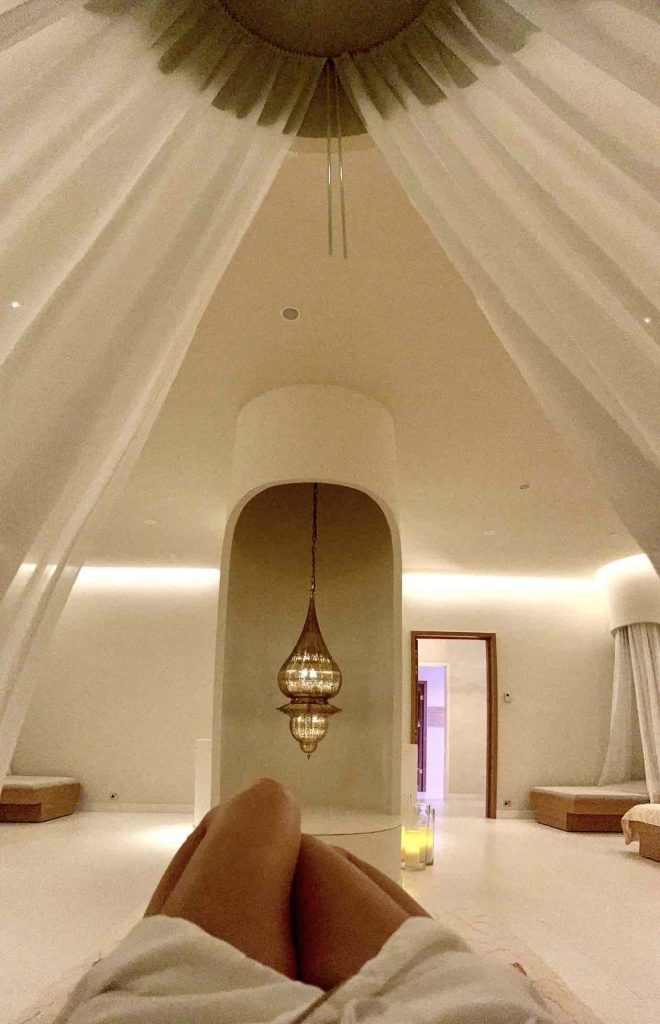 Overall, I felt a deep relaxation from head to toe and so pliable to the point of skipping and sommersaulting into the sunset. Glowing as I also felt my skin naturally lifted and transformed as I floated away.