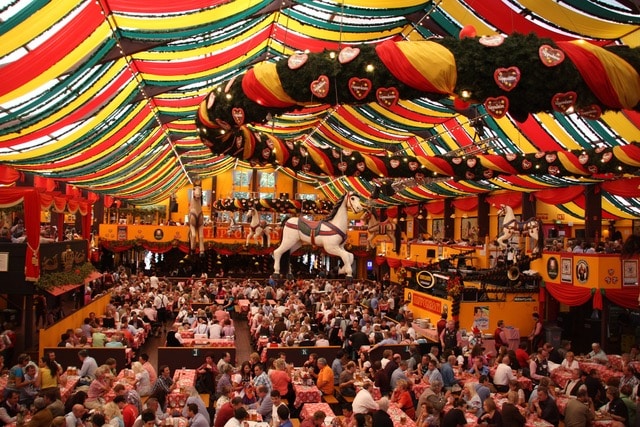 Get your fill of Bavarian culture with the annual German festival.
The first of the annual Oktoberfests started in Munich, Germany in 1810, and has since spread across the world as – let's be honest – everyone loves a chance for a celebration with a cold beverage in hand. Staying true to authentic Bavarian culture with food, drink and music, there are plenty of chances to get involved here in the UAE.
If you love German hops, craft beer, pretzels and traditional German sausage? The dust off your lederhosen and pass by these epic venues to celebrate the annual Oktoberfest.
71 Sports Bar, Damac Hills
At Trump International Golf Club you can get half a grilled chicken with bratkartoffeln (German fries) and sauerkraut for just AED 85, pork schnitzel and cranberry sauce with egg noodles for AED 95 or a currywurst for AED 55. From noon until 10pm daily.
Barasti Beach Bar, Mina Seyahi
Beer and sport lovers' favourite Barasti is hosting Oktoberfest in their summer tent with decor, food stalls, German hops, and live Oompah bands. Their special menu includes obatzda and pretzel, plus roasted German bratwurst with a sweet and sour tomato sauce, plus tons of grilled sausages and apple strudel. From September 21st until Sunday October 1st from 9am-3pm daily at Le Meridien Mina Seyahi.
Caddy Shack, Damac Hills
Another cute spot at Trump International Golf Club is hosting their Munich themed festival with BBQ platters of chicken and lamb chops, beef medallion, sausage and sauerkraut, plus four bottles of hops from AED 199. From Thursday-Saturday 5-9pm.
Ernst Biergarten & Wirtshaus & 25Hours Hotel One Central
We'd expect nothing less from an authentically themed German restaurant, and these guys are pulling out all the stops for Oktoberfest. Expect Bavarian high jinks with a live stream of the Munich Oktobefest shown on the big TVs around the venue, plus a food package with unlimited roast chicken and suckling pork for AED 150 per person, perfect for you to munch on whilst drinking German hops and bopping to the tunes provided by their German live band. Every Thursday, Friday and Saturday until October 15th.
Grand Hyatt Dubai, Oud Metha
Offering an all-you-can-eat buffet from 7pm-2am for a bargain AED 169, you can include soft drinks for AED 249, AED 349 for house beverages, and just AED 125 for kids aged 5-12. There will be German beverages shipped specially from Munich plus live entertainment in their special Oktoberfest tent. Every Thursday, Friday and Saturday from 7pm-2am until Sunday October 29th.
Great British Restaurant, Dukes the Palm
This traditional British restaurant is celebrating with a month of activations for this year's Oktoberfest. Expect the venue to be adorned with rustic decor and accompanied by traditional music and a live DJ. There's German and craft hops plus a food menu with all the Bavarian classics such as schnitzels, sausages, pretzels and sauerkraut. From mid-September until October 15th.
Saffron, Atlantis the Palm
Party venue Saffron is doing their bit for the German beer-fest on October 7th by offering mega plates of German food such as sauerbraten, tarte flambée, onion pie
Saffron, inside Atlantis The Palm, will be bringing Oktoberfest to Dubai on Saturday October 7. Plates of German food such as sauerbraten, tarte flambée, onion pie and hähnchenschnitzel. If that wasn't enough, they have tons of hops on tap plus bang-on entertainment that's authentically Bavarian themed. AED 595 for the house package from 1-4pm on Saturday October 7th.
Spartan Sports Café, Sheraton Hotel Mall of the Emirates
Serving up German classics veal schnitzel and baby potatoes and hops for a banging AED 68, plus glasses of grape for AED 42 or a bottle for AED 199, hops at AED 42 each or AED 80 for two people or get four hops for AED 155. From September until October 3rd.
Wavehouse, Atlantis the Palm Jumeirah
Get a menu packed with Bavarian dishes here from just AED 55 plus a variety of hops and beverages to match the German theme. There's also live sets from a German band on the weekends, and it's a venue that welcomes the whole family with other activities such as stein-holding contests and pretzel-eating challenges. From mid-September until October 2nd from noon until 1am.