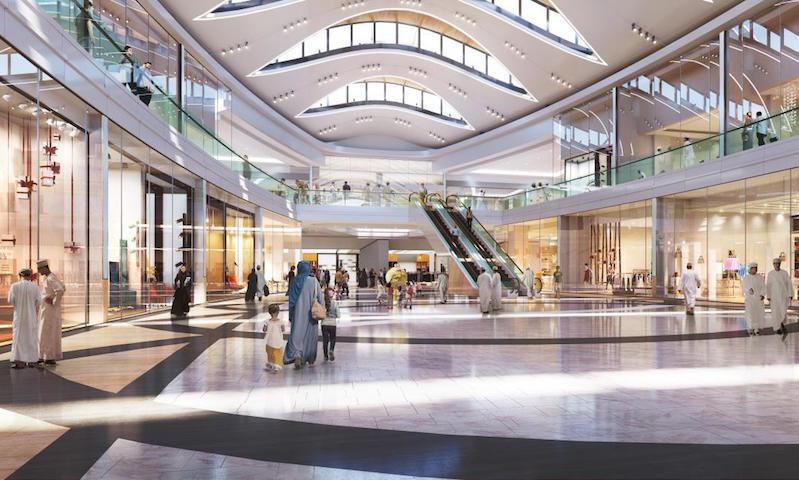 The mall – expected to be one of the biggest in Oman – will open in March 2021
Work is progressing on schedule at the OMR275m upcoming mega shopping destination Mall of Oman, developer Majid Al Futtaim has announced.
New roads and flyovers connecting the mall to interchange number 6 on the Muscat Expressway have been delivered while the Muscat Electricity Distribution Company (MEDC) primary substation is also completed, a statement said.
Set to be one of the biggest retail projects in the sultanate, Mall of Oman will have 145,000sqm of retail space with 350 outlets, Oman's largest Vox Cinemas, a Magic Planet family entertainment centre, a 12,200sqm Carrefour hypermarket and the largest indoor snow park in the country.
Unveiled in 2013 as an OMR180m project, the mall was initially slated for completion in the fourth quarter of 2017. That got pushed back to 2020, and earlier this year, Majid Al Futtaim confirmed that the opening had been pushed back further to March 2021.
Speaking to Muscat Daily in January, Alain Bejjani, CEO of Majid Al Futtaim Holding, said that nearly 50 per cent of the mall's development had been completed.
The roads upgrade along with four new bridges and an underpass will provide easy transportation access to the mall, a statement said. The new access will directly lead to the 5,200 dedicated parking bays.
More than a kilometre of the 12-metre-high retaining walls are now in place, as well as the initial road directional signage for Mall of Oman.
The recently completed substation will allow the nine distribution substations in the mall to be progressively energised, which will allow the completion of the central cooling plant and introduction of wild air into the mall, the statement added.
"By developing Mall of Oman, we continue to contribute to the growth of the local tourism industry and enable job creation for residents both during and post construction," said Ghaith Shocair, CEO of Majid Al Futtaim Shopping Malls.
"The tourism and retail sectors are integral to Oman's economy and are poised to drive economic growth and contribute to diversification in the country.
"A development project of this size and scope is beneficial to Oman's citizens and residents and will positively contribute to economic and social development in the Sultanate," he added.
Mall of Oman will be Majid Al Futtaim's fifth and biggest lifestyle destination in Oman. The mall is part of Majid Al Futtaim's strategy to increase its total investment in Oman to OMR705m by 2020, which includes the OMR45m City Centre Sohar which opened earlier this year.
Overall, Majid Al Futtaim owns and operates 25 shopping malls, 13 hotels and four mixed-use communities, with further developments underway in the region.