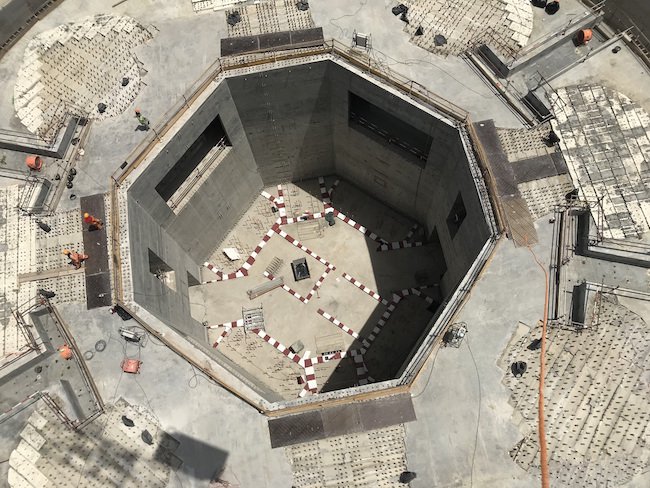 The $1bn Dubai Creek Tower is anticipated to be completed by 2020
Work is progressing on Dubai Creek Tower – set to become the new tallest tower in Dubai.
Launched in April 2016, the $1bn mixed-use building will form the centerpiece of the 6 sqkm Dubai Creek Harbour master-development, which is jointly being developed by Emaar and Dubai Holding.
The concrete placement for the tower's pile cap has now been completed two months ahead of schedule, a statement said. The concrete pouring began in September last year and reached over 50 per cent completion in January 2018.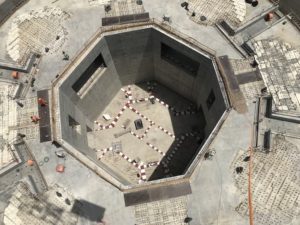 The pile cap is an approximately 20m thick multi-layered, tiered reinforced concrete top that covers and transfers the load to the foundation barrettes.
So far, 50,000 cubic meters of concrete has been poured, weighing about 120,000 tonnes. About 16,000 tonnes of steel reinforcement has also been placed.
The tower's 145 barrette piles have been tested to a load of 36,000 tonnes and are laid 72 metres deep to secure the super-structure.
Over 450 professionals are working on the site, the statement added.
Anticipated to be completed by 2020, the Tower will beat Burj Khalifa (828 metres) as the tallest building in the world. However, the exact height of the new building has not yet been disclosed.
Designed by Spanish/Swiss architect Santiago Calatrava Valls, the tower will resemble a lily with the image of a minaret borrowed from Islamic culture and will feature specially shaped observation decks.
The Pinnacle Room will offer 360-degree views while the VIP Observation Garden Decks will be designed around the theme of the 'Hanging Gardens of Babylon.'
The tower will also have illumination and movement lighting, while several 'green corridors' will offer pedestrian access and connectivity with Dubai Creek Harbour and Retail District, one of the largest in the world.
It will also feature a boutique hotel for visitors.
The overall Dubai Creek Harbour development includes several residential projects, a 4.5km-long Creek Boardwalk offering high-end retail and leisure options, event spaces, galleries, parks and water features.