With so many different types of Cinema experiences on offer to baffle you into just choosing the one that's showing your film choice the soonest, we look at the differences between each one.
4DX
As it is named 4DX gives you the 4th dimension of the experience of synchronized movement from mechanized seats, not stopping there wind, mist, fog, lightning (strobe effect) and even water sprayed from the seat in front can all be tagged to moments in the film to reflect the action.
My first experience of 4DX was at Universal Studios in Hollywood, the format then was a short film based around character exploits, Shrek was one and Simpsons the other. The Shrek adventure was largely made from a flying dragon experience of which you are seated, the movement of the chairs simulates the actual flight and crashed into water are reinforced with sprays of water into your face all of which add up to a more convincing experience which is very different and enjoyable. Heat was even summoned during a scene when the dragon turned and spewed fire directly at the audience. It was terrific, and lived up to its name if this was a glimpse of what cinema had to offer than I am all for it.

However, it has not quite live up to the case. On a dedicated script 4DX is fun and the movement of the chairs adds a lot to flight and car chase experiences. Sadly, the idea to have a large disco club strobe light go off to mimic lightning, noisy fans and a smoke machine to simulate storm effects do nothing to help the experience.
The strobe light ruins the cinematic experience by drowning out the screen and reminds you that we are in a very bright black room with lots of other people. The starting of the fans and the Sqissshhhhhhh of the smoke machine forcing dry ice out also completely ruins any cinematic effect that has been built up.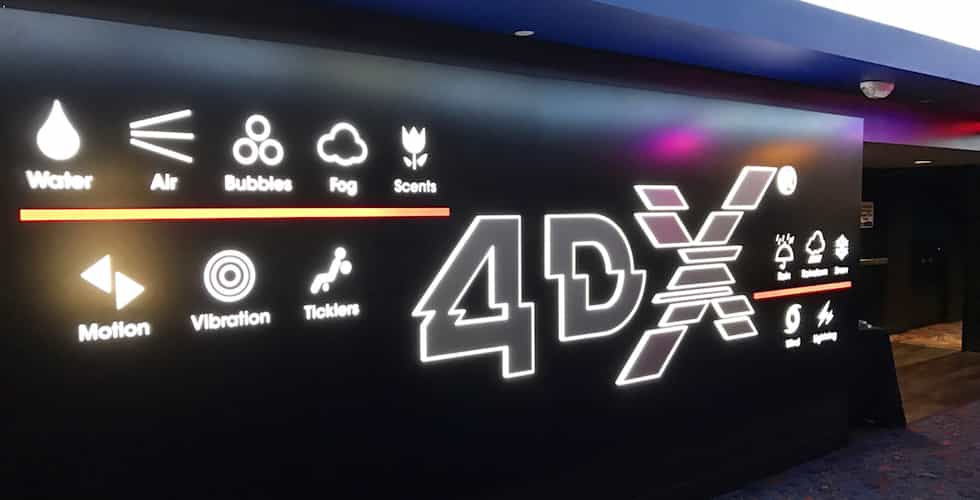 Now this aside I actually quite liked 4DX for the movement of the chairs, films such as Fast and Furious and Star Wars allow the chairs to brilliantly simulate the chase scene of which these and most other genres rely on, When the millennium falcon is chased through space and makes tight maneuvers the experience is excellent. However once these scenes are over the control of the chairs seems to be still in overdrive, motorized plates poke you in the back when light sabre guns are fired, the chairs react to every aspect of the film even when there is very little action or none at all. If the 4DX could be regulated to action scenes (and remove the storm effect machines) the overall effect will be much better. As of now I have not been back for a 2.5-hour continuous pummeling and a sense of relief arrives when friends decided to go for a different experience. Add to the fact screen size is average and the audio is too we must move on as there are much better options to have.
Standard Cinema
Only when you purchase a ticket to see a film and specifically ask for a standard experience do you realise just how far cinema experiences have evolved. What once used to be an exciting evening out to the movies is now showing its age against all the other experiences, notably when you enter it is more or less the same shape as a student class room all we need is a pulpit, lights and we could be at studying. Seats are not where you want to be for a movie over over 2 hours, screen size is small, the surround is far from surrounding more obvious and laboured than anything and in all but daylight the colour very washed out with black being represented by grey.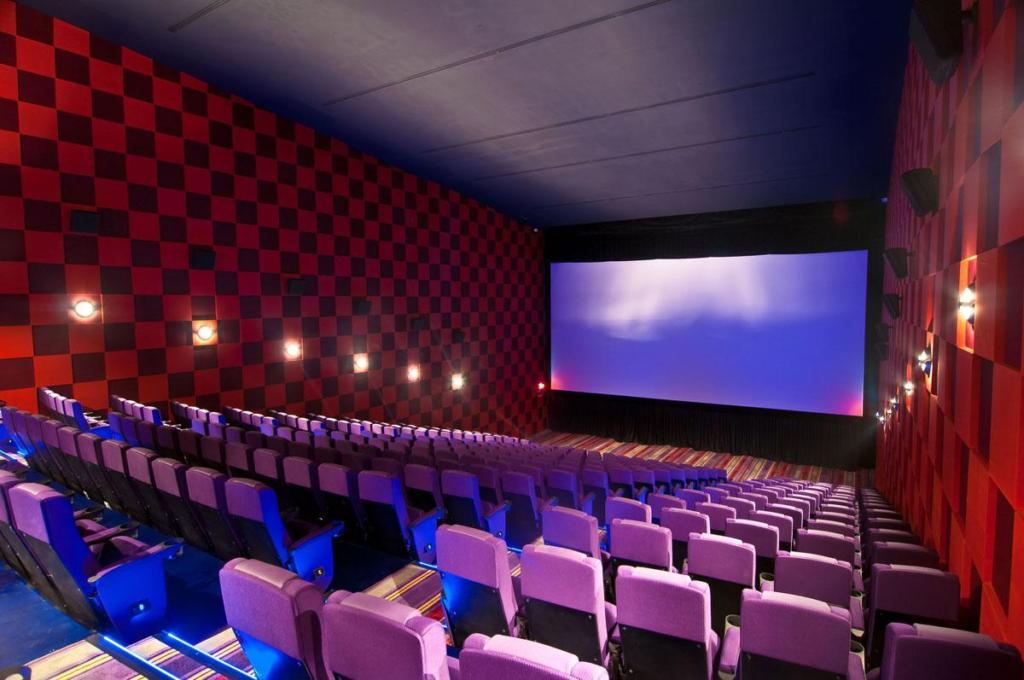 Of course standard screens will vary for all but on the whole, standard really does mean standard. With a medium investment in a projector, large speaker set up and the space required it is no wonder most people can compete with a standard cinema set up at home. Since audio, screen and camera technology has considerably moved on, the extra ticket price is well worth paying so we move on…
IMAX with laser
The clue to the Imax experience is in the name, its maximum screen and maximum sound fairly maximum big seats too. A lot of directors are including scenes shot with Imax cameras, giving you the extra height on the screen but when they switch back to normal as not many films are use Imax cameras for the entire duration. This means the films have to be specially formatted to fit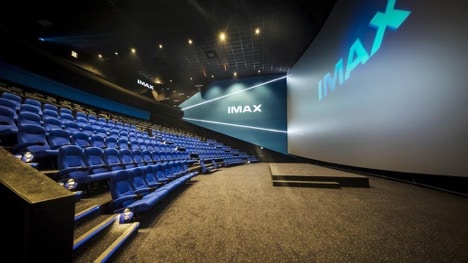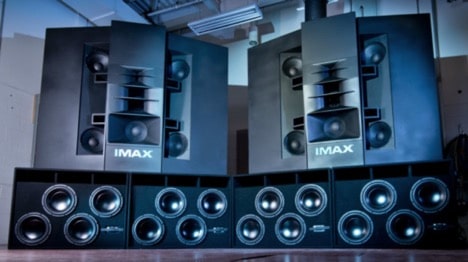 None of this really matters as the experience is thrilling, the definition of the screen is pin point accurate and it is a wonder that a screen so large can appear so detailed. IMAX is the drag race over the ¼ mile sprint, Its loud, big and you will not forget it in a hurry.
Dine In Cinema
I had my doubts about a dine in experience, surely cinema is about the film experience and we should be on the edge of our seats with suspense or laughing out loud. Either way the thought of having someone with a torch ask me if my nachos needed more cheese or indeed if I wanted anything seems too distracting.
I want to be immersed in the experience, I know my life pretty well and it is fine but I like James Bond's life even more and anything that distracts from me thinking I am James Bond during a James bond film, be it mobile phone, or waiter is a bad thing. Then again Cinema food leaves a lot to be desired, popcorn, nachos, and bad pizza have recently been accompanied by chicken nuggets so really your choice is fast food and confectionary. Having a proper meal instead of eating sugar and drinking sugar is a far better way to go, I like it but dine-in in all its different flavor's and luxury element turns the actual cinematic experience of suspending your disbelief down a few too many notches for the die hard cinema fan.
Dolby Cinema
Fairly new to Dubai Marina and very new to Dubai Mall Dolby have gained complete control of the cinema space themselves with their own visual and audio equipment. Enter and the first thing you see is an animated screen saver of the title to be played before you enter the main space, it is about 5ft high and 20 feet wide, it is a nice touch.

Once seated you can see this is a lot more than just a big screen in a room with loud speakers. For starters the seating is carefully measured to amphitheater like perfection, there are no speakers on show the walls have angular finishes hiding the Dolby Atmos object based surround system.
The whole arrangement feels a lot more thoughtful, once seated you realize your seats recline with space and ease with no effect on view for you or anyone else. This is a tailored experience; the main feature roles and we are greeted with a show reel showing us what Dolby Cinema can actually do. Its impressive, first your treated to a surround sound demonstration which can pinpoint audio at different heights anywhere in the room and then we see a color demonstration resulting in plunging the room into what we have thought was black all along but taking it further and showing us total pitch black as is the capability of the projector and screen. The feature rolls out and the sound is notably much better, the surround aspect is uncanny, it will seduce even the hardened audio critic. The presentation is wonderfully life like throughout thanks to Dolby's own HDR format Dolby Vision. All in all a seducing experience.
So what cinema experience should you choose? Well here is my point of view and my view only. 4DX is like 3D, it works well sometimes but on the whole no not really. Home cinema sound systems and full HD projectors (including 4K) can be picked up for such a reasonable price these days that you can rival a standard cinema experience in your own home so depending on your preference these too options are bettered else where.
So really it is Dolby cinema vs the old titan of the block IMAX. Now let us first distinguish there is IMAX and IMAX with laser. IMAX on its own cannot live anywhere near the Dolby experience, the picture is soft even blurry in parts even from right at the back. IMAX with Laser is worlds apart, the definition is fantastic and quite a feat on a screen so big. However firstly the IMAX sound system is very different they have a 6.1.1 set up and all the speakers are full range – apart from the sub bass. So it's a forceful sound and you really feel it.
Dolby on the other hand is highly concerned if not obsessed with the precision of sound stage, life like reproduction of color and comfort. Dolby Cinema can place 128 sounds in the space around you and move them anywhere they need to be, it is really quiet something. Altogether IMAX is fun but I am left wondering was the film I just watched actually that good or was it the scale of screen and the better-than-most-night-club sound system that made it better than it was.
Dolby fits a nice gap here, their screen size is well within the realms of big enough and quality of the image is best in category, the seats are excellent, as they recline. The Dolby Atmos surround is truly remarkable too.
So there we have the differences, no longer will we just take the first showing that comes along. For the majority of my film going years I will choose the Dolby Cinema albeit a few times a year I will go for the punch in the face experience of IMAX just to remind myself of the border line obscene levels of screen and sound that exist that we as humans now subject our mortal bodies too.
But we have left one experience out – Screen X
To sum up – It is a nice idea to have 3 screens one in front and one to your left and the other to your right, but they only activate for certain scenes and lack the quality of the main screen. At best you will be disorientated, at worst distracted. Screen X however could easily be going the way of 4DX & 3D so lets keep an eye on it and see how if it is here to stay. The trick to this format's survival is film producers taking it on board so more films are made with the format in mind and working to make it better.

BREAKING NEWS : Screen X and 4DX have had a love child and combined both experiences. This could could be similar to the discovery of putting cheese in between two bits of bread and grilling it. Giving us the mind blowing creation and aptly named grilled-cheese. Or this could be the worst part of each cinematic experience comparable only to the invention of the Oreo Martini cocktail. Only time will tell…