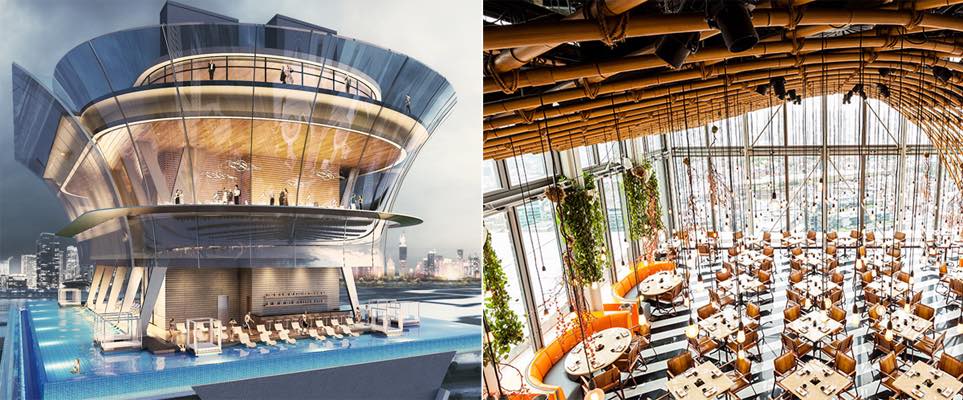 Palm Jumeirah is quickly making a name for itself as a global culinary hub, where the flavours of the world are celebrated and storied delicacies can all be tried in one postcard-worthy location. We have witnessed a number of new additions to The Palm Tower, each perfectly complementing the world-class ambience of the Palm Jumeirah.
Today, we are happy to report that SUSHISAMBA will be joining the storied restaurants that can be found around The Palm Tower, following a partnership formed with Dubai's Sunset Hospitality Group.
A Noteworthy Partnership
When we look at the United Arab Emirates as a whole, we can see that a number of storied deals are being sealed between enterprises and some of the world's most luxurious restaurants and businesses.
The merging of two iconic brands is always worth talking about. The Palm Tower is already offering some of the most idyllic panoramas of the surrounding sweeping landscapes, from the crystal-clear Arabian waters to the metropolitan skyline of Dubai.
SUSHISAMBA is already famous in both Europe and North America, drawing in guests with its delightful blend of Japanese, Brazilian and Peruvian cuisine. As you would expect, the ambience of SUSHISAMBA complements the dishes that can be found there, with mementos to different cultures, music and architecture offering a fully immersive experience.
We can expect the most from this superior dining location. Managing Director Omar Khoory has previously stated that "Palm Jumeirah's restaurant and recreation scene continues to bring a new dimension to living and leisure in the UAE", and "SUSHISAMBA will undoubtedly be one of Dubai's most-anticipated attractions".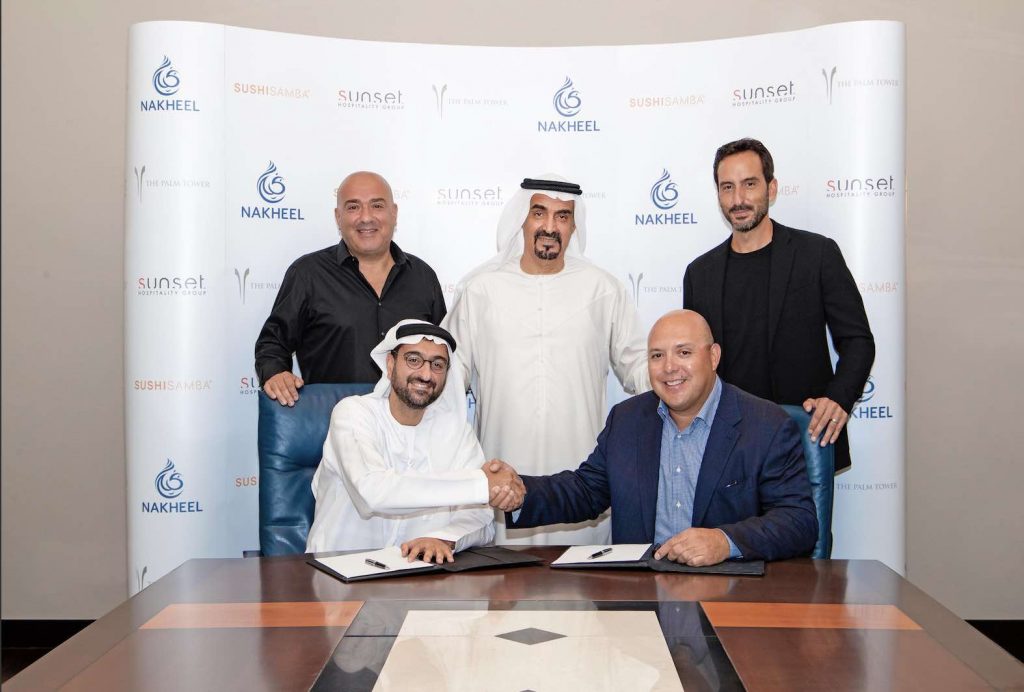 Front row left to right:
– Omar Khoory, Managing Director, Nakheel Malls
– Omar Gutierrez, Chief Operating Officer, SUSHISAMBA

Back row left to right:
– Nazih Hafez, Chief Operating Officer, Sunset Hospitality Group
– Ali Rashid Lootah, Chairman, Nakheel
– Antonio Gonzalez, Chief Executive Officer, Sunset Hospitality Group
Visiting SUSHISAMBA
At this moment in time, SUSHISAMA is in the construction phase up on the 51st floor of The Palm Tower, 220 metres above the opulent beauty of Palm Jumeirah. Current estimations are showing that this world-famous restaurant will be opening to the public next year, joining a range of dining locations and storied attractions.
The Palm Tower itself is actually connected to Nakheel Mall, a place where a plethora of fine-dining restaurants can be found. The mall itself will house hundreds of shops, dining spots and attractions, as well as a unique Palm Monorail Station.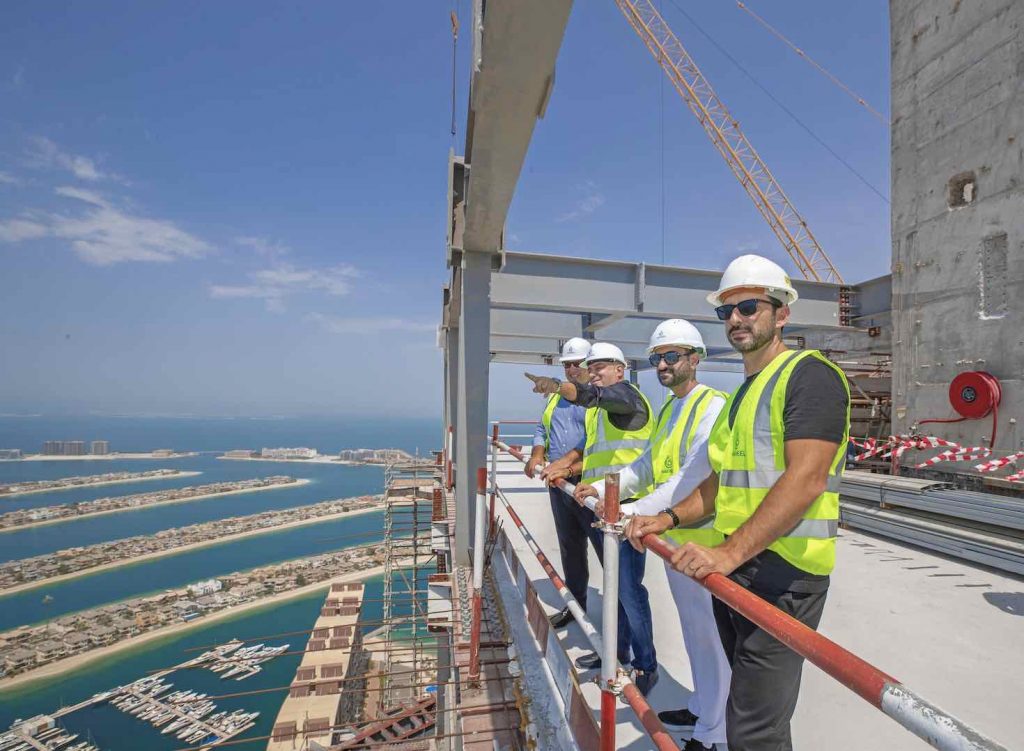 Staying Nearby
One of the best things about SUSHISAMBA is its location. The view is extraordinary. What if we told you you could also benefit from staying near this view? The St. Regis hotel can be found on more than a dozen floors in The Palm Tower, where fully-furnished luxurious apartments and studios are yours to enjoy. There is also an infinity pool and a public observatory, both next to the floor that houses SUSHISAMBA.