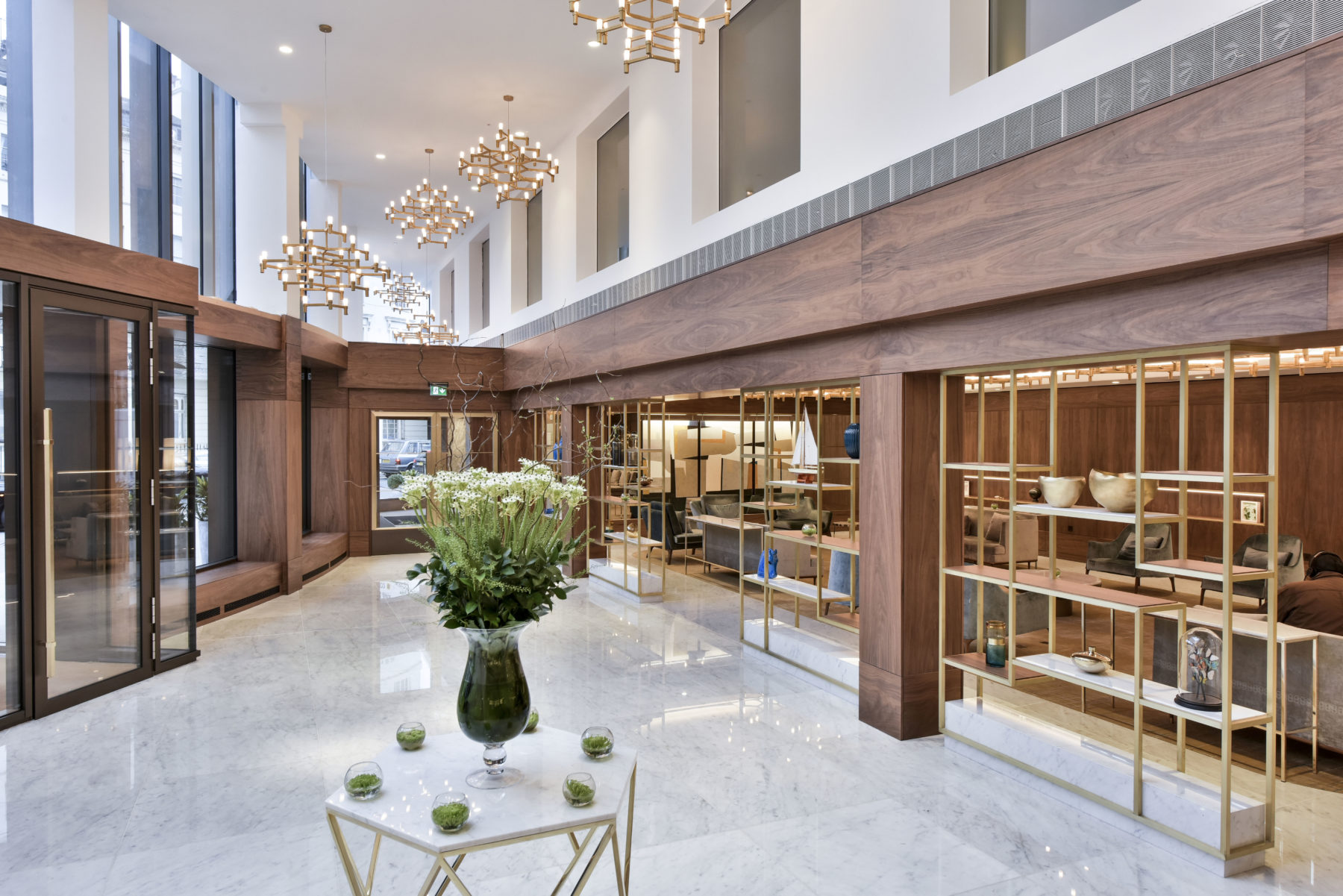 What is it?
An 18 story hotel with a seducing mix of elegance, culture and heritage going back 50 years in a superbly central location equal distance from the West End, Nottinghill Gate, Marble Arch, Edgeware road and Oxford street all within walking distance.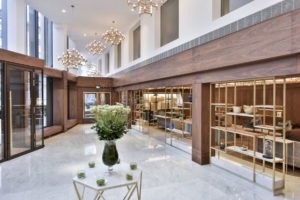 Kensington and Knightsbridge are just a short cab ride through Hyde Park. Underneath is the entrance to the Lancaster gates London underground central line offering speedy access to most of the city and connections to the rest.
Why do we like it?
It is hard not too..
From a distance the outside of the building does a great job of keeping what is to come a secret. As you see the entrance it starts to look rather special but the building originally was going to house Barclays bank. Due to a hotel shortage the British government offered an incentive of a 1,000 pounds per hotel room built as tourism was high and this was a way to tackle the hotel shortage.

The owner with 40 or so rooms quickly saw the potential. The Royal Lancaster was born and it celebrates its 50th year this year in 2018. It charms you with elegant sophistication from the moment you are greeted by the doorman to the tastefully proportioned marble, gold and mirror lobby that runs as a theme through the hotel. Every room from the classic to the Park suite has a chesterfield sofa either full size or custom fitted for a nostalgic touch to the famous 60's era.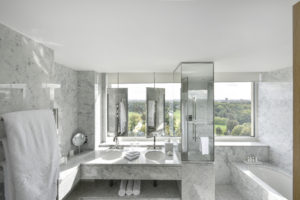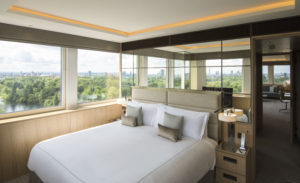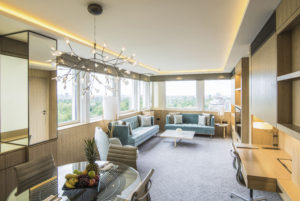 Film fans will relish in suite 602 as one scene from The Italian Job was filmed here and a second scene where Charlie is greeted with a coming out present where he is famously asked ''What would you like" to which he replies a rather dubious ''Everything'' is filmed in the old looking glass restaurant previously located on the 18th floor. Small toy minis can be found placed carefully around the rooms as a secret clue. Not stopping there The Beetles had the launch party to the Yellow Submarine album adding to the Royal Lancaster's appeal, clearly this is a hotel that has fun in its DNA.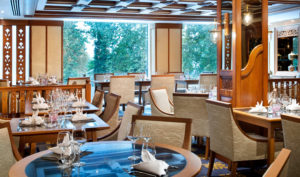 Most of the Royal Lancaster room inventory offers either a complete park view or half city and half and half with adjoining doors ideal for families. We especially liked the corner suites peering down into the muses below watching horses being prepared then ridden into the park with Oxford Street on the horizon. During the winter the view is extended (the trees are bare) so you can see all the way through the park to the albert hall.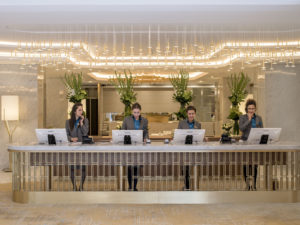 The main eating area offers a sumptuous view into the famous Italian gardens of Hyde Park which is actually 4 large fountain areas with statues all protected under Historic England, grade 2 listed. Supposedly these gardens where a gift from Prince Albert to Queen Victoria hence the protective status. Nether the less a wonderful place to overlook during breakfast lunch or dinner or to take a walk and get lost for the afternoon. If it wasn't for the iconic London red buses occasionally passing within view you could be forgiven for thinking you were overlooking a country estate.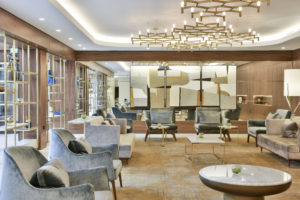 The Royal Lancaster is under a Thai ownership explaining why Nipa a Thai restaurant was shipped décor, artifacts with staff and all from Thailand. Expectations were high and dually met, the green curry was one of the best we have tasted with a truly authentic dining experience.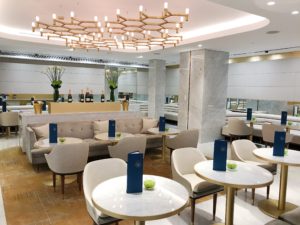 The Island bar and Grill offers another dining option with private entrance from the hotel and a street entrance for locals and passers by who add to the atmosphere. A good selection of wines, champagnes spirits are available with a broad menu which we noticed was largely available for in room service. Fresh tortellini was washed down with a Portobello hops from a local brewery and the braised short rib fell of the bone it was so tender.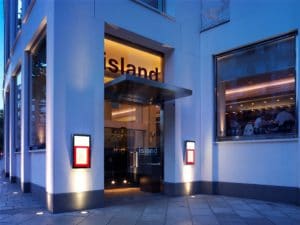 Currently at the tail end of 80 million pounds renovation the Royal Lancaster is fully modernized for today's traveler. Desk mounted international plug fittings with USB mean bulky travel chargers can be left at home. Large screen UHD TV's are found in every room with a open wifi share facility which we made use of from our own devices to view photos. A mobile phone with free data including calls local or international is in every room free to use when out and about. Easy to avoid global roaming charges and no need to fiddle with a local sim card. Black out blinds one for day and night can be operated by a switch adjacent to the bedside adding the blend of classic yet fully modernized away from home experience.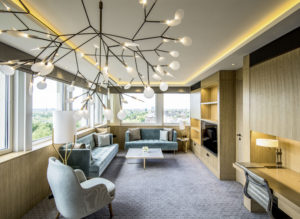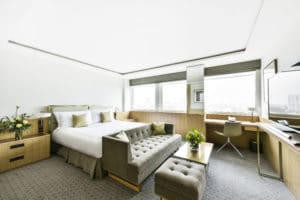 The Royal Lancaster presents a warm refined sense of class and character ready to sooth you from a hard days shopping or the night before. The staff were welcoming and almost familiar it made us feel like we had been there before yet it was our first stay. Virtually all of central London is so close at hand it allows for 2 or 3 trips out per day which would normally require half a day each to see. Last but not least The Royal Lancaster is a 5 minute taxi from Paddington station where the Heathrow express will get you to your terminal in just 20 minutes. The Royal Lancaster intoxicates guests with a balanced experience of style, location, class and atmosphere that simply must be experienced at least once if not repeatedly.
Phone: +44 207 551 6000
Email: info@royallancaster.com
Website: https://www.royallancaster.com/