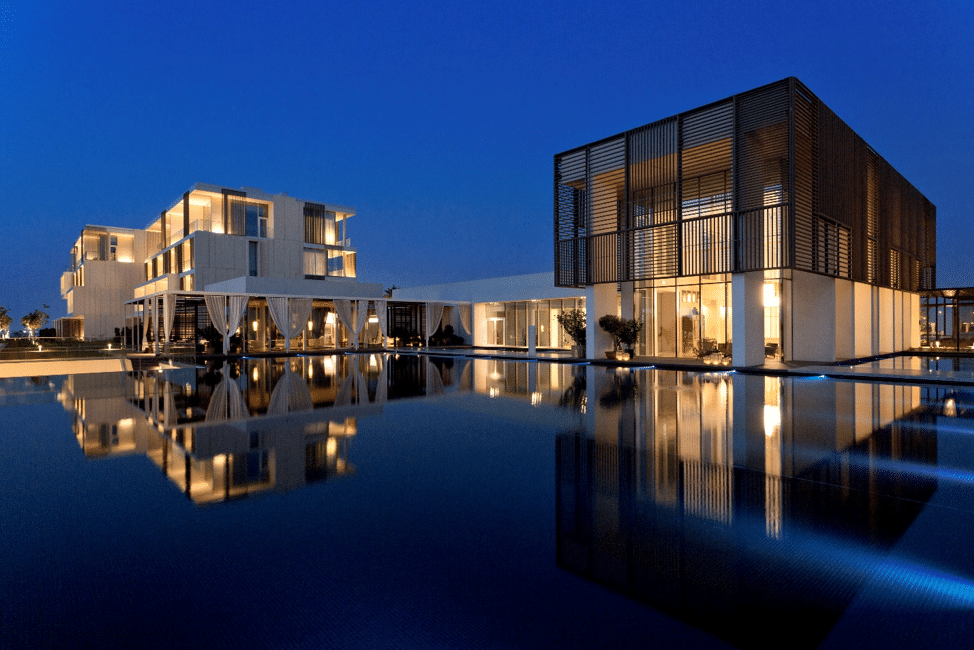 What has been achieved at the Oberoi Al Zorah is really quite remarkable. Those who know of the excellent downtown Oberoi Dubai will find this, worlds apart.
The Oberoi Al Zorah would be comparable to a huge modern contemporary work of art. It creates a zen-like experience by use of large open waterways that are navigated by pathways to reach other areas.
This beautiful luxurious resort is located in the Emirate of Ajman, amidst the natural oasis Al Zorah. The natural setting offers a healthy lifestyle, wellness and a wide variety of recreational activities. Its beauty is owed to the region of white sandy beaches as far as the eye can see, azure seas and ample, exotic mangrove forests – home of pink flamingos and other 58 species of birds in the area.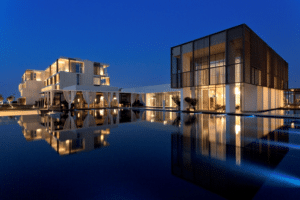 The Oberoi Al Zorah washes over you with a feeling of space and openness. Hugely different from the mega-hotel theme often taken up in nearby Dubai. The reason for this departure is one Italian designer Piero Lissoni who was responsible for the whole project.
Interior wise Piero Lissoni continues to have free reign. From the moment you enter the lobby, you can't help but feel you have been invited to a private home. Walking through inward opening automatic swing doors give way to antique furniture married with modern seating offering views of a ceiling to shoulder level chandelier. Large hard covered books on specialist subjects dispersed and arranged with care immediately lures one to want to immerse whole heartily into the rarity of these books. The friendly and exquisitely styled, uniform staff invites us to check in and gives us a brief history and tour of the hotel to our beautiful room.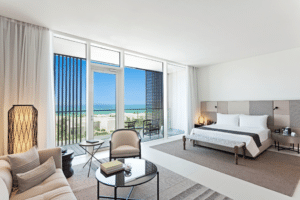 The entire hotel is furnished to such high standards and our room like most of the rooms looked out over the pool, villas and the gulf to a sun- drenched horizon. Basking in the view and peace on the balcony or on the comfortable designer settee and armchair. In your room you can expect to find a deep stand-alone soaker bath, roses in a vase on the vanity, surrounded by tastefully decorated tiles. Accompanied by a lounge area with a table to work if you choose with no less than 7 different pillow types to make the rooms at the Oberoi Al Zorah excel in soothing you into a relaxing bliss. The standard rooms resemble what most hotels would call a suite
Once settled we chose to unwind in the spa, it is by far, first class. Go for the Oberoi signature massage, highly recommended and perfect after a day on the beach.
There are two restaurants. Vinesse which appears to be floating as it is surrounded by water and offers international cuisine and views out to the ocean. Should you sit inside, a theatre style kitchen allows you to see the gourmet chefs at work who cheerfully go about their tasks. Breakfast is excellent and for later Vinesse has its own bar boasting classic cocktails, Cuban cigars and a range of single malts.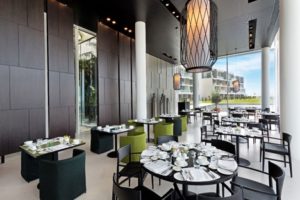 Vinesse
Further down to the beach Aquario opens up to a large Al fresco terrace covered by natural wood structure making daytime dinning an absolute pleasure. The evening offers a beautiful candlelit environment with the ocean crashing in the background for ultimately soothing soundtrack. The cuisine is seafood and all is sourced locally and cooked by the sous chef.  Aquario also has its own bar specializing in tonic waters and a wide variety of gins.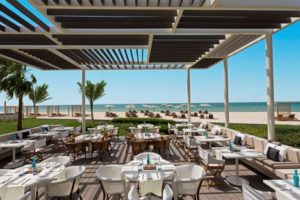 Aquario
The options for staying overnight vary from beach villas comfortably housing a family of 4 and more with private pools overlooking the gulf. Standard rooms are spacious and offer fantastic views overlooking the whole development.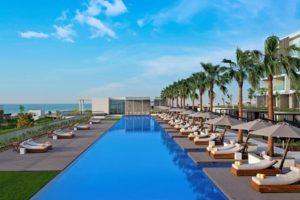 The Oberoi Al Zorah boasts quite possibly, the longest pool in the UAE with 85 meters in length and sun loungers on either side. Staff are hidden but a small button is located on each cluster of loungers allowing dedicated staff to quickly attend to all essential poolside needs. Meaning you only have to lift a finger…