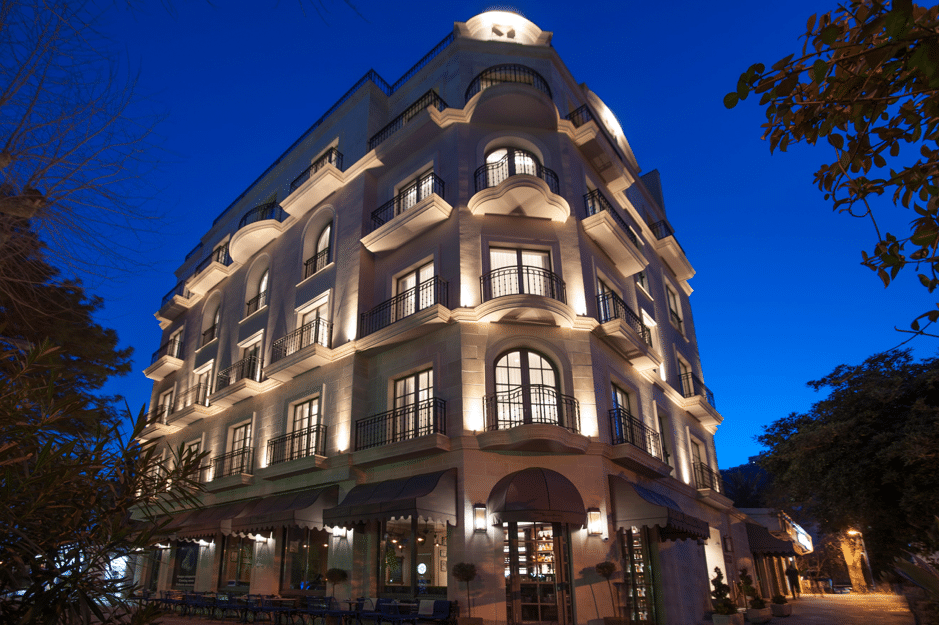 View over the Marina and old town from the Majestic Hotel
There are many beautiful places in the world and Montenegro is a little hidden gem that captured our hearts. The striking rugged mountains of this Balkan country are accompanied by beach after beach along the Adriatic Sea. Venetian villages and walled cities, the feel is tranquility and the lifestyle of the Montenegrins almost Mediterranean
Nestled between Croatia, Serbia, Kosovo and Albania with easy access by sea it is a long term favorite with the Hollywood jet set and its popularity is really only growing.
We stayed in the city of Budva at the new Majestic Hotel, a modern lime stone, four story building with a hip restaurant/bar called Hemingway's, drawing all the locals & tourist crowds alike. It location is fantastic, only a 1 minute walk to the Marina and less than 5 minutes' walk to the beach and the fortified Citadel. This attractive hotel with lovely rooms all overlooking the park and higher floors opens up to marina views. All guests are delightfully treated with breakfasts that consists of a 'Pre-Breakfast' start: Fluffy, crusty croissants and in house made bread, local cheese and prosciutto accompanied with the choice of freshly squeezed juices and tea or coffee. Then there is the choice of mains: poached eggs with salmon & spinach, crispy bacon & mushrooms or fried/scrambled eggs. For the health conscious: yogurt with fresh fruit and homemade granola. It is gastronomically delicious with wonderful service from the delightful and helpful staff.
The Majestic Hotel Budva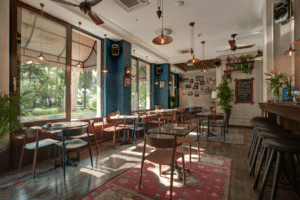 Café & Bar Hemmingway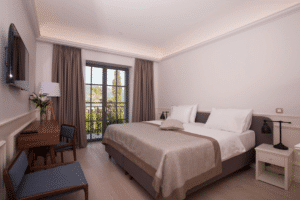 Twin room over looking the main street with French doors
It is an absolutely stunning place, Budva alone is entirely capable of holding anyone's interest for three nights stay. There is so much to do from adventures of wandering the fortified city, walking and ducking in & out of cave like crevices along the beaches to taking the 20 minute local bus to the beautiful, idyllic Sveti Stefan Island where the rich & famous frequent. The island is only accessible by either staying at the hotel or reserving a table at one of its restaurants. The food alone is worth it combined with a tour of its rich culture and history, it is truly enriching.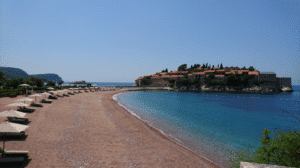 Sveti Stefan Island
Anywhere you go, the pebble beaches with crystal clear waters lure even the faint hearted to its cool freshness. The warm breezy weather could easily lull one to dreamy afternoon naps waking to smells of food that is made with locally grown produce, freshly caught seafood and locally grown wines. We can be easily satisfied with just that unless you have more time for more adventures like going further by hiring a driver (hassle-free) or renting a car and driving along the coastline to Herceg Novi where you can stop for a couple of hours to kayak into the charming Bay of Kotor and jumping into the water and snorkel. There is truly no end to the contentment that one feels in this beautiful country.
Contact the Majestic here: http://majestichotel.me/
Slovenska Obala 11, Budva Montenegro, + 382 33 401 700 / + 382 33 474 943 info@majestichotel.me