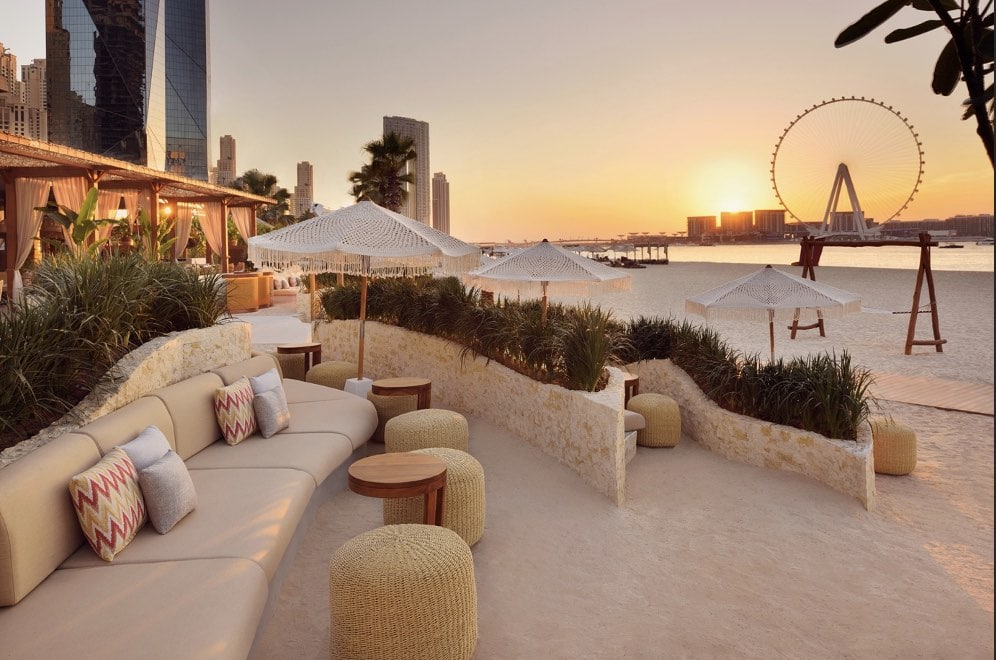 Cesar Bartolini the head chef and his team had a clear vision in mind with Tamoka and they have achieved everything they set out to do and a little more. Having just returned from South America we were anxious about our visit. However Tamoka is 'The Real McCoy' and we will return time and time again.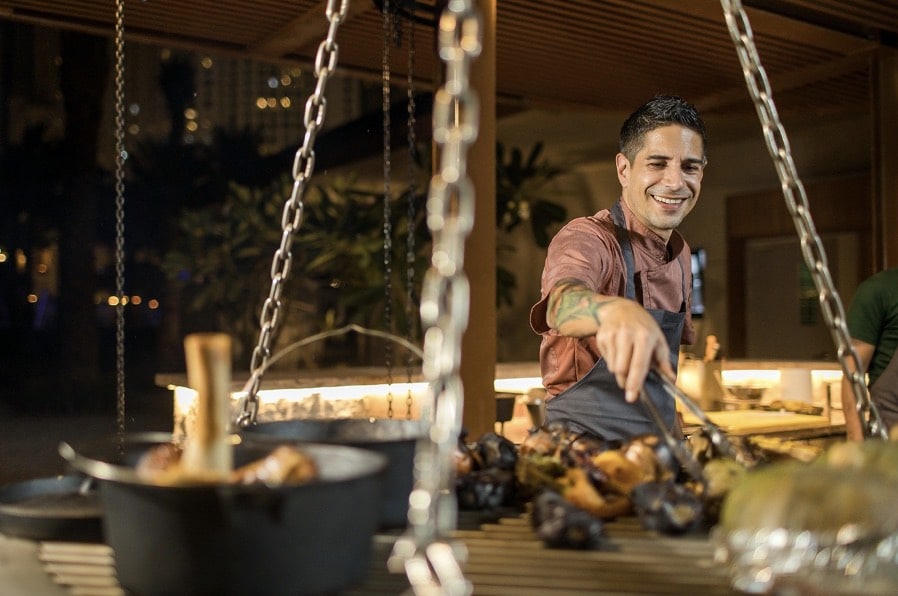 Tamoka – who?
Tamoka is the name William Frederick McCoy (or Bill McCoy) gave to his schooner in the 1920's. As a rum runner during prohibition, he would pick up Rum, Whiskey and other liquors from the Caribbean delivering them to smaller boats outside of jurisdiction, and had a reputation for never diluting or messing around with his cargo that became known as the 'real McCoy'.
If you have been to South America, even to just one country you know how difficult it is to truly convey the energy, culture, and people that value life itself over anything else.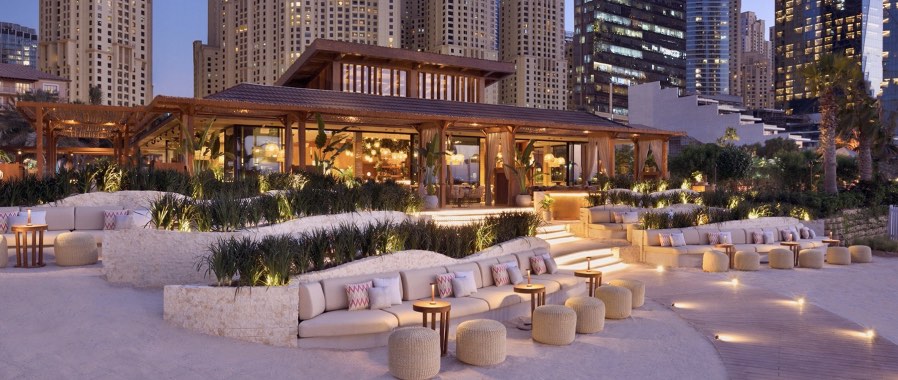 "Beach culture, lounging and dining is almost a religion in South America Tamoka being on the Beach embodies the soul of the continent"
Tamoka promises a rich culinary experience from Cartagena, Caracas, Panama City and the Caribbean right to your table. As a standalone restaurant it has its own entrance and is set in the grounds of The Ritz Carlton, Dubai JBR that meets Jumeriah Beach.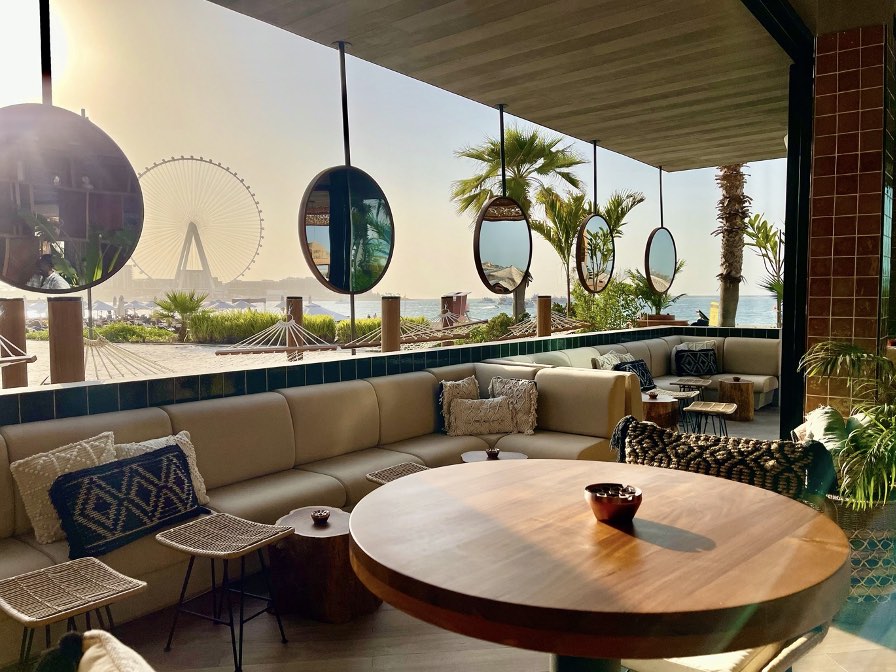 It offers an indoor light and airy restaurant space flanked with a cocktail waiting area, (for your table) open kitchens and a panoramic view straight to the shimmering blue waters of the gulf. The indoor restaurant features a large high ceiling that could easily host a balcony, but by not doing so adds a huge sense of space and a folding glass wall surrounds leading to the terrace – proving that it is designed for appeal all year round.
As you walk through to the terrace the seating offers large tables for groups, tables for couples, and even neatly tucked away sunken firepit seating for a more secluded gathering.
Sitting on the terrace, Tamoka multiplies into rows of seating levels inset right on to the sand for thirsty beach walkers to join in.
Already impressed, we notice a wide pathway that leads to Cana just off to the right with a 360 degree true beach bar surrounded by nothing but sand.
"Sitting on the terrace staring straight at the beach it's hard not to keep looking around to just drink in the décor"
We arrive for lunch and walk through the main restaurant. We slow the pace as it's a struggle to take it all in. So much is going on, its lively, bright but casually so.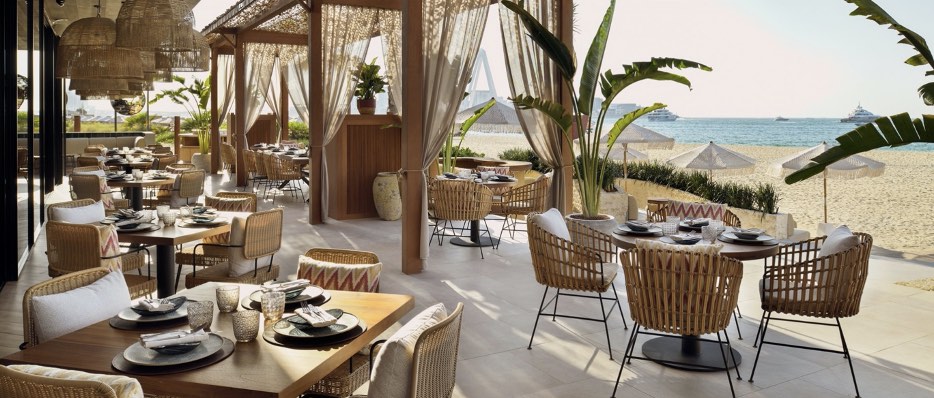 Sitting on the terrace staring straight at the beach it is hard not to keep looking around to just drink in the decor. Music can often break the harmony of an experience with bad speaker placement, aggressive volume levels, yet the music is balanced everywhere and enhances the experience with Latin American melodies carefully curated by the DJ
Eating and Drinking
Vivian our guide for the day assesses what we would like and enthusiastically makes recommendations to get us on track
Tamoka's cocktail menu is split into 4 sections. Rum infusions whereby you select your own mix Tamoka signatures which are crafted to perfection for you; Tamoka Antillean Latin American classics and Tamoka sharers.
As you would expect beer is on the menu with Modelo and Quilmes and an extensive list of whiskey, rums and liqueurs. Wine and champagnes are well presented covering the new to old world and back again. Mocktails, fresh juices and hot drinks are also available although we were here to experience the more complex flavors.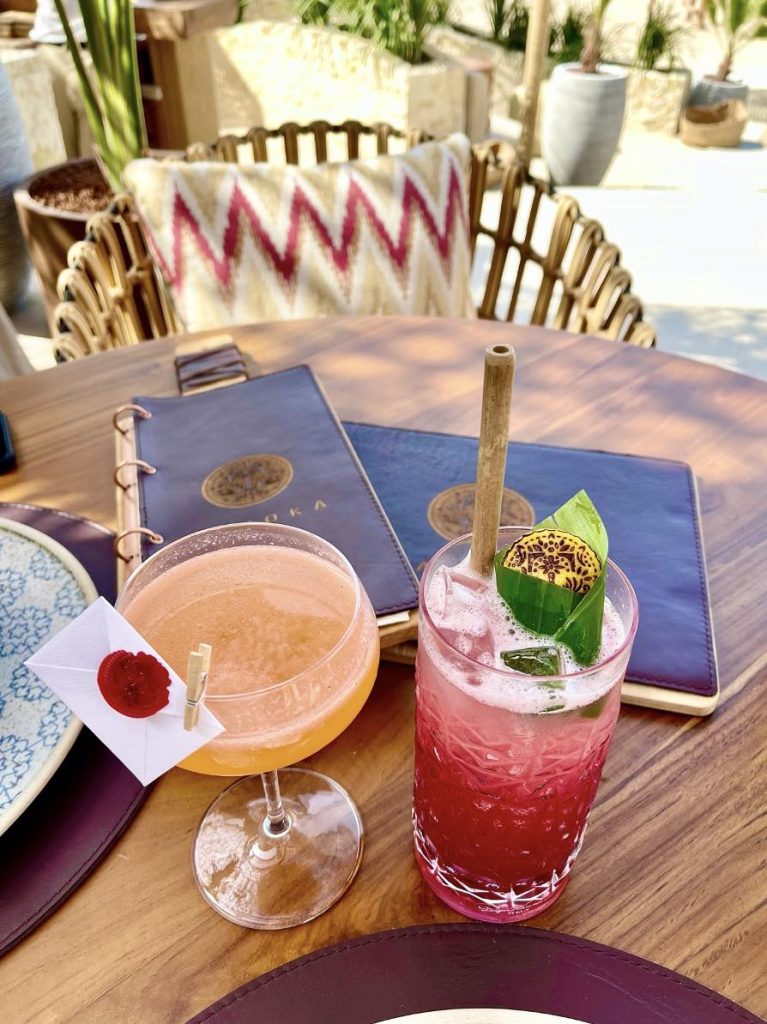 From the Tamoka signatures menu we dive in. First Love comprises of fever grass rum, Haymens peach and rose cup, fresh lemon, hibiscus, grenadine and pink grapefruit soda that instantly refreshes like no other we have tried and sets the pace for the day.
"Hemmingway's Wise Words captures our attention. Fire gilled pineapple rum, Aperol, Pink grape fruit, lime and Absinth"
Debutante follows with Toasted coconut gin, St Germain banana lime, coconut water, prosecco juice and butterfly pea. All made from locally loved spirits from the Caribbean and a taste that's blissful.
The title Hemmingway's Wise Words captures our attention. Fire gilled pineapple rum, Aperol, Pink grapefruit, lime and Absinth was too good to ignore. After all, where on your stocking-up trips have you ever seen fire gilled pineapple rum?
Each taste compliments the previous and none are sickly sweet as often rum cocktails are served. Whatever direction you go in, no matter where you start or finish (and we tried), they are refreshing and pleasant with each one complimenting the other. Cocktail lovers connoisseurs and traditionalists will do well to just go with the flow.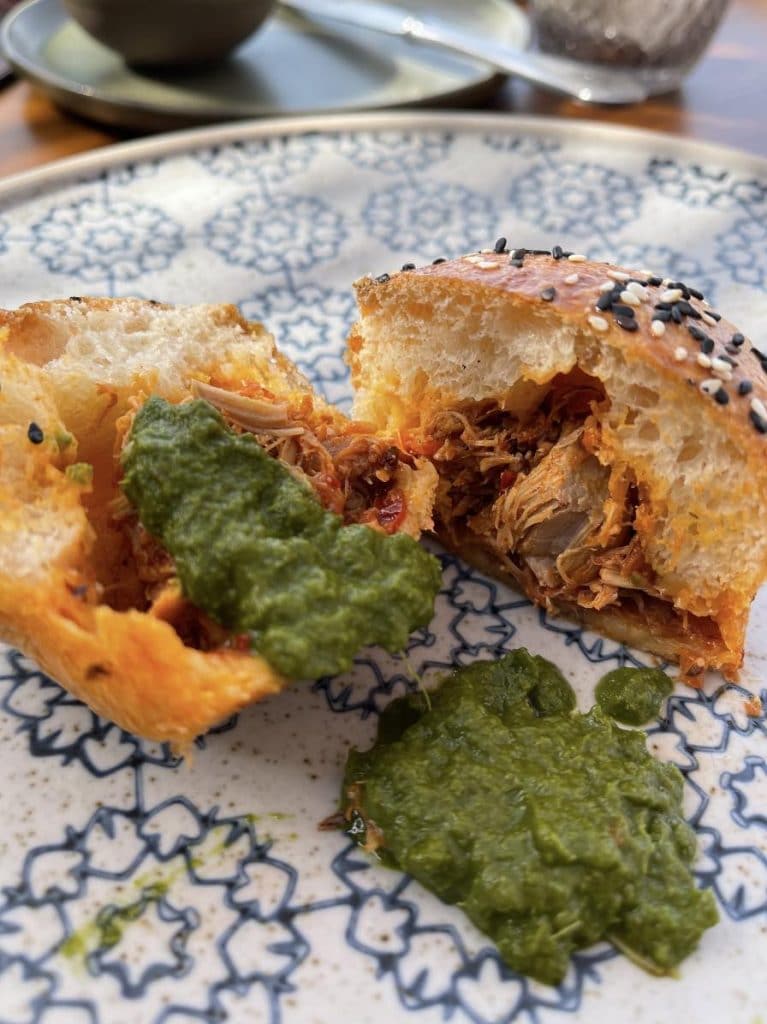 Starters come in the form Tinga De Pollo shredded chicken placed inside 'bun's that resemble small cakes with chipotle sauce mixed with coriander. The taste of the coriander and chipotle has your taste buds zinging in two completely different directions. It is delicious
We work our way through the Tuna tacos and scallop ceviche. The fresh buttery scallops were mouthwatering. The tuna tacos were flavorful with just the right amount of crunch.
"The menu is plentiful but not convoluted, the drinks and flavors from the food match wonderfully"
Out of the equally attractive mains one item stood out – Zapallo Con Quesdo. A pumpkin baked with multiple cheeses inside and served with sides of Platano Macho (fried plantain) and Papas Fritas (potatoes fries, Tamoka rub and spiced tomato sauce). Recommended for 2 but easily capable of serving three to four.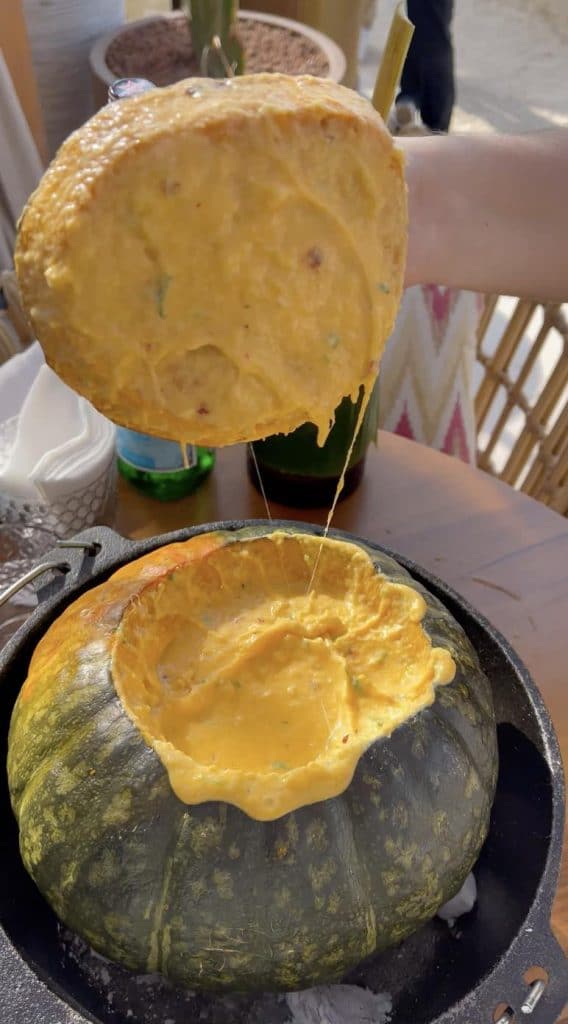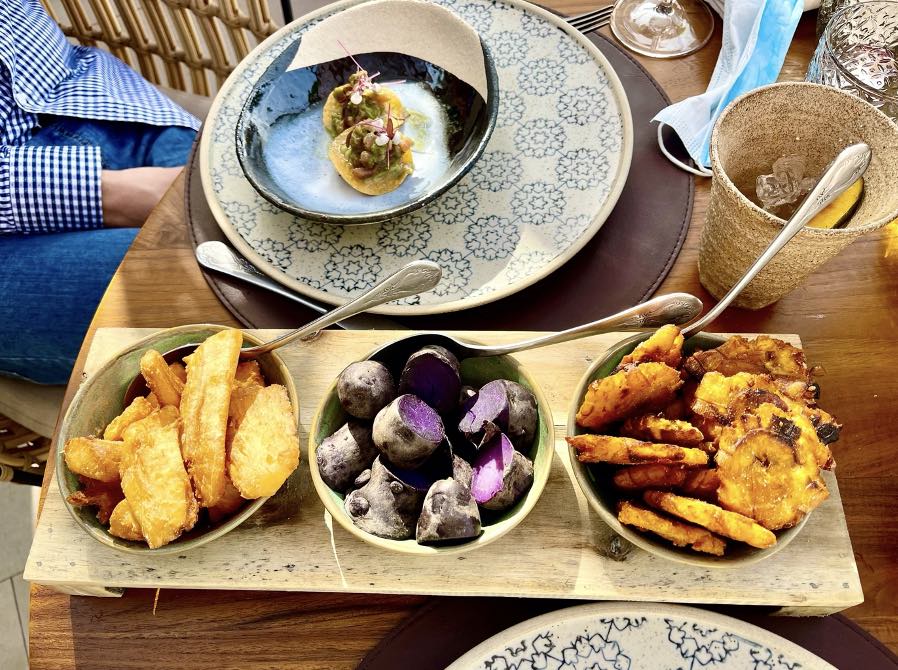 Served with a ladle the dripping cheese and pumpkin cocktail was instantly the most original and delicious dish we have yet seen. Dip your sides into the cheese; a glorious blend of spices, pumpkin and crisp plantain explode so you can't tell where one flavor begins and the other ends.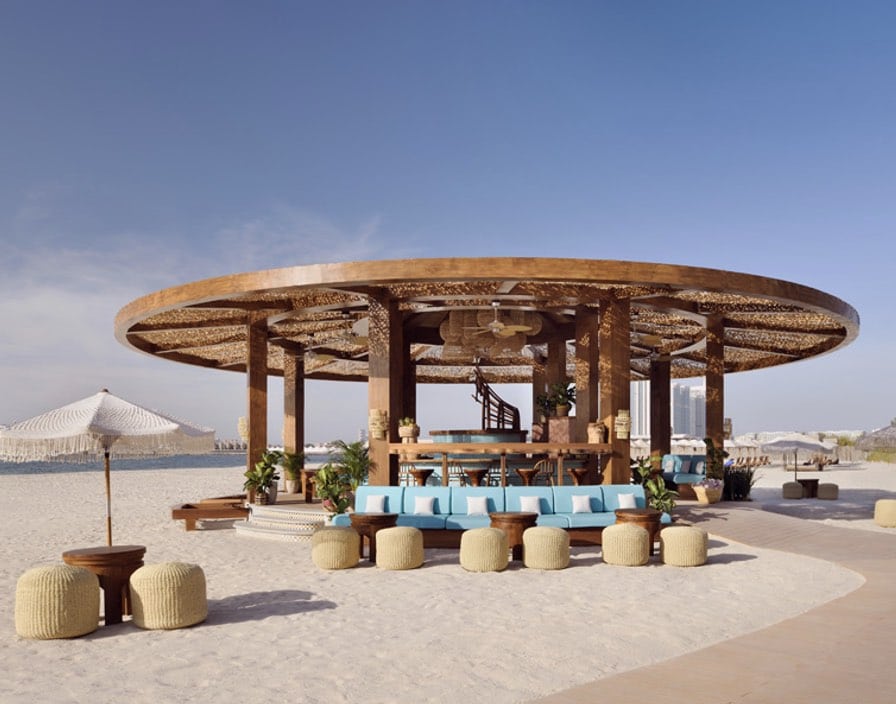 Tamoka is clever on many fronts. Each seating area offers a different take on the overall experience and can be used for different occasions. Cana means those that itch for a venue change can and get their wish while smoothly continuing the narrative far past sunset, with equal attention paid to experience while staring straight at an open Arabian gulf.